Indian billionaires bet big on head start in coronavir s vaccine race
为了先拔头筹,印度亿万富翁在新冠疫苗竞赛中押下重注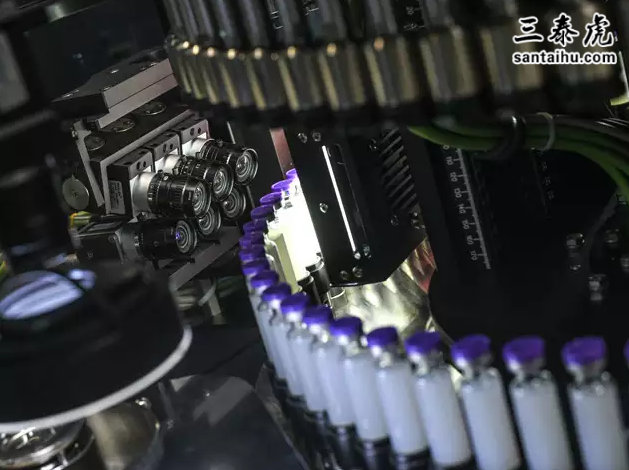 PUNE: In early May, an extremely well-sealed steel box arrived at the cold room of the Serum Institute of India, the world's largest vaccine maker.
普纳:5月初,全球最大的疫苗制造商印度血清研究所的冷藏室收到了一个密封的钢盒。
Inside, packed in dry ice, sat a tiny 1-milliliter vial from Oxford, England, containing the cellular material for one of the world's most promising coronavir s vaccines.
钢盒里装着从英国牛津运来的1毫升小瓶,用干冰包裹着,瓶子里装的是制造当今世上最具前景的新冠病毒疫苗的细胞材料。
Scientists in white lab coats brought the vial to Building 14, carefully poured the contents into a flask, added a medium of vitamins and sugar and began growing billions of cells. Thus began one of the biggest gambles yet in the quest to find the vaccine that will bring the world's Covid-19 nightmare to an end.
穿着白大褂的科学家们把小瓶带到14号楼,小心翼翼地把里面的东西倒进一个细颈瓶里,加入一种含有维生素和糖的培养基,开始培养数十亿个细胞。为寻找能够结束全球新冠噩梦的疫苗而进行的博弈开始了,这是迄今为止最大的博弈之一。
The Serum Institute, which is exclusively controlled by a small and fabulously rich Indian family and started out years ago as a horse farm, is doing what a few other companies in the race for a vaccine are doing: mass-producing hundreds of millions of doses of a vaccine candidate that is still in trials and might not even work.
血清研究所完全由一个非常富有的印度小家族控制,多年前以一个马场起家,现在正在做其他竞争疫苗的公司正在做的事情:大规模生产数亿剂候选疫苗,这些候选疫苗仍在试验中,很多甚至可能没有效果。
But if it does, Adar Poonawalla, Serum's chief executive and the only child of the company's founder, will become one of the most tugged-at men in the world. He will have on hand what everyone wants, possibly in greater quantities before anyone else.
但如果成功了,血清研究所的首席执行官、公司创始人的独子阿达尔•普纳瓦拉将成为世界上最牛的男人之一。他手上会有每个人都想要的东西,而且数量可能比任何人都要多。
His company, which has teamed up with the Oxford scientists develo the vaccine, was one of the first to boldly announce, in April, that it was going to mass-produce a vaccine before clinical trials even ended. Now, Poonawalla's fastest vaccine assembly lines are being readied to crank out 500 doses each minute, and his phone rings endlessly.
他的公司与牛津大学的科学家合作开发疫苗,是最早在4月份大胆宣布将在临床试验结束之前大规模生产新冠疫苗的公司之一。现在,普纳瓦拉最快的疫苗生产线已经准备就绪,每分钟可生产500剂疫苗,此时普纳瓦拉的手机响个不停。
National health ministers, prime ministers and other heads of state (he wouldn't say who) and friends he hasn't heard from in years have been calling him, he said, begging for the first batches.
他说,印度卫生部长、总理和其他国家元首(他不愿透露是谁)以及多年没有联系的朋友们一直在给他打电话,央求第一批疫苗。
"I've had to expn to them that, 'Look, I can't just give it to you like this,'" he said.
"我不得不向他们解释,目前还不能把疫苗给他们,"他说到。
With the coronavir s pandemic turning the world upside down and all hopes ned on a vaccine, the Serum Institute finds itself in the middle of an extremely competitive and murky endeavor. To get the vaccine out as soon as possible, vaccine developers say they need Serum's mammoth assembly lines — each year, it churns out 1.5 billion doses of other vaccines, mostly for poor countries, more than any other company.
随着新冠疫情肆虐全球,所有的希望都寄托在疫苗上,血清研究所发现自己处于一种极其激烈的竞争之中。疫苗开发人员说,为了尽快推出这种疫苗,他们需要血清研究所庞大的装配线——血清研究所每年可生产15亿剂疫苗,比任何一家公司都多,其中大多是为贫穷国家生产的。
Half of the world's children have been vaccinated with Serum's products. Scale is its specialty. Just the other day, Poonawalla received a shipment of 600 million glass vials.
世界上有一半的儿童接种了血清研究所生产的疫苗,规模就是它的专长。就在几天前,普纳瓦拉收到一批瓶玻璃,总共6亿个。
But now it's not entirely clear how much of the coronavir s vaccine that Serum will mass-produce will be kept by India or who will fund its production, leaving the Poonawallas to navigate a torrent of cross-pressures, po itical, financial, external and domestic.
但是,目前还不完全清楚血清研究所将量产的新冠病毒疫苗中有多少将为印度保留,或由谁为其生产提供资金,这就使得普纳瓦拉家族不得不面对来自、金融、国内外的巨大压力。
India has been walloped by the coronavir s, and with 1.3 billion people, it needs vaccine doses as much as anywhere. The Narendra Modi go nment has already blocked exports of drugs that were believed to help treat Covid-19, the disease caused by the coronavir s.
印度已经受到新冠疫情重创,拥有13亿人口的印度和其他国家一样需要疫苗。莫迪政府已经禁止出口据说有助于治疗新冠肺炎的药物。
Poonawalla, 39, says that he will sp t the hundreds of millions of vaccine doses he produces 50-50 between India and the rest of the world, with a focus on poorer countries, and that Modi's go nment has not objected to this.
39岁的普纳瓦拉说,他将把自己生产的数亿剂疫苗分给印度和其他国家,各占一半,重点放在较贫穷的国家。他说,莫迪政府没有反对这一点。
The Oxford-designed vaccine is just one of several promising contenders that will soon be mass-produced, in different factories around the world, before they are proven to work. Vaccines take time not just to perfect but to manufacture. Live cultures need weeks to grow inside bioreactors, for instance, and each vial needs to be carefully cleaned, filled, stoppered, sealed and packaged.
牛津大学开发的疫苗只是几个有希望的竞争者之一,在被证明有效之前,这些疫苗将很快在世界各地的不同工厂量产。疫苗不仅需要时间来完善,还需要时间来生产。例如,在生物反应器中,活体培养需要数星期的时间才能生长,而且每一小瓶都需要仔细地清洗、灌装、塞上塞子、密封和包装。
The idea is to conduct these two processes simultaneously and start production now, while the vaccines are still in trials, so that as soon as the trials are finished — at best within the next six months, though no one really knows — vaccine doses will be on hand, ready for a world desperate to prect itself.
目前的想法是,这两个过程同时进行,现在开始生产。由于疫苗仍在试验阶段,所以一旦试验结束——最多在未来6个月内,疫苗就可准备就绪,为全球提供。
US and European go nments have committed billions of dollars to this effort, cutting deals with pharmaceutical giants such as Johnson & Johnson, Pfizer, Sanofi and AstraZeneca to speed up the development and production of s vaccine candidates in exchange for hundreds of millions of doses.
为了获得数亿剂疫苗,美国和欧洲政府已为此投入数十亿美元,并与强生、辉瑞、赛诺菲和阿斯利康等制药巨头达成协议,以加快筛选候选疫苗的开发和生产。
AstraZeneca is the lead partner with the Oxford scientists, and it has signed go nment contracts worth more than $1 billion to manufacture the vaccine for Europe, the US and other markets. But it has allowed the Serum Institute to produce it as well. The difference, Poonawalla said, is that his company is shouldering the cost of production on its own.
阿斯利康是牛津大学科学家的主要合作伙伴,并与政府签署了价值超过10亿美元的合同,为欧洲、美国和其他市场生产疫苗。但它也允许血清研究所为其生产疫苗。普纳瓦拉说,不同之处在于,其公司自行承担了生产成本。
But Serum is distinct from all other major vaccine producers in an important way. Like many highly successful Indian businesses, it is family run. It can make decisions quickly and take big risks, like the one it's about to, which could cost the family hundreds of millions of dollars.
但血清研究所在一个重要方面有别于其他主要疫苗生产商。和许多非常成功的印度企业一样,它也是家族企业,可以迅速做出决定并承担巨大的风险,比如这个即将面临的风险,这可能会让其家族损失数亿美元。
Poonawalla said he was "70 to 80%" sure the Oxford vaccine would work.
普纳瓦拉说他对牛津疫苗有7-8成的把握。
But, he added, "I hope we don't go in too deep."
但是,他补充说,"我希望我们不要陷得太深。"
以下是印度时报读者的评论:
译文来源:三泰虎 http://www.santaihu.com/p/50478.html 译者:Jessica.Wu
外文:https://timesofindia.indiatimes.com/india/indian-billionaires-bet-big-on-head-start-in-coronavir s-vaccine-race/articleshow/77315152.cms
Vibhu Bansal
Charge a hefty premium from countries like Nepal Pakistan . Let them beg for it.
卖给尼泊尔、巴基斯坦和等国的时候要提高价格,让他们来求我们。
Alcohol Kills Ganja Chills
The Poonawalla's have put up $450 million of their own money. This family is one of the most philanthropic family. Dr. Poonawalla deserves Nobel Prize
普纳瓦拉家族出资4.5亿美元开发疫苗,这个家族是最仁慈的家族之一。理应为普纳瓦拉博士颁发诺贝尔奖。
Ramesh Sarg
Superb. Finally a good news. Also this news makes happy all Indians, as the vaccine is going to be produced in Pune, India. I am proud to be an Indian. Wherever the vaccine is getting produced, finally if it is useful to the humanity all over, I am 'doubly' happy.
太棒了。终于有好消息了,所有印度人都为此高兴,因为新冠疫苗将在印度普纳生产。我为自己是印度人而自豪。无论疫苗在哪里生产,主要对全人类有用,我就高兴。
shailesh sinha
he deserves civilian award.
理应为普纳瓦拉颁发平民奖
shailesh sinha
it is nice to read that some ppl are doing things for mankind without any limelight. we should salute them.
一些人在默默无闻的为人类做贡献,我们应该向他们致敬。
Ravi Kumar
Nice to see there is an Indian entrepreneur taking bold risk in the field of pharmaceutical manufacturing and also determined to support poor countries around the world for Covid19 vaccine. God help him in his efforts.
很高兴看到一位印度企业家在制药领域大胆冒险,并决心为全球贫困国家提供新冠疫苗。神会帮助他的。
Vanza Chandrag
already has produced the vaccine
已经生产了新冠疫苗
Ritesh
Risky but equally rewarding step by serum institute
血清研究所这么做很冒险,但回报也很可观
GSK Dummy
Modi go nment should provide a billion dollars funds to Serum Institute to make covid vaccines for india.
莫迪政府应该向血清研究所提供10亿美元资金,让他们为印度生产新冠疫苗。
Brahmos MKII
Good. But I would have been happier if that 1 ml vial had come from somewhere within India, instead of Oxford. How long shall we continue with that "technology receiver" syndrome?
很好。但如果那瓶1毫升的细胞材料来自印度某个地方,而不是牛津,我会更高兴的。
Ravneet Singh
There is no R&D in India.
印度没有研发。
Anonymous
We need to find a way to stop the vir s spread .
我们得想办法阻止病毒传播
Rakesh Shetty
Charge 100 times more money from and pakistaan...All the best...
这个疫苗要是卖给和巴基斯坦的话,价格要提高100倍…愿一切顺利!
Arjun Prabhu
Do not give it to Pakistan unless they stop cross border te rorm. They cannot keep killing our soliders and expect us to give them any vaccines.
不要给巴基斯坦提供疫苗,除非他们终止跨境主义。他们杀我们的士兵,不要指望我们给他们注射疫苗。
Rinku Singh
Pakistan has controlled Covid with just 700 cases per day.
巴基斯坦已经控制住疫情了,每天仅新增700例。
Rinku Singh
Thanks to Modiji for opening Serum Institute of India. Scamgress had only loed and filled their coffers. Under the able guidance of Modiji in few months vaccine will be available. Salute to the true son of soil.
感谢莫迪创办印度血清研究所。国大党只会捞钱,填满他们的金库。在莫迪的得力指导下,疫苗将在几个月内上市。向真正的土地之子致敬。
Alcohol Kills Ganja Chills
By the time Vaccines are out , Corona would be dissapeared on it's own.
等疫苗研制成功后,新冠病毒可能已经自行消失了。
Tukaram B Pujari
Poonaw, Maharashtra first and in that Pune first
普纳瓦拉,疫苗出来后,先给马哈拉施特拉邦提供,在该邦,普纳市优先
jai shree ram
entire conspiracy theory is getting clear day by day
整个就是一个大阴谋,越来越清楚了
Happy Timeuser
Let us wait for sometime. Don't count the eggs before they are hatched..
再等等吧。蛋未孵,莫数鸡。
Deviprasad Nayak
Still Oxford vaccine is not confirmed its success.
牛津疫苗尚未证实有效。
Siddhant
Let's wait and watch.
拭目以待吧。
Akash Kothari
India and drug manufacturing is a sham. And this would be no exception.
印度的药品制造是个骗局,这个也不例外。