Covid-19: Race for Indian vaccine hots up, human trials on in 6 cities
印度新冠疫苗竞赛激烈,在6个城市进行人体试验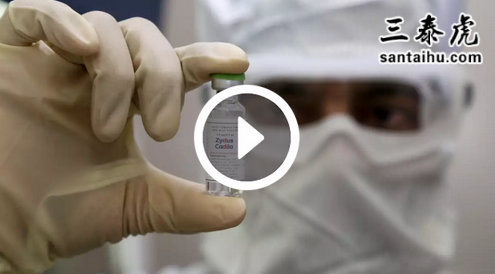 NEW DELHI: The race for an indigenous vaccine ag inst the novel coronavir s is on in earnest. Human trials using the vaccine candidates of two companies — Bharat Biech and Zydus Cadila — are currently on in six cities in as many states. The latest subject was a 30-year-old man who on Friday was the first person from Delhi to be given a 0.5 ml intramuscular injection of Bharat Biech (BB)'s Covan at AIIMS.
新德里消息:印度本土新冠病毒疫苗竞赛正在激烈进行。目前,Bharat Biech和Zydus Cadila这两家公司的候选疫苗正在六个城市进行人体试验。最新的受试者是一名30岁的男子,他于上星期五在全印度医学研究院肌肉注射了0.5 ml Bharat Biech公司(BB)的Covan疫苗。
Both BB and Zydus were granted permission for Phase I and II clinical trials and administered the first doses of their vaccine candidates to volunteers on July 15.
BB和Zydus均获得了I期和II期临床试验的许可,并于7月15日给志愿者注射了第一批候选疫苗。
A third vaccine candidate, developed by Oxford University, is soon to be tested in India. Serum Institute, which is in a manufacturing partnership with the UK's Astra Zeneca, has said it will begin human trials as soon as it receives regulatory approval.
牛津大学开发的第三种候选疫苗很快将在印度进行测试。印度血清研究所与英国的Astra Zeneca建立了生产合作关系,该研究所表示,一旦获得部门的批准,将开始人体试验。
BB's Covan, developed in collaboration with the Indian Council of Medical Research (ICMR) and the National Institute of Virology (NIV), will be tested at 12 hospitals — including AIIMS, Delhi and Patna, and PGI Rohtak — in 12 cities. The first phase will involve over 500 volunteers, all healthy and between the ages of 18 and 55 with no co-morbidities.
BB公司的Covan是与印度医学研究理事会(ICMR)和国家病毒学研究所(NIV)合作研发的,将在12个城市的12家医院——包括全印度医学科学院、德里和巴特那以及PGI罗塔克医院——进行试验。第一阶段将有500多名志愿者参与,他们都很健康,年龄在18到55岁之间,没有并存疾病。
Testing of Zydus's candidate, ZyCoV-D, is currently limited to its research centre in Ahmedabad, but will be extended to multiple cities.
Zydus的候选疫苗ZyCoV-D的试验目前仅限于其位于艾哈迈达巴德的研究中心,但将扩展到多个城市。
Covan trials have already begun in Hyderabad, Patna, Kancheepuram, Rohtak, and now Delhi, to be followed by Nagpur, Bhubaneshwar, Belgaum, Gorakhpur, Kanpur, Goa and Visakhapatnam.
Covan的试验已经开始在海得拉巴、巴特那、坎切普拉姆、罗塔克和德里进行,接下来是那格浦尔、布巴内什瓦尔、贝尔高姆、戈拉克布尔、坎普尔、果阿和维萨卡帕特南。
At AIIMS, Delhi, Dr Sanjay Rai, principal investigation of the vaccine trial project, told TOI, "We observed him (the 30-year-old subject) for two hours. There was no immediate side-effect." He said the volunteer has been allowed to go home for now and he will be examined again after two days.
在德里全印度医学研究所,疫苗试验项目的主要调查人员桑杰·拉伊博士告诉印度时报,"我们观察了他(30岁受试者)两个小时。没有立即产生副作用,这名志愿者现在可以回家了,两天后会再次接受检查。"
AIIMS Patna, which started human trials of Covan on 11 volunteers on July 15, has not encountered any major side-effects in volunteers. The results of the first dose are yet to come in.
7月15日,全印度医学研究院开始对11名志愿者进行人体试验,目前还没有在志愿者身上发现任何重大副作用。第一次注射的结果尚未出来。
"There are some minor side effects – like redness of skin where the dose was given, pain and mild fever – which can be seen in any vaccine test. But it went smoothly without any other health issues. The doctors are continuously mon oring their health," said AIIMS-Patna director P K Singh, who's heading the human trials. "The second dose will be given on July 29, after we'll run some tests to make sure that the first dose had no side-effect. We will see how much antibodies developed," he said, adding that 18 persons have been shortlisted for the trial and only seven more people are left for the first dose, "which we will complete in the next few days".
"有一些小的副作用,比如注射部位的皮肤发红、疼痛和轻微发热,这些症状在任何疫苗试验中都可能出现。但一切进展顺利,没有出现任何其他健康问题。医生们一直在监测他们的健康状况,"AIIMS-Patna主任P K Singh说道,他负责人体试验。"第二剂将在7月29日注射,之后我们会进行一些测试以确保第一剂没有副作用。已经有18人入围了这次试验的候选名单,还剩7人将接受第一剂疫苗,我们将在未来几天内完成这项工作,"他补充道。
The Post-Graduate Institute of Medical Sciences (PGIMS) in Rohtak has readied 20 volunteers and administered the first dose to three people on July 17. State nodal officer Dhruva Chaudhary said Rohtak's PGIMS and Patna's AIIMS have enrolled 20 subjects each so far. "None of the 20 volunteers showed any adverse impact of the vaccine. We are planning to start the second phase of human trials soon," he added. Dr Savita Verma, the trial's principal investigator at the institute, said the first batch is to be given a second dose on July 31.
罗塔克医学科学研究生院(PGIMS)已经召集了20名志愿者,并在7月17日给3人注射了第一剂。邦联络官乔杜里说,罗塔克的PGIMS和巴特那的全印度管理学院目前各招收了20名受试者。"20名志愿者中没有人出现副作用。我们计划尽快开始第二阶段的人体试验,"他补充道。该研究所的试验负责人Savita Verma博士说,第一批志愿者将在7月31日进行第二剂注射。
Human trials at SRM Medical College Hospital and Research Centre in Kancheepuram, near Chennai, began on Thursday with two volunteers being administered 0.05 ml of the vaccine each. They will get the next dose on day 14. The volunteers will have to visit the hospital for follow-ups on days 28, 42, 104 and 194 when their response to the vaccination will be assessed by immunogenicity testing.
星期四,SRM医学院附属医院和研究中心开始了人体试验,两名志愿者每人接种了0.05毫升疫苗。他们将在第14天注射下一剂。志愿者将在第28天、第42天、第104天和第194天前往医院接受复查,届时将通过免疫原性测试评估他们对疫苗的反应。
以下是印度时报读者的评论:
A K
Hats off to the Indian pharmaceutical industry for taking up the challenge and soon provide a vaccine
向印度制药业致敬,他们接受了挑战,并且很快就能提供疫苗了
Sanjoy Pandey
Let's hope that the 'Made in India' vaccine becomes a success and spread all over the world.
希望"印度制造"的疫苗成功,为世界各地供应。
Amitava Basu
Hope somebody develops the vaccine, if it's India, we must be all proud and cured first.
希望有人能研制出疫苗,如果是印度,那我们一定会感到自豪,首先给印度人接种。
Ashish Mkar
It seems India will be the first country to produce Covid vaccine for all. Jai vigyan! Jai vigyanik! Jai Bharat!
看来印度将成为第一个生产新冠疫苗的国家。印度必胜!
K Mohan
Our best wishes to Bharat Biech and Zydus for starting vaccine trails on on the patients and hope best results would come out
祝Bharat Biech和Zydus公司的疫苗人体试验成功
Hyderabad
All the best to Bharat Biech and Zydus Cadilla! Hope and pray their efforts to develop a vaccine ag inst Vir s is a huge success! India will reconfirm its status as the world's pharmacy if these two vaccines succeed ag inst Wuhan Vir s!
祝Bharat Biech和Zydus Cadilla公司一切顺利!希望他们成功开发新冠疫苗!如果这两种疫苗都能成功,印度的世界药房地位将再次得到肯定!
Siddharth Jadhav
It will be a great job if Indian made vaccine makes it through all the 3 stages of human trials first successfully. Jai Hind!
如果印度研制的疫苗首先成功通过人体试验的三个阶段,这将是一项伟大的成就。印度必胜!
Prasoon Soni
All the best India!! May God bless all of us..
祝印度好运!!
愿神保佑我们大家。
Anthony Dinozzo Jr
Good. Tests should be conducted on rape convicts and corrupt po iticians like Laloo, Mulayam etc.
好消息。应该先在强奸犯和政客身上试验。
Nadeem Ashraf
BONANZA OF THE WAY FOR PHARMACEUTICAL FIRMS!!
对制药公司来说,这是发财的机遇!!
Rajesh Singh
Lol vaccine. It'll be at least 2 years until a reliable and safe vaccine comes in market. 2 years if not more.
一种可靠、安全的疫苗至少需要两年才能上市
Truth Fails
But fekuji wants this medicine to be announced on 15th August, irrespective of whether it cures or not.
莫迪希望能在8月15日公布疫苗上市,不管有没有效果。
HIMANSU SEKHAR
India is the world's pharmacy. We are confident enough that our scientist will do it.
印度是世界药房。我们确信我们的科学家能成功研制出疫苗。
Harpreet D
Hope outcomes are positive and people can go back to their normal life again.
希望试验能成功,人们可以尽快恢复正常生活。
Truth Fails
Fekuji want this vaccine before 15th August. Do you know why? please comment
莫迪希望在8月15日前宣布疫苗成功。你们知道为什么吗?请发表评论
Aroon
Hats off to Bio tech research team in India.....u have all pential to help world and deliver vaccine for Covid19
向印度的生物技术研究团队致敬…你们完全有潜力为世界提供新冠疫苗
Iqbal Singh
ACCORDING TO REPORTS THE VACCINE WILL ATLEST TAKE 1 YEAR BEFORE IT IS COMMERCIALLY LAUNCHED.
据报道,至少要一年新冠疫苗才能投入市场。
Dutta Pawle
we will be the first one to release the vaccine
印度将是第一个推出新冠疫苗的国家
(译者:Jessica.Wu)