Daily life of my family in Rural China
我们在中国农村的日常生活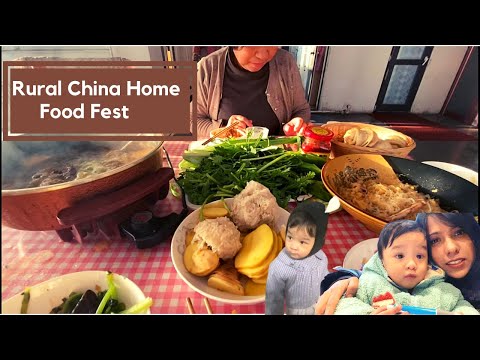 以下是youtube网友的评论:
Kookoo
China have very rich culture just like India. I want that both India and China share there culture with each other.
中国跟印度一样有着丰富的文化
希望印度和中国能分享彼此的文化。
Ipsita Dutta Roy
Evan is the apple of everyone's eyes in the family. He has many people who love him, both his family and the internet family
伊万是家里的掌上明珠啊
有很多爱他的人
s wadh
Ruchi, you are blessed. You have a husband who is such a great father and carer. He is everything that one girl looks for. Equally important, your in laws are such great people. It shows how accepting they are of you. They are so much better than Indian Families who victimize their daughter in law. Hope you can care for them back Equally and make your family proud
如琪啊,你嫁给了一个好的丈夫,很会照顾人的父亲。他给了女孩想要的一切。还有,你的婆家都很棒。这表明他们对接受你的程度很高。比我们印度国内那些伤害儿媳的印度家庭好多了。希望你也能照顾他们,让你的家人为你骄傲
Girijesh Chaurasiya
I think you should learn Chinese thus your life will be more easier to live in China and even can talk better from your family and Chinese people and it's too easy to learn because I also study in jilin near Changchun and I learned just some months goodly so now I can speak normally to all Chinese
我认为你应该学习中文,这样你在中国的生活会更方便,能更好地与家人交流。
学中文很容易的,我也在吉林,长春附近,我学了几个月中文,现在能和中国人交流了
Ruchi in China(播主)
I can speak some Chinese and can understand a lot but too afraid to speak on camera
我能说一些中文,能听懂大部分,但在镜头前说不出口啊
Girijesh Chaurasiya
@Ruchi in China no you shouldn't be afraid and you should teach your child and his father too hindi as well as and English to your child that will be better for him to know many languages
你不应该怕说出来,你应该教孩子和他的父亲印地语和英语,让他会说多种语言会更好
Timu
Really First time I see Indians and Chinese are behaving very friendly , this is nice
这是我第一次看到印度人和中国人友好相处,这很好
Taboo Bunny
endless supply of delicious foods...
吃不完的美食啊
Mahzaib Vlogs
wow simply Amazing I also live in china Beiing
哇塞,真棒,我也住在中国北京
Rajeev Kumar
Ivan is such a good energetic baby....And his grandparents just adore him....He is lucky one who is loved both in China and India..
伊凡是一个精力充沛的好孩子
他的祖父母很喜欢他。他很幸运,在中国和印度都讨人喜欢
Capricorn Star
Omg ! It's bedtime and watching this video is making my mouth water . I love Chinese food . Not talking about Indo-Chinese food but authentic Chinese food that you get in China. I've been to China thrice & I love Chinese food .Chinese food is so diverse and contrary to popular belief , there are enough yummy choices for vegetarians. Many Indians( including me in the past ) have this misconception that Chinese food is too exotic and too different from our Indian palate and that it's not vegetarian friendly . Total lie!
哦天啊,该睡觉了,看这个视频让我流口水了
我喜欢吃中国菜,不是印度改的中国菜,而是正宗的中国菜。
我去过中国三次,我喜欢吃中国菜
中国食物太丰富了,与我们当初想的不同,素食者在中国有足够多的食物选择。很多印度人(包括过去的我)都有这样的误解,认为中国菜太独特了,和我们印度人的口味太不一样,不适合素食者,其实这些都是错的
dipesh rana
China is a very beautiful... Love from India...
中国是一个非常美丽的国家,来自印度的爱
Shivangi Srivastava
Miss China from India
我在印度怀念中国
Subway group of learning
Thanks a lot Ruchi di for showing us real rural China.
非常感谢如琪向我们介绍真实的中国农村生活
Alex Doo
The yellow dog loves Ivan obversely. Ruchi, you chinese family is very cozy, and the vedio shows the real countryside of China.
如琪啊,你的中国家人都很好啊,你让我们看到了真实的中国农村
Richa Trilokani
Such a down to earth and cute family..
多么实在的一家人啊
Uday Bhaskar Reddy
I am from Andra Pradesh. I am watching when you are started vlog.
我来自安得拉邦。你开始发视频的时候,我就开始关注了
Mageswari Ethiraju Avadi
I really likes your video. You are showing the chiniese culture. I love to know the different cultures and especially I enjoy the relationship with your husband side people.
我真的很喜欢观看你的视频。你介绍了中国文化。我喜欢了解不同的文化,尤其是我喜欢看你和婆家人相处。
Yulvin Fairari
I want to eat authentic jilin food
我想吃正宗的吉林菜
Shelly Chakraborty
Stay happy like this for ever...
希望你永远这样幸福下去
Rftgch Klkik
Very kind, wonderful family. Chinese people have great culture...
非常善良,美好的中国家庭。中国人有着伟大的文化啊
Ponoko
Ohhh all these food .. I'm drooling
这些食物,看得我流口水了
Neha Chauhan
Native Chinese are friendly I feel. Sometimes I met Chinese tourists who were super friendly.
我觉得中国人很友好。
有时我遇到的中国游客非常友好。
Chandra Lot
Ruchi you should learn Chinese to involve more in family.
如琪啊,你应该学习中文,才能更好地与家人互动啊
VRaps
Did you guys had get together with relatives
你们和亲戚聚过吗
AmarPreet Singh
Very nice,,, love frm Punjab
非常不错,来自旁遮普的爱
ekata1012
Waiting for new vlog
期待分享新的视频
smwk 2017
You can prepare a homemade curry dish and share with your in-laws.
你可以自己做咖喱,让你的婆家人尝一尝!
NIDHI KINKAR
Ruchi u have a very caring family.when I wach ur videos I am happy to see chinese culture and Indian culture which r too much close to each other.we me ,my daughters always waiting for ur videos .We r from Mumbai.Nameste to ur In_ laws.And love for Evan .
如琪啊,你有一个充满爱的家庭。看了你的视频,我发现中国文化和印度文化太接近了
我和我的女儿们,都在等你分享视频。我们来自孟买!