First Impressions of Mumbai Foreigner in INDIA
对孟买的第一印象,在印度的外国人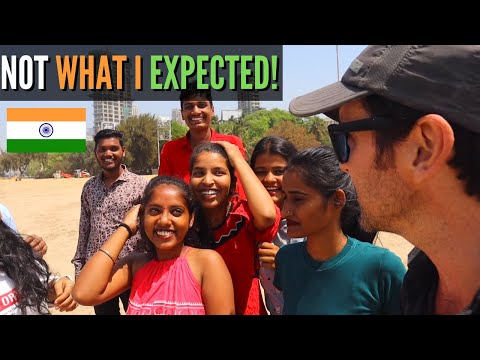 Why is the Gateway of India famous?
The Gateway of India was the last place British troops left India when it became independent. It was built to celebrate King George V and Queen Mary visiting India. Millions of tourists - foreign and domestic - visit the monument daily to bask its architectural beauty.
印度之门为什么出名?
印度之门是英国军队在最后离开印度的地方,是为了庆祝乔治五世和玛丽女王访问印度而建造的。每天都有数以百万计的国内外游客参观这座纪念碑,欣赏它的建筑美。
What is the Taj Mahal of Mumbai?
The Taj Mahal Palace is a five-star heritage hotel with a long tradition of luxury services. It was the first hotel in India that had electricity, American fans, Turkish baths, German elevators, and English butlers. Many celebrities have stayed here including Hillary Clinton and Barack Obama. It is next to the Gateway of India but was built more than 20 years before it. Most people simply call it "The Taj".
孟买的泰姬陵是什么?
泰姬陵皇宫是一家五星级遗产酒店,拥有悠久的豪华服务传统。这是印度第一家拥有电力、美国风扇、土耳其浴室、德国电梯和英国管家的酒店。包括希拉里·克林顿和巴拉克·奥巴马在内的许多名人都曾经下榻这里。它紧挨着印度的门户,早了20多年才建成。大多数人干脆称之为"泰姬陵"。
Is Marine Drive worth visiting?
Marine Drive is a road and walkway stretching from the southern end of Nariman Point to Chowpatty Beach. During the day, you can find students, professionals, tourists, and locals enjoying the ocean breeze and beautiful sights of the buildings along the water. It is commonly called the Queen's Necklace since the city lights twinkle in the water in a curved shaped. It is a great place to meet friends, take photos, take a walk, or relax on a break from work.
Marine Drive值得一游吗?
Marine Drive是一条从纳里曼角南端延伸至乔帕蒂海滩的道路和人行道。白天,你可以看到学生、专业人士、游客和当地人在享受海风和沿河建筑物的美景。它通常被称为女王的项链,城市的灯光在水中以弧形闪烁。这是一个认识朋友、拍照、散步或休息的好地方。
以下是youtube网民的评论:
Traveling Eddie
BenJoe you did exactly the same first two things that I did the day I arrived in Mumbai. I went straight to The India Gate and also went to The Taj Mahal Royal Palace Hotel. It was Epic
你做的头两件事和我到达孟买那天做的完全一样。我直接去了印度门,还去了泰姬陵皇宫酒店。堪称史诗般
Prathamesh Datar
Nice video good to see my hometown after a while. Fun fact, Mumbai has the 2nd highest number of art deco buildings in the world after Miami
有趣的是,孟买的艺术建筑数量仅次于迈阿密,位居世界第二
Katie Sethna
Welcome to my home city ! This is so dear to me ! Every bit of it !
欢迎来到我的家乡!这对我来说太珍贵了!
S K
Hi Ben: Excellent start to your Mumbai series. Mumbai is known as the City Of Dreams. People go there from all over India to make their fortunes. This city has often been compared to New York City for the hustle and bustle. Having seen both cities, I can personally confirm that there are a lot of similarities.
孟买游玩系列的开局精彩啊。孟买被称为梦想之城。人们从印度各地来到孟买发财。这个城市经常被比作纽约。看过这两座城市后,我个人可以证实,它们有很多相似之处。
Benjamin Jenks - American in India
Seemed similar to me too so far
到目前为止,我也感觉这两座城市很相似
Sarth Singh
you're right about that. Mumbai has second highest number of art deco buildings in the world second to Miami.
你说得对。孟买的艺术建筑是世界第二多的,仅次于迈阿密。
Kya Karu Vlogs
You should try out some of the nice historic Parsi/Irani restaurants in and around colaba.
你应该尝试一下科拉巴及其周边的一些历史悠久的帕西/伊拉尼餐厅。
Sh Sumant
You are one of the less person who also show good sides of South Asia .
Hat's off you sir .
你是少数介绍南亚好的一面的人。
为你点赞
Punyasloka Khuntia
Wow wonderful blog. Covered all parts of Mumbai distinctly. You're an amazing person. All the best
哇,很棒。你介绍了孟买的所有地区。你是个了不起的人。祝你一切顺利
Sreekanth Bhaskaran
Nice video. Enjoyed it. Glad you started with beautiful locations and not our infamous slums in Mumbai
不错啊。很高兴你去参观孟买好看的景点,而不是去拍孟买的贫民窟
S Chaudhary
India is a land of Sanatan Dharm..nd we love our dharma...
印度是萨纳坦达姆的土地。我们爱我们的佛法
Krishna Patel
I am born and raised up in Mumbai city but I always feel like an outsider
My way of living & thinking is like a westerner ,hope to be born & raised in Europe than Asia
我在孟买出生长大,不过我总觉得自己是个局外人
我的生活方式和思维方式就像一个西方人,希望在欧洲出生和长大,而不是在亚洲
Sarth Singh
Welcome to Mumbai Benjamin! Hope you had a good time here
欢迎来到孟买!希望你在这里过得愉快
United By Food
Yo Ben welcome to Amchii Mumbai
欢迎来到孟买
rohit sharma
Those dogs with marine drive tag are the local street dogs and have been vaccinated and tagged. These dogs are super smart and friendly with people who go there everyday, I was one of such people till could of years ago. They also help people and cops maintain order by barking loudly at fishy people roaming around. I was friends with one such dog, but it wasn't one of the 2 you showed. Sometimes I wonder how my little friend is doing these days.
那些贴着标签的狗是当地的流浪狗,已经接种了疫苗并贴上了标签。
这些狗非常聪明,对每天都去那里的人都很友好,几年前我也遇到过
它们还帮助警察维持秩序。我和其中一条狗成为了朋友。有时我想知道我的这个朋友最近怎么样了。
Mad Max
Mumbai has one of the largest skyscrapers in the world, also lots of projects like the metro and coastline projects are to be completed in few years.. unfortunately there is a big poor area called dharavi, but surprisingly dharavi earns billions of dollars a year too, so jst develo those places and some street planning, this city is gonna be a BANGER
孟买是世界上摩天大楼最多的其中一座城市,许多项目,如地铁和海岸线项目,也将在几年内完成。
不幸的是,有一个很大的贫民窟叫达拉维,令人惊讶的是达拉维每年也能赚数十亿美元
Balaji Perumal
Ben now you have criss crossed India which is your favourite city, fav town? would love to find out.
你已经穿越了印度,你最喜欢哪座印度城市?我很想知道。
Benjamin Jenks - American in India
Oof tough one, will need to make a full vid i think. Maybe ince i finish mumbai, hyderabad, delhi and jaipur videos i can do an overview
也许在我看完孟买、海得拉巴、德里和斋浦尔后,我可以得出结论
Benjamin Jenks - American in India
I eat mostly veg because of the health reasons
因为身体原因,我基本上吃素
Som
Welcome to my hometown Mumbai.
欢迎来到我的家乡孟买
shadow Prince
Welcome to Mumbai... Hope you have a great time
欢迎来到孟买,希望你玩得愉快
Harsh Mishra
My Birth place, my Love
这里是我的出生地
Bijoy Das
Please visit Kolkata
请来加尔各答参观
Himani Babbar
I like Mumbai but i don't like people of Mumbai. I think they are a bit show off type and not very generous. That's my personal opinion. No offense please
我喜欢孟买,但我不喜欢孟买人。我觉得他们有点爱炫耀,不太大方。这是我个人的看法。恕我冒犯
sandeep
Why
I live in Mumbai but dont judge everyone by single person
为什么?
我住在孟买,但不要以一个人来评判每个人
Himani Babbar
@sandeep well maybe not all are like that but i am basically from Rajasthan and we are very friendly and even neighbours cares for each other like family but i didn't found such behaviour in Mumbai.
不是所有人都这样的,我来自拉贾斯坦邦,我们非常友好,邻居们都像家人一样相互关心,我在孟买没有发现这种行为。
Som
@Himani Babbar I am from Mumbai and you are true to certain extent. I visited Jaipur last December and it was amazing experience. People were so friendly. Amber palace, Hawa Mahal , City palace were awesome to visit. In Mumbai most of the people are money minded.
我来自孟买,你在某种程度上是对的。去年12月我访问了斋浦尔,那是一次令人惊叹的经历。人们非常友好。
琥珀宫、哈瓦玛哈陵、城市宫殿都是令人惊叹的景点。而在孟买,大多数人很有钱。
Himani Babbar
@Som yeah exactly that's what I mean. Mumbai is not good in terms of hospitality.
没错,我就是这个意思。孟买人不怎么好客
sandeep
@Himani Babbar i am living here since 17 years from birth means i am 17 years old and till now our neighbours are more friendly then our own relative
我17岁了,一直住在这里,远亲不如近邻!