Delhi violence: Gt s ms US body, OIC for 'misleading' comments
德里暴乱:政府抨击美国OIC发表"误导性"言论
NEW DELHI: After the US Commission on International Re gious F (USCIRF) raised "grave concerns'' over violence in Delhi, India on Thursday hit back and asked the US body, which cms to mon or re gious fre m all over the world, not to make misleading remarks and po iticise the issue. The go nment also asked the Organisation of Is mic Cooperation (OIC) not to make irresponsible statements on India's internal issue.
新德里:美国国际自由委员会(USCIRF)对德里发生的事件表示"严重关切"后,印度于星期四予以回击,并要求这个声称在全世界监督自由的美国组织不要发表误导性言论,不要将这一问题化。印度政府还要求伊 斯兰合作组织(OIC)不要就印度内部问题发表不负责任的言论。
"We have seen comments made by USCIRF, sections of the media and a few individuals regarding recent in dents of violence in Delhi. These are factually inaccurate and misleading, and appear to be aimed at po iticising the issue,'' MEA spokesperson Raveesh Kumar said.
印度外交部发言人拉维什·库马尔表示:"我们看了USCIRF、部分媒体和一些个人对德里最近发生的事件发表的评论。这些报道在事实上是不准确的,具有误导性的,似乎是为了把这个问题化。"
"Our law enforcement agencies are working on the ground to prevent violence and ensure restoration of confidence and normalcy. Senior representatives of the go nment have been involved in that process. Prime minister has publicly appealed for peace and brotherhood. We would urge that irresponsible comments are not made at this sensitive time,'' he added.
"我们的执法机构正在现场工作,防止,确保恢复正常。政府的高级代表参与了这一过程。总理公开呼吁和平和兄弟情谊。我们强烈要求别在这个敏感时期发表不负责任的言论。"他补充道。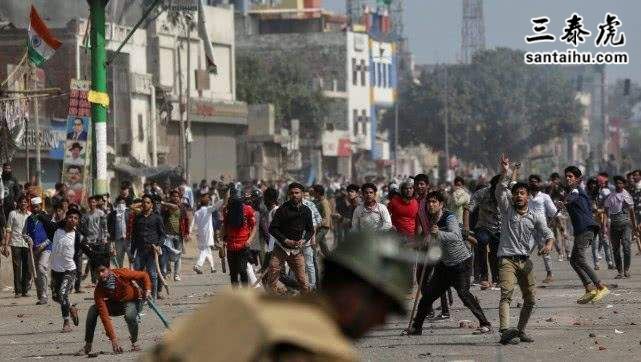 Later, at a media briefing, the offi al asked the OIC not to make inaccurate and irresponsible comments. "The statements which have come out of OIC are factually inaccurate, they are sive, they are misleading. There is an effort on the ground to restore normalcy, to create confidence," Kumar said.
之后,在一次媒体简报上,该要求ysl会议组织不要发表不准确、不负责任的言论。库马尔称:"伊 斯兰会议组织发表的声明事实上是不准确的,是有选择性的,具有误导性。我们正在努力恢复正常,建立信心。"
The OIC had made insensitive comments in the past too and had tried to comment on India's internal affairs, he added.
他补充说,OIC过去也曾发表过不当评论,评论过印度的内部事务
印度时报读者的评论:
译文来源:三泰虎 http://www.santaihu.com/49411.html 译者:Jessica.Wu
K Mohan • Hyderabad • 6 hours ago
When India is not interfering with other countries affairs and they should also be away from India,
印度没有干涉其他国家的事务,其他国家也不要插手印度的事务,
Arnab Gobarswami • 8 hours ago
The world has seen Delhi Police smashing CCTV Cameras so that Hindu mobs are not revealed. Bharatiya Jumla Party can only Fool Low IQ Indians with Iodine deficiency,.
全世界都看到德里警察砸碎摄像头,为的是不让印度教徒的罪行曝光。印度人民党只能骗骗低智商的印度人。
Ramesh T M • Bangalore • 6 hours ago
We need to be sterner in telling these bodies to shut up & mind their biz. Let them keep focussing on the acts of violence in the 54 countries where the radicalism rules. Let them not get their nose bloodied by poking it in our internal affairs. We know pretty well how to deal with them.
让这些人闭嘴,管好他们自己的事,不要让干涉我们的。我们很清楚怎么对付他们。
Nutz • 8 hours ago
Modi and company have successfully done across the country what Pakistan was trying to do since 70 years. divide India on re gious lines
莫迪及其团伙成功地完成了过去70年来巴基斯坦一直在努力做的事情:印度
K Mohan • Hyderabad • 6 hours ago
When the violence is instigated how come the gt be made responsible.
是有人蓄意煽动的,为什么要让印度政府负责呢?
K Mohan • Hyderabad • 6 hours ago
The International bodies should know that India is having formidable leadership to contain any violence
这些国际组织应该知道,印度有强悍的领导人,他能遏制住
Vijay Kumar • Shimla • 6 hours ago
Thanks to all anti-Indians.
拜所有反印分子所赐
K Mohan • Hyderabad • 6 hours ago
This is uncalled for misleading comments from the International agencies who are not aware of ground realities
这些国际组织不了解实际情况,不要发表这种误导性评论
Sohail Choudhary • 7 hours ago
Such a Shame for our Nation that we are being Criticised for State Riots and instead of Introspection our Go nment is just going on Blah Blah Blah... isnt this giving our Nation a Bad Name...?
这是我们国家的耻辱,因暴乱而被抨击,政府不反省,反而在胡扯……这不会败坏我们国家的名声吗?
Suren Sukht kar • 6 hours ago
Mountbatten divided India/Kashmir and left.
蒙巴顿了印度和克什米尔
Ajay • bhopal • 6 hours ago
Gt Slamming is only to pacify it's citizens, already huge dge is being done ,
The real Tukde Tukde gang lies in Modi-Shah-RSS ,shame that such a person is our PM.All are hiding inside their home now.
印度政府予以抨击只是为了安抚民众,破坏已经造成了,现在所有人都躲在家里不敢出门。
Dilip • Victoria • 8 hours ago
More misleading is the Indian media. I think that Shaheen Bagh, presting ag inst a law, pogroms in Delhi, all this is sailing India towards constitutional crisis. I repeat silent Modi is more dangerous than a vocal Modi.
更具误导性的是印度媒体。这一切正把印度推向宪法危机。我再说一遍,沉默的莫迪比喋喋不休的莫迪更可怕。
Arnab Gobarswami • 8 hours ago
Make no mistake, Pakistan is very happy that Modi is ruling. He will complete destroy India's internal bnce and international reputation.
毫无疑问,巴基斯坦很高兴印度是莫迪执政,他将彻底摧毁印度的内部平衡,败坏印度的国际声誉。
Jaspreet Singh • 1 hour ago
Only if Delhi Police had shown some se and ensured innocents are not killed.
德里警方要拿出魄力,确保无辜者不会被杀害。
iqbal ladha • 4 hours ago
Neither the OIC nor the Us dept have stated anything that is factually wrong. Not all of India but the BJP gt. is obviously sensitive because of their failure to maintain communal harmony.
人家说的也没错,人民党政府显然太敏感了,他们没能保持社会和谐。
Jay • 6 hours ago
The day Trump is out of office, India will have foreign relations dried up. These two Gujarati frauds already made enemy of neighbouring countries. In realty, India will have no single country to partner with as soon as Trump's tenure is over. The reason being Trump is an impeached presi nt and has iq less than a cow.
特朗普下台的那一天,印度的外交关系就完了。一旦特朗普的任期结束,印度将没有一个可以合作的国家。特朗普被弹劾的原因是他的智商比牛还低。
Kp Sharma • 6 hours ago
Opposition parties have accused the police of being a silent spectator to the riots in the national capital, where the death toll has reached 34.
反对党指责警方对德里的骚乱袖手旁观。德里骚乱造成的死亡人数已经达到34人。
Orhan Noor • 1 hour ago
Not wng Delhi ions, going back to roits route, this is how BJP strikes back delhites for not voting in their favour
没有赢得德里,就开始制造暴乱,人民党这是在回击没有投票支持他们的德里人
Bchandran Nair V • Trivandrum • 2 hours ago
Why blame other countries? A section of our media and the so called secular intellectuals in this country has said far more than what these foreign countries said
为什么要指责其他国家?我们国家的一些媒体和所谓的世俗知识分子比这些外国组织发表的评论多多了
Hindustani Mai • 3 hours ago
This is well organised voilence by AMIT SHAH BJP FOR PROTESTING ANTI CAA
这是人民党组织的,针对反公民法修正案活动的
Balinder • Tibba • 3 hours ago
When you let mob kill your own citizens under police supervision then why you cm it to be secular de acy
在警察的下,徒杀害了自己的同胞,为什么还声称这是世俗国家?
Rekha • 3 hours ago
India has lost re gious tolerance here itself and searching for the key somewhere else.
印度已经失去了对的宽容,在寻找其他解决问题的办法。
Manoharan Thangavelu • Tiruchchirappalli - India • 4 hours ago
Give up the arms' deal if the dare
如果有胆,就放弃武器交易
Kp Sharma • 6 hours ago
whether the home minister could not handle the situation in the national capital .
印度部长是不是处理不了德里的情况。
Rakesh • 7 hours ago
I have never seen more fanatic media
我从未见过如此狂热的媒体
Manu M • 2 hours ago
If these countries are so concerned, take these people into your country and make them your headache.
真这么操心,就把这些人送去他们国家,让他们头疼。
Times • 4 hours ago
we should start giving our commentary on gun laws and mass sh tings in the USA
我们也可以就美国枪支法和大规模枪击事件发表评论
外文:https://timesofindia.indiatimes.com/india/delhi-violence-gt-s ms-us-body-oic-for-misleading-comments/articleshow/74352259.cms