Nirbhaya case: Delhi court postpones execution of death warrants of all convicts till further order
尼尔巴娅案:德里法院推迟执行所有罪犯的死刑令
NEW DELHI: A Delhi court Friday postponed execution of death warrants of the four convicts in the Nirbhaya gang rape and murder case till further order.
新德里:周五,德里法院推迟对尼尔巴娅轮奸案四名罪犯的死刑执行,直到新命令出台。
Additional Sessions Judge Dharmender Rana passed the order on plea by the convicts seeking a stay on their execution on Saturday, February 1. The court had reserved its order in the pre-lunch session.
2月1日星期六,法官拉娜在罪犯请求暂缓执行死刑的请求下通过了这项命令。法院在午餐前的会议上维持了该执行令。
The court did not agree with the Tihar jail authorities which had challenged the application of three condemned prisoners in the case seeking a stay on their execution.
法院不同意提哈尔简狱当局的看法,他们对三名死刑犯申请暂缓执行死刑提出质疑。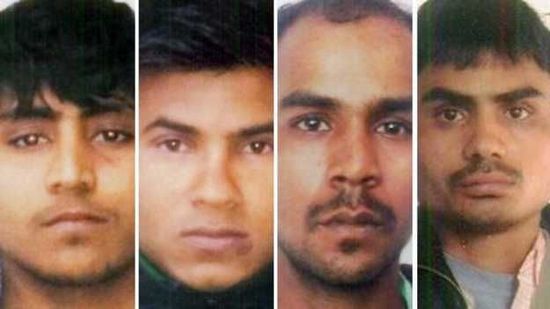 资料图
The black warrants for execution of the death sentence against Pawan Gupta, Vinay Kumar Sharma, Akshay Kumar and Mukesh Kumar Singh, were issued on January 17.
针对帕万·古普塔、维奈·库马尔·夏尔马、阿克谢·库马尔和穆克什·库马尔·辛格的死刑执行黑色逮捕令于1月17日发出。
The convicts' lawyer argued that rules dictate that when one convict's plea is pending the others cannot be hanged.
罪犯的律师辩称,法律规定,当一名罪犯的请求悬而未决时,其他罪犯不能被处以绞刑。
Advocate A P Singh, representing the convicts -- Pawan, Vinay and Akshay -- urged the court to adjourn the executions "sine die" (with no appointed date for resumption). Vinay's mercy plea before the president is pending.
罪犯—帕万、维奈和阿克沙伊—的辩护律师A P辛格敦促法庭"无限期"推迟执行死刑(具体日期未定)。维奈在总统之前的仁慈请求悬而未决。
Mukesh mercy plea was dismissed by President Ram Nath Kovind on January 17. The appeal against the rejection was thrown out by the Supreme Court on Wednesday.
穆克什的宽恕请求于1月17日被总统拉姆·纳特·科温德驳回。周三,最高法院驳回了针对这一否决的上诉。
The trial court on January 17 issued black warrants for the second time for the execution of all the four convicts in the case in Tihar jail at 6 am on February 1. Earlier, on January 7, the court had fixed January 22 as the hanging date.
1月17日,审判法庭第二次发出黑色通缉令,要求于2月1日上午6点在提哈尔简狱处决此案中的所有四名罪犯。法院在早前1月7日,将1月22日定为绞刑日。
资料图
The curative petitions of Vinay and Akshay have been rejected by the apex court. Pawan is the only one yet not to file a curative plea.
维奈和阿克沙伊的治疗请求已被最高法院驳回。帕万是唯一一个至今没有提出治疗请求的人。
Convicts have the option of moving a mercy petition before the president only after the apex court dismisses their curative plea.
只有在最高法院驳回罪犯的治疗请求后,罪犯才有权向总统提出宽恕请求。
Earlier in the day, the apex court dismissed Pawan's plea seeking review of the decision by which his application claiming to be a juvenile at the time of the commission of offence was rejected.
当天早些时候,最高法院驳回了帕万的抗辩请求,要求对其声称在犯罪时是少年的申请被驳回的决定进行复审。
A 23-year-old physiotherapy intern who came to be known as "Nirbhaya" (the fearless one) was gangraped and savagely assaulted on the night of December 16, 2012, in a moving bus in South Delhi. She died of her injuries a fortnight later in a Singapore hospital.
2012年12月16日晚,一名23岁的理疗实习生"尼尔巴亚"在德里南部一辆行驶的公交车上遭到轮奸和野蛮袭击。两周后,她因伤势过重在新加坡一家医院去世。
以下是《印度经济时报》网友评论:
译文来源:三泰虎 http://www.santaihu.com/49264.html 译者:Joyceliu
Vedantham Sheshashar
Fix the dates. Otherwise, the convicts will keep enjoying food, clothing and shelter from taxpayers money. If the date is fixed, they will have to file the petitions before this date to get adjournment of date.
把日期确定下来。否则,罪犯将继续用纳税人的钱来享受衣食住行。如果日期确定,他们必须在此日期之前提交请愿书,以获得延期。
Chandraprakash Jain
Corrupted judges will delay more like Chiddu case.. Judges are bribed by Chiddu. Same in this case also.
附败的法官会像奇都案件一样拖延。法官像奇都案件一样受贿。这个案子也一样。
RAVINDHRA A
HANG THE JUDGES FIRST FOR JUSTICE DENIED AS JUSTICE DELAYED....THEN EVERYTHING WILL SET RIGHT
先把法官吊死,因为正义被剥夺,正义被拖延……然后一切都会好起来的
Das
Who is paying the lawyer fees for these criminals? I am sure some political forces are behind this. Their own sons must have raped and killed some girls and they will be next in gallows if this hanging goes through. That's why they are trying to stop it so badly.
谁为这些罪犯支付律师费?我相信这背后有一股政治力量。他们自己的儿子肯定强奸并杀害了一些女孩,如果执行绞刑,他们就是下一批被绞死的人。这就是他们这么努力地阻挠的原因。
RMB
How can High Court or any lower court stop the procedures had gone through entire process? I think this all should be stayed by Supreme Court.
高等法院或任何下级法院怎样才能停止已完成的整个程序?我认为这一切都应该由最高法院裁决。
Mm
Who is paying the fees of this wretched lawyer?He should also be hanged along with these monster.I feel sure that it is AAP party or Congress that is financing these wretched creatures.
谁在付费给这个卑鄙的律师?他也应该和这些怪物一起被绞死。我确信是AAP党或国会在资助这些可怜的家伙。
Ramaswamy Ramani
the Delhi Court judge Rana needs to be hanged. poor judgement. his children should have been raped by these convits then he will understand how the parents are going through.
德里法院的法官拉纳也该被绞死。可怜的审判。他的孩子们也该被这些罪犯强奸,然后他就会明白父母们的感受。
Ds
3 Cheers to Hyderabad Police. Nirbhaya Rapist are proving how impotent is a Judicial system.
为海得拉巴警方欢呼三声。尼尔巴娅强奸犯正在揭示我们的司法系统是多么无能。
Vivek Gohil
Encouragement by judges to rape again and again.
法官仍旧还在鼓励强奸。
Vivek Gohil
Indian judicial system is a joke.
印度的司法系统就是个笑话。
Alston PF
Which one is the Apex court in the country....? Delhi High court or SC of India.
德里高等法院或印度最高法院,哪个是全国最高法院?
Jagdish Kumar Bhargava
What a fantastic law we have in this country?It goes in favour of Rapists.Perhaps these rapists may not be punished and they are moving in this direction.
这个国家的法律是有多神奇啊?居然包庇纵容强奸犯。也许这些强奸犯不会受到惩罚,所以他们朝着这个方向努力。
A Kumar
I appeal to the Honorable Judges and the President of India to reject all the Pleas at once and Hang these culprits asap.
我呼吁尊敬的法官和印度总统立即拒绝所有的抗辩请求,并尽快绞死这些罪犯。
Satya Paul
Great drama being played out. What kind of judicial system does India have?
一场闹剧正在上演。印度的司法系统是什么鬼样子呀?
Ban Tight Transparent Leggings
Why Courts are doing such drama. Nowadays it has become normal for 4/5 years old girls to get raped. Why Courts are turning India into rape capital.
为什么法院要上演这样的闹剧。如今,4、5岁的女孩被强奸都是很正常的。为什么法院要把印度变成强奸之都。
Satya Paul
Criminals have HUMAN RIGHTS! But what about the rights of the victims and their families?
罪犯也有人全,没错!但受害者及其家人的权利又该如何保障?
May
Indian judiciary is waiting for few more rapes, deaths, burns, suicides, fractures etc
印度司法系统就等着看更多的强奸、死亡、烧伤、自杀等案子吧
Satya Paul
Criminal justice system needs an overhaul at the earliest.
刑事司法系统需要尽早进行全面改革。
Tarkeshwar Prasad Singh
Indian Judicial system is a Joke .
印度的司法系统就是个笑话。
MERABHARATMAHAN
8 yrs to reach verdict?Our courts have taken 2 decades to punish mumbai blast accused.These judges live in colonial era when things were very very very very very slow.
8年才能裁决?我们的法院花了20年的时间来惩罚孟买爆炸事件的被告。这些法官生活在殖民时代,做事太没有效率。
Satya Paul
Too bad.
太糟糕了。
Devidas Telakat
Where is the provision in law requiring all accused in a crime should be hanged together? They acted in sequence and at slightly differing points if time. So what principle indicates that they should all hang together?Thank God the judge did not say they all shall hang by one noose on the same rope. Why have such stupids as judges?
法律上要求所有被控犯罪的人都应同时被绞死的条文在哪儿?他们按顺序行动,时间上稍有不同。那么,什么规定要求他们应该同时执行绞刑呢?感谢神,法官没有说他们得在同一根绳子上的同一个套索上绞死。为什么会有如此愚蠢的法官?
Satya Paul
You never know. The judge may say so next time!
你永远不会知道的。法官下次也许就会这么说了!
Rahul
These evils should not be given any mercy!!! They should be tortured and hanged!!!
这些罪恶是不能宽恕的!!他们应该受点折磨,被吊死!!
RAVINDHRA A
What the hell with the system?What the SC doing looking at all these mockery of justic delayed?
司法系统到底怎么了?最高法院在干嘛,就这么看着这些嘲弄正义的行为?
RAVINDHRA A
ALL INDIAN PUBLIC BLOOD IS BOILING SINCE LAST 8 YEARS. EITHER PARLIAMENT SHOULD REWRITE THE LAW OF PUNISHING THIS TYPE OF CRIMINALS ABOLISHING THE DELAY NOT MORE THAN 30 DAYS ONCE CRIME ESTABLISHED AND PROVED 100%. FURTHER PROLONGING COURT JUDGES AND CRIMINAL SUPPORTING LAYERS MUST BE HANGED TO DEATH FOR MAKING FUN OUT OF JUDICIARY SYSTEM AND MAKING 125 PLUS CRORE PUBLIC BLOOD BOILING WITH NEVER ENDING DELAYS. OR LET THE JUDGES AND LAWYERS MUST BE LEFT TO FREE TO PUBLIC ..SO THAT THEY WILL BE KILLED ALONG WITH CRIMINALS BY PUBLIC ON ROADS.... SHAME AND FILTHY SHAME ON INDIAN DJUDICIARY.
过去8年以来,印度公众的热血沸腾。国会应该改写惩罚这类罪犯的法律,一旦犯罪事实成立并被完全证实,不得延迟超过30天。拖延案件的法院法官和刑事支持人员必须被处以绞刑,因为他们嘲弄司法系统,让12.5亿多公众热血沸腾。印度司法系统真是耻辱、肮脏。
Satya Paul
Seeing such kind of TIME WASTING and unnecessary delays that prompt people to take law into their own hands!
看到这种浪费时间和不必要的延误,民众不得不把法律掌握在自己手中!
Devidas Telakat
The judiciary has hanged itself in the Nirbhaya case. This should trigger fundamental reforms in the judiciary in India.It should not be forgotten that had the judges taken the judicial notice of all existing laws as mandated by sec.57(1) of the Indian Evidence Act,this 'tamasha' of procedure killing substance in violation of the basic structure guarantee of equality will not have arisen. The judges should be prosecuted as the offences stand committed.If not done, the President should be prosecuted after his retirement in terms of Art 361 for offences under the IPC sections and relevant constitutional provisions cited including Art 60.
在尼尔巴娅一案中,司法部门玩火自焚了。这将引发印度司法系统的根本性改革。不应忘记,如果法官们按照《印度证明法》第57(1)节的规定,对所有现行法律采取审判确认,这种违反平等的"闹剧"就不会出现。法官应根据所犯的罪行予以起诉。如果不这样做,总统应在退休后根据第361条对其进行起诉,因为他违反了IPC节和包括第60条在内的相关宪法规定。
Satya Paul
It is this kind of drama that made people rejoice when rapists were shot in encounter in Hyderabad. Must have a SENSITIVE judiciary so that public does think of taking the law in their hands.
正是这种闹剧,使得人们对强奸犯在海得拉巴遭遇枪击的事情欢欣鼓舞。印度必须有敏感的司法系统,这样公众才会考虑将法律掌握在他们手中。
Natarajan D
Indian judiciary is very inefficient and lawyers are corrupt, judges are unfit as they were selected by useless judges. Ashamed of the lawyer who is representing the convicts, he should be barred from practising law in the courts
印度的司法非常低效,律师附败,法官无能,因为他们是由无用的法官挑选出来的。为这个替罪犯辩护的律师感到羞愧,应该禁止他在法庭上从事法律工作。
Arun
The court should release all four so that they find another Nirbhaya and repeat it all over again.DISGUSTING !
法院应该释放这四个罪犯,这样他们就能找到另一个尼尔巴娅,然后让恶行再度上演。真叫人恶心!
Ram Permalla
SC should abolish all appeals of rogues
最高法院应该废除所有恶棍的上诉。
Aruun
Govt should file appeal to thrash this decision urgently.
政府应该立即上诉来推翻这个判决。
Taniya Dutta
Truly our judiciary system SUCKS. It is actually the rape of our entire law & order.
我们的司法系统真是烂透了。这实际上是对我们整个法律和秩序的强奸。
外文链接:https://economictimes.indiatimes.com/news/politics-and-nation/delhi-court-defers-hanging-of-4-convicts-in-nirbhaya-rape-case-till-further-notice/articleshow/73806271.cms