Starting a family, vacation plans: Many dreams die a painful death in riot-hit Delhi
在遭受暴乱袭击的德里,许多人的梦想(生子、度假)随着痛苦的死亡覆灭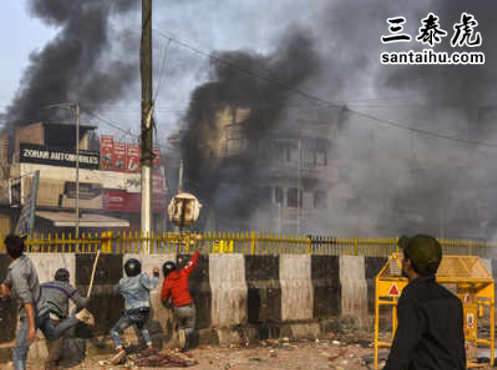 NEW DELHI: Even as five families were grieving at the loss of their loved ones in the violence in northeast Delhi on Monday, there were many injured who had been admitted to various hospitals in a critical condition. On Tuesday, some of them breathed their last, raising the death toll to 13.
新德里:星期一,德里东北部发生事件,5个家庭痛失亲人,沉浸在悲痛之中。尽管如此,仍有许多伤者被送往多家医院,情况危急。星期二,其中一些伤者死亡,死亡人数升至13人。
Guru Teg Bahadur Hospital was swamped with relatives of the deceased. Among them were the inconsolable family members of Shahid Khan (22), who came in the line of fire while returning home along with his brother after offering prayers.
Guru Teg Bahadur医院挤满了死者的亲属。其中有沙希德·汗(22岁)悲痛欲绝的家庭成员,沙希德·汗在祈祷后随哥哥一起回家时被击中。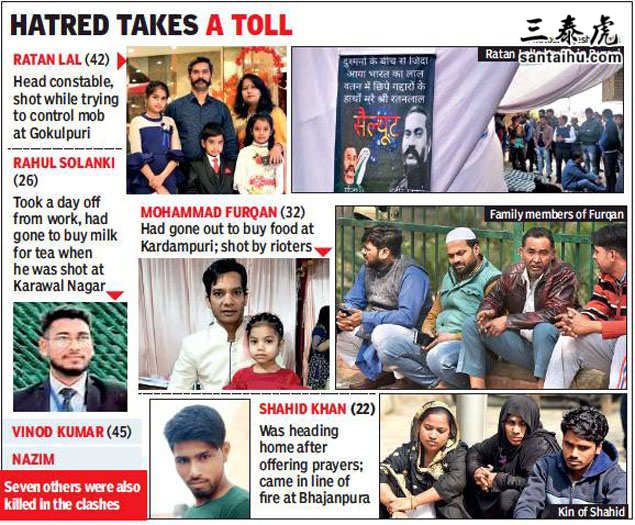 While his brother managed to dodge the bullets, Khan col psed in a pool of blood after being shot. He and his wife were planning to go on vacation next month. They had got married in September last year.
他的哥哥躲过了子弹,但沙希德中弹倒在血泊中。他和妻子计划下个月去度假。他们是在去年九月结婚的
"His wife is three months pregnant. Their future plans died along with him," said Khan's grieving elder brother, Imran.
沙希德悲痛的哥哥伊姆兰说到:"他的妻子已经怀孕三个月了。他们未来的计划随着他的离世破灭了。"
When Khan didn't return on the fateful day, the family members started to panic. When they heard a knock on the door, they thought he had finally reached. "But it was a stranger who showed us a picture of Shahid lying in a pool of blood in Bhajanpura. We were told that two men had taken him to GTB Hospital. We rushed there and found him dead," Imran said. Khan was the youngest of four brothers.
沙希德还没回家时,家人就开始感到恐慌。当听到敲门声时,他们以为他终于回来了。"但是一个陌生人给我们看了一张他躺血泊中的照片。我们被告知有两个人把他送到了GTB医院。我们赶到那里,他已经死了。"伊姆兰说到。沙希德是四兄弟中最小的一个。
Like Khan, 32-year-old Furqan was s t dead when he ventured out to buy food. Mohammad Imran, his elder brother, said that Furqan, who had a handicraft business, wanted to buy essential food items to store in the house. Mohammed said the street was relatively clear when he went outside. He had only walked a few hundred metres when a stray bullet hit him.
和沙希德一样,32岁的福尔坎在外出买食物时被击毙。他的哥哥穆罕默德·伊姆兰说,经营手工艺品生意的福尔坎想买一些必备食物,储存在家里。默罕默德说,他出门时,街上人很少,只走了几百米就被流弹击中了。
"I was at work when a relative called me saying that Furqan had been shot. I rushed home and we took him to the hospital. He was bleeding profusely and succumbed to his injuries," said Mohammed.
穆罕默德说:"我在上班的时候,一个亲戚打电话给我,说福尔坎中弹了,我马上冲回家。我们带他去了医院。他大出血,最后死于伤势过重。"
Furqan got married in 2014 and had two children, a four-year-old girl and a two-year-old boy. Mohammed said his brother always kept his family first. "This is probably the reason why he went out. He only wanted us to be safe. Though things were tense in the area, we never expected this to happen," he added. The autopsy was carried out at GTB Hospital.
福尔坎于2014年结婚,有两个孩子,一个四岁的女孩和一个两岁的男孩。穆罕默德说,他弟弟总是把家庭放在第一位,这可能就是他外出的原因。他只是想让家人安全。尽管该地区局势紧张,但我们从未料到会发生这种事。"尸检在GTB医院进行。
Another victim, Rahul Solanki (26), a civil engineer by profession, was at home till 5pm. He had assured his colleagues at 4.30pm that all was well and he would meet them the next day. However, within an hour, his colleagues received a call that Solanki had been s t dead by riers. "We got to know about the riots and people from office had called him up immediately asking him to take care. He said everything was fine. An hour later, we came to know that he had been shot," said Shweta Chauhan, a colleague.
另一名受害者拉胡尔·索兰基(26岁)是一名土木工程师,在家呆到下午5点。在下午4点30分他向同事们保证一切正常,并将于第二天与他们会面。然而,不到一个小时,他的同事接到了一个电话,说索兰基被徒开枪打死了。一位同事说:"我们了解了骚乱的情况,办公室的人打电话给他,叫他小心。他说一切都很好。但一个小时后,我们得知他中枪了。"
Solanki's father was inconsolable. He said everyone in their family was excited about his daughter's marriage due in early April. They had been busy with the preparations for the past couple of months. "He had taken leave from work because of the tense situation in the area. Now I think it would have been better if he had gone to work. At least he would have been alive today," added the grieving father.
索兰基的父亲伤心欲绝。他说家里的每个人都对女儿(索兰基姐姐)四月初的婚礼感到兴奋。过去几个月他们一直忙于筹备婚礼。"由于该地区局势紧张,他请了假。现在我想,如果他去上班的话,或许就没事了。至少他今天还活着。"这位悲伤的父亲补充道。
印度时报读者的评论:
译文来源:三泰虎 http://www.santaihu.com/49402.html 译者:Jessica.Wu
Mayank Milind • New Delhi, India • 2 hours ago
People here in India are so insensible that they don't understand the value of life. They merely become a victim of false and pseudo word of mouth spreaded by the po itical and other leaders. Shame on us as an individual that these things still prevails in our so called developed society.
印度人太麻木不仁了,他们不懂得生命的珍贵,他们成了政客散布谣言的受害者。在我们这个所谓的发达社会,这些事情仍然普遍存在,这是我们的耻辱。
Genius Singh • 1 hour ago
Why are we falling for a trap made by po iticians...caa has nothing do with citizenship and none will be kicked out if you are indians...stop this madness and chill at home!!!...
为什么我们会落入政客们设下的陷阱……公民法修正案没什么影响,如果你是印度人,就不会被赶出去……别再如此疯狂了!!
ndra Prabha • faridabad • 2 hours ago
Too bad.These riots have certainly spoiled many dreams.But who is responsible?Waht action is taken ag inst the rierss?
太糟糕了。这些暴乱无疑毁了许多人的梦想。谁该为此负责呢?对暴乱者采取了什么行动?
Surajit • Kolkata • 2 hours ago
How so many people keep guns? Are all of them licensed? Why intelligence has no clue? Is policing only meant to save po iticians, even if they are rapists, gundas!!!!
怎么这么多人有枪?他们都有持枪证吗?为什么没有线索?警察只保护政客,即使他们是强奸犯!!
Reyaz • 1 hour ago
Once again common men lose their lives.I am waiting for any po itician to lose his life.
please tell me if it happens.
死的又是普通老百姓,我在等待政客死亡的消息。如果发生了,请告诉我。
Deepak • 1 hour ago
shaheen bhag dadi and SC which failed to clear roads and Delhi CM who never opened his mouth on these prests are responsible for this mess
德里首席部长从来没有开口评论这些活动,他要对这些暴乱负责
Sunny • 1 hour ago
Where ever Modi goes death follows from gujrat to delhi
从古吉拉特到德里,莫迪去哪,哪里就死人
Kurkure • 25 mins ago
But the CM of Delhi is Kejriwal, so don't blame modi.
德里的首席部长是凯杰里瓦尔,不要把责任推到莫迪头上。
Kanakasabhai Natarajan • chennai • 1 hour ago
These are riots started by vested interest ag inst India. No Indian will be affected by CAA esp. Mus ms. How does it matter if we allow Mus ms from other countries to come here as refugees or not. The go nments both central and states must take strict action ag inst presters and those who hold wons and those who instigated them must be put behind bars.
这些暴乱是由反印度分子引发的。印度人不会受到公民法修正案的影响。中央和各邦政府应该对者采取严厉行动,把那些持有武器、煽动暴乱的人关进。
Nanda sanjay • 1 hour ago
Keeps on provoking people for last 78 days for nothing end up with riots............that too tarnish the image of India in the world forum............
在过去78天里,有人不断煽动群众,暴乱不会带来任何结果,但这玷污了印度在国际上的形象
Kalki Brownbrahamin • singapore • 2 hours ago
shame on po iticians particularly the ruling now Delhi =Gujarat
这是政客的耻辱,尤其是现在的执政党,现在的德里和古吉拉特邦差不多了
Nilendu Sarkar • Durgapur • 2 hours ago
We need to prest silently.
我们要默默地。
isaacbenjaminraj • Location • 1 hour ago
the master behind the seance is enjoying life
幕后主使正在坐享其成
Pream • Pune • 1 hour ago
The pseudo libtrds who propagate violence needs to be blamed for these deaths.
煽动的伪自由主义者应该为这些死亡负责。
pothezhath rajagopal gopkrishan • 1 hour ago
The riot and problems in Delhi was created by Congress to welcome Donald Trump. Congress and other useless opposition parties have accepted the fact that they will never win ions to rule India
德里暴乱是国大党制造的,是为了欢迎唐纳德·特朗普。国大党和其他反对党已经接受了这样一个事实,即他们永远无法赢得。
Indian • 37 mins ago
Congress can instigate anything whenever and wherever they want and sit behind and enjoy the tsha.. !! and later openly condemn it . The so called peace loving anti nationals and intruders should be hanged for killing innocent lives !! Strict action is expected from Modi gt and police and our security forces..
国大党可以随时随地煽动暴乱,坐享其成。!!
然后有公开表示谴责。应该绞死那些所谓的爱好和平的反国家分子,他们杀害了无辜的生命!!
莫迪政府、警察和安全部队会采取严厉行动。
Raja Paul • 1 hour ago
Left Front and Congress is responsible for all this mess. They instigated people
左翼阵线和国大党要为这一切骚乱负责,他们煽动人民
mohammed mansoor • 1 hour ago
why home minister not resign , why media not asking , why media became coward
为什么部长不引咎辞职,为什么媒体不发问,为什么媒体变成了懦夫?
Sudhakar Rao • Riyadh • 1 hour ago
Violence is no solution.
不是解决办法。
Kurkure • 9 mins ago
In order for all Indians to be united, we need not to be selfish, we all should help each other no matter ethnicity or re gion
所有印度人团结起来,不要自私,我们应该互相帮助,不管你是属于哪个种族,或者你哪门,我们都应该帮助。
Wiley • 28 mins ago
What a shame and then this country wants to develop. Lol. Never happening
真丢人,这个国家还想发展。哈哈,这是不可能的。
Deepak
Riers should be dealt with extreme severity. Nobody bloody man or woman has the to destroy or force others lives to a mess. Call in the Army and take all the riers to Pak border. Let them have the feel of it.
徒应该受到严惩。没有人有权利去破坏别人的生活。召集军队,把所有徒带到巴基斯坦边境,让他们感受一下死亡的滋味。
Ravi Seth
What is our prime minister and home minister doing? It seems people deaths have no meaning to them.
我们的总理和部长在做什么?死了这么多人,他们毫不在意
Roshan
Modi and Amitshah are responsible for all these killings. They want this to happen so they created a situation like this.
莫迪和阿米沙阿应对这些杀戮负责。他们希望看到发生,这种局势是他们造成的。
外文:https://timesofindia.indiatimes.com/city/delhi/starting-a-family-vacation-plans-many-dreams-die-a-painful-death/articleshow/74309092.cms