GDP growth in October-December quarter slows to near 7-year low of 4.7%
10 - 12月季度,印度GDP增速放缓至4.7%,为近7年来的低点
NEW DELHI: The country's quarterly economic growth slowed to a near seven-year-low in the October-December period of 2019-20, dragged down by contraction in manufacturing and electricity, reinforcing the view that more measures are needed to help the economy navigate choppy waters, especially with the coronavirus threat looming.
新德里:2019- 2020财年10 - 12月期间,受制造业和电力行业萎缩的拖累,印度的季度经济增速放缓至近7年来的最低水平,这强化了一种观点,即需要采取更多措施来帮助经济渡过难关,尤其是在新冠病毒威胁日益逼近的情况下。
Data released by the National Statistical Office (NSO) on Friday showed GDP (gross domestic product) grew by 4.7% in the December quarter, slower than the upwardly revised growth of 5.1% in the previous quarter and below the downwardly revised 5.6% in the December quarter of 2018-19. The October-December GDP growth of 4.7% is the slowest in 27 quarters according to official data and slowest since the 4.3% expansion in the January-March quarter of 2012-13.
国家统计局(NSO)周五发布的数据显示,印度国内生产总值(GDP)在12月当季增长4.7%,低于上一季度5.1%的增幅,也低于2018-2019财年12月当季5.6%的增幅。官方数据显示,去年10 - 12月印度GDP增幅为4.7%,创27个季度以来最低水平,也是自2012-2013财年第一季度4.3%增幅以来的最低水平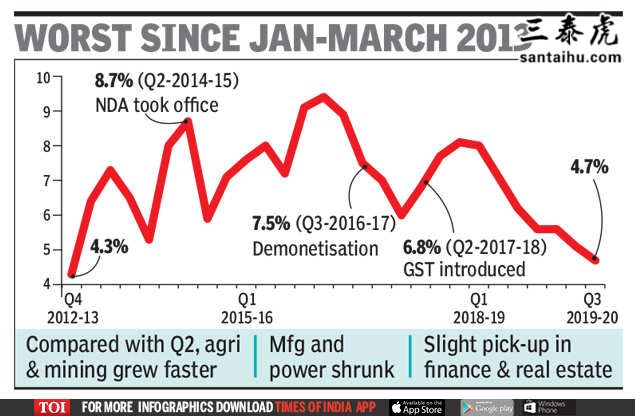 Since the NSO has revised quarterly data for 2018-19 and 2019-20 it may be difficult to do a comparison given the fact that revisions for other quarters are yet to be unveiled.
由于国家统计局已修正2018-2019财年和2019-2020财年的季度数据,考虑到其他季度的修正数据尚未公布,可能很难进行比较。
The NSO also retained the GDP growth estimate of 5% for 2019-20 in the second advance estimate but did not spell out anything about any impact of the coronavirus impact, which is expected to be a major drag on global economic growth.
国家统计局在第二次预估中也维持了2019- 2020财年GDP增长5%的预估,但没有说明任何有关新冠病毒造成的影响。预计新冠病毒将成为拖累全球经济增长的主要因素。
印度时报读者的评论:
译文来源:三泰虎 http://www.santaihu.com/49416.html 译者:Jessica.Wu
Sameer Koul
In next 5 years GDP growth will go below 1 percent. BJP has ruined all the hardwork and planning done by Dr MMS. Uneducated fools.
未来5年,印度GDP增速将低于1%。人民党这些无知的傻瓜毁掉了曼莫汉·辛格所有的努力和计划。
terry lunga
More riot and mayhem coming to cover this..
某些人会制造更多的骚乱来掩盖这一情况…
SHAHID HASSAN NPK
Modi-1 Government enjoyed the upward movement and momentum of GDP growth due to economy policies of UPA-2 go nment.
拜国大党第二届政府时期经济政策所赐,莫迪第一任期享受了GDP增长上升势头的利好。
Whereisindiaheading
Our top brass should know economics to understand this!!!
我们的高层要懂得经济学,才理解得来这一问题
Justice Freedom Equality• 9 hours ago
All neighboring countries accept Afghanistan are doing better than India. Check Global Hunger Index or Freedom Index.
我们的邻国都觉得阿富汗比印度强,看看全球饥饿指数就知道了。
Vishal • Mumbai, India • 10 hours ago
Modi busy managing his public image and glamour and Amit Shah thinking up new ways to exterminate Muslims. Govt is full of uneducated & educated fools like Sitharaman. Anyone criticizing them and showing the right path was labelled Pakistani or 'sickhular' and thrown out
莫迪忙于向民众塑造他的个人形象。政府里满是像西塔拉曼这样没受过教育的傻瓜。任何批评他们并指出正确道路的人都被贴上了"巴基斯坦人"的标签,然后被赶出去
Raj K • 10 hours ago
Mitron . This is nehru and mahatmas fault
这是尼赫鲁和圣雄的错
Rohit Malviya • Mumbai • 7 hours ago
In last many years ... all nonsense channels at prime time debate on hindu muslim or pakistan .. not a single debate on economy .. this is what expected from illeterate leadship of BJP ...
在过去的许多年里,所有频道都在黄金时段讨论印度或巴基斯坦…没有一场关于经济的辩论…在人民党领导下,出现这种结果也是意料之中的…
Ad Sharma • Unknown • Location • 11 hours ago
Now this arrogant finance minister will dump the blame on congress and Pakistan....
现在,这位傲慢的财政部长将把责任推给国大党和巴基斯坦。
Bllog Suri • NA • 11 hours ago
Corona virus impact will be visible next 2 qtrs. Not yet in the numbers. Gdp Growth may touch zero.
新冠病毒的影响将在未来2个季度呈现,印度GDP增长率可能接近零。
aaaa bbbb• 6 hours ago
Corona virus only since 2 months! What about before that?
新冠病毒爆发才2个月!
在这之前呢?怪谁?
Ulhas • Navi Mumbai • 10 hours ago
Earlier in BJP re gie, it was fashionable to blame all failures on 70(?) years of Congress MISrule, UPA I, II, III, dynasty, Nehru, Bofors etc. Now Corona virus comes in handy.
人民党将所有的失败都归咎于国大党70年的执政,归咎于国大党王朝、尼赫鲁等人。现在又怪新冠病毒
Praveen K Vaidyan • Cochin • 6 hours ago
GDP going south.. So what?? We have CAA, Ram Mandir, Hindu Muslim riots, etc etc.. Congress is responsible for GDP slow down.. As long as we vote for our gods and caste, we are fine with hunger and unemployment.. Gods long live...
GDP下降又怎样?只要我们为神和种姓而投票,我们就可以忍受饥饿和失业。国大党要为印度GDP增长放缓负责
Ankur • 9 hours ago
BJP is more dangerous than corona virus
印度人民党比新冠病毒更危险
Anthony • goa • 6 hours ago
We don't trust this govt given figure, we know its well below 2 percent
我们不相信政府提供的数据,其实GDP增速远低于2%啦
Surya • 9 hours ago
Feku is busy as campaign manager for Donald Trump and has spend Rs 220 Crores on road show and Rs 2,500 Crores on stadium and Rs 3,000 Crores on statue. Feku is doing a great job.
莫迪是唐纳德·特朗普的竞选经理,已经花了22亿卢比用于路演,250亿卢比用于建体育场,300亿卢比用于建雕像。在这方面,莫迪做得很好。
Altaf • Bangalore • 6 hours ago
BJP govt is clever n cunning, always finds or creates some excuse to divert attention from falling economy instead of trying to improve it.
人民党政府很狡猾,总是找借口转移人们对经济下滑的关注,从不改善经济。
Altaf • Bangalore • 5 hours ago
BJP govt is fooling us and creating riots through hatred, we all need peace n harmony with good development, we need to understand this without prejudice and believes. Let the hate mongers be punished irrespective of party and religion.
人民党政府在愚弄我们,煽动仇恨,制造骚乱,我们需要发展,需要和谐。惩罚传播仇恨者,不论党派和宗教。
Indian • India • 6 hours ago
try telling bjp about 7 year low. they will say ot is still better than nehru time
这是7年来的最低值,但人民党会说还是比尼赫鲁时代好
Rohit Malviya • Mumbai • 7 hours ago
I am a economist .. n it is known fact that GDP in coming minths is expected to fall 2 %
我是经济学家,未来几个月印度GDP增速预计将下降2%
Exception • 7 hours ago
Give 5 years to bjp they said, will make india developed nation by 2020 they said...looks like they are planning to make it undeveloped nation by 2025...even african countries are having better gdp growth...thanks a lot my Modi..
人民党说,给他们5年时间,到2020年印度将成为发达国家。看起来他们计划在2025年之前让印度成为不发达国家…甚至非洲国家的GDP增长率也比印度高…这都败莫迪所赐…
Rajesh • 10 hours ago
GDP growth will further come down while inflation will be all times high and rupee value will further decline .Thanks to our economic policies and our economic vision.
我们的经济政策,会造成GDP增长将进一步下降,而通货膨胀率将达到历史最高水平,卢比将进一步贬值。
gowgli15 • 8 hours ago
Sad story ahead for India
印度的未来会很惨
BitterTruth • 6 hours ago
Dont worry. The go nment will amend the data and the formula to make the number higher next quarter. That's how economics works right?
不要担心。印度政府会修改数据和公式,下个季度的增速会提高的,经济就是这么回事,对吧?
Fightfalsehood • 6 hours ago
How will the nation progress when leaders encourage and spread hatred violence and fear.
领导人都在传播仇恨、煽动暴丽、制造恐惧,这个国家将如何进步?
Bharat • Dehradun • 6 hours ago
We will witness more incidents like of Delhi riots to coverup economic crisis. In ke bass ka kuch bhi na hain.
我们将看到更多德里骚乱这样的事件,用来掩盖经济危机。
Deviprasad Nayak • 5 hours ago
Poor countries are the fastest growing countries,Sudan has 12% growth,Ethiopia 8 and Bangladesh 7.2.India should grow fast like other poor countries.Unfortunately our leaders comparing poor India with developed countries where growth rate is always low
贫穷国家的增长是最快的,苏丹的增长率达到12%,埃塞俄比亚8%、孟加拉国7.2%。印度应该和其他穷国一样快速发展。不幸的是,我们的领导人拿印度与增长率一直很低的发达国家进行比较
外文:https://timesofindia.indiatimes.com/business/india-business/gdp-growth-in-oct-dec-quarter-slows-to-near-7-year-low-of-4-7/articleshow/74409382.cms