For first time, 9 Supreme Court judges take oath in one go
9名最高法院法官首次同时宣誓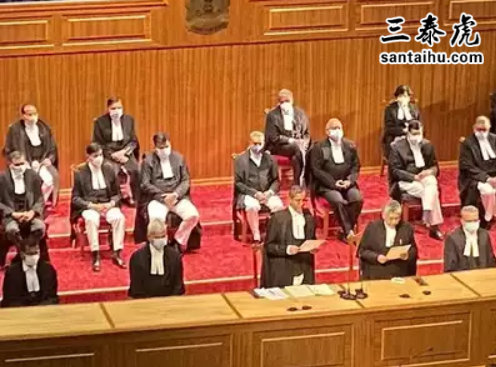 NEW DELHI: Nine new judges, including three women, were on Tuesday administered oath of office as judges of the Supreme Court, taking its strength to 33.
新德里:周二,包括三名女性在内的9名新法官宣誓就职,印度最高法院的法官人数达到33人。
It is for the first time in the history of the apex court that nine judges took oath of office at one go.
9名法官同时宣誓就职,这在印度最高法院历史上尚属首次。
Chief Justice of India N V Rna administered the oath of office to the new judges in a swearing-in ceremony held in the auditorium of the Supreme Court's additional building complex.
印度首席大法官N V Rna在最高法院大楼的礼堂主持了新法官的宣誓就职仪式。
With the swearing-in of the nine new judges, the strength of the Supreme Court would rise to 33, including the CJI, out of the sanctioned strength of 34.
随着9名新法官宣誓就职,最高法院的人数达到33人,加上首席大法官的话,总人数为34人。
The nine new judges who would be administered oath of office as apex court judges include Justice Vikram Nath, Justice Jitendra Kumar Maheshwari, Justice Hima Kohli and Justice B V Nagarathna.
9名将宣誓就任最高法院法官的新法官包括Vikram Nath、Jitendra Kumar Maheshwari、Hima Kohli和B V Nagarathna。
Besides them, Justice C T Ravikumar, Justice M M Sundresh, Justice Bela M Trivedi and senior advocate and former Additional Solicitor General P S Narasimha would also be administered oath of office by the CJI.
除此之外,法官C T Ravikumar,法官M M Sundresh,法官Bela M Trivedi和高级律师兼前副检察长P S Narasimha也将由首席大法官主持宣誓就职。
Justice Nagarathna, the daughter of former CJI E S Venkataramiah, is in line to become the first woman CJI in September 2027.
Nagarathna法官是前首席大法官E S Venkataramiah的女儿,她有望于2027年9月成为首位女首席大法官。

以下是印度时报读者的评论: 译者:Jessica.Wu
Prabhakar R
Worlds worst judicial sy em.. Unaccountable, don't take criticism, corrupt..
印度的司法系统是全世界最糟糕的,不负责任,不接受批评,腐败…
Dilip Parekh
If appointment delayed, so many so called nationlist will start criticizing the go nment.
如果任命推迟,那么许多所谓的民族主义者将开始批评印度政府。
shamvaid
Let us hope, they go beyond deciding on the usual bail applications of the rich & mighty and stop overstep in the realm of the executive branch.
希望,他们不要批准印度权贵的保释申请,停止在行政部门领域的越权行为。
Yogesh Sharma
Now the judges should reduce the number of vacations, holidays and increase the daily working hours. Judges should learn to work from the bank employees and primary teachers.
现在法官们应该减少假期的数量,增加每天的工作时间。法官应该向银行职员和小学教师学习。
Rafool
During last 7-8 years, lot of things happening for first time since independence. Not a surprise
在过去的7-8年里,许多事情自独立以来第一次发生。这并不奇怪
Myth Buster
They will deliver justice.
他们将伸张正义。
Amrutlal Tank
Hope, All these 33 SC judges will work relentlessly to reduce Backlogs in Apex court and common man will get justice faster. People also expect transparency in their working..
希望这33名最高法院的法官都能坚持不懈地工作,减少最高法院案件的积压,尽快为普通人伸张正义。人们也希望工作透明。
Vinod Kumar
Hopefully they will look into the nuisance created miscreant presters on Delhi borders for the last nine months - all in the name of peaceful prest. During their peaceful prest, they have dug up roads and parks, captured over bridge, vandalized Toll Booths , laying siege of Go nment offices, thrashing ed representative and have made life of thousands of non presters as hell.
希望他们调查过去9个月里在德里边界制造的骚乱——所有这些都是打着和平抗议的幌子。在他们的和平抗议中,他们挖开了道路和公园,占领了桥梁,破坏了收费站,包围了印度政府机构,殴打当选代表,让成千上万的非抗议者的生活如同地狱。
Prabhat Patnaik
Judges are supreme authority and no one can challenge them.
法官是最高权威,没有人可以挑战他们。
Rana Pratap
All useless blood sucking parasites feeding on taxpayers money and delivering injustice or delaying cases
都是无用的吸血寄生虫,吸食纳税人的钱,制造不公或拖延案件
Scl Premi
Court judges are a privileged class of people that works the least
法院法官是工作最少的特权阶层
Phoenix Wilson
Soon after taking oath all of them went on much deserved vacation
宣誓后不久,他们都将去假期
SUNDARARAMAN SRINIVASAN
what about Hon. High Courts --- left high and dry -- with over 40% vacancies of Judges therein --- kept deliberately po itically unfilled for long time..
印度高等法院的法官空缺超过40%,由于政治原因,长期处于空缺状态
Docsen
I hope they all dont dream of giving verdicts to secure a rajya sabha seat..or plum positions post retirement....
我希望他们不要为了获得联邦院席位或退休后的优厚职位而做出判决....
Colonel JS Bhullar
Most Important decision required is to segregate and prioritise the cases so that speedy justice is rendered.
需要做出的最重要的决定是区分案件的轻重缓急,以便迅速实现司法公正。
Dr Vidyadhar Yellutla
Some improvization after realization, still a longway to go in judicial reforms.
有了一些改善,司法改革还有很长的路要走。
Guest
CJI should be appreciated well for administering the oath simaltaneously to all 9 new judges bcoz whobecomes next CJI depends on who was sworn in first.
首席大法官的做法值得赞赏,同时主持9名新法官的宣誓仪式,谁将成为下一任首席大法官取决于谁首先宣誓就职。
ballalgovindashankarrao
Half the guys who post comments have no knowledge how court functions I doubt whether they are able to do there jobs or out of work
发表评论的人有一半不知道法院是如何运作的,我怀疑他们是否有能力胜任
Kl K
Please read as 'There is No Transperancy'.
没有透明度
Achint Dass
worst ever judicial sy em, but we at Large still respect our Judiciary due to some of the good Judgements and some good Judges. Otherwise, it is the same sy em since British times.
有史以来最糟糕的司法制度,但由于一些优秀的法官,我们总体上仍然尊重我们的司法制度。
Surya
supreme court bench strength should be reduced to 15 as they all speak in different voices confusing the sy em. Retirement age should be increased to 105
印度最高法院的法官人数应该减少到15人,他们发表不同的观点混淆司法系统。退休年龄应该提高到105岁