The reason why big countries such as India are at a disadvantage in dealing with pandemics
印度这类大国在应对新冠疫情方面处于劣势的原因
By Mihir Sharma
India is now the epicenter of the global coronavirus pandemic. It ranks just behind the U.S. and Brazil in confirmed cases and is growing faster than either. The total rose 20% in just the last week, despite the fact that India is testing less than most of its peers.
目前印度现在是全球新冠疫情的中心,其确诊病例数量仅次于美国和巴西,而且病例增速比这两个国家都要快。尽管印度的检测数量低于大多数国家,但仅在上周,确诊人数就增加了20%。
It's looking increasingly likely that India will wind up being the country with the most cases in the world. This is not just a function of its massive population; China, too, has over 1 billion people.
看来印度越来越有可能成为全球确诊病例最多的国家。这不仅仅是以因为其庞大的人口;毕竟中国人口也超过10亿。
It is a reflection of the fact that big, diverse countries are at a disadvantage in dealing with pandemics.
这反映了一个事实,即多元化大国在应对大流行病方面处于不利地位。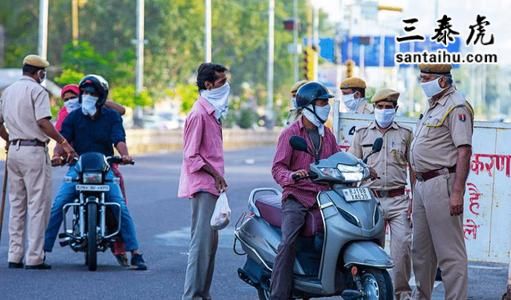 Smaller nations such as New Zealand or Thailand can manage the flow of cases by shutting down their international borders. But internal borders are as porous in India as they are in the U.S. Imagine, for instance, how impossible it would have been for Europe to flatten its curve if it hadn't suspended the Schengen agreement and fre m of movement for its 450 million people. Generally, officials in large nations are reduced to playing whack-a-mole: Even if they suppress an outbreak in Kerala or New York, chances are it will pop up somewhere else.
新西兰和泰国等较小的国家可以通过关闭国际边界来控制病例的流动。但印度的内部边界和美国一样漏洞重重。想象一下,如果欧洲没有暂停申根协定和其4.5亿人口的迁徙自游,怎么可能让疫情曲线变平。一般来说,大国的官们只能扮演打鼹鼠的角色:即使他们在喀拉拉邦或纽约压制了疫情的爆发,但疫情也有可能在其他地方爆发。
The pressure to "reopen" in such countries is also greater. Large nations do well economically because they have big, interdependent and diverse internal markets. Consequently, they can ill afford to have those supply chains broken for long. Unlike the U.S., India was quick to impose a proper nationwide lockdown — at great economic and human cost. Yet now the virus is spreading because people have to move across internal borders if the economy reopens even slightly.
这些国家"重开"的压力也更大。大国在经济上表现良好,因为它们拥有庞大、相互依赖和多样化的国内市场。因此,他们无法承受供应链长期中断的后果。与美国不同,印度迅速在全国范围内实施了适当的封锁——付出了巨大的经济代价和人力成本。然而,病毒仍在蔓延,因为如果经济稍微重启,人们就不得不四处流动,跨越内部边界。
That puts a premium on effective go nment. Keeping close track of such movements and of every little outbreak would require a centralized state with no shortage of spare capacity — ideally one already primed to spy on its own citizens, such as China's.
这就需要一个高效的政府密切跟踪此类流动和疫情的爆发,需要一个不缺闲置产能的中央政府——最好是一个随时可以监视本国公民的国家,比如中国。
For better or worse, no other big-nation go nment has similar abilities.
不管怎样,其他大国政府没有一个拥有类似的能力。
In the U.S., the pandemic has made the consequence of decades of misallocation and paralysis tragically clear. The American edifice of go nment has been hollowed out and its federal structure made unfit for purpose in a partisan and divided age. This ineffectiveness is reflected in data such as the World Governance Indicators, which has seen the U.S. decline steadily over the past two decades.
在美国,这场大流行突显了数十年的分配不当和麻痹状态的后果。美国的政府大厦已被掏空,其联邦结构已经不适合在一个党派林立、分*的时代发挥作用。这种低效反映在世界治理指标等数据上,美国在过去20年里一直在稳步下降。
The world's largest economy should not have a state that struggles to respond effectively to a crisis, even a once-in-a-century crisis. India's state, on the other hand, has always been low on capacity. In fact, it's a standard joke among policy analysts in India that any conversation about what needs to be done ends with the statement, "But we can't do that anyway." The state, at every level, is chronically short of managerial resources, of talent, of resources and of time.
全球最大经济体不应该是一个难以有效应对危机的国家,即使是百年一遇的危机。另一方面,印度政府的效率一直很低。事实上,印度政策分析人士常开玩笑说,任何有关需要采取行动的对话都以"但我们无论如何也做不到"结束。"国家在各级都长期缺乏管理资源、人才、资源和时间。
Often, if it does one thing well, something else is shorted. Early on in the pandemic, Kerala received praise for how well it had limited the spread of the virus through vigorous contact-tracing. But, it turns out, the state devoted so much of its capacity to contact tracing that it failed to ramp up testing. Now state leaders have had to admit that cases are increasing through community spread.
通常情况下,如果它在一件事上做得很好,就会在另一件事上做得不好。在疫情早期,喀拉拉邦因通过大力追踪接触者而有效地限制了病毒的传播而受到赞扬。但事实证明,该邦在接触者追踪方面投入了太多精力,以至于未能加强检测。现在,该邦领导人不得不承认,出现了社区传播,病例正在增加。
Large countries with under-performing states need to shift approach swiftly. In Brazil, an uncooperative national leadership has already forced communities to turn to local organizations and transnational non-profits for help. Governments are going to have to treat NGOs and companies respectfully, as partners, if they want to have a chance of getting through this.
表现不佳的大国需要迅速改变做法。在巴西,一个不配合的国家领导人已经迫使社区转向当地组织和跨国非营利组织寻求帮助。如果政府想度过难关,就必须尊重非政府组织和企业,把它们当作抗疫伙伴。
印度经济时报读者的评论:
译文来源:三泰虎 http://www.santaihu.com/p/50466.html 译者:Jessica.Wu
mrzeng
This is related to the quality and hygiene of citizens. Compared with East Asia, they have done a good job in epidemic prevention. Of course, you can lie to yourself and say that they are all fake! It's too hard to admit that others are better!
这和公民的素质和卫生习惯有关,东亚地区在防疫方面就做得很好。当然,你们也可以自欺欺人,说他们都在作假!
承认别人比自己做得更好是很难的!
AL SMART
INDIA SHOULD FOCUS ON THESE 3 MOST IMPORTANT PRIORITIES FOR THE NEXT 5 YEARS...
MAKE THE INDIAN RUPEE STRONG!!! (IT IS HARD TO FIGHT A PANDEMIC OR ANYTHING ELSE IF YOU HAVE A WEAK CURRENCY)
INCREASE THE TAXPAYER BASE NOT TAX RATES!!! (ONLY 5% OF INDIANS PAY ANY TAXES RIGHT NOW. THAT NUMBER CAN EASILY BE TRIPLED IN THE 5 YEARS)
MAKE POPULATION CONTROL A PRIORITY!!! (THIS IS NOT A MATTER OF RELIGION OR POLITICAL AFFILIATION. THE PANDEMIC IS A WAKE-UP CALL FOR EVERYONE ON THIS BEAUTIFUL EARTH THAT NATURE WILL NOT ALWAYS FORGIVE THE STUPIDITY OF HUMANS)
未来5年,印度应该把重点放在这3个最重要的优先事项上。
让印度卢比坚挺起来!!(如果货币疲软,就很难抗击流行病或其他任何危机)
增加税基而不是税率!!(目前只有5%的印度人缴税,在5年内这个数字可以轻松翻三倍)
3.把控制人口放在首位!!(这与宗教或政治派别无关。这场疫情给生活在这个美丽地球上的每个人敲响了警钟:大自然不会总是原谅人类的愚蠢。
Raman
When we have a semi-literate at the helm of the country and who sole purpose is his self promotion, there is no cure or solution. It is a circus show going on. Today majority in India are struggling to get their next meal.
我们的国家由有一个半文盲执掌,他唯一的目的是就是推销自己。对于疫情,印度没有任何治疗方法或解决办法。这是一场正在进行的马戏表演。如今,大多数印度人都在为下一顿饭苦苦挣扎。
Shri
Use masks, socially distance, Use sanitizers and UVC sterilizers. Be smart and live well, Desis
戴口罩,保持社交距离,使用消毒剂和紫外线消毒器。放聪明点,好好生活。
varadharajan balasubramanian
plants can play an important role in filtering the viruses to a large extent. What is not understood the plants can withstand the attack of this notorious virus. Why this aspect is not researched?
植物能很大程度上过滤病毒。但是不为人所知的是,植物能够抵御新冠病毒的袭击。为什么这方面没人研究?
Chandra
What the illiterate Fake degree fans dont realize is Indias recovery rate is worse than most Asian countries. These Chuthiyas will always comapte to the worst and make some BS claims. Indias recovery rate is only same as Pakistan. Is that some achievement. Most Asian countries have better recovery than India like Vietnam, Thailand, Indonesia, Malayasia, Laos, Cambodia etc. But Feku has only spread the virus with his unplanned lockdown and now its gone from cities to UP, Bihar etc.
印度的治愈率比大多数亚洲国家都要低,莫迪的支持者总是拿印度和情况最糟糕的国家比。印度的治愈率和巴基斯坦一样,这算是一种成就吗?
大多数亚洲国家的治愈率都比印度高,比如越南、泰国、印度尼西亚、马来西亚、老挝、柬埔寨等。
莫迪毫无计划的封锁导致了病毒的传播,疫情已经从城市蔓延到了北方邦。比哈尔等地的农村地区。
Arun Hattangadi
Dharavi infection spread wasnt controlled by "an innovative combination of privately staffed fever clinics, repurposed public infrastructure and manpower from non-go nmental organizations." it is a matter of record that 57% of the population had acquired immunity, so the conclusion can only be that it was "controlled" through herd immunity because everybody had already been infected despite the efforts of the authorities.
有记录显示,孟买达拉维贫民窟57%的人口有了抗体,因此结论只能是通过实现群体免疫控制疫情,管当局做出了努力,但每个人都已经被感染了。
Hadubandhu Mohapatra
Do not compare between India and elder brother China and little bother Kerala models.
不要拿老大哥中国和印度、喀拉拉邦比。
Dinesh Mahabal
This is a biased article against India. Comparison with China is not at all proper as well known they do not give any data.
这是一篇对印度有偏见的文章。拿印度和中国比较根本不合适,众所周知,他们没有提供真实数据。
SHANMUGAVELAYUDAM RAMALINGAM
In Tamilnadu this is cured by Siddha.About 1050 beds are created in many districts and they are planning to have a Siddha cure center in every district
在泰米尔纳德邦,通过悉达医学治愈了这疾病。许多地区已经建立了大约1050个床位,他们计划在每个地区都建立一个悉达治疗中心。
Manivannan S S
Judgement should be based on active cases rather than overall cases which is just keep adding. We have faster recovery rate and it is not as alarming as projected.
应该拿现存确诊病例来作比较,而不是不断增加的累计确诊病例。印度额治愈率更高,不像预期的那样令人担忧。
P N N
Doubling in 21days as of now it is not a rosy picture and flattening the curve only if doubling happens only 40days as per Indian medical expert.
到目前为止,确诊病例在21天内翻了一番,前景并不乐观。按照印度医学专家的说法,只有在40天内翻倍,曲线才会变平。
magicsaint
India also has one of the highest cases of recovery from Covid, if we are going to judge the numbers from the official reports. City like Mumbai with one of the highest population for a city are reporting lesser active cases. This article is a bit biased by only reporting the total number of cases and ignoring all other data.
如果我们从官方报告的数据来判断的话,印度也治愈率最高的国家之一。像孟买这样人口最多的城市报告的活跃病例较少。这篇文章有失偏颇,只看病例总数,而忽略了其他数据。
Sameer
we need to increase and improve the medical infrastructure
我们需要增加、改善医疗设施
vikas sohoni
In 1918, i.e. over 100 years ago, there was a colossal pandemic of 'Spanish flue'. It created havoc on earth, killing tens of millions of people within months. However, human race of survived the onslaught, in spite of absence of computers, internet, mobiles and whatnot. . The health facilities were nonexistent; only those with good immunity survived.
1918年,即100多年前,发生了一场大规模的"西班牙流感",造成了一场浩劫,在几个月内导致数千万人死亡。然而,尽管没有电脑、互联网、手机等等,人类还是在这场浩劫中幸存了下来。在没有医疗设施的情况下,只有那些免疫力高的人才存活下来。
Vinod J
Modiji's dream will come true! India will be No.1!!!
莫迪的梦想会实现的!印度将成为全球第一!!
Mahila Utthan Samiti MUS
You're right. If the pandemic in India is not stopped, half the population will be COVID 19 , it means that 2% may die at actual rate, something like 1.4 crores.
你说得对。如果印度的疫情控制不住,一半的人口将会死于新冠肺炎,这意味着2%的人将会死亡,大约是1400万人。