Covid-19: If gt hospitals are 70% empty, why can't people get beds?
如果公立医院70%床位空置,为何患者一床难觅?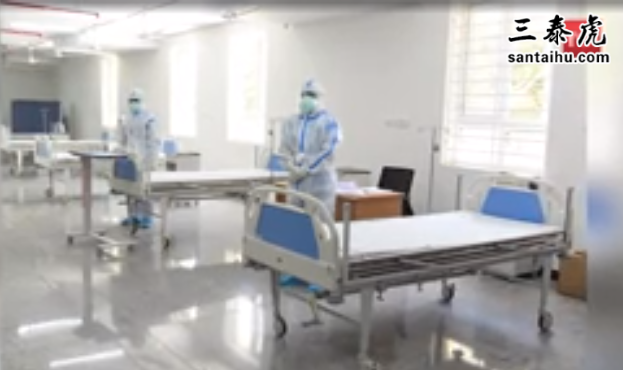 NEW DELHI: Delhi is battling a surge in Covid-19 cases and there are numerous accounts of people being sent from one hospital to another in search of that elusive bed. This, when seven out of every 10 beds reserved for Covid-19 patients in Delhi go nment hospitals are lying vacant.
新德里:新德里新冠病例激增,许多患者辗转多家医院却难觅床位。而同时,德里公立医院为新冠患者预留的病床中,每10张就有7张是空置的。
Doctors and public health experts believe this is an outcome of the general perception that go nment hospitals may not have good infrastructure and hygiene and shortage of staff could lead to patients being neglected.
医生和公共卫生专家认为,这是因为人们普遍认为,公立医院的设施和卫生条件可能不好,而且人手不足,这可能会导致病人被忽视。
The Delhi go nment has reserved 4,360 beds in six hospitals, namely Lok Nayak (2,000), Guru Tegh Bahadur (1,500), Rajiv Gandhi Super Specialty (500), Deep Chand Bandhu (176), Raja Harish Chandra (168) and Jag Pravesh Chandra (16), according to real-time data shared on the Delhi Corona app Of these, as on Wednesday, 61% beds were vacant in Lok Nayak Hospital, which is the largest health facility run by the state. Guru Tegh Bahadur (89%), Rajiv Gandhi Super Speciality (49%), Deep Chand Bandhu (53%), Raja Harish Chandra (87%) and Jag Pravesh Chandra (100%) too had enough beds to accommodate the rising number of cases.
德里政府在六医院保留了4360张床位,Lok Nayak医院(2000张),Guru Tegh Bahadur(1500张),Rajiv Gandhi Super Specialty(500张)、Deep Chand Bandhu(176张),Raja Harish Chandra(168)张和Jag Pravesh Chandra(16张)。根据德里新冠应用程序上分享的实时数据,截至星期三,Lok Nayak医院有61%的床位空置。Lok Nayak医院是印度最大的医疗机构,Guru Tegh Bahadur(89%空置)、Rajiv Gandhi Super Speciality(49%空置)、Deep Chand Bandhu(53%空置)、Raja Harish Chandra(87%空置)和Jag Pravesh Chandra(100%空置),这些医院有足够的床位来容纳不断增加的病例。
Hospitals run by the Centre have 1,470 Covid-19 beds. Of these, 84% were occupied on Wednesday. Lady Hardinge Medical College had no vacant beds while Ram Manohar Lohia, Safdarjung, AIIMS-Delhi and AIIMS-Jhajjar had 2, 6, 63 and 164 beds available, respectively.
中央政府运营的医院拥有1,470张为新冠患者预留的病床,截止星期三,其中84%被占用。Lady Hardinge Medical College没有空置床位,Ram Manohar Lohia, Safdarjung, aiims -德里和AIIMS-Jhajjar分别有2663和164张可用床位。
There are 3,349 beds in private hospitals — excluding the 2,000 that are to be added according to the Delhi go nment's order on Tuesday — and only 29% beds were vacant. So, despite a total of over 9,000 beds being available for Covid-19 patients in the city, there is a sense of crisis. Lawyer and public health activist Ashok Agarwal says people do not want to go to go nment hospitals for reasons of infrastructure and hygiene.
私医立院保留了3349张床位(不包含德里政府星期二下令将要增加的2000张床位),只有29%的床位空置。因此,尽管德里市共有9000多张床位可供新冠肺炎患者使用,但人们仍有危机感。律师和公共卫生活动人士阿肖克·阿加瓦尔说,由于担心公立医院的设施和卫生条件,人们一般不愿意去公立医院。
"I come across patients who are willing to wait to get a bed in a private hospital but don't want to get admitted to ago nment hospital because they feel that the care offered to them there won't be good enough," he said. Agarwal pointed out that unlike private hospitals, most go nment hospitals do not have single rooms. Also, patients baulk at the thought of having to share the toilet with many others.
他说:"我遇到过一些病人,他们宁愿等私立医院的床位,也不愿住进公立医院,因为他们觉得公立医院提供的治疗不够好。"阿加瓦尔指出,与私立医院不同,大多数公立医院没有单人病房。而且,病人一想到要和许多人共用厕所就会却步。
以下是印度时报读者的评论:译者:Jessica.Wu
Nadeem Ashraf
NO ONE KNOWS WHATS HAPPENING ON THE GROUND. WE ONLY READ WHAT IS FED TO US BY MEDIA. REALITY IS VERY DIFFERENT , PEOPLE ARE SUFFERING AND THIS GOVT IS BUSY CAMPAIGNING FOR BIHAR ELECTIONS
没人知道实际情况怎么样,我们看到的只是媒体呈现给我们的东西,实际情况可能截然不同。人们在受苦受难,而政府正忙着为比哈尔邦的造势。
Jay Boro
First of all gt should do massive campaign and let people know that home quarantine is better than hospital or any other places. COVID patients need healthy food, good sleep and plenty of water and rest to give the body's immune sy em enough space to fight the vir s. Patients need to visit hospital or admitted to hospital only if they experience severe symptoms, and in that case only 2-3 person out of 100 go through it. Unnecessary stay in hospital only increase the chances of getting double infection, poor diet or poor hygiene which makes recovery pretty difficult.
首先,政府应该做大量宣传,让人们知道居家隔离比在医院或其他地方隔离更好。新冠患者需要健康的食物、良好的睡眠、充足的水分,充分的休息,这样才能提高免疫力来对抗病毒。只有在出现严重症状时(100人中只有2-3人会出现这种情况),患者才需要去医院就诊或住院,贸然住院只会增加双重感染的几率,不良的饮食和卫生惯会严重影响康复速度。
Bhensaram Pujari
Media has overblown the fear and anety among the people. 97% of the people recover. This is just like any other flue pandemic. No matter how you deal a 100% lockdown or 0% lockdown, the ultimate toll will be the same at the end of this pandemic cycle. That is why other countries in the world have started opening the business and commercial activities.
媒体夸大其词,加剧了民众的恐惧和焦虑。97%的患者康复了,这种病和与其他流感一样,无论你如何处理,100%封锁或不封锁,最终的死亡人数都是一样的。所以其他国家已经开始重启商业活动了。
Aam Aadmi
Covid is a time bomb waiting to explode. Strict lockdown of internal and international movement like and New Zend is the only remedy. Otherwise there will be lakhs of ne cases and thousands of deaths. Don't go by alligator tears of alcoholic JINS and shameless streetwalkers. Enforce strict restrictions in Hotspot cities.
新冠疫情是一颗等待爆炸的定时诈弹。像和新西兰一样,实施严格封锁,限制国内和国际出行,是唯一的解决办法,否则确诊病例和死亡病例将不计其数。在热点城市要实施严格的限制。
BitterTruth
Lockdown wont work in our country where so many people depend in day to day wages. It was model to deal with the crisis. I believe we have enough brain power to come up with our solution
在印度,封城是行不通的,有那么多人依赖日薪生活。封城是处理危机的模式。我相信凭借我们的聪明才智,可以想出适合印度的解决方案。
Lallan
People are suffering the most in non BJP state go nments
在非人民党执政的邦,人民的处境是最艰难的
Sai Narayan
Almost all countries ask their people to stay home and quarantine at home if they feel sick with covid and symptoms are not severe like the flu. However if you feel breathless and have other illness you are immediately taken and cared for in hospitals. Here in India we have a situation where the young and the old irrespective of the severity of the symptoms rush to hospitals and doctors.
几乎所有国家都要求本国人民如果症状不严重,就在家里隔离,如果感到呼吸困难并且患有有其他疾病,立即就医。在印度,不管症状的严重程度如何,年轻人和老年人都蜂拥到医院。
Truthfully Yours
Though Gt made efforts to curb Covid 19 but long term negligence in health sector showing cracks.
虽然政府努力遏制疫情,但卫生部门长期疏忽,不给力。
PaniPuri
Gt hospitals perhaps guarantee the safe passage UP to the Almighty..,and not many wanting to accept that offer YET..
公立医院也许能保证通往天堂的安全通道,还没有多少人愿意去公立医院
Abhi jat
Gujrat is having highest death rate in the country followed by madhya Pradesh both are ruled by bjp, and it was central go nment responsibility to test each and every person returning india at the start of the pandemic so shut up.
古吉拉特邦的死亡率是全国最高的,紧随其后的是中央邦,这两个邦都是由人民党执政的。在疫情刚开始时,中央政府有责任检测每一个返回印度的人。
Indian
No money is spent on improving hospital infra...
政府没有花钱改善医院的设施…
riddhilodha0506
May be the hospital are giving good treatment but the conditions are patheric and hygiene is worst. Seening the condition the person will instead of recovering will die.
也许医院能提供很好的治疗,但是条件很差。病情恶化的人不但无法康复,还可能会死去。
Shivkumar Mohite
Many may be scared of going to go nment hospitals after hearing about mamum deaths occurring of COVID-19 patients in civil hospital Ahmedabad.
很多人听说了艾哈迈达巴德公立医院的新冠患者死亡人数最多,大家可能怕去公立医院了。
Soomuch tosay
We are doomed
我们要完了
Pooja Arora
God save people from visiting goverment hospitals in Delhi..it was in shambles...the corridors were full on stink from bathrooms...there were no benches for people to sit.. people were lying on the floors.....staff was so rude... go nment health services in Delhi are just down to the drain
大家不要去德里的公立医院…情况一团糟……走廊里充斥着卫生间传出来的臭味……没有供人们坐的长凳,大家都躺在地板上……医院员工太粗鲁了……德里的公立卫生服务糟透了
Pallavi Marwah
Irresponsible reporting of news if they have not gone personally or called hospitals to check vacant beds.
如果他们没有亲自去医院查看床位或打电话询问空床,那这种报道也太不负责任了。
Deepak
This current go nment at center is useless!
现任印度中央政府太无能了!
Dreet
Even Congo Democratic Republic did a far better job of controlling the Ebola epidemic.
国大党政府在控制埃博拉疫情方面都做得更好。
Rahul
Kejriwaal is counting only bed, who will count the staff ?
只统计床位,怎么不算下医务人员有多少?
Good Human Human
Does bjp serious about what they are doing during pandemic covid 19.
在处理疫情方面,人民党是认真的吗?