Delhi: Woman kills spouse, says he died of Covid-19
德里女子谋杀亲夫,谎称其死于新冠肺炎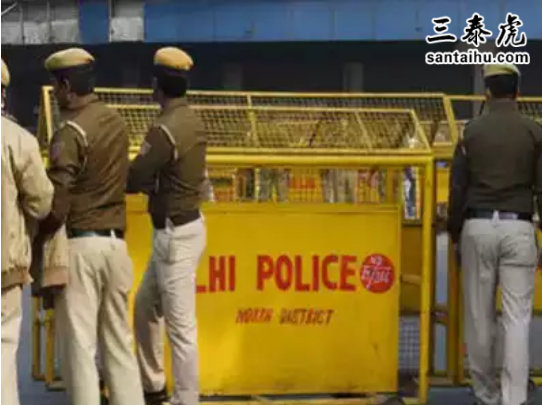 NEW DELHI: A 30-year-old woman allegedly teamed up with her lover to strangle her husband, and tried to pass off the murder as a Covid-19 death, in northwest Delhi's Ashok Vihar. Alerted by locals, police stopped the cremation and got an autopsy conducted on the body, which revealed that the man had been smothered to death.
新德里:在位于德里西北部的阿修克区,一名30岁的女子与情人联手勒死丈夫,并谎称丈夫死于新冠肺炎,试图蒙混过关。警方接到报警后,停止了火葬,并对尸体进行了尸检,结果显示这名男子是窒息而死。
Police said the victim, Sharat Dass, 46, ran a small shop in the Ashok Vihar area. On May 2, Dass's wife Anita told her neighbours that she had woken up in the morning to find her husband lying motionless, and that she suspected he had died of the coronavir s infection.
警方称,受害者沙拉特·达斯今年46岁,在阿修克区经营一家小店。5月2日,达斯的妻子安妮塔告诉邻居,她早上醒来发现丈夫躺在床上一动不动,怀疑丈夫死于新冠肺炎。
The locals informed the cops about the suspected Covid-19 death in their locality.
当地居民向警方通报了这起疑似新冠死亡病例。
Covid death? Wife fails to produce documents
死于新冠肺炎? 妻子未能出示相关证明文件
A Delhi Police team reached the location and asked Anita for details. The woman could not give a proper response. The neighbours told the cops that Dass was in good health and had not appeared to be sick, as cmed by his wife.
随后,德里警察小组到达了案发地点,向安妮塔询问了详细情况。该女子无法给出令人信服的回答。邻居告诉警察,达斯的健康状况良好,并不像他妻子所说的那样,有生病的症状。
"When we asked her for documents, particularly the Covid-19 test results of her husband. There were no documents to establish the illness and her answers were non-satisfactory. The body of deceased was preserved in BJRM mortuary for postmortem, which was done on May 4. Doctor said the cause of death as 'asphya due to ante mortem smothering'. Subsequently, a case of murder under section 302 of IPC was registered and an investigation taken up." said Vijayanta Arya, DCP, North-West.
警官Vijayanta Arya表示:"我们向她索要相关证明文件,特别是其丈夫的新冠病毒检测结果。但她提供不了,她的回答也不能令人满意。死者的遗体被放在BJRM太平间,于5月4日进行了尸检。医生说死因是"窒息"。警方根据IPC第302条登记了一起谋杀案,并开始进行调查。"
Anita was called for questioning and examined at length. She broke down and told the police that she was in love with another man and to get rid of her husband, she had killed him.
安妮塔被传讯,并接受了详细的审问,她了,告诉警察她爱上了另一个男人,为了摆脱她的丈夫,便痛下杀手。
Since Sharat was aware about her relationship with another man, the couple would have regular fights, police said. Anita also told them that her husband did not treat her properly.
警方表示,由于达斯知道妻子与另一名男子的关系,为此两人经常吵架。安妮塔还告诉警方,她的丈夫对她不太好。
She said, on the night of May 1, after Dass had fallen asleep, she called up her lover, Sanjay, and asked him to come to the house. The duo then smothered Dass to death with a blanket, she said. The next morning, she decided to cremate the body and told the neighbours he might have died due to coronavir s.
她说,5月1日晚上,达斯睡着后,她打电话给情人桑杰,叫他到家里来。然后两人用毯子把达斯闷死。第二天早上,她决定火化尸体,并告诉邻居,说丈夫可能死于新冠肺炎。
印度时报读者的评论:
译文来源:三泰虎 http://www.santaihu.com/49842.html 译者:Jessica.Wu
Aam Aadmi
.... women are taking men for ride , thanks to our new found feminism !
由于女权主义兴起,女人正在把男人玩弄于股掌之间
Angsuman Roy
Kind of agree to it.. But most of the cases it's the man who is actually doing wrong..
赞同,但大多数情况下,真正做错事的是男人。
Paramjit Singh
extra marital relationship is not always due to bad treatment by her husband, sometime it is a desease/ habit. In case of no tolerance ag inst bad behaviour of husband, easily get divorsed.
婚外恋并不是由于丈夫对她不好导致的,这是她自己的问题。如果不能容忍丈夫的行径,可以离婚啊。
Manoj Bharati
Such a stupidity..she should have taken divorce if she didn't want to live with her husband..Now will spend life in jail..
愚蠢,如果她不想和丈夫过了,就应该离婚。现在好了,她将在里度过余生啊。
Pradeep Kumar
When one is free to walk off legally from a marriage, why this senseless crime putting 3 lives in danger(including one killed). In this modern living, its accepted that you either live together or seperate.
可以通过合法途径结束这段婚姻,为什么要选择犯罪呢?这下害了3个人(其中一个死了)。两个人能过就过,不能过就离婚,现如今离婚很正常啊,大家都可以接受。
Ramesh Sachdev
This man accused Sanjay is very big idiot. For second hand vehicle he will.now pay price for new vehicle
她的情夫是个大笨蛋,为了一个二手货,把自己都搭进去了
Vishal Sharma
How are you sure about it being a second hand vehicle, it can be third or fourth or fifth,you never know.
你怎么知道是二手,有可能是三手,四手,五手呢?
Lachhman Bhatia
What a novel way to pass off the murder as natural death! How did the woman think anybody could die of Corona vir s without first being infected by any other sufferer? Her reckless act has ruined two lives.
把谋杀说成是自然死亡,很有创意啊!
死于新冠肺炎的人总得先感染新冠病毒吧,这女的怎么不知道这点呢?
她的鲁莽行为毁了两个人。
jeet singh
true ....girls are very good at multitasking..
女的很擅长一脚踏两船
Sheik Mohamed
Illicit relation just for sake of lust, this woman committed this crime. Thanks to alertness of her neighbours she was finally landed in jail.
为了色欲,这个女人不惜犯罪。好在邻居们警惕,她最终锒铛入狱。
Ankur
Divorces should be made much easier than marriages so that couples entangled in a row can easily part such toc relationships. This was a planned cold-blooded homicide so the woman and her partner should be imprisoned for life without parole.
离婚应该比结婚容易得多,这对夫妻本来可以离婚的。这是一起冷血的谋杀案,女子和她的情夫应该被判终身监禁,不得假释。
abhishek kumar
Murder means she get full control of her husband's hard earned money.
In case of divorce not so much.
把丈夫杀了,她就可以拿到丈夫的全部财产。
离婚就不一定了。
Rahul K Barnwal
Getting more common by the day such regretful in dents
这种案子越来越常见了
S Sidhu
Now both Livers will spend their remaining life in Tihar Jail.
现在这两个人都将在里度过余生。
Angraj Mishra
A social research done by a university in USA has shown that during this period of lockdown, married couples are increasingly growing intolerant of each other. Thankfully I am still single
美国一所大学的一项研究表明,在封城期间,天天共处一室,已婚夫妇越来越不能容忍对方。谢天谢地,我还是单身。
abhishek kumar
She could have divorced him.
But she didn't.
Because murder was the only way to get full control of the husband's wealth.
她本可以和丈夫离婚的,但她没有。
因为只有丈夫死了,她才能拿到所有财产啊。
Vishal Sharma
Lockdown is to blame , they could not meet due to it, emotions for uncontrollable, mind got overpowered by lust and then this happened.
这都是因为封城,女子和情夫无法见面,头脑被欲望控制,然后就发生了这样的事。
Prashant Mishra
Being a divorcee is much better than being a murderer. Wrong choice women!
怎么不离婚,离婚总好过杀人啊,这个女人选错了方式!
Veera
The bottom line is "The Husband can't able to satisfy her in bed " she was 30yrs age and her deceased husband was 46...almost 16yrs gap??? She was innocent and wanted a young gun to satisfy her well
这个女的30岁,她已故的丈夫46岁,差16岁呢,应该是他的丈夫无法满足她,她是无辜的,她只是想要一个更年轻的男人来满足。
True Queen of Delhi
Had her husband treated her there won't be any case of extra marital relationship. Men need to ensure that they treat theri women because always remember she might become someone else's queen
如果丈夫对她好,就不会发生婚外情了。男人要对自己的女人好,否则她可能会成为别人的女王
Harsh Kaul
Process of Divorce should be easy and quick so that people are not forced to commit crime.
离婚手续应该简单快捷,这样人们就不会被迫犯罪了。
John Abraham
Perfect .. i will do same .
完美,要是我的话,我也会这么做。
aaaa bbbb
Total genius
天才
Ashok Kth
Becoming common these days, mainly in cities...
这种事情越来越常见了,尤其是在城市里
外文:https://timesofindia.indiatimes.com/city/delhi/Delhi-Woman-kills-spouse-says-he-died-of-Covid-19/articleshow/75614189.cms