Chandrayaan-2 successfully enters Moon's orbit, just days for landing
"月船2号"成功进入月球轨道,离着陆仅剩几日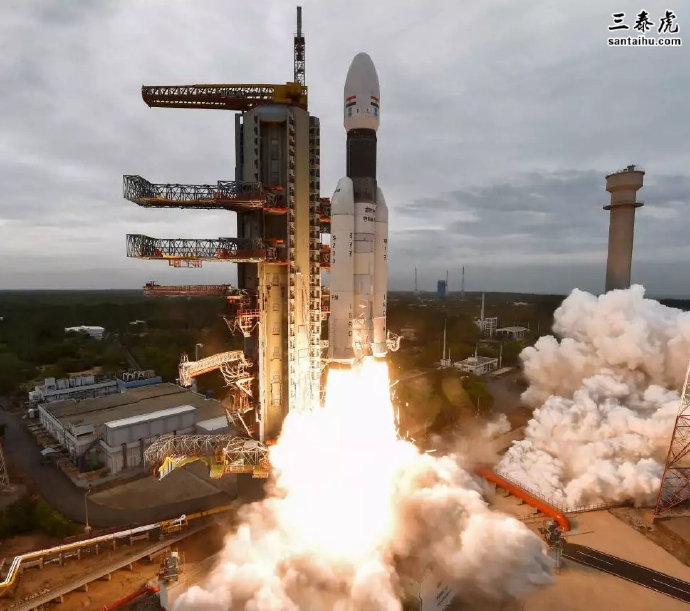 BENGALURU: In a major milestone for India's Moon mission, the Chandrayaan-2 spacecraft has entered Moon's orbit early on Tuesday (August 20).
班加罗尔:作为印度探月任务的一个重要里程碑,"月船2号"于8月20日早间进入月球轨道。
"Lunar Orbit Insertion (LOI) maneuver was completed successfully today (August 20, 2019) at 0902 hrs IST as planned, using the onboard propulsion sy em. The duration of maneuver was 1738 seconds. With this, Chandrayaan-2 was successfully inserted into a Lunar orbit. The orbit achieved is 114 km x 18072 km," Indian Space Research Organisation (Isro) said in a statement.
印度空间研究组织(Isro)在一份声明中表示:"月球轨道导入操作于今日(2019年8月20日)9时02分使用机载推进系统成功完成,操作持续时间为1738秒。"月船2号"成功进入了月球轨道,轨道位置为114 x 18072公里"
Following this, a series of orbit maneuvers will be performed on Chandrayaan-2 spacecraft to enable it to enter its final orbit passing over the lunar poles at a distance of about 100 km from the Moons surface, it said.
随后,"月船2号"将进行一系列变轨操作,使其能够在距离月球表面约100公里处越过月球两极进入最终轨道。""
Subsequently, the lander will separate from the Orbiter and enter into a 100 km X 30 km orbit around the Moon.
随后,着陆器将与轨道飞行器分离,进入绕月球100X 30公里的轨道。
Then, it will perform a series of complex braking maneuvers to soft land in the South polar region of the Moon on September seven, Isro stated. The next Lunar bound orbit maneuver is scheduled on Wednesday between 12.30 PM and 1.30 PM, Isro said.
然后,"月船2号"将在9月7日在月球南极地区进行一系列复杂的操作。印度空间研究组织表示,下一次绕月变轨操作将于星期三下午12:30至1:30之间进行。

印度时报读者的评论:
译文来源:三泰虎 http://www.santaihu.com/48276.html 译者:Jessica.Wu
外文:https://timesofindia.indiatimes.com
Giri Giri•2 hours ago
Great work by our smart scientists...congrats; make sure this landing will benefit people of India in every aspect not just making it proud & some scientific study...Mind it 978 crores are spent.
我们的科学家太有才了,做得好,祝贺。
希望这次探月,能让印度人民在各个方面受益,而不仅仅是带来自豪感,不仅是做一些科学研究……这个项目可是花了97.8亿卢比啊。
ABHISHEK KUMAR•2 hours ago
Best.of.luck Isro
祝ISRO一切顺利
Anonymous•bangalore•3 hours ago
Hope the mission a success
希望这次任务获得圆满成功
Dayanand•3 hours ago
ISRO should collectively with DRDO develop hypersonic jet engine for fighter plane and missiles. They will succeed.
ISRO应与DRDO(印度国防研究与发展组织)共同研发用于战斗机和导弹的高超音速喷气引擎。他们会成功的。
Abhijit Dey•Agart•3 hours ago
Excellent achievement...!!!
这成就了不起!
Jest•3 hours ago
Congratulations N God Speed !
神速啊,祝贺!
Dayanand•3 hours ago
Brilliant ISRO team!!! Fascinating success rate!!!
ISRO团队才华横溢! ! !成功率杠杠的!
Debabrata•3 hours ago
that Chandrayaan-2 has completed its trek to Moon, it is just days away from Moon landing, which will put Isro in an elite club of nations—the US, USSR (now Russia) and —to have successfully landed probes on the lunar surface.
"月船2号"已经抵达月球附近,距离登月只有几天的时间了。登月成功后,印度就能进入由美国、(现在的俄罗斯)和等国家组成的精英俱乐部,这些国家都曾经成功地让探测器降落在月球表面。
Gururaj Babu•3 hours ago
Fantastic achievement. I am ho they show the live pictures of the landing and all the activities on the moon .
这成就不可思议。希望大家能看到着陆月球等的现场照片。
Ramesh•3 hours ago
we salute to the stake holders of this moon mission
向参与这次探月任务的人致敬
KAMAL•Unknown•3 hours ago
Spectacular success of ISRO Their all scientists deserves all appreciation for their tireless efforts to make CHANDRAYAN-II a big success in space history of India
ISRO全体科学家为使"月船2号"取得成功而不懈努力,值得赞赏。成功后就是印度太空史上一个巨大成功
Ulhas•3 hours ago
Laggard R&D depts and institutions like atomic energy, IITs, BARC etc. should also take a leaf out if ISRO's book and try to contrubute THEIR mite to the Nation.
其他研发部门,如原子能机构、印度理工学院、巴巴原子研究中心等,也应该向ISRO学,为国家做点贡献。
Konfucius Ken•3 hours ago
Knowledge is power only if you are able to apply and validate it. Science is a never ending saga of endeavour with ever expanding horizons. Kudos to ISRO to attain these levels of precision in knowledgable application. Wish them all feasible success.
知识就是力量,前提是你能够加以验证和应用。科学能扩展视野,ISRO在知识应用上达到这种水平是值得称赞的。祝他们成功。
Ulhas•3 hours ago
Success is a way if life with ISRO scientists!
成功就是ISRO科学家的生存之道。
Niranjan Naik•3 hours ago
Big salute to ISRO, Indian gts, institutes n industries for their fa th n efforts. The Indian scientific spirit n temper bearing it''s fruits. Proud to be Indian....Jai Hind !!
向ISRO,印度政府,研究机构和工业组织致敬,感谢他们的支持和努力。印度的科学精神孕育着果实。为自己是印度人而自豪……印度必胜! !
Muthuswami•3 hours ago
Excellent Congrats God bless India and all Indians
祝贺,天佑印度,天佑印度人。
Straightfromheart•Unknown•3 hours ago
Every Indian should be proud of this!!!
每个印度人都应为此感到自豪!
Prince Gw•India•3 hours ago
ISRO,you make us proud. Salute you.
ISRO,你让我们感到骄傲。向你致敬。
Amiyakumar Mahapatra•Pune•3 hours ago
NEARLY 500 UNIVERCITYES HAVE PARTICIPATE IN THE PROLECT AS 120 INDUSTRIES HAVE PLAYED A ROLE IN GSLV MIKLL AND CHANDRYAN-2 RESPECTIVELY
120家公司、近500所大学参与了GSLV火箭研制和"月船2号"项目
Abhishek•3 hours ago
A billion dreams inch closer to reality as Nation''s pride, Chandrayaan-2, heads towards Moon. Ready to enter the Lunar Orbit today. ,Best Wishes.
随着"月船二号"向月球进发,十亿印度人的梦想离现实越来越近了。这是国家的骄傲,祝福。
Ramh Sharma• Abhishek•3 hours ago
We were waiting for this critical transition. Great news to cheer. Congratulations India
我们一直在等待这次关键的变轨。太好了。祝贺印度!
Ramesh Sharma•3 hours ago
Brilliant isro scientists superb leadership and exceptional calibre have moved Chandrayaan2 to lunarorbit. This is one step closer to the lunar landing.
ISRO科学家是杰出的,具有超凡的能力和卓越的领导能力,他们将月船2号送入了月球轨道,离登月又近了一步。
Abhishek• Ramesh Sharma•3 hours ago
India's pride Chandrayaan-2 has been successfully inserted to the Lunar Orbit. An overwhelmingly proud moment for India, Jai Hind,Proud of you #ISRO
月船2号"已成功进入月球轨道,这是印度的骄傲。对印度来说,这是一个无比自豪的时刻。为你骄傲,ISRO。
Pavan•3 hours ago
Congratulations Team ISRO.
祝贺ISRO团队。