Chandrayaan-2 taught us fa th and fearlessness: PM Narendra Modi
莫迪总理:"月船2号"带给我们信心和无畏
NEW DELHI: Prime Minister Narendra Modi on Sunday said two important lessons people can learn from the Chandrayaan-2 mission are "fa th and fearlessness" as he praised Indian Space Research Organisation (Isro) scientists for fing a glitch in GSLV-MkIII rocket carrying the lunar craft in record time recently.
新德里:周日,莫迪总理表扬了印度空间研究组织(Isro)的科学家修复了GSLV-MkIII火箭的一个小故障,并表示我们从"月船2号"任务中吸取的两条重要经验是"信心和无畏"。
In his second radio address 'Mann Ki Baat' after assuming charge as PM for the second term, Modi said, "It (Chandrayaan-2) has once again been proved that when it comes to exploring new, innovative zeal, our scientists are the best in the world. We must have fa th in our talent and capacity. The second important lesson is not to get disheartened by hurdles. The way our scientists corrected all technical issues by working day and night and launching Chandrayaan-2 in record time is unprecedented. We all face temporary setbacks in our lives but the capacity to overcome them is also within us."
在其连任后的第二次广播讲话中,莫迪总理表示:"月球2号再次证明,在探索新领域方面,我们的科学家是全球最优秀的。我们对自己的才能和能力有信心。其次是不要被障碍吓倒。我们的科学家们夜以继日地工作,发射了"月船2号",纠正了所有技术问题,这是前所未有的。我们在生活中都会遇到暂时的挫折,但我们有能力克服它们。"
Surprised that the date of moon landing remains unchanged despite the launch getting delayed by seven days, the PM said, "Many are zed that despite the snag delaying the launch, the day of completion (moon landing) of the mission was not changed. We all must be proud of it. Now, we eagerly await for September when lander Vikram and rover Pragyan will land on Moon's surface." He said that Chandrayaan-2 is special in various ways. "It will broaden our understanding of Moon and it is entirely an indigenous mission," he said.
莫迪称,令人惊讶的是,尽管发射推迟了7天,但登月的日期仍保持不变。我们都应该为此感到自豪。现在,我们急切等待着九月份"维克拉姆"号着陆器和"Pragyan"号月球车在月球表面着陆。"月船2号"在很多方面都很特别。将增加我们对月球的了解,而且这完全是一项印度自主完成的任务。"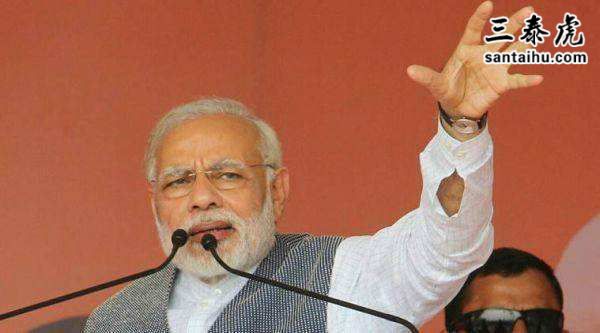 印度时报读者的评论:
译文来源:三泰虎 http://www.santaihu.com/48126.html
外文:https://timesofindia.indiatimes.com
Playpal9 hours ago
Feku does not dare to comment about sorry state of economy or unemployment. After all he has proved it earlier he is a highly qualified cloud scientist.
莫迪不敢谈论令人揪心的经济状况,不敢谈不断提高的失业率。毕竟他之前已经证明自己是一位合格的云科学家
Frequent FlyerBhubaneshwar9 hours ago
Unnao rape survivor critically injured.. feku talk on this.. chandrayan is already taken care of by isro
北方邦城镇乌纳奥的强奸幸存者受了重伤,莫迪谈谈这事儿吧。"月船2号"有ISRO负责就够了。
Narayansingh•2 hours ago
The pride of Chandrayan-2 focuses on all of us to be more & more scientific and technical.
"月船2号"让我们骄傲的地方在于,这证明我们的科技越来越发达了。
Simhadriya•3 hours ago
Feku M0di is talking irrelevantly...........
莫迪净说些不相干的话
desi Bharatiya•3 hours ago
Chup kar feku. Chandrayaan-2 project was initiated in 2007 by our beloved Manmohan Singh's congress go nment. So stop talking any non-sense. The person who does not know ABCD about climate change, is talking about fa th and fearlessness with regards to space technology. Stop talking non-sense.
莫迪,"月船2号"项目是由我们敬爱的曼莫汉·辛格领导的国大党政府于2007年启动的。所以,别再胡说八道了。这个人连ABCD都不认识,也不懂得气候变化是怎么一回事。
居然还在这里谈论"信心和无畏"。别再胡说八道了。
Vinod Conikee• desi Bharatiya•3 hours ago
Just chill and no need to be emotional. Be proundnof your counties accomolishment irrrspective of who takes credit for it. Manmohan had no voice while Modi is a powerful international figure who is improviing the visibility of india.
冷静点,不要这么激动。不管是谁的功劳,都值得自豪。曼莫汉没有发言权,而莫迪是一个国际人物,正在提高印度知名度。
desi Bharatiya• Vinod Conikee•3 hours ago
Feku lost the international credibility when he was declared a murderer and denied visas worldwide repeatedly despite his repetitive applications. By ing him as your PM you vers have made India a laughingstock across the world.
莫迪以前多次申请签证,多次被拒签,他失去了国际信誉。选举他为总理,让印度成为了全世界的笑柄。
Sukhoi• desi Bharatiya•3 hours ago
brother whether it was Congress or BJP, the compliments were given to the ISRO scientists. cool down
"月船2号"不管是国大党还是人民党启动的项目,我们都应该为印度空间研究组织的科学家鼓掌。
Uninterested•India•3 hours ago
feku should have been sent along with the rocket
应该把莫迪塞进火箭,一起发射
Time Bomb•New Delhi•4 hours ago
Before coming into po itics, Modi jee was a scientist at NASA''s Jet propulsion laboratory in Houston. As a matter of fact he is the fourth astronaut in the 1969 moon landing.
进入政界之前,莫迪是美国宇航局NASA休斯顿喷气推进实验室的一名科学家。事实上,他是1969年登月的第四位候选宇航员。
Sukhoi• Time Bomb•3 hours ago
you are the 3rd one
你是第3位
Uday•4 hours ago
Chandrayaan-2 taught us how the destiny was careful and friendly on my poor motherland, it gifted us a really scientific and visionary minded person as first PM.
"月船2号"让我们知道,我们的总理是一个真正懂科学,并且有远见卓识的人。
Coolie•Rajendra Nagar•4 hours ago
ISRO Chadrayaan webpage mentions Manmohan Singh as the initial approver of this mission. BJP IT cell must take urgent action and replace his name with some chaddi RSS coward leader.
ISRO网站上提到曼莫汉·辛格是最初批准登月任务的人。印度人民党的IT部门赶紧行动起来,用某个民族志工组织懦夫领袖取代曼莫汉·辛格的名字。
Uninterested•India•4 hours ago
feku what about the declining jobs in market? do you have any shame left ?
工作岗位越来越少,对此莫迪你有什么想说的?还有点羞耻感吗?
Pradip Chowdhury•4 hours ago
If you are so fearless ..... why not speak ag inst TRUMP
如果你这么无所畏惧,那为什么不敢反对特朗普。
Liberated Mind•4 hours ago
How can people get fooled by CGI and cartoon images. There is no vacuum of space. If there was then there would be no atmosphere. This world is not what we have been told, taught and brainwashed with. Question everything.
人们怎么会被CGI和卡通图像忽悠呢?不存在太空,如果有的话,就没有大气层了。我们被洗脑了,这个世界不像我们被告知的那样。
Skumar•5 hours ago
pray that clouds does not block chandrayan 2 path to moon..
祈祷云朵不要挡住月船2号通往月球的路。
William India•MANGALORE•5 hours ago
FEKURAJ, IS TRYING TO GET SCIENTIS'' CREDIT TO HIMSELF... ANYWAY, DISTROYED THE NATION AND NATIONAL ECONOMY IN THESE FIVE YEARS. DURING 2011-12 INDIA WAS THIRD LARGEST ECONOMY IN THE WORLD, NOW THANKS TO FAKURAJ, WHO SHATTERED THE ECONOMY TO 8TH - SEARCH GOOGLE TO FIND OUT THIS FACT...
这五年来,国家经济受到了破坏。在2011年至2012年期间,印度是世界第三大经济体,拜莫迪所赐,现在降到第8位了。