Chandrayaan-2 to enter Moon orbit around 9.30am tomorrow
"月船2号"将于明日9:30左右进入月球轨道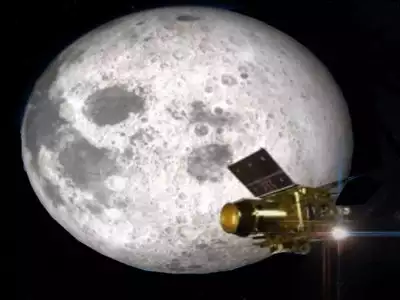 NEW DELHI: Around 29 days after liftoff from Sriharikota on July 22, Chandrayaan-2 is finally going to enter Moon's orbit around 9.30am on Tuesday, which itself will be a milestone for Indian Space Research Organisation (Isro) before the lunarcraft's historic moonlanding on September 7.
新德里:"月船2号"于7月22日从斯里赫里戈达岛发射,历时29天后将于周二上午9:30左右进入月球轨道,这对印度空间研究组织(Isro)来说是一个里程碑。"月船2号"将于9月7日在月球表面实现历史性的着陆。
Isro chairman K Sivan told TOI, "Chandrayaan-2 is going to enter a crucial phase of lunar orbit insertion around 9.30am on Tuesday. On entering Moon's sphere of influence, the onboard propulsion sy em of the craft will be fired to slow down the spacecraft to help it captured by Moon's gravity. We will thereafter conduct five manoeuvres to put the spacecraft around 100km x 100km lunar orbit." The five manoeuvres will be conducted on August 20, 21, 28, 30 and September 1 to lower the altitude of Chandrayaan-2 to bring it closer to Moon's surface.
Isro主席K Sivan对《印度时报》表示:"月船2号将在周二上午9:30左右进入月球轨道,这是一个关键阶段。进入月球的影响范围后,飞船的机载推进系统将被点燃,以减慢飞船的速度,使其受月球引力作用。之后,我们将进行五次变轨操作,使飞船在100公里x 100公里的月球轨道上运行。这五次操作将分别于8月20日、21日、28日、30日和9月1日进行,以降低"月船2号"的高度,使其更接近月球表面。
Expning the lunar orbit insertion, former Isro chief Kiran Kumar told TOI, "Moon has 65,000km sphere of influence, meaning its gravity can pull space bodies up to that distance. On August 20, when Chandrayaan-2 will be just around 150km from the lunar orbit, we will do the reorientation. We will provide a critical velocity to Chandrayaan-2: reduce its velocity and change its direction so that it enters Moon's orbit. If the velocity is more, it will simply fly by and go away from Moon."
在解释进入月球轨道时,印度空间研究组织前负责人Kiran Kumar告诉《印度时报》":"月球的影响范围为6.5万公里,这意味着其引力可以吸引在这个距离内的太空物体。8月20日,当"月船2号"离月球轨道只有150公里时,我们将重新定位。我们将为"月船2号"设定一个临界速度:降低其速度并改变其方向,使其进入月球轨道。如果速度再快一些,它就会飞离月球。"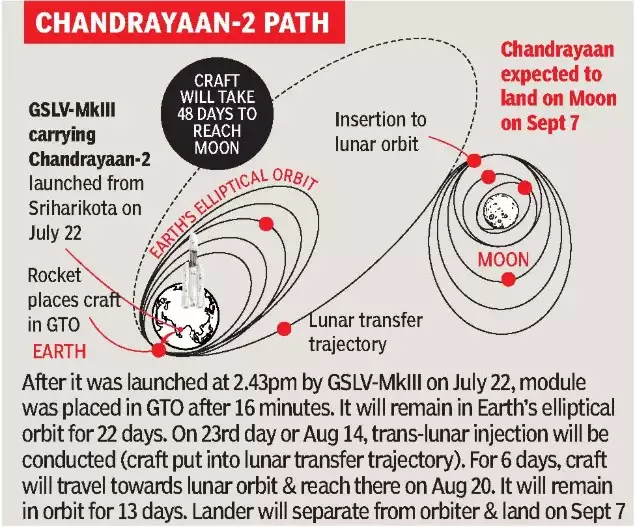 Subsequently, Vikram lander will separate from the orbiter on September 2. "Thereafter, two more manoeuvres will be performed on Vikram before the power descent starts to make the lander make a soft-landing on Moon between 1.30am and 2.30am on September 7," Sivan said. The cameras fitted onboard the orbiter and lander will provide real-time assessment of the landing zone. The lander's downward-looking camera will verify the surface during the touchdown and check for any obstruction.
"维克拉姆"号着陆器将于9月2日与轨道飞行器分离。Sivan称:"此后,维克拉姆号还将进行两次操作。着陆器将在9月7日凌晨1点30分至2点30分之间在月球上实现软着陆。"安装在轨道飞行器和着陆器上的摄像头将提供着陆区域的实时评估。着陆器的下视摄像头将在着陆时检查月球表面是否有障碍物。
After landing, six-wheeled Pragyan rover, housed within Vikram lander, will come out of it after four hours. It will roll out at a speed of 1cm per second. During its lifespan of one lunar day (14 Earth days), Pragyan will move up to 500 metre on the lunar surface. It will take images and analyse content on the lunar surface and send back data via Vikram or the orbiter to Earth within 15 minutes.
着陆后,安装在"维克拉姆"号着陆器内的六轮"Pragyan"月球车将在四个小时后从里面驶出。它将以每秒1厘米的速度行驶。在一个月球日(14个地球日),"Pragyan"将在月球表面移动500米。它将拍摄图像并分析月球表面的物质,并在15分钟内通过"维克拉姆"号将数据发回地球。
印度时报读者的评论:
译文来源:三泰虎 http://www.santaihu.com/48268.html 译者:Jessica.Wu
外文:https://timesofindia.indiatimes.com
pradeep awasthi
It will be certainly the moment of exceptional success that ISRO team will be garnering in spare exploration which will equally keep India a head of countries like ,Russia and USSR.
毫无疑问,ISRO团队这次太空探索会获得巨大成功的,然后印度就领先、俄罗斯(苏联)等国了。
Red Spy
Well done Isro , this is another big Milestone for India.
干得好,Isro,又会是印度的一个里程碑。
Sudhir•Pune•6 hours ago
Hope and pray for it''s success. The next plan would be to land humans and colonise it. It would give India a strategic advantage and hopefully bring in revenue by transporting millionaires to and fro.
祈祷成功。下一个计划就是送人上去殖民月球了。殖民月球后,印度将建立战略优势,并有望通过运送百万富翁往返月球创造收入
Vishal•6 hours ago
wow excited to see landing
哇,迫不及待想看到着陆那一刻
Vikram•7 hours ago
Congratulation to ISRO for this stupendous performance hopefully everything goes fine and it will land safely on moon''s surface
祝贺ISRO取得如此惊人的成绩,希望一切顺利,希望安全降落在月球表面
Satya•7 hours ago
cost effectiveness of ISRO takes us to ten times more powerful than NASA. future space leader is undoubtedly India. coming yrs prove that.
ISRO的成本效益很高,比NASA强十倍。未来的太空领导者无疑是印度。未来的几年将证明这一点。
food bd1•7 hours ago
Very nice
太好了
Indian•8 hours ago
Congratulations Isro.. proud of you.
祝贺Isro,为你骄傲。
A G R India•chennai•8 hours ago
Credits goes to the entire team ISRO.
这是整个ISRO团队的功劳
Rahul Pal•Kolkata•8 hours ago
This is a very good news and i hope they reach do their work and come back safely back to their home. All the best congratulations.
好消息,希望他们能够完成使命,安全返回。祝一切顺利。
Sanjoy Pandey•Kolkata•9 hours ago
Going to be a landmark achievement by India, that too with minimum fuel and cost.
这会是印度的一个里程碑式的成就,使用的燃料最少,成本最低。
Ritchie•NYC•9 hours ago
Useless missions. Unnecessary media coverage. All this has been acheieved long time ago. Nothing new. See tbe condition of India on earth.
毫无意义。媒体没必要报道。没什么新鲜的,别人早就做到了。还是多关注下印度本土的情况吧。
Shri• Ritchie•8 hours ago
what was achieved was never repeated by ur country again I wonder why...second the condition of India was better than world since ancient times...but ur Is mic and Chr tian European brethren took away everything from india and got rich. we are slowly getting out of than loot and massacre now... so be happy for us or dont comment. ur jealousy shows coz ISRO raced ahead of NASA long back buddy.
首先,别人做到过,印度还没有。其次,自古以来,印度就比其他国家更好。你这是嫉妒了,嫉妒ISRO跑在了NASA前面。
Krishan Kumar Totlani•Jaipur•9 hours ago
Eagerly waiting for that moment & i wish ISRO & their team well & i am sure India will create the history by entering the moon tomorrow.
期待那一刻的到来。祝ISRO及其团队一切顺利。我相信印度将创造历史,成功登上月球。
Alpha Centauri•9 hours ago
Next, Isro must make their launch vehicles more powerful so that they do not have to resort to orbital manipulations to reach the target with such a long time. The Soviets made their unmanned journey to the moon in just 36 hours back in the 60''s.
Isro赶紧研制更强大的运载火箭,这样就不必多次通过变轨,才能抵达目标。太费时了。早在60年代,苏联人就在36小时内完成了无人登月之旅。
Gskmki•9 hours ago
Although Moon flight and landing is scientific, as a God fearing nation, India should not forget God. We pray Almighty God to assist our scientific challenge in landing Chandrayaan-2 safely as planned by our scientists at ISRO. Amen.
登月是一门科学,但作为一个敬畏神的国家,印度不应该忘记神的存在。我们祈祷神能帮助我们完成这次科学挑战,让"月船2号"按照ISRO的计划安全着陆。