Chandrayaan-2 enters lunar trajectory for straight journey to Moon's orbit
"月船2号"进入月球转移轨道,将直奔月球轨道
NEW DELHI: At 2.21am on Wednesday, Chandrayaan-2 said goodbye to Earth and left the planet's orbit to enter a straight path towards Moon. The Indian space research organisation (Isro) successfully conducted the 'trans lunar injection (TLI) manoeuvre. During the TLI manoeuvre, the spacecraft's liquid engine was fired for about 1,203 seconds to make it enter the lunar trajectory after it had spent 22 days in Earth's elliptical orbit.
新德里:星期三凌晨2点21分,"月船2号"告别地球,离开地球轨道,进入月球转移轨道。印度空间研究组织(Isro)成功地进行了变轨操作。在操作期间,探测器的液体发动机被点燃约1203秒,使其进入月球转移轨道,此前在地球椭圆轨道上运行了22天。
Expning the lunar trajectory journey, Isro chairman K Sivan told TOI, "Chandrayaan-2 will take six days to travel in the lunar trajectory to reach Moon (lunar orbit) on August 20." The total distance from Earth to Moon is 3.84 lakh kilometre.
Isro主席K Sivan告诉印度时报:"月船2号将在月球转移轨道上运行6天,于8月20日到达月球(月球轨道)。"从地球到月球的总距离是384000公里。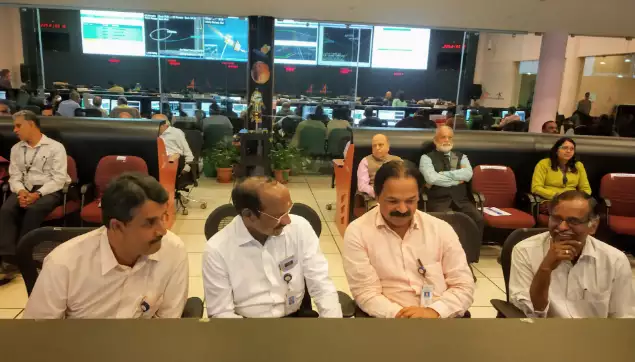 To put Chandrayaan-2 in the lunar trajectory from perigee (the point in the orbit when the craft is nearest to Earth), Isro had first raised the elliptical orbit of the lunarcraft around Earth by conducting five manoeuvres. The fifth manoeuvre was conducted successfully on August 6 when the propulsion sy em was fired for a duration of 1,041 seconds, following which Isro had said all the lunarcraft's parameters were normal. Out of 3,850kg (launch) mass of Chandrayaan-2, 2.542kg is just the weight of fuel.
为了将"月船2号"从近地点(距离地球最近的点)送入月球转移轨道,Isro先进行了五次变轨操作,将"月船2号"的椭圆轨道提高。第五次变轨是在8月6日成功进行的,当时推进系统点火持续1041秒,随后Isro表示所有参数都正常。"月船2号"总重量为3550公斤(,其中燃料重量为2542公斤。
On entering Moon's sphere of influence, the onboard propulsion sy em of Chandrayaan-2 will be fired again to slow down the craft, which will enable it to be captured into a preliminary orbit around Moon.
进入月球范围后,"月船2号"的机载推进系统将再次点火,以减慢速度,这将使它能够进入月球的初步轨道。
Through a set of manoeuvres, the orbit of Chandrayaan-2 around Moon will be circularised at a height of 100 km from the lunar surface. Sivan said, "Like we had raised the Earth orbit of Chandrayaan-2 with the help of the propulsion sy em to take the craft away from Earth, we will use the propulsion sy em to lower the lunar orbit of Chandrayaan-2. We will do five to six manoeuvres to reduce its orbit." Thereafter, Lander 'Vikram', named after the father of Indian space programme Vikram Sarabhai, will separate from the orbiter and enter into a 100kmx30km orbit around Moon. Once the lander reaches 30km altitude on September 6, the final descent to the lunar surface will begin.
通过一系列的操作,"月船2号"围绕月球的轨道将在距月球表面100公里的高度。Sivan称:"就像我们在推进系统的帮助下提高了"月船2号"的地球轨道,把它带离地球一样,我们将使用推进系统来降低"月船2号"的月球轨道。我们将进行五到六次降低其轨道的变轨操作。"在此之后,以印度太空项目之父维克拉姆·萨拉巴伊命名的"维克拉姆"号着陆器将与轨道飞行器分离,进入100x30公里绕月轨道。一旦着陆器在9月6日达到30公里的高度,将最后一次降低高度以在月球表面着陆。
If the Chandrayaan-2 team, led by project director M Vanitha and mission director Ritu Karidhal, is able to land the lunarcraft successfully in the wee hours of September 7, India will become the fourth country in the world to land its spacecraft on Moon.
如果探测器能够在9月7日凌晨成功着陆,印度将成为全球第四个在月球上着陆探测器的国家。
印度时报读者的评论:
译文来源:三泰虎 http://www.santaihu.com/48239.html 译者:Jessica.Wu
外文:https://timesofindia.indiatimes.com
Nsivayam Thiruvengadam•4 hours ago •Follow
My thanks to all the people at ISRO who made this success and also my thanks to our past heroes.,Jai hind bharat mata king jai.
感谢ISRO全体成员,是他们让任务获得成功的,也要感谢过去的英雄。
dhaldawnekar•Unknown•4 hours ago
We pray for the success of the mission! Well done ISRO!
为"月船2号"任务的成功祈祷!做得好,ISRO !
Jamshed Bijly•4 hours ago
Is it bcoz of bjp ?
这是人民党的功劳吗?
Rod•5 hours ago
Edison said - 99 failures lead me to 100th success. Those 99 failures are as imp as the 100th success.
爱迪生说过:"99次失败使我迈向第100次的成功。"这99次失败和第100次成功一样重要。
TRUTH BE TOLD•You can't handle the Truth!!!•5 hours ago
The Landing is going to be the hardest task of all. If I am feeling nervous, I can''t imagine how the ISRO scientists will feel. Wish them the very best!!
着陆是任务中最难的部分。我都觉得紧张,无法想象ISRO的科学家们到时候会是什么感觉。祝他们一切顺利!!
Dilip•5 hours ago
Great News, all the Best and Congrats. would be a pleasure if we can see the landing live on 7th September it would be a great feeling
好消息,祝一切顺利,预祝成功。如果在9月7日能现场看到着陆那一幕,就太棒了
Arun Choudhary•Unknown•5 hours ago
Congratulation for Such a. Big. Achievement. For nation by ISRO TEAM
成就了不起,祝贺ISRO团队。
Tushar Amrule•Pune•5 hours ago
That''s very great achievement for all of the team and feel very much proud. Entire nation looking for your tremendous progress and wish you all best of Luck.
对ISRO团队来说,这是一项巨大的成就,自豪啊。举国上下都期待着你们取得巨大的进步,祝你们一切顺利。
Iraban Banerjee•5 hours ago
CONGRAT TO OUR ISRO TEAM
祝贺我们的ISRO团队
K K Nair•Kuwait•5 hours ago
Feeling elated... Thanks to everyone connected with the Moon mission at ISRO. Keep going and continue to hold the Indian flag high....
心花怒放啊,感谢所有参与ISRO探月任务的人。再接再厉,继续高举印度国旗……
Ranjan Thimpu•Unknown•5 hours ago
Congratulation ISRO :O Phase 2 correct maneuver On Moon Path Now We need to wait for Phase 3 that is Rover Landing :O
恭喜ISRO成功变轨,现在就等着最后的着陆了
Dominic•5 hours ago
sotti khube good news.. etea... eta ee der INDIA''s ProuD. sottie amr kichuee blar ni,, ami khub ee HAPPY
好消息,这是印度的骄傲。
Rajesh Singhal•5 hours ago
Indians are proud of the ISRO team and after reading the detailed programme of the Mission we just stand spellbound. It is all so interesting and we cannot imagine what a tense moment it will be for the ISRO team when the liquid engine will be fired to slow down the aircraft.
印度人为ISRO团队感到骄傲。看了月船2号任务的详细计划后,我们简直惊呆了。无法想象在进行着陆操作时,ISRO团队会有多么的紧张。
Bibin Thilak•5 hours ago
Congratulations to the entire ISRO team
祝贺整个ISRO团队
Sanmesh p•vadodara•5 hours ago
All orbit raising maneuvers completed. Chandrayaan-2 is now straight headed on its 6 day journey to the Moon.,Success is not an accident.. It is hard work, which our indian scientists are doing.. All the best to our indian scientists
所有提高轨道的操作都已完成。"月船2号"现在正在进行为期6天的奔月之旅。成功不是偶然的,需要付出努力,而这正是印度科学家所正在做的。祝印度科学家一切顺利
Sainath Kalpathy•Vijayawada•5 hours ago
we shall live to see those feats too ! GOD BLESS INDIA n GOD BLESS ISRO !
在有生之年,我们能看到这些壮举!
天佑印度,天佑ISRO !
Sainath Kalpathy•Vijayawada•5 hours ago
It needed a visionary like NEHRU to SEE a need for SPACE RESEARCH way back in 50s and initiate a PLAN in this regard ! KUDOs to visionary leaders we had those days ! Today also OUR leaders are carrying on the same VISION ...
早在50年代,印度就需要像尼赫鲁这样有远见卓识的人,意识到探索太空的必要性,并发起太空计划!
向过去有远见卓识的领导人致敬!
Sainath Kalpathy•Vijayawada•6 hours ago
BRILLIANT is the word ~ ISRO is a GEM indeed and its Scientists are NATIONAL ASSETS ~
太棒了。印度空间研究组织确实是印度的瑰宝,ISRO的科学家是国家的财富。
Swati Khanna•6 hours ago
ISRO all the way.
ISRO一如既往
K.•6 hours ago
CONGRATULATIONS
祝贺
Ajit Leo•India•6 hours ago
Heartiest congratulations to ISRO.
向ISRO表示最衷心的祝贺。
Shiv C K Vaid•Unknown•6 hours ago
Fantastic job underway by our scientists. Salute to them and pray success.
我们的科学家正在完成一项了不起的任务。向他们致敬,并祈祷成功。
Sanjeeb•6 hours ago
Great!!!!
太棒了! ! ! !