Had no money to feed crying daughter, killed her: Bengaluru techie to cops
没钱养活哭闹的女儿,杀了她:班加罗尔技术人员对警察如是说
BENGALURU: He bought some biscuits and chocolates for his two-and-a-half-year-old daughter after driving out of Bengaluru. He even played with her in the rear seat. But thoughts of harassment by lenders prevented him from returning home and he did the unimaginable - killing the little girl before trying to end his life.
This is what Rahul Paramar, 45, a debt-ridden techie who survived the suicide attempt, told police. "She started crying and I didn't have any money left with me. A worse situation awaited me if I returned home. I just hugged her tight and killed her. My helplessness to buy her food made me take the decision. I jumped into the lake with her to kill myself, but didn't drown," he claimed.
班加罗尔:驾车离开班加罗尔后,他给两岁半的女儿买了一些饼干和巧克力。他甚至在后座上和她玩了一会。但一想到债主他不敢回家,于是做了一件令人发指的事——在自杀前杀死了他的女儿。
45岁的拉胡尔·帕拉玛尔对警方陈述了犯罪经过,他是一名债台高筑的技术人员,自杀未遂。"她开始哭闹,但我身上已没有钱了。如果回家,等待我的情况更糟。我只能紧紧抱住她,杀了她。我无力为她购买食物,绝望中做了这个决定。我和她一起投湖自杀,但没有被淹死。"
Rahul, who was arrested by Kolar police on charges of killing his daughter Jiya and dum her body in a lake near Kendatti on Bengaluru-Kolar highway, was on Friday taken by police for a spot mahazar as part of the crime-reconstruction procedure.
According to police sources, Rahul was disturbed while trying to explain how it all unfolded. "He took some time to get down from the vehicle. In the begng, he wept inconsolably. But he gained control of himself and started narrating his version. By then, he saw his father Vinod Paramar and wife Bhavya standing on the lake bed and again broke down. Rahul said he regrets killing his daughter, but had no choice," sources said.
拉胡尔被科拉尔警方逮捕,罪名是杀害女儿吉雅,并抛尸在班加罗尔-科拉尔高速公路肯达蒂附近的一个湖里。周五,作为案件复原的程序之一,警方将拉胡尔带往现场。
据警方消息来源称,拉胡尔在复述案件过程时很不安。"他坐了很久才下车。一开始,他哭得很伤心。但随后他控制住了自己的情绪,开始说明犯罪过程。当看到他的父亲维诺德·帕拉玛尔和妻子巴芙娅站在湖中时,他再度失控。拉胡尔称他非常后悔杀了自己的女儿,但当时他别无选择。"
Rahul and Jiya had gone missing on November 15 after he took her out on the pretext of going to school. His wife Bhavya filed a missing complaint with Bagalur police when they both did not return home. The next morning, Jiya's body surfaced in the lake and police suspected Rahul too may have died by suicide.
A techie from Gujarat settled in Bengaluru, Rahul lost his job, suffered financial losses in Bitcoin business and faced a police inquiry for filing a false robbery case. Rahul had pledged his gold and told his wife that he was robbed of the ornaments. He was reportedly attached to his daughter and decided to end her life and kill himself fearing the wrath of those he had borrowed money from.
He added: "I smothered her to death by holding her tight against my chest. Holding her, I jumped into the lake but the water was less. Then I decided to jump before a train. Leaving the body in the water, I came to the road, asked a motorist to drop me to Bangarpet railway station and caught a Tamil Nadu-bound train."
11月15日,拉胡尔借口带女儿上学,接着俩人就失踪了。他的妻子巴芙娅向巴加卢尔警方报告了失踪情况。第二天早上,吉雅的尸体浮出水面,警方怀疑拉胡尔可能也自杀身亡了。
作为一名来自古吉拉特邦的技术人员,拉胡尔在班加罗尔定居,他失业了,比特币投资也惨遭巨亏,并因伪造抢劫案件面临警方调查。拉胡尔抵押了他的黄金并告诉妻子,他的饰品被抢了。据报道,拉胡尔很爱自己的女儿,因为害怕债主,才决定结束女儿的生命并自杀。
拉胡尔说:"我把女儿紧紧抱在胸前闷死了。我抱着她跳进湖里,但水位下降了。于是我决定让火车头撞死自己。我把女儿的尸体留在水里,去路边拦了一个司机把我送到班加佩特火车站,并坐上开往泰米尔纳德邦的火车。"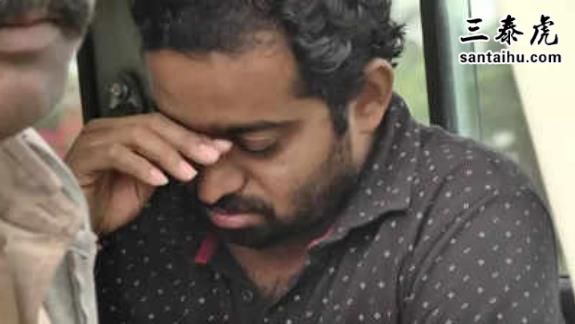 以下是印度时报读者的评论:
•16 hours ago
That is why temples should be free of government control. Churches and Mosque can afford charity programs, while govt steals donations at temple.
这就是应该让寺庙摆脱政府控制的原因。教堂和清真寺可以做慈善,而政府只会觊觎寺庙的捐款。
Venkatesh i•17 hours ago
MF, he should have killed himself instead of killing the innocent girl.
他应该杀了自己,而不是让无辜的女儿替他送命。
•22 hours ago
Very sad to hear this. Dealing with Bitcoins when one doesn't have deep pockets and risk appetite is really dangerous. I pity the poor and innocent toddler who faced the brunt and wrath and succumbed for no fault of hers and for the sheer greed of the parent.
听到这个消息我太难过了。没有充裕资金和风险承受能力的人,玩比特币是非常危险的。我同情这个可怜而无辜的孩子,稚子无辜,却因为父母的贪婪而送命。
Chandrika k•Bangalore•22 hours ago
Just shows we as a society and community are a failure. He did not have anybody to reach out to before taking this extreme step?
我们的社会和社区有多失败,由此可见。他在采取这一极端措施之前没有可以求助的对象吗?
Vivek Anand•1 day ago
Bitcoin now taking lives. Must be banned immediately.
比特币现在开始要人命了。必须马上封杀。
Pankaj•Bangalore•1 day ago
I think he had lost money and was feeling guilty and no one to share his side of story. Mostly guys fear if they share truth everyone will blame him rathar than sympathisizing him.
他亏了钱,十分内疚,但找不到人诉苦。大多数男人都害怕说出真相会招来埋怨,没人会同情他。
•1 day ago
He was never a sane man as he gambled all his money, his wife jewellery and somehow saved.
这人太不理智了,他把所有的钱、妻子的珠宝和积蓄都拿出去赌了。
Manu•1 day ago
Very touching story and reality of life. It's not easy to forget the kids. And he killed his own daughter?
这件事和生活现实都太让人难过了。忘记孩子可不是件容易的事。他亲手杀了自己的女儿啊。
•1 day ago
It does not make sense. There are so many NGO's or even a street side restaurant owner would have helped to feed a child. Was the real motive to not be harassed for a loan….bangalore to has a sikh temple that give great quality food and so does many Christian and Hindu organisations. What will a jail term serve, he has to kive with this guilt for ever…
为什么要走极端呢?我们有那么多的非政府组织,就连街边的餐馆老板都愿意帮忙给孩子一口饭吃。他还是担心债主讨债....班加罗尔有一座锡克教寺庙,提供高质量的食物,很多基督教和印度教组织也是如此。判刑也没用,他永远都得背负这种罪恶感……
•1 day ago
Wherever there are North Indians, there is some weird problem.
有印度北方人的地方,就有奇葩问题。
•1 day ago
First he should have had an open conversation about job loss and financial situation with his wife at the very minimum. If the situation was too bad that no one can solve, then they could have given out the baby for adoption. Still there are humans in the world and the kolar area is definitely not filled with stone hearts.
首先,他至少应该和妻子开诚布公地谈谈失业和经济状况。如果情况太糟,无法解决,那么可以把孩子送人领养。世界上还是有好人的,这里不会都是铁石心肠的人。
Aman Thakur•Unknown•1 day ago
Terrible , crying for a lovely girl to born in such a inhuman father who rather than trying to improve his situation killed his own lovely daughter , how can he do that?.
太可怕了,这么可爱的女孩却有这么毫无人性的父亲,看哭了。他没有努力改善自己的处境,反而杀死了自己可爱的女儿,他怎么下得去手呢?
Shankara Rao T S•Canada•1 day ago
I prar for little angel's soul to rest in peace. Curse her father for the ghastly act and he will become a living dead man in jail !
我祈祷小天使的灵魂得到安息。我诅咒她父亲的残忍行径,他会在监狱里生不如死!
User Kumar•1 day ago
You spend more than your earnings without thinking about future.
花得比赚得多,完全不考虑未来。
User Kumar•1 day ago
You dont have money to feed the kid but why you bring the child into this world which you cannot afford?
你没有钱养活孩子,为什么还要把孩子带到这个世界?
•1 day ago
This guy should receive the harshest of the punishment & set as an example. I mean he can't sell his car, house or for instance anything but the easy way out was to kill her 2.5 year old daughter. Am sure, he wouldn't have thought of this if it was a boy. Hope police does a proper investigation n truth shd come out.
这家伙应该受到最严厉的惩罚,以儆效尤。我的意思是,他就不能卖掉他的车子,房子或其他东西么,居然杀了2岁半的女儿。我敢肯定,如果是男孩他不会这么做。希望警方进行适当调查,真相会浮出水面
User English•1 day ago
Alcohol and drugs may be involved. Alcohol and drugs are destroying many Indian families.
这人可能还有酗酒和毒品问题。酒精和毒品正在残害许多印度家庭。
Pipe•Bharat•1 day ago
He had money for petrol. He could have sold the car. He could have sold his house and got whatever equity he might have had in it. I don't understand these people - situations are fluid, learn to adjust. Killing a child and using these excuses - not acceptable.
他有钱加油呢。他可以把车子卖掉的,也可以卖掉房子换点钱。我不理解这些人,环境是会变的,要学会调整适应。用这些借口杀死一个孩子是不可饶恕的。
•1 day ago
my eyes are in tears reading this article. I can't imagine a father being so cruel. I have adopted a daughter and now she's 6 years old. I try to give my little angel the best possible. I consider her my own blood and even tell her you are the best daughter in the world. really hard to digest somebody can kill such young children.
读这篇文章时,我热泪盈眶。我无法想象一个父亲会如此残忍。我收养了一个女儿,现在6岁了。我都尽力给我的小公主最好的东西。我把她当成自己的亲生女儿,甚至告诉她你是世界上最好的女儿。真是难以接受有人能杀死这么小的孩子。
Megha Astro•1 day ago
Our parents spent lives with 15k per month..now even 1 lakh salary are not enough for many..people are so addicted to lavish spending, no savings..putting all money in bank loans for home..they struggle to make ends meet and pay emi's,See being a techie not having job ..he could have worked as a food delivery guy or cab driving..no these people wont their status issues..what will people say..they are ready to kill their baby but wont do jobs..
我们的父母每个月1.5万卢比也能过活,但现在很多人拿着10万卢比的工资也觉得不够花,人们沉迷于奢侈消费,没有储蓄,把所有的钱都用于银行贷款买房,他们入不敷出。一个技术人员失业了,可以去当送餐员或出租车司机啊,可他宁愿杀死自己的孩子,也不去工作。
SYED MOHAMMED RIAZ•1 day ago
This is Acche Din
这就是印度的好日子。
• SYED MOHAMMED RIAZ•1 day ago
Making politics out of an unfortunate event. But this is typical of Pakis.
把一件人伦惨剧上升为政治活动。但这就是典型的巴基佬行为。
•1 day ago
Extremely sorry state but this is no reason to take a life. He should have given her up for adoption if he was so desparate.
情况确实是很惨,但这绝不是杀人的理由。如果他真的这么绝望,应该把女儿送人领养。
•1 day ago
A lesson for all techies. Make hay when the sun shines. Invest wisely when you have surplus. Our parents tell us this time and again but i see so many techies overspending with credit cards at malls, going for movies frequently, eating out almost everyday.
这是给所有技术人员的教训。你们要未雨绸缪啊。有钱时要明智投资。我们的父母时常告诫我们,但我看到很多技术工作者在购物中心用信用卡过度消费,隔三差五看电影,几乎每天都出去吃饭。
Shailesh Bhatt
But why kill the poor 2.5 year old daughter. What was her fault in all this? My heart goes out for her. May the little angel find peace and happiness wherever she is. I am not sure how the father is going to deal with the guilt all his life?
但为什么要杀死可怜的2岁半的女孩呢?她有什么错呢?我很同情这个女孩。愿小天使无论身在何处都能找到平静和幸福。我不知道这位父亲将如何度过余生?
Kinnu Mann
This is what happens if you live beyond your limits. People want to live like others imitate them and get trapped. No financial plan, no input output analysis, trying to sleep in a cot that does not fit your size.
如果没办法掌控自己的生活,就会发生这种惨剧。人们都眼红别人的生活,照搬照抄,最后陷入困顿。没有理财计划,没有分析收支,好高骛远。
sanjay s
No idea how much he has been through. Men rarely complain !!
不知道他到底经历了什么。男人有泪不轻弹啊!!
RAGHU MUDALIAR
speechless if he had taken such a decision just imagine how painful the life was and I'm sure he didn't get any support from his wife and family
我对他做出这样的决定非常无语,想象一下生活是多么痛苦,我敢肯定他没能得到妻子和家人的支持。
Loganathan P
It's a lesson for the younger generation to save for the future and don't try to imitate other's lavish lifestyle beyond means. Only hard work enables one to reach heights... I think every family member has a role to play!
这对年轻人来说是个惨痛的教训,一定要为未来储蓄,不要照搬别人奢侈的生活方式。只有努力工作才能成就一个人……我觉得每个家庭成员都有责任!
Jury
looks like this person has psychological problem. no money is the reason to kill daughter, is just nonsense.
这个人似乎有心理问题。没钱就杀女儿,这个理由简直是无稽之谈。