India is sitting on a healthcare time bomb, and no, it is not the coronavirus
印度坐在一颗医疗定时诈弹上,不是指新冠病毒
By Ragini Saxena
As India's surging coronavirus caseload becomes an increasing worry for the globe, another health disaster is silently unfolding.
随着印度冠状病例激增成为全球日益担忧的问题,另一场健康灾难正在悄然呈现。
The world's strictest lockdown crippled both routine and critical health services. More than a million children have missed crucial immunizations and hospital births have shown a sharp decline, indicating many women may have gone through unsafe childbirth at home. Outpatient critical care for cancer plunged 80% from February levels, the latest go nment data show.
世界上最严格的封锁迫使卫生服务都瘫痪了。100多万儿童错过了关键的免疫接种,医院分娩急剧减少,这表明许多妇女可能在家中经历了不安全的分娩。最新的政府数据显示,癌症重症门诊较2月份下降了80%。
But the biggest crisis is India's longstanding battle with tuberculosis. The country has as many as 2.7 million TB patients currently, by far the most in the world, and the disease kills an estimated 421,000 Indians each year. The current gap in care could lead to an additional 6.3 million cases and 1.4 million deaths from tuberculosis by 2025, according to a study by Zarir Udwadia, a pulmonologist at Mumbai's P.D. Hinduja Hospital and Medical Research Centre.
但印度最大的危机是与结核病的长期斗争。印度目前有270万结核病患者,居世界首位,估计每年有42.1万印度人死于结核病。孟买P.D. Hinduja医院和医学研究中心的肺科医生Zarir Udwadia的一项研究显示,由于目前的治疗缺口,到2025年,结核病病例可能增加630万例,并将有140万人死于结核病。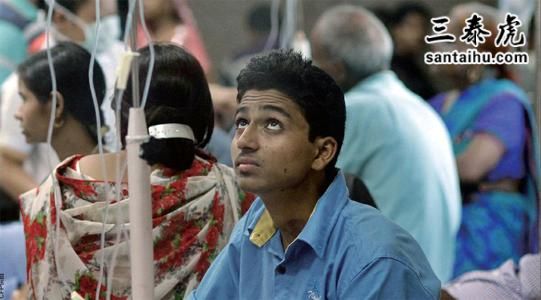 "Miss a few days of any other treatment and you may not be harmed, but gaps in TB treatment will amplify resistance," Udwadia said. "Our lack of health infrastructure is the reason we have been floundering amidst the sea of Covid cases. It's the reason why we have not been able to make progress against traditional and old enemies like malaria, typhoid, dengue."
Udwadia说:"其他疾病错过治疗几天,可能不会有多大影响,但是结核病治疗方面的延误将放大耐药性。"
他说:"我们缺乏医疗基础设施,这是新冠病例激增的原因。也是我们无法在对付疟疾、伤寒和登革热等宿疾方面取得进展的原因。"
The failure to control tuberculosis has long plagued successive go nments in India, which spends just 1.28% of gross domestic product on public health. That has left the system ill-equipped to control deadly diseases such as coronavirus: The South Asian nation now has the second-highest Covid-19 infection tally in the world, trailing only the U.S.
长期以来,控制结核病的失败一直困扰着印度历届政府。印度在公共卫生方面的投入仅占国内生产总值(GDP)的1.28%。这使得该体系无法控制新冠病毒等致命疾病:目前,这个南亚国家的新冠确诊人数位居世界第二,仅次于美国
More than 65 million people in India live in densely packed and poorly ventilated slums like Dharavi in Mumbai, one of the biggest in Asia, which has long struggled with tuberculosis before it became a coronavirus hotspot. The fact that both TB and Covid-19 have a significant overlap in symptoms -- breathlessness, cough, fever -- make these areas critical to controlling both diseases.
在印度,有6500多万人生活在像孟买达拉维这样拥挤、通风不良的贫民窟里。达拉维是亚洲最大的贫民窟之一,在成为新冠热点之前,这里长期与结核病作斗争。结核病和新冠肺炎在症状上有明显重叠——呼吸困难、咳嗽和发烧——这一事实使得在这些地区控制住这两种疾病至关重要。
The strict stay-at-home orders the country enforced at the end of March shut down India's giant tuberculosis program for almost three months. In April, one million fewer children received the BCG vaccine that prevents severe tuberculosis, go nment data shows.
今年3月底,印度执行了一项严格的居家令,使得该国庞大的结核病防治项目暂停了近三个月。政府数据显示,今年4月,接种卡介苗预防严重结核病的儿童减少了100万。
"There should've been bi-directional screening from the beginning, because in checking for one you may be missing the other," said Chapal Mehra, a public health specialist and author of "Tuberculosis -- India's Ticking Time Bomb." "India has ignored investing in health for three to four decades, and go nments across the board have been guilty of this. We lack political will, we lack moral compulsions and we don't seem to value our citizens' lives enough it seems."
《结核病——印度的定时诈弹》一书的作者、公共卫生专家查帕尔·梅赫拉称:"三、四十年来,印度一直忽视对卫生的投资,历届政府都对此负有责任。我们缺乏政治意愿,似乎不够重视公民的生命。"
While Prime Minister Narendra Modi has been quick to laud front-line health workers, calling them "coronawarriors," the federal go nment has only allocated an additional $2 billion to the fund the epidemic's medical needs. That has sapped resources for non-virus related spending.
尽管印度总理莫迪称赞一线卫生工作者,称他们为"冠战士",但联邦政府只额外拨出20亿美元用于满足应对疫情的医疗需求,这消耗了其他疾病相关支出的资源。
A spokesman for India's Ministry of Health did not immediate respond to requests for comment. Finance Minister Nirmala Sitharaman has said the "go nment will be increasing investments in public health to be absolutely ready for such eventualities in future." But she mentioned no specific figure or timeline for this.
印度卫生部发言人未立即回应置评请求。印度财政部长西塔拉曼表示,"政府将增加对公共卫生的投资,为未来此类突发事件做好准备。"但她没有提到具体的金额或时间表。
India's health infrastructure is run down at the best of times, with understaffed public hospitals, chronic shortages of hospital beds, low intensive-care capacity and poorly trained staff. India has 1.7 nurses per 1,000 people, 43% less than the World Health Organization recommends, and a dearth of doctors as well.
即使在状况最好的时候,印度的卫生设施也会出现不足,公立医院人手不足,医院床位长期短缺,重症监护能力低下,医护人员训练不足。印度每1000人只配1.7名护士,比世界卫生组织的建议水平低43%,而且医生也很缺乏。
The pandemic has also exposed the fragility of under-resourced health systems around the region. India's neighbor Pakistan had 40 million children miss their polio vaccination, while Nepal faced a 50% increase in stillborn babies.
该流行病还暴露了该地区资源不足的卫生系统的脆弱性。印度的邻国巴基斯坦有4000万儿童没有接种小儿麻痹症疫苗,而尼泊尔的死产婴儿增加了50%。
When the pandemic broke out in India, understaffed and overcrowded hospitals had patients sleeping on the floor until beds were freed up and multiple patients being serviced by a single oxygen station. Limited transport during and after the lockdown also restricted people's access to primary health centers and pharmacies, resulting in interrupted treatment and delayed diagnoses.
当疫情在印度爆发时,人手不足和拥挤不堪的医院让病人睡在地板上,直到病床腾出来,一个氧气站服务多个病人。封锁期间和解封后的交通限制也限制了人们进入初级保健中心和药房,导致治疗中断和诊断延误。
India "takes no crisis seriously" since it deals with so many, and go nment advisers struggled to mount an effective response to the coronavirus that would also ensure an ability to fight other diseases, according to T. Jacob John, one of India's top virologists and the former head of the Indian Council for Medical Research's Centre for Advanced Research in Virology.
印度顶级病毒学家之一、印度医学研究委员会病毒学高级研究中心前负责人T. 雅克布·约翰说,印度"不把危机当一回事",因为该国要应对的危机太多了,政府顾问们努力制定有效的疫情应对措施,同时确保该国具备抗击其他疾病的能力,
印度经济时报读者的评论:
译文来源:三泰虎 http://www.santaihu.com/p/50806.html 译者:Jessica.Wu
Shri
Easily fixable. First eat well. Dont live like animals. Be clean. TREAT EVERYTHING ASAP. DO NOW!!!
很容易解决的。首先要吃好,不要像动物一样生活。其次讲卫生,尽快治疗。现在就开始! !
Harshad Rane
True article. The lockdown did slow down the National immunisation scheme and other health goals of India. We will see the effect of this in Substantial development goals. It is true that the TB patient develops resistance against drugs if they discontinued and prognosis of such patients is weak. If we don't act fast TB will cause more deaths. Minimum of 4% of GDP should be allocated to Health Sector. Lockdown has also affected the polio vaccine schedule, MMR vaccine schedule. Result of this will be seen in longterm.
文章说的是实话。封锁确实延缓了印度的国家免疫计划和其他健康目标。我们将在实质性发展目标中看到其影响。
的确,如果停药,结核病患者会产生耐药性,而且这些患者的预后很差。如果我们不迅速采取行动,结核病将导致更多的死亡。至少应将GDP的4%分配给卫生部门。封锁还影响了脊髓灰质炎疫苗和MMR疫苗的接种计划。以后就会看到后果。
Amit Khandagale
I don't understand does this problem mentioned by all hypocrites are there in India since last many years. If India is investing on its military or infrastructure people of India will get benefits. But some people in India as well as out side India think all is not well. As per these analyst India will be bankrupt or no one in India will survive within next few years. Why it so?
这么多年来,这些伪君子提到的这个问题在印度是否存在?如果印度在军事或基础设施上投资,印度人将会受益。但是印度国内和国外的一些人认为并不好。按照这些分析师的说法,印度将会破产,或者在未来几年内没有人能生存下去。为什么?
Prajeev Prabhakaran
root cause of 99% of the ailments caused by over eating.i.e.Eating more than one requires. One Example is Diabetes. Ever heard a Doctor advising to reduce the Food intake or advice to fasting ? Instead they would advise not to skip any Meal.
99%的疾病都是由饮食过量引起的,比如糖尿病。有听过医生建议减少食物摄入量或禁食吗?相反,他们会建议不要漏掉任何一餐。
varadharajan balasubramanian
Government hospitals are worst. Long back I have gone to Bowring Hospital in Shivjinagar in Bangalore and saw rats running around beds with patients. The only choice before Indians is private hospitals.
公立医院最差。很久以前,我去班加罗尔Shivjinagar的Bowring医院,看到病床上有老鼠乱跑。对印度人来说,唯一的选择就是私立医院。
hari krishna Johri
Pathetic state of affairs. Disgusting.
可悲的状况。恶心。
Harminder Puri
India has purchase latest fighter planes from France to fight these diseases,. How much India is spending on defence the biggest buyer of weapons, just to be a world power, ignoring it is not the land but people who make the country great.
印度已经从法国购买了最新的战机来对抗这些疾病。为了成为强国,印度在国防上花了多少钱?印度是世界上最大的武器购买国,印度忽视了让国家伟大的不是土地,而是人民。
Sivaram
What the BJP will get if they save the children
救了孩子,人民党能得到什么?
varadharajan balasubramanian
Our twin enemies Pakistan and China are trying to destroy us through all means. Any time China may attack us through a limited scale to downsize us. What choice has the Government ? If we dont have weapons as was the situation 1962 then China will occupy half of our land and Pakistan not only Kashmir even other parts of India.
我们的敌人巴基斯坦和中国正试图通过一切手段摧毁我们。任何时候,中国都可能通过对我们发动有限规模的攻击,以削弱美国。政府能作何选择?如果我们没有武器,就像1962年那样,那么中国将占据我们一半的土地,巴基斯坦不仅占据克什米尔,还将占据印度的其他地区。
NLS
These Bloomberg and Reuters articles written by Indian correspondents refer to India as a "South Asian" country. If the readers are indeed ignorant of India or where it is, they might as well be ignorant of where South Asia is.
文章把印度称为"南亚"国家,如果读者真的不知道印度在哪里,那他们可能也不知道南亚在哪里。
Parvez Iqbal S. I. H
It is very sad to learn about the TB bomb which is about to explode. This is the time India sho ld invest in Healthcare facilities rather to spend billions of dollars in defence budget.
结核病这颗诈弹即将爆炸,我们感到非常难过。印度现在应该投资医疗设施,而不是在国防预算上花费数十亿美元。
Bush Gulati
A leading veterinarian in India once told me that the vast majority of cows,dogs,monkeys and pigs that roam freely and live cheek by jowl with the denizens of India are stricken with tuberculosis or some other communicable disease.
Is there nothing we can do about curbing their population control?
印度一位著名的兽医曾告诉我,在印度四处游荡、与居民生活在一起的绝大多数牛、狗、猴子和猪都感染了结核病或其他传染病。难道我们对控制他们的人口就无能为力了吗?
Preetesh Sahani
We cant make a difference in immediate near future but yes we can expect to see the change in next 20 to 30yrs time.
我们不能在近期内做出改变,但是我们可以期待在未来20到30年看到变化。
Mohan Sharma
So many Young MBBS n Dentist who are qualified but don't have Job n Not paid properly. Govt's should give them break to cope up the current situation .
印度有这么多年轻内外全科医学士,他们有资格,但没有工作,没有适当的报酬。政府应该给他们提供机会来应对当前的形势。
Sujit Ghosh
We have policy makers for the country. They make policies benefiting their political existence. We dont want to do good to ourselves.
我们国家的决策者制定的政策只对他们的政治生涯有利
Yash Pal
'They make policies benefiting their political existence.'
Beautifully summed up the root cause of the crisis
他们制定的政策有只对他们的政治生涯有利,这就是产生危机的根源