'Nobody has corona, it doesn't est!': Shocking moment tourist tells police officer she doesn't 'give a f***' when asked to put on face mask in India
女游客不戴口罩大喊"新冠病毒不存在,没人感染,",与印度警察爆发激烈争吵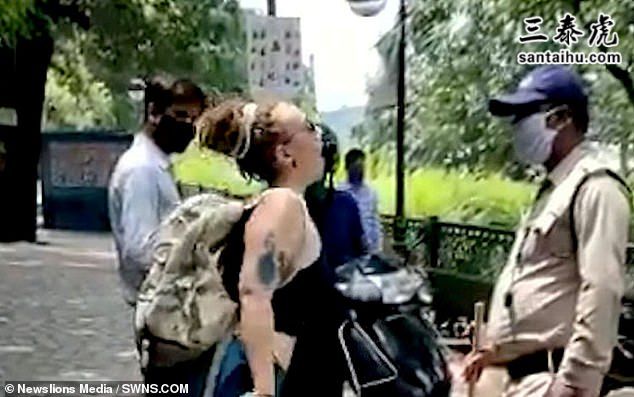 A tourist called coronavir s a myth during an argument with a police officer in India after being stopped for not wearing a face mask.
一名女游客因未戴口罩而被印度警察拦下,与其发生争执,该女子称新冠病毒不存在。
The shocking footage, recorded in Uttarakhand, India, yesterday shows the woman being stopped by an officer.
这段在印度北阿坎德邦拍摄的视频令人震惊,视频显示一名警察拦下一名女子。
She had been stopped by the officer who was trying to give her a spot fine for not wearing PPE in a public place.
该女游客由于在公共场合没有戴口罩而被警察拦下,并被要求交罚款。
At the start of the video the woman yells at the police officer: 'I don't have f*****g corona, I had a f*****g test!'
开始,这名女子对警察大喊:"我没有感染新冠病毒,我做了检测!"
The officer responds and says that 'all people have corona' but the woman insists: 'Nobody has corona, it doesn't est!'
警察回答说:"所有人都有可能感染",但该女子坚持说:"没人感染,新冠病毒根本不存在!"
In response, the masked officer tells the tourist: 'This is not your country, this is not your country.'
戴着口罩的警官回应:"这又不是在你自己的国家,这不是你的国家。"
This is only met with 'I don't give a f**k' from the woman though.
不过,女游客回复到:"我才不在乎呢"。
The woman then turns her back on the exasperated police officer.
然后,这名女子转身背对着恼怒的警官。
At the end of the video, the woman is seen trying to haggle with a man on a motorcycle to reduce the price of a lift.
在视频的最后,这名女子试图与一名骑摩托车的男子讨价还价,以降低搭车的价格。
To date, India has had 3,936,747 confirmed coronavir s cases and 68,472 deaths linked to the vir s, according to the John Hopkins university.
据约翰霍普金斯大学的数据,迄今为止,印度累计已确诊3936747例,死亡68472例。
英国每日邮报读者的评论:
译文来源:三泰虎 http://www.santaihu.com/p/50797.html 译者:Jessica.Wu
Trevor321, Darlaston, United Kingdom
Arrest her and put her in jail with some victims of the vir s and then see if she changes her mind.
逮捕她,把她和确诊患者关在一起,然后看看她会不会改过。
Kirk, Somewhere, United Kingdom
Throw her in the local Indian jail. After all, she doesnt give a ...
把她扔进当地的。毕竟,她什么都不怕……
Ben10, Bristol, United Kingdom
Covidiots are everywhere
傻子无处不在
jjmoon, London, United Kingdom
They are the ones wearing the ridiculous masks.
旁边有些人戴的口罩很搞笑
Ben10, Bristol, United Kingdom
See: idiots est everywhere.
傻子无处不在
Crunch Berry, Beanerville, United States
Please don't be American....please don't be American...please don't be American...
希望不是美国人…
Richard Simpson, UK, United Kingdom
How embarrassing.
太丢人了
SteveH3897, Berrow, United Kingdom
Put her inside indian jail...that will sort her out!!
把她关进印度了,这样才能让她冷静下来!
Anon, London, United Kingdom
Take her to a Covid ward and make her spend the night...
带她去新冠病房,让她在里面过夜
Sharon Woodward, Warwick, United Kingdom
If you don't like the rules when travelling to another country....hey, guess what. Don't go. Simple. Why are folks still travelling to far off places while there are lockdowns and restrictions in place? Surely they can wait till next year. Its not as if these places are going to be gone is it? Support your own countries tourism as this is best for now. And then save up for longer and get a better holiday then too with no restrictions.....
如果你不遵守其他国家的规定,就不要去那旅游。为什么人们仍然要去遥远的地方旅游呢?人家那在实施封锁和限制措施,可以等到明年再去。这些地方又不会消失,不是吗?
Ukdubai, Dubai, UAE
Her parents must be so proud of her.....
她的父母一定为她感到骄傲……
chrish, Bon, United Kingdom
Arrest and deport!
逮捕她,然后驱逐出境
Linda, St Dennis , United Kingdom
Doesn't matter what is or isn't. If you decide to travel these days, respect the laws of the country you're in.
无论怎样,如果你决定出门旅行,就必须遵守当地的法律
john, newcastle, United Kingdom
If I was on holiday in India I'd wear a mask covid19 or not, LOL! I've been, only to BombayMumbai and that was enough for me, lovely people, just terrible conditions, especially for a nation that's planning space flight!
如果在印度度假,我肯定会戴口罩,哈哈!我只去过孟买,当地人很可爱,只是条件太差,特别是对于一个拥有太空计划的国家而言!
adwalton, London, United Kingdom
Hope her employer sees this, though she seems the unemployable type
希望她的雇主能看到这个视频,不过她看起来是那种没人愿意雇的人
Harry563, London, United Kingdom
Should have backhanded her and put her under arrest.
应该把她抓起
cettown6511, st austell, United Kingdom
She's no lady that's for sure should have just locked up.
一点都不淑女,应该把她关起来。
Diamond000, Oxford
One suspects her IQ is not much more than ambient room temperature. I expect she'll start a donation page to raise money to pay her fine.
怀疑她的智商比室温高不了多少。她可能建一个捐款网页来筹钱支付罚款。
TJ., UK, United Kingdom
just a shame he didn't throw her in jail
真可惜警察没有把她关进
G_Frank, Mumbai, India
Now is not really the best time for tourism
目前真的不适合出门旅游
Empress086, London
Typical White privilege arrogance.
典型的白人优越感。
Fedupoftraitors, England, United Kingdom
Arrest her. Deport her. With a deportation stamp on her passport port most countries won't let her in them.
逮捕她,然后驱逐处境。在她的护照上盖上驱逐章,以后大多数国家都不会让她入境。
taurus205, London, United Kingdom
she needs to be put on the next plane out of the country.
把她送上下一班离开这个国家的航班。
Tracey Anne, Madrid, Spain
Instead of slap her with a fine she should be send to the covid ward of the busiest hospital in India to read to the patients and keep them company but of course without a mask or any prection as she seems to be convinced that it doesnt est so has nothing to fear!
与其罚款,不如把她送到印度最拥挤的新冠医院病房,让她去给病人讲故事,陪伴他们,当然不需要戴口罩或做任何保护措施,因为她认为新冠病毒根本不存在,所以没有什么好害怕的!