India moves to buy 6 more Poseidons from US for $1.8bn
印度将再从美国购买6架"海神"号巡逻机,价值18亿美元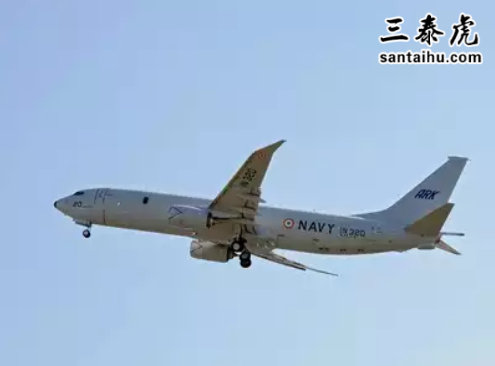 NEW DELHI: India has formally kicked off the acquisition process for six more long-range Poseidon-8I aircraft from the US, while a plan is also underway for fast-track procurement of six Predator-B armed drones amidst the ongoing military confrontation with .
新德里:印度已正式启动从美国采购6架远程"P- 8I("海神")巡逻机的采购进程,同时,在与的军事对抗中,印度还计划快速采购6架"捕食者- B"无人机。
India is extensively using the naval P-8I patrol planes, which are packed with radars and ro-optic sensors as well as armed with Harpoon Block-II missiles and MK-54 lightweight torpedoes, for surveillance missions over the Indian Ocean as well as eastern Ladakh.
印度大量使用P-8I巡逻机在印度洋和拉达克东部执行监视任务。P-8I巡逻机配备雷达和光电传感器,还装备了"鱼叉"Block-II导弹和MK-54轻型鱼雷。
The Navy had inducted eight Boeing-manufactured P-8I aircraft under a $2.1 billion deal inked in January 2009, while the next four will be delivered from this December onwards under another $1.1 billion contract signed in July 2016.
根据2009年1月签署的一份21亿美元的合同,印度海军引进了8架波音制造的P-8I,根据2016年7月签署的另一份11亿美元的合同,又购买了4架,将从今年12月开始交付。
Top defence sources on Friday said the "letter of request" for six more P-8Is for around $1.8 billionhas now been issued to the US for the go nment-to-go nment deal under Pentagon's foreign military sales (FMS) programme. "The US, in turn, will soon send the 'letter of acceptance' after congressional approval. The contract should be inked by early next year," said a source.
国防部消息人士星期五表示,根据五角大楼的对外军售(FMS)计划下的政府间协议,美国已经收到了印度再购买6架P-8I的"请求函",合同金额约为18亿美元。很快美国也将在国会批准后发出'接受函'。合同将在明年年初签署。
Concurrently, the armed forces are examining "an emergency procurement" of six Predator-B or wonized Sea Guardian drones from the US in wake of the ongoing confrontation with along the 3,488-km long Line of Actual Control, especially in eastern Ladakh.
与此同时,在与在长达3488公里的实控线持续对峙后,特别是在拉达克东部地区,印度军方正在审查从美国"紧急采购"6架"捕食者- B"(又称"海上卫士")无人机的计划。
TOI was the first to report last year that India had finalized the plan to acquire 30 Predator-B drones, 10 each for the Army, Navy and IAF, with different payloads to hunt and destroy targets over land and sea. But the high cost of the deal, upwards of $3.5 billion, has somewhat delayed the inking of the final contract.
印度时报去年曾报道印度已经确定了采购30架"捕食者- B"无人机的计划,"捕食者- B"陆军、海军和空军各10架,装配不同的有效载荷,用于在陆地和海上搜寻、摧毁目标。但由于金额高达35亿美元,这在一定程度上推迟了合同的签署。
"The original plan for the 30 Predators will take some more time. Meanwhile, the utilization of the fast-track procurement (FTP) route for acquiring six of these drones – two each for the three Services – is now under active consideration," said another source.
另一位消息人士称:"最初采购30架捕食者的计划将需要更多时间来确定。但目前正积极考虑利用快速采购(FTP)路线购买6架捕食者无人机,海陆空军各2架"
It will be a huge jump in unmanned lethal capability for the armed forces if the "hunter-killer" Sea Guardians, with their advanced ground control stations, launch and recovery elements, air-to-ground missiles, smart bombs and the like, are actually acquired by India.
如果印度采购了拥有先进的地面控制站、发射和回收装置、空对地导弹、智能诈弹等装备的"捕猎-杀手"海上卫士,那么印度武装部队的无人机致命能力将会得到巨大提升。
The inking of the bilateral military pact with the US called COMCASA (Communications, Compatibility and Security Arrangement) in September 2018 has paved the way for greater access to advanced military technologies with encrypted and secure communications and data links from the country.
2018年9月与美国签署的COMCASA(通信兼容性和安全协议)双边军事协议,为更多地从该国获取加密和安全通信和数据链接的先进军事技术铺平了道路。
以下是印度时报读者的评论:
译文来源:三泰虎 http://www.santaihu.com/p/50403.html 译者:Jessica.Wu
ms
For peace with and Pakistan , India should be very strong in war equipments at boarders . If India is weak , these two countries will always put us in trouble .
如果印度弱,和巴基斯坦这两个国家会一直给我们制造麻烦。为了和平,印度应该在边境部署强大的军事装备。
Rn Ven
With junk from the USA you can only throw it in the ocean. Until the USA gives us the latest wons, it is doing only itself a favor not India.
从美国买的垃圾武器只能扔到海里。美国卖给我们的不是最新武器,他们是为了赚钱,不是为了帮印度。
AsaMatterOfFact
Never heard of such a drastic defense preparedness ever in the history independent India, had such vigorous and pro active action been taken since 1947 after British rule, India would have been super power
自独立以来,印度从未如此积极地进行防御准备,如果从1947年结束英国统治后,印度就采取如此积极主动的行动,印度已经成为超级大国了。
Swami Babaswamyanand
We were always weak. This is why British ensl ved us for 3 centuries.
印度一直很弱,所以英国人才能我们3个世纪。
TRUTH TELLER
Kudos to Modiji led NDA for taking appropriate decisions. The UPA for their own known reasons kept military procurement riddled with scams and made our armed forces weak. Jai Bharat Jai Jawan. NDA has making our military strong so that no country will dare to attack us. But we want peace.
莫迪政府做出了正确的决定,向他们致敬。由于众所星期知的原因,国大党执政时期,军事采购充斥着骗局,使我们的军队变得软弱无能。人民党增强了我们的军事实力,所以没有国家敢攻击我们。我们想要和平。
Pradeep
After decades of being deprived, the India army, navy and air force are getting properly equipped and empowered now. Jai Hind.
拖延几十年后,印度陆军、海军和空军终于获得了适当的装备。印度必胜。
Volker Giesbrecht
No need to buy any new wons instead help the poor affected heavily from Corona impacts! will not start war over a piece of useless infertile inhibitable land. And not start fight with any nuclear power.
不需要购买任何新武器,不如拿这些钱救济受疫情重创的穷人!
不会为一片贫瘠的土地而发动战争。不要和任何拥有核武器的国家开战。
Anand Kumar
India is doing the thing under Modi. Only two countries can stop bully - USA & India.
在莫迪的领导下,印度正走在正轨上。只有两个国家可以阻止的霸凌行为——美国和印度。
PaniPuri
Build our strength as the world will respect us only then...We have two bad neighbours to tackle with..
提升自身实力,世界才会尊重我们。我们要对付两个坏邻居。
Jay Boro
lol.. as usual business with US means giving them money for junk. They are not giving a penny to India. Oh, this was the bilateral trade CEA was talking about.. total bs
和美国做生意意味着花钱买垃圾货,他们没给印度一分钱,这就是所谓的双边贸易…
New
Sincere request to all the Indians do not buy any products this festival season to support our troops who are fighting for us
恳请所有印度人在节日期间不要购买货,以此支持为我们而战的印度军队
YOGENDRA PATEL
There can be no peace with Pakistan or
与巴基斯坦或不可能保持和平
Proud Indian
Is there any armament to deal with internal enemies
有什么对付内部敌人的武器吗?
Usindiajap
State of the art wons from our allies.
我们的盟友拥有最先进的武器。
Ravindran M
No other alternative but to strengthen our defences particularly in borders with - NDA is doing the thing -
我们别无选择,只有加强防御,特别是在与接壤的边境——人民党政府做得对
Boycott EVERYWHERE
Modi is surely strengthening our Defence Forces like never before.
莫迪在以前所未有的方式加强我们的国防力量。
Siv Sarkar
3rd world war is imminent because of .
第三次世界大战即将来临,这都是因为。
Navin Chandra Mishra
Two more Aircraft Carriers are also needed to guard the nation's vast coastline.
另外印度还需要两艘航母来保卫广阔的海岸线。
Jagdish Madan
With anti national Congress thrown out of power, India's defence needs have begun to draw the attention they merit.
反国家的国大党被赶下台后,印度的国防需求开始获得应有的关注。
Asok Datta
Yes we must be fully equipped in defense to counter threats from both and Pakistan and in this respect there must not be any relaxation
是的,我们必须装备齐全,才能应对来自和巴基斯坦的威胁,在这方面不能有任何懈怠
Tarunkumar Mishra
Yes 20 percent of GDP SHOULD BE USED AND ACQUIRE LAKHS OF MISSILES AND PLANES FOR ONE YEAR.GO FOR HYDROGEN BOMB.STRENGTH ONLY CAN BRING PEACE
印度国防预算应达到GDP的2%,购买各种导弹和战机,研制氢弹。有实力才能带来和平
Bharti
India should immediately order another 36 Rafael fighter jets from France which are being offered at a good discount! India needs a strong Air Force as a deterrent to our enemies!
印度应该立即从法国再订购36架"阵风"战斗机,现在折扣大!
印度需要强大的空军来威慑敌人!
Anthony
It's US who is going to benifit from this India conflict
从这场印中冲突中获利的是美国