Naval MiG-29K fighters & P-8I aircraft deployed amid border tensions with
边境局势紧张之际,印度海军部署米格- 29k战机和P-8I巡逻机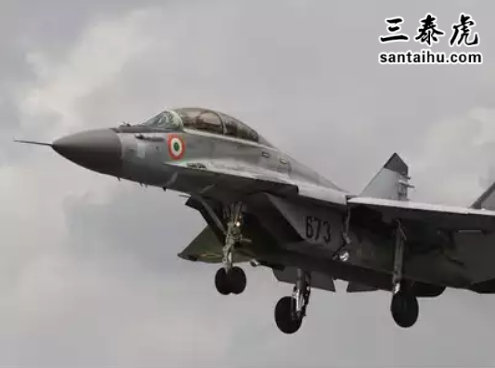 NEW DELHI: Naval MiG-29K supersonic fighters and Poseidon-8I long-range patrol aircraft may primarily have a maritime role but they are also being used over land amid the ongoing military confrontation with in eastern Ladakh.
新德里:海军"米格- 29k"超音速战机和P- 8I(海神)远程巡逻机主要在海上使用,但在拉达克东部与的军事对峙持续之际,它们也被部署在陆地。
Sources said the US-origin P-8I aircraft, which are packed with radars and ro-optic sensors to hunt enemy warships and submarines, are being regularly deployed to keep track of movements and build-ups of the People's Liberation Army along the Line of Actual Control. "Satellites and drones, of course, are also being used for surveillance," said a source.
消息人士称,配备雷达和光电传感器的美国P-8I巡逻机将定期部署,以追踪实际控制线沿线解放军的行动和集结情况。"当然,也有用卫星和无人机监视,"一位消息人士说道。
The Russian-origin MiG-29Ks, in turn, have replaced IAF fighters at an airbase in north-western India. IAF has forward deployed a lot of its fighters like Sukhoi-30MKIs, Mirage-2000s and MiG-29s as well as Apache attack and Chinook heavy-lift helicopters along the LAC, especially in eastern Ladakh.
俄罗斯产米格- 29ks取代了印度空军在西北部一空军基地的战机。印度空军已经在实控线沿线部署了大量战机,比如苏霍伊- 30MKI、幻影-2000和米格-29,以及阿帕奇攻击型直升机和切努克重型直升机,特别是在拉达克东部地区。
IAF has also positioned around 10 Jaguar maritime strike fighters, armed with anti-ship Harpoon missiles, at the Andn and Nicobar archipelago, which dominates 's critical sea trade lanes passing through the Mcca Strait, as was first reported by TOI on Tuesday.
印度空军还在安达曼和尼科巴群岛部署了大约10架配备"鱼叉"反舰导弹的"美洲虎"海上打击战斗机,安达曼和尼科巴群岛控制着通过马六甲海峡的重要海上贸易航道。
Incidentally, India had deployed the P-8I aircraft, which are also armed with missiles and other wons, to keep tabs on troops even during the 73-day troop face-off at Do-m near the Sikkim-Bhutan-Tib tri-junction in 2017.
印度部署的P-8I巡逻机也装备了导弹和其他武器,以监视军队,在2017年为期73天的*军事对峙期间也部署过。
Chief of defence staff General Bi Rawat, who was then the Army chief, had earlier said he was surprised to find out about the naval aircraft's robust reconnaissance capabilities during the Do-m crisis.
时任陆军参谋长的国防参谋长比平·拉瓦特早些时候曾表示,他对海军巡逻机在*危机期间强大的侦察能力感到惊讶。
The Navy currently has eight P-8Is, acquired under a $2.1 billion deal of January 2009, while another four are slated for delivery next year under another $1.1 billion contract inked in July 2016.
印度海军目前拥有8架P-8Is。2009年1月,印度签署了价值21亿美元的合同,购买8架P-8I。2016年7月签署了另一份价值11亿美元的合同,购买4架P-8I,将在明年交付。
The force, in turn, had procured 45 MiG-29Ks from Russia for $2 billion to operate from the 44,570-tonne aircraft carrier INS Vikrditya, which usually carries 18-20 of the fighters and some helicopters at a time.
印度空军已从俄罗斯购买了45架米格- 29k战斗机,总价20亿美元,用于部署在排水量44570吨的"维克拉玛蒂亚号"航母上执行任务。"维克拉玛蒂亚号"一次通常携带18-20架米格- 29k战机和一些直升机。
The Navy, of course, has also deployed several warships and submarines on the eastern seaboard to maintain high operational readiness. On Monday, in a strong strategic signal to , four frontline Indian warships had conducted a "cooperative exercise" with the US carrier strike group led by aircraft carrier USS Nimitz in the southern Bay of Bengal, as was reported by TOI.
当然,印度海军也在东海岸部署了几艘军舰和潜艇,以保持高度战备状态。星期一,四艘印度前线战舰在南孟加拉湾与"尼米兹号"航母率领的美国航母战斗群进行了一次"合作演",对发出了一个强烈的战略信号。
以下是印度时报读者的评论:译者:Jessica.Wu
Hemant P
Time to take the head on with challenges & courage and not with a fickle weak heart as shown by the Congress in thier years of power. India is a New India.. Thanks to Modi
是时候勇敢面对的挑衅了,不要像国大党那么软弱。印度脱胎换骨了,是一个新印度了,感谢莫迪…
Jayarao Patri
It is the misfortune of India that we have Print and Digital media, which goes over board by giving sensitive information like this in public domain. Far from being clever or intelligent these so called contributers are only displaying utter stupidity. God save India.
印度的不幸在于我们的媒体总是公布敏感信息,太愚蠢了。愿神保佑印度。
Maruthi Sesha
Why is this information out in the public domain? TOI should restrict this kind of information on public domain.
为什么公布这些消息?
印度时报不该在网上公布这些敏感信息。
Sourabh vijay
Request Indian journalists to not publish these kind of sensitive news
要求印度记者不要发布这类敏感新闻
Rinku Singh
Thank you MMS for ordering 45 Mig 29K and INS Vikrditya. 6 P-81 and Nuclear Submarines bought during your time has increased the capability of our Navy manifolds. I wish 118 rafeal were also ordered. Gaps in our defence would have been plugged totally.
感谢曼莫汉·辛格订购了45架米格29K和维克拉玛蒂亚号航母。在其任期内购买的6架P-81和核潜艇提升了印度海军的能力。真希望当时也订购了118架"阵风",这样就能完全堵住我们的防御漏洞。
Dinesh
Strong Posturing is very important when the opponent is a rogue bully..
当对手是个恶霸时,展示强硬的姿态是非常重要的。
Krishna Kumar
War is bad; but any compromise with is Worst.
开战不是好事,而向妥协更糟。
C S Maurya
The is the most non trusted r ue country in the world which requires leaders like Modi who know how to make friends and how to kill enemies.
是世界上最不值得信任的国家。我们需要像莫迪这样的领导人,他懂得该和谁交朋友、还知道如何杀敌。
Indian Patriot
lol...it's a propoganda news
哈哈,这是一条宣传新闻
Logician
Nobody thinks is going to pullback from Indian occupied territories by show of force with MiG-29 and P-81 aircraft deployments.
没有人认为印度部署了米格-29和P-81展示武力后,就会撤退。
Revres Yxorp
And why is this information being made public?
为什么公开这些信息?
mathaia
no war just creating war hysteria to cover for the mismanagement of the economy
不会开战的,只是煽动战争的狂热气氛来掩盖对经济的管理不善
Indian Patriot
everyone knows feku doesn't hav guts to fight with .. it's just show off for next ion..
大家都知道莫迪没有勇气和打…这只是为下次作秀而已。
Keysman K
Im categorically not buying a single product
我绝对不买货
Ajithlal Gangadharan
this coward feku gt everyday never fails to issue statements like 'we will not allow enemies to take even one inch of our land' and all. To cheat whom they issue these statements? To the people who ved and ed them, i believe. Thats why chamcha bhakts till support this coward and the worst pm of india ever has seen.
胆小的印度政府每天都会发表声明,比如"我们不允许敌人占领我们的土地,哪怕是一寸"等等。他们这是想骗谁?我想应该是投票给他们的那些人。人民党支持者们一直支持莫迪这个懦夫,他是印度史上最糟糕的总理。
Ramesh Sargam
Good. India need to keep full alert and also keep under fear the cunning covid !!
做得好。印度需要保持高度警惕,不要害怕狡猾的!
Patriotic mus m
Nice to see an assertive India in all fields. Something unheard of in Congress times. Modiji is the best thing that happened to India in these tumultous times .
很高兴看到印度在各个领域都表现出自信。这在国大党执政时期是闻所未闻的。在这个动荡时期有莫迪坐镇,对于印度来说这是最好的事。
Rajendra Nigam
India should create more mountain division immediate and armed with sophisticated wons and deploy them on himalyan region permanently with nuclear missiles
印度应该立即组建更多山地部队,配备先进武器,并在喜马拉雅地区长期部署核导弹
Tony Breganza
Is this news required to be published...? This should have been a defence secret...
这条新闻有必要发布吧?
这是国防机密…
Hi Sudip
I wonder this newspaper is working for India or ?
我想知道印度时报是为印度效力还是为效力的?
HSF
PLA is a peasant army, the poor people join only to survive poverty and some money is given to their families. They are not the fighting type. air force has 3rd generation technology, so goes for navy. has quantity, but, no quality.
的军队是一支农民军,这些穷人参军只是为了脱贫,政府会给他们的家人发一些钱,他们不擅长作战。空军拥有的武器都是第三代的,海军也是。军队只是数量多而已