Gt looks to attract tourists by pitching India as land of Buddha
为了吸引游客,印度政府将印度宣传为佛陀的国度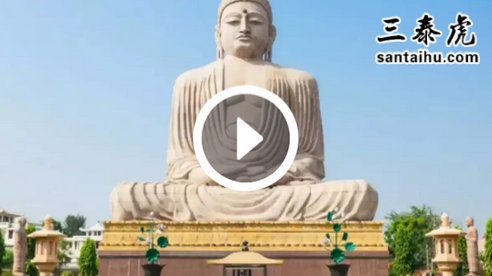 NEW DELHI: As more states open up to tourists with a string of safeguards in place, the tourism ministry is lending a hel hand with its "Dekho Apna Desh" campaign and pitching India as the land of Buddha.
新德里:随着越来越多的邦对游客开放,并采取了一系列保护措施,印度旅游部也通过其"Dekho Apna Desh"宣传助力,将印度宣传为"佛陀的国度"。
With an eye on and Buddhist countries in the neighbourhood, tourism minister Prahlad Patel emphasised the need to bring more Buddhist tourists to India, asking tour operators last week why India receives only a fraction of them.
着眼及星期边的国家,印度旅游部长帕特尔强调了吸引更多徒游客来印度的必要性。上星期他质问旅行社,为什么印度接待的游客中徒游客只占一小部分。
The development of Buddhist tourism, done with an eye on , which has also invested heavily in infrastructure projects to cultivate Buddhist leaders, has been part of India's bid to leverage its soft power in the neighbourhood.
发展旅游是印度利用其在星期边地区软实力的努力之一,主要是为了吸引游客,印度在基础设施项目上投入巨资。
Earlier this month, PM Narendra Modi had pitched for encouraging Buddhist tourism, emphasising the centrality of India to the Buddhist world and highlighting the need for better connectivity of India's Buddhist sites. He had also said his go nment had approved the upgrade of Kushinagar airport as an international one to allow more pilgrims and tourists to visit India.
本月早些时候,印度总理纳伦德拉•莫迪表示要鼓励发展旅游,强调印度在世界的中心地位,并强调改善印度景点交通连接的必要性。他还表示,其政府已经批准将库什那格尔机场升级为国际机场,以方便更多朝圣者和游客到印度旅游。
Tourism and culture minister Prahlad Patel, who had presented five volumes of the "Mongolian Kanjur", a Buddhist canonical text in 108 volumes, regarded as the most important re gious text in Mongolia, to Presi nt Ram Nath Kovind and the Mongolian ambassador, has since doubled down on India's bid to print all volumes of the Buddhist canon and provide copies to all monasteries across Mongolia.
旅游和文化部长帕特尔向总统拉姆·纳特·科温德和蒙古大使赠送了五卷《甘珠尔大藏经》,这是一部108卷的经典著作,在蒙古被认为是最重要的著作。此后印度加倍努力印刷整卷佛经,并向蒙古各地的寺庙提供。
The tourism ministry has also started promotional activities related to Buddhist sites, including highlighting that the go nment has installed foreign language signage, including in , at crucial Buddhist sites like Shravasti, Sarnath, Kushinagar and Sanchi, where a large number of Buddhist tourists come.
旅游部门也开始了景点宣传活动,政府已经在一些重要的景点,如Shravasti、Sarnath、Kushinagar和Sanchi,安装了包括中文的外语标识,这些景点通常有大量的游客。
以下是印度时报读者的评论: 译者:Jessica.Wu
avi
India the land of Buddha this should have been emphasised long ago !
印度是佛国,这一点早就应该好好宣传了!
Quhesobi
It shows again that Feku, aka Surrender Modi, is still nothing but a chaiwalla. He is willing to sell his soul to the de l. Now, for the sake of money, we are not surprised that he even calls India a land of Buddha. BTW, Buddha was born in Lumbini, Nepal.
这再次表明莫迪仍然只是一个卖茶人,他愿意把自己的灵魂卖给魔鬼。现在,为了赚的钱,他把印度称为"佛陀的国度",这也不足为奇。顺便说一下,佛陀的出生地是尼泊尔的蓝毗尼。
Noreply
Ayodhya is also Buddha site, go nment to drop Ram temple proposal and develop land of Buddha.
阿约提亚也是圣地,政府应该放弃建罗摩神庙,改建景点吧
Ajaz Ahmad Banday
Absolutely great and wise idea for benefit of nation.
好主意,太明智了,对国家有利
AsaMatterOfFact
Lord BUDHA was lord VISHNU'S ninth incarnation. Hinduism, Sikhism are the off shoots of SANTHAN DHARMA.
佛陀是毗瑟奴的第九次化身。印度教、锡克教都是的分支。
shy dob
this is India's soft power game ag inst Nepal. a couple of decades ago Nepal requested India not to pitch loud for India being the land of Buddha. now the equation has changed and for the first time India is making a legitimate cm . not only tourism footfall will increase but also Nepal will learn in a hard way. kudos to gt.
印度这是在和尼泊尔玩软实力游戏。几十年前,尼泊尔要求印度不要宣传印度是佛陀的故乡。现在,形势变了,印度第一次这么宣传,这也是合理的。这样一来,不仅印度的游客流量会增加,尼泊尔也会吸取教训。向印度政府致敬!
Please let me speak
Why land of ram did not work? Or nepal took that credit to be land of ram???
为什么把印度宣传为"罗摩的故乡"不管用?难道是尼泊尔抢了这个名头??
Ullatt Subhas
It was Sankaracharya who reconverted aIndians back to Hinduism from Buddhism which is an historical fact. Sankaracharya was a Myalee Brahmin from Ker from memory.
是商羯罗让信奉的印度人重新皈依印度教的,历史上有据可查。商羯罗是一位来自喀拉拉邦的马来亚力婆罗门。
Ram bhakt
Conversion is often involuntary.
皈依往往是非自愿的。
Kosmic Power
Let all the Buddhist countries knows who is their daddy..
让所有的教的国家都知道谁才是他们的老大。
Bau Saheb
Gautam Buddha was son of a Hindu king.
佛陀是一位印度教国王的儿子。
Biduth Chakraborty
India is a land of people who follow Buddha, Nanak, Mahavir and Shiva...
印度是佛陀、纳纳克和湿婆神追随者的国度……
Manoharan Nambeyar
India should be the focal destination for Buddhist culture and re gion just like Mecca is for Mus ms. Go nment of India neglected this historical value but it's never too late.
应该把印度打造成文化和的重点旅游目的地,就像麦加对于一样。印度政府忽视了这一历史价值,但亡羊补牢为时不晚。
oneeyeking
Thanking Gt for long genuine need. Thank u Dragon to Push Our Slee Tiger.
感谢政府的长远打算。谢谢,叫醒了我们这只沉睡的老虎。
Huzi N
Haha what a joke. Nepal is a a Buddhist country. Feku at his best. Gt should prome India as a land of discrimination ag inst minorities, it should prome India as a world rape capital. India as a land of corrupt po iticians and a land of lawlessness. Cows are more important than women and a land where BJP has loed India,s treasury.
哈哈,真是个笑话。尼泊尔才是国家。印度政府应该把印度打造成一个歧视 的国家,打造成世界强奸之都。印度是政客的国度,是法外之地。在印度,牛比女人更重要,印度人民党在这片土地上掠夺了印度的财富。
Priyesh Sekar
Good get of this country before your mom or wife gets rapped
趁你妈或老婆还没被强奸之前,赶紧离开这个国家
Onehindu fj
You should also call your Swastika back to India where it belongs and tell the world it's one of Hindu re gious symbols.
印度也应该把纳粹党所用的十字记号收回,告诉全世界这是印度教的符号之一。
Mangal Nagar
We blakiez are hypocritical and funny bunch. while fanning Anti sentiment heavily, we also want prome Tourism to India for few crumbs...what a self contradictory,laughable and dependency psyche we have ?
印度人真是虚伪。在大力煽起反华情绪的同时,又想吸引游客到印度旅游。多自相矛盾,太可笑了,我们太依赖了
chetumadhu10
One side bycotting , another side trying to woo them. Wah feku wah
一边抵制货,一边试图吸引游客。
Maneesh Rnadham
We say, we don't want anything . We impose restrictions on investments and projects. We want to achieve economic self reliance. But, Ironically we want tourists ?
我们说,我们不要货,限制投资和项目,我们要实现经济上的自给自足。但讽刺的是,我们想要吸引游客?
Ankita
Except for srilanka and Thailand no sane person in the world would want to visit India for Buddhim , are basically atheist they don't believe in god!And India which is so chaotic ,dirty and unsafe who in the mind would want to visit us!!!
除了斯里兰卡人和泰国人,任何理智的人都不会去印度拜佛,基本上是者,他们不信神!
印度这么混乱、肮脏、不安全,哪个有脑子的人会想来印度旅游!!
Physics Zone
Why Not as land of hindutva! Is gt ashamed of that?
为什么不是印度教的国度!
政府为此感到羞耻吗?
Arabian Nights
Thanks but no thanks.. India is the last place for any sane person to visit..
对于任何一个理智的人来说,印度是他们最不想去的地方