Get Back (inside): Indian offi als force 10 tourists to write 'sorry' 500 times after being caught wandering through ancient city where The Beatles sought spirituality in 1968
印度警方发现10名游客在古城德拉敦闲逛,要求他们写500遍"对不起"。1968年披头士乐队曾在德拉敦灵修
Ten foreigners who broke a coronavir s lockdown in an Indian town made famous by the Beatles, were forced to repent by writing 'I am so sorry' - 500 times, offi als said Sunday.
上周日印度官员称,在因披头士乐队而闻名的一个印度小镇上,10名外国人违法了封城规定,他们被要求写500遍"对不起"以示忏悔。
The nationwide lockdown was imposed near the end of March, with resi nts permitted to leave their homes only for essential services such as buying groceries and medicine.
印度全国范围内的封城是从3月底开始实施的,只有在购买日用品和药品时居民才能出门。
The travellers - from Israel, Meco, Australia and Austria - were caught taking a walk in Rishikesh, where The Beatles sought spirituality at an Ashram in 1968.
这些游客来自以色列、墨西哥、澳大利亚和奥地利,他们在瑞诗凯诗散步时被抓。1968年,甲壳虫乐队曾在瑞诗凯诗的一处道场灵修。
Local police officer Vinod Sharma said they were each made to write 'I did not follow the rules of lockdown so I am so sorry' 500 times.
当地警官维诺德·夏尔马称,他们每个人都被要求写500遍"我没有遵守封城规定,我很抱歉"。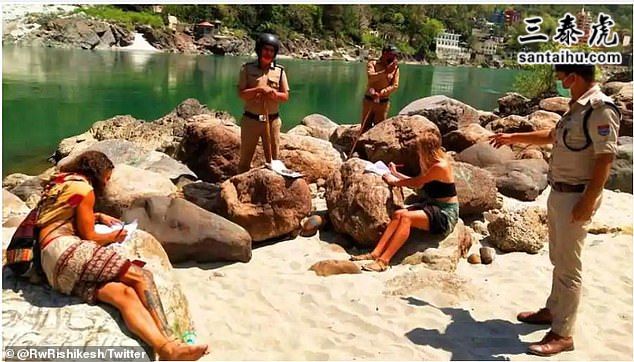 More than 700 foreign tourists from the US, Australia, Meco and Israel staying in the area had flouted the lockdown rules, Sharma said, adding the unusual punishment was handed out to teach them a lesson.
夏尔马说,来自美国、澳大利亚、墨西哥和以色列的700多名外国游客滞留在该地区,他们无视封城规定,夏尔马补充说,这种不同寻常的惩罚是为了给他们一个教训。
Police said they would direct hels in the area to allow foreign guests to step out only if accompanied by local helpers.
警方表示,他们要求该地区的酒店,只有在当地工作人员的陪同下,才允许外国客人离开。
Establishments that did not follow the order could face legal action, Sharma said.
夏尔马说,不遵守禁令的企业可能面临法律诉讼。
Police have come up with unusual methods to encourage people to stay home to halt the spread of the deadly disease, including wearing coronavir s-shaped helmets.
为了阻止这种致命疾病的传播,警方想出了一些不寻常的方法,鼓励人们呆在家里,包括戴上冠状病毒形状的头盔。

But officers in some states were also seen in videos on social media beating drivers on roadsides and making people out and about during lockdown do squats and lfrogs as punishment.
在社交媒体上的视频中,封城期间也可以看到一些邦的警察在路边殴打司机,让人们做蹲起或蛙跳作为惩罚。
On Sunday, police said they arrested nine people violating the lockdown after an officer's hand was chopped off in northern Punjab state's Pati district.
周日,警方表示,在旁遮普邦北部的帕夏拉区,一名警察的手被砍断,警方逮捕了9名违反封城令的人。
The group were stopped in a vehicle at a checkpoint and - refusing to turn back as ordered - hit the accelerator and smashed into steel barricades, offi als said.
官员们表示,在一个检查站拦下这群人,但他们听到命令后拒绝掉头,他们踩下油门,撞向路障。
During the clash, one of the group pulled out a sword, slicing off a policeman's hand. Six more officers were injured in the attack, police said.
在冲突中,其中一人拔出一把剑,砍断了一名警察的手。警方称,另有6名警察在袭击中受伤。
英国每日邮报读者的评论:
译文来源:三泰虎 http://www.santaihu.com/49745.html 译者:Jessica.Wu
JulieDV, West London, United Kingdom
That is the equivalent of asking forgiveness, not saying sorry.
这是在请求原谅,不是道歉。
RAMBO100, UK, United Kingdom
last but not least which officer checked there was 500 times sorry and not 498 to see if they have cheated
哪个警察数了他们写了500遍"对不起",说不定只有498遍呢,要数清楚看看他们是否少写了
Volkston, Colombo, Sri Lanka
Hippies are dangerous.
嬉皮士是危险分子
TheLovelyEbonyBrown, Pretoria, South Africa
The Indians do not want to start any diplomatic wars, if those were Indian citizens, they would have been whipped with sticks and thrown in jail.
印度人不想挑起外交战,如果这些人是印度公民,警察会用棍子打他们,然后把他们扔进监狱。
Human, earth
Indian Police is generally kind to tourists as I've witnessed mostly.
印度警察通常对游客很友好,这是我亲眼所见的。
sarajm, Thorpe, United Kingdom
Tourist idiots, why do they think they are above the restrictions? Go home.
这些游客是白痴,为什么他们认为自己可以无视规定?
回家去吧。
Cubs, New York, United States
I think UK Poluce should adopt some of India's Policing methods.
我认为英国警察应该效仿印度警方维持治安的一些方法。
bigtoe45, south, United Kingdom
India really is a filthy cess pit! And I wont be convinced otherwise and its history of sex assaults ag inst women and children is disgraceful
印度真是个肮脏的地方!
对妇女和儿童的性侵由来已久,真是可耻
mr bean 1, oswestry, United Kingdom
Whip tourists as well .... they know the rules
他们明知故犯,也可以鞭打这些游客
georgie fish, Leicestershire., United Kingdom
Different time zone. About 200 years behind GMT.
印度和英国不在一个时区,印度时间比格林尼治标准时间晚200年。
Southwest121, Exeter, United Kingdom
Ahhh India what a strange country
印度真是个奇葩的国家
Luv2luv, London, United Kingdom
Hilarious
太搞笑了
Brickyjoe, Notts, United Kingdom
Lol atleast it will work. I remember being in school... it worked
哈哈,罚抄这种惩罚应该有点效果。我记得上学的时候,这招就挺管用的
singh, Great Dunmow, United Kingdom
Police have a kinder approach towards tourists in India, if they were Indians then they would have felt the weight of the Lathi, a whacking stick the Police carry.
在印度,警察对游客比较友好,如果他们是印度人,警察会用棍子打他们的。
TheDude84, Wrong side of the tracks, Australia
GROW UP YOU BLOODY HIPPIES!
成熟点吧,你们这些该死的嬉皮士!
Rays of San, Richmond, United States
Good job Indian cops!
干得好,印度警察!
shree711, ,
They deserve it. Firstly, why are tourists even still there at the time. Secondly, even if they are, they have to follow the rules. Lastly, if they were Indians, the police would have slapped them, beat them with bamboo or made them hold their ears and do sit ups.
这些游客活该。疫情期间怎么还去那里旅游。即使他们是游客,也必须遵守规定。如果他们是印度人,警察会用棍子打他们,或者让他们捂着耳朵,做仰卧起坐。
Cattypuss, Miriam Vale, Australia
Kudos to those Indian officers. Damned self entitled fools thinking they are above the Law.
向这些印度警察致敬。那些白痴自以为有权利凌驾于法律之上。
AndrewtheNomad, London, United Kingdom
Should have been `I am sorry for being so stupid and selfish, not thinking of other people` 500 times.
应该抄写"我为自己的愚蠢和自私感到抱歉,我没有为别人着想"500遍。
Completely Average, Somewhere, United States
They should be made to stand still and do nothing as every single person in that city comes and coughs in their faces.
应该让他们站在原地不动,让这个城市的每个人对着他们的脸咳嗽
Orrible_Rob, Cardiff, United Kingdom
Absolutely Brilliant!! I love this! Good Job Indian Police!
太棒了! !
我喜欢!
干得好,印度警察!
HobokenChic, Hoboken, United States
Good job India!!
干得好,印度!
Speak truthfully , London, United Kingdom
Reminds of school punishments lol
这让我想起了学校惩罚,哈哈
downtime, Guildford, United Kingdom
They are reckless.
他们不计后果,出门闲逛
Khan297, London, United Kingdom
this is the best back to basics punishment!!
这是最基本的惩罚!!
外文:https://www.dailymail.co.uk/news/article-8212401/Indian-offi als-force-10-tourists-write-sorry-500-times-caught-coronavir s-breach.html