Bhutan's $250 foreign fee may hit Indians
不丹对外国游客实行的"250美元"最低消费政策,或影响印度人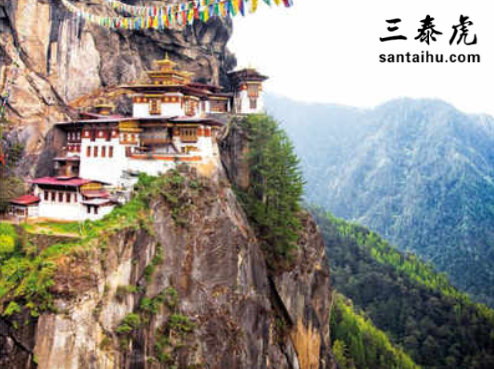 KOLKATA/ SILIGURI: Next-door neighbour Bhutan could soon be out of reach for Indian tourists on a budget. Sometime next year, the Himyan kingdom proposes to extend to regional tourists — those from India, Bangladesh and the Maldives — the mandatory "minimum daily package" of $250 (around Rs 17,700) that is currently applicable only to foreigners.
加尔各答/西里古里:对印度游客来说,去邻国不丹旅游可能很快就会超出预算了。明年的某个时候,这个喜马拉雅王国计划向来自印度、孟加拉国和马尔代夫地区的游客实行250美元(约合17700卢比)的强制性"每日最低消费",目前仅适用于其他外国人。
While the price includes a $65 "sustainable development fee", visa charges, 3-star accommodation, meals, intra-Bhutan transport, cam equipment and the services of a guide, travel operators fear the cost of spending a day in Bhutan would still be higher than what most Indian tourists can afford.
尽管这250美元包含65美元的"可持续发展费"、签证费用、三星级住宿、膳食、不丹国内交通、露营设备和导游服务,旅游经营者还是担心,在不丹旅游一天的成本仍将高于大多数印度游客的承受能力。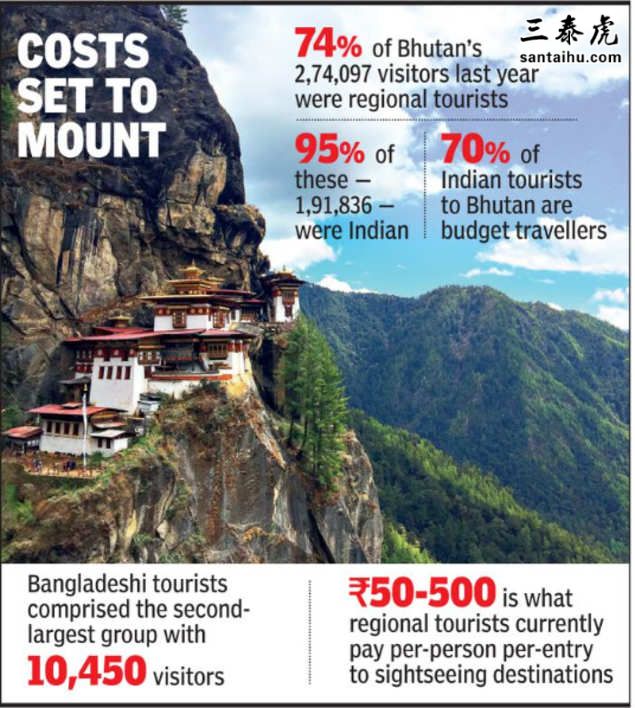 Dorji Dhradhul, the director general of Tourism Council of Bhutan (TCB), said the proposal was in line with his country's high-value-low-impact tourism policy. He did not say if and when the rules would take effect. "This policy draft has been under preparation for four years," said a source associated with Bhutan tourism.
不丹旅游理事会(TCB)总干事Dorji Dhradhul称,这个提议符合不丹"高价值,低影响"的旅游政策。Dhradhul未透露这些规定何时生效。一名与不丹旅游业有关的消息人士称:"这项政策草案已经筹备了四年。"
"At present, regional tourists have to pay Rs 50 to Rs 500 a person for every entry to different sightseeing points. If the rule changes, the sustainable development fee alone would cost a family of five Rs 23,000 a day. That is quite high for budget travellers, who constitute 65% to 70% of the Indian visitors to Bhutan," said Samrat Sanyal, general secretary of the Himyan Hospitality and Tourism Development Network.
喜马拉雅酒店和旅游发展网络秘书长Samrat Sanyal称:"目前,这些地区的游客必须支付50至500卢比的费用才能进入不同的景点。如果规则改变,仅可持续发展费一项,一个五口之家每天就需要支付23000卢比。这对于预算有限的游客来说是相当高的,而这类游客占前往不丹的印度游客的65%到70%。"
Anil Punjabi, chairman (east) of Travel Agents Federation of India, said Bhutanese authorities were yet to notify the change, but the buzz in tourism circles was that it would be implemented next year. "About 90% of Indian tourists to Bhutan take the road route to enter the country through Phuentsholing, bordering Jaigaon in West Bengal. This is possible because Indians currently don't require a visa. If Bhutan makes the minimum daily package applicable to Indian tourists, too, I'm afraid it will no longer be an affordable destination," he added.
印度旅行社联盟主席Anil Punjabi表示,不丹当局尚未通知这一改变,但旅游界的传言是,这一政策将于明年实施。他说:"前往不丹的印度游客中,大约有90%是通过与西孟加拉邦杰冈接壤的彭措林入境的。印度人目前不需要签证。如果不丹也对印度游客实行最低消费要求,对印度游客而言恐怕不丹将不再是一个玩得起的旅游目的地。"
Short-hop tourists, especially large groups visiting Darjeeling or Sikkim, account for the most Indian visitors to Bhutan. They stay a mamum of two-three days, often sharing rooms and spending little on the frills.
前往不丹的印度游客主要是短途游客,尤其是前往大吉岭或锡金的大型旅游团。他们最多住两到三天,通常是合住一间房。
The rules governing tourism in Bhutan were approved in 1972, paving the way for the first group of 287 offi al tourists to visit in 1974.
1972年,不丹通过了旅游业管理条例,为1974年第一批287名官方游客的到访铺平了道路。
印度时报读者的评论:
译文来源:三泰虎 http://www.santaihu.com/49024.html 译者:Jessica.Wu
Azaad • 1 day ago
Why to go Bhutan or Nepal, when Himachal Uttrakhand is much better place to visit. Live you India. Proud to be an indian
为什么要去不丹和尼泊尔旅游?还不如去喜马偕尔。为自己是印度人而自豪
DarthVader• 1 day ago
100 pc true!! if Kashmir gives up militancy we have swisserland in India too!!!
没错,如果克什米尔放弃战斗,我们印度也有瑞士这样的旅游胜地!!
Ashish • 1 day ago
india should also impose 250 USD for any one from Bhutan traveling to india.
印度也可以要求不丹游客每天最低消费250美元。
True Indian • india • 1 day ago
Bhutan doesn't want ch tourists. makes sense. they just trash the place and have no respect for the serenity. few high end tourists will bring enough revenue than a load of ch tourists and will have less impact on the land.
不丹不想要穷游客。这也有道理,穷游客只会把这个地方弄得一团糟,吵吵闹闹,不保持宁静的环境。高端游客能比穷游客,创造更多的收入,对当地造成的影响也更小。
Randomzzz • 1 day ago
95 percentage of 74 is 70, 70 percent of visitors are indian and mosty on budget. If Bhutan does this, most indians will find alternate destination but bhutan won't find tourists from other countries. Then bhutan will come back on their knees and remove these charges..
70%的游客是印度人,预算有限。如果不丹这样做,大多数印度游客会去其他地方旅游,而其他国家的游客不一定会去不丹。然后不丹就会妥协,撤销这些要求。
True Indian• 1 day ago
they would rather have limited tourists on high end than loads on the low end.
他们宁愿接待数量有限的高端游客,也不愿接纳数量庞大的低端游客。
Randomzzz• 1 day ago
I understood they want more money from few tourist. But that's not going to work because when the total costs of trip goes beyond 1L for a family they ll start looking at other international options. There are equally beautiful places in india largly unexplored by most people.
这是行不通的,当一个家庭的旅行总成本超过预算时,他们就会开始考虑其他选择。印度也有很多美丽的地方,这些景点大部分人都没有去过。
PakisAreGanduHomos • Kaloooo Gandu Pakistan • 1 day ago
Leave Bhutan to one side. Visit Ladakh, Sikkim....and Nainital, Ooty.....keep the money in India.
不要去不丹旅游,去拉达克,去锡金,把钱留在印度国内消费吧。
Bhojmanb • 1 day ago
Those Indian go to Bhutan litter and make this clean country dirty. In order to maintain the country local go nment needs funds.
那些印度人去不丹乱扔垃圾,把这个干净的国家弄得很脏。为了保护环境,不丹政府需要资金。
Bhojmanb• 1 day ago
Onion was Rs 16 /kg in 2018 now Rs 200 kg so why compns Bhutan, Indian are famous for littering worldwide and any tourist place need lot of budget for this.
2018年洋葱是16卢比/公斤,现在是200卢比/公斤。为什么抱怨不丹强制实行最低消费?印度游客以乱丢垃圾闻名世界,旅游景点需要请人打扫,请人打扫就需要大量经费。
The Common Man • Mumbai • 1 day ago
Did it occur to us that Bhutan probably does not want Indian tourists? Bhutan is probably subtlly moving away from appeasing I dia and moving closer to .
有没有想过不丹可能不想接待印度游客?
不丹可能正在向靠拢。
Karan Singh• 22 hours ago
Appeasing a country like will spell doom for Bhutan...already has captured most of their territory on the borders and if it wasn't for Indian Military then Bhutan would have gone the Tib way long long time back
向这样的国家靠拢会给不丹带来厄运…已经占领了边界上的大部分领土,如果不是印度军队,不丹早就成为下一个西-藏了
HSF • Australia • 1 day ago
If, tourists can not afford, they won't go. Finally the losers will be Bhutanis.
玩不起,游客就不会去。最终吃亏的将是不丹人。
tourists • HSF • BH • 1 day ago
Indians can't afford does not mean others can not.
印度人没钱去玩,并不意味着其他人也玩不起啊。
master • modi land • 1 day ago
India should ask Bhutan to pay India billions $ prection fee a year, just like Trump did to Japan and South Korea. Without India prection, Bhutan would be another Tib-et.
印度应该要求不丹每年向印度支付数十亿美元的保护费,就像特朗普要求日本和韩国交保护费一样。没有印度的保护,不丹将成为下一个西-藏。
Anantha Prasanna• 1 day ago
What a Joke. will welcome Bhutan and offer all assistance free of cost. It is India which will lose.
笑话,中方愿意向不丹提供一切无偿援助。输的将是印度。
Govisampath• 1 day ago
has never offered anything free of cost. The cost is hidden and often more than one suspects initially. See Sri Lanka. Pakistan, Maldives etc.
从来不提供免费午餐。代价往往比人们最初想象的要多。
Janardhan Reddy• 1 day ago
Ridiculous idea. It will definitely hit the Bhutan's tourism, since 70% are mostly budget tourists.
荒谬。此举肯定会打击不丹的旅游业,因为不丹70%游客的预算不充足,每一分钱都精打细算的。
sureshachar• 1 day ago
Why are you worrying about their economy
不丹的经济,你瞎操心啥呢?
Citizen• 1 day ago
Nuke them!
核平他们!
Bharat Bhushan• 1 day ago
reflecting poor diplomacy of go nment...unable to handle Bhutan....
看来印度政府的外交手腕很差,无法控制不丹…
Krishnaswamy Srinivasan• 1 day ago
Stupid comment... Diplomacy cannot stop these type of policies of any country. Also ne,fee is not only for Indians
愚蠢……外交手段不能阻止其他国家出台这种政策。还要注意的是,这个政策并非仅仅针对印度人的
Ramesh• 19 hours ago
Visiting any country in Europe will be more rewarding and economic than visiting Bhutan.
去任何一个欧洲国家旅游都比去不丹更划算。
Natarajan D • 1 day ago
Bhutan will suffer when Indians stopped visiting this nation. In the same way , India should ask Bhutanese people to pay when they visit India.
印度人不再去不丹旅游后,不丹将自食其果。同样,印度应该对不丹游客实行最低消费政策。
外文:https://timesofindia.indiatimes.com/india/bhutans-250-foreign-fee-may-hit-indians/articleshow/72930691.cms