Trump pitches for US to become India's premier defence partner, a day before $3 billion copter deals
特朗普力争让美国成为印度的头号国防合作伙伴,双方将签署价值30亿美元的直升机合同
NEW DELHI: The US has strongly pitched for becoming India's "premier defence partner" by providing it with the most advanced won sy ems like armed drones that are "feared" across the globe, ahead of the inking of two more military helicopter deals worth $3 billion on Tuesday, which will take the total value of Indian arms deals bagged by Washington since 2007 over the $20 billion mark.
新德里:美国力争成为印度的"头号国防合作伙伴",为其提供最先进的武器系统,如武装无人机,这种武器在全球"令人生畏"。星期二,印度将签署两份价值30亿美元的军用直升机合同,这将使华盛顿自2007年以来获得的印度武器订单总额突破200亿美元大关。
"I'm pleased to announce that tomorrow, our representatives will sign defence deals worth over $3 billion to sell the absolute, finest state-of-the-art military helicopters and other equipment to the Indian armed forces," Presi nt Donald Trump said at the 'Nste Trump' event in Ahmedabad on Monday.
星期一,特朗普总统在艾哈迈达巴德举行的"你好,特朗普"活动上表示:"我很高兴宣布,明天,我们的代表将签署价值30多亿美元的国防协议,向印度军队出售最先进的军用直升机和其他装备。"
TOI was the first to report that the two deals to acquire 24 MH-60 'Romeo' naval multi-mission helicopters for Rs 15,157 crore ($2.12 billion) and six additional AH-64E Apache attack choppers for Rs 5,691 crore ($796 million) from the US had been cleared by the Cabinet Committee on Security led by PM Narendra Modi.
以1515.7亿卢比(21.2亿美元)购买24架MH-60"罗密欧"海军多任务直升机,以569.1亿卢比(7.96亿美元)从购买6架AH-64E阿帕奇攻击型直升机,这两项交易已经由莫迪总理领导的内阁安全委员会批准。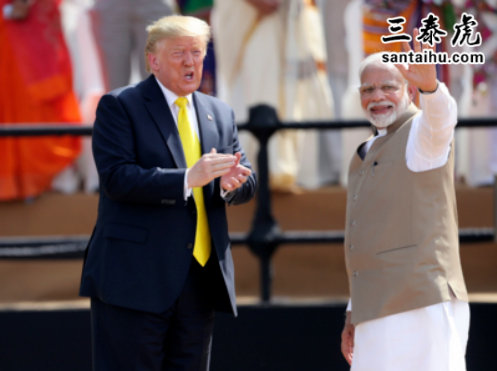 The first six MH-60R helicopters, equipped with multi-mode radars and night-vision capabilities as well as Hellfire missiles, MK-54 torpedoes and precision-kill rockets for pent anti-submarine warfare, will be delivered in a year. The rest 18 will come in the next four years to plug the critical operational deficiency of such choppers on board Indian warships when submarines are regularly prowling in the Indian Ocean Region.
首批6架MH-60R直升机将在一年内交付,将配备多模式雷达和夜视能力,以及地狱火导弹,MK-54鱼雷和精确杀伤火箭弹,用于强有力的反潜战。其余18架将在未来4年内交付,以填补印度军舰上此类直升机的不足。目前,潜艇经常在印度洋地区潜行。
The six Apaches, armed with Stinger air-to-air missiles, Hellfire Longbow air-to-ground missiles, guns and rockets, in turn, will be delivered in three-and-a-half years. These six Apaches are meant for the Army, and will follow 22 such helicopters already inducted by IAF under a Rs 13,952 crore deal inked with the US in September 2015.
6架阿帕奇直升机装备"毒刺"空对空导弹、"地狱火"长弓空对地导弹、大炮和火箭弹,将在三年半后交付。这六架阿帕奇直升机是为印度陆军准备的,印度空军已经在2015年9月与美国签署了1395.2亿卢比的合同,购买了22架阿帕奇直升机。
"I believe the US should be India's premier defence partner and that is the way it is working out. Together, we will defend our sovereignty, security and prect a free and open Indo-Pacific region for our children and for many, many generations to come," Trump said.
特朗普表示:"我认为,美国应该成为印度的头号国防合作伙伴,事情就是这样发展的。为了我们的子孙后代,我们将共同捍卫我们的主权、安全,捍卫一个自由开放的印太地区"
印度时报读者的评论:
译文来源:三泰虎 http://www.santaihu.com/49401.html 译者:Jessica.Wu
Bhavesh Shah • 1 day ago
Do not forget our old friend Russia. Russia is always with India in all war situation since long years
不要忘了我们的老朋友俄罗斯。长期以来,俄罗斯在所有战局中都站在印度这边
ankur wadhwa• 1 day ago
Very ly said
说得太对了
rk• 1 day ago
Who said anyonne is being forgotten. Idiot. And now its USA thats with india. Russia is burdened by sanctions. U piggglet. !
白痴,现在印度和美国站一起,俄罗斯被制裁压得喘不过气来。
Bhartiya Sach • 1 day ago
Donald Trump is coming to boost his economy, not ours
唐纳德·特朗普来印度是为了提振美国经济,不是为了推动印度经济
Archana • 1 day ago
BJP want to sell this country. They are bad as corono vir s.
人民党想把这个国家卖了。他们就像新冠病毒一样毒。
Tirandaz Mugaseth • 1 day ago
Not a single country backed India except Russia. Russia has given us the technology for space rockets ,like the cryogenic engines, given us the blueprints for nuclear submarines. Blancket support for HAL.Indians should always stand with Russia.We won the wars because of Russian support. Hope Modi remembers this. Russia has stood by India so one should not forget Russia is not just our friend. Its part of our family.
除了俄罗斯,没有一个国家支持印度。俄罗斯给我们提供了太空火箭技术,比如低温引擎,给了我们核潜艇的蓝图。印度应该永远和俄罗斯站在一起。由于俄罗斯的支持,我们赢得了战争。希望莫迪能记住这一点,俄罗斯一直支持印度,所以不要忘了,俄罗斯不仅仅是我们的朋友,而且就像我们的家人一样。
Deepak Cm • 1 day ago
Rubbish. In 1965, when India was ready to purchase Fighter Jets from US, but US gave it to pakistan for free. Americans are opportunist. Dont trust them.
1965年,印度准备从美国购买战斗机,但美国免费给了巴基斯坦。美国人是投机分子,不要相信他们。
Later • 1 day ago
This is what Trump came for - to sell is wons !
这就是特朗普此行的目的——出售武器!
Mudi • Gujriot • 1 day ago
Make in India converted to make in USA
印度制造将转换成美国制造
Umesh Kumar • 1 day ago
America can never be good friend . They used others for their own interest.
美国永远不会是我们的好朋友,为了自己的利益,他们会利用他人。
Abhishek Oza • Mumbai • 1 day ago
Means he wants to sell more and replace france....ganda hai par dhandha hai ye.
这意味着他想卖更多武器给印度,取代法国的位置…
Jyotirmoy Mukhopadhyay • visakhapatnam • 1 day ago
he more this man sell defence item , the more secure is his chances for the next ion.
卖的武器越多,他赢得下次的机会就越大。
Abhay Naik• 1 day ago
remember Russia is always there... America cannot be trusted....but Russia is and always will be India's most trusted friend...
记住,俄罗斯一直支持我们……不能信任美国……俄罗斯现在是,将来也永远是印度最信任的朋友……
Mangesh • 1 day ago
his visit for business only
特朗普印度之行只是为了做生意
Shasti Brata • 1 day ago
This will not go down well with Russia who has stood by us at all times! Remember, the loyalty of America will change depending on who is the Presi nt there, but Russian support is enduring and time tested! We can have a lasting business relationship with America, and as long as there is money, the Americans will be with us! Russia and Israel, on the other hand, are loyal allies who stood by us when the whole world was ag inst us.
请记住,美国的忠诚将取决于谁当总统,但俄罗斯的友谊经得住持久的考验!
我们可以和美国建立持久的商业关系,只要有钱,美国人就会和我们在一起!
另一方面,俄罗斯和以色列是忠诚的盟友,当全世界都反对我们的时候,他们站在我们这边。
Mohandas • 1 day ago
US is the won manufacturing country, thier economy is dependent on sales of arms and ammunition across the globe, this is business trip of trump.
美国是武器制造大国,美国经济依赖军火出口,此行是特朗普的商务之旅。
Arabian Ranches• 1 day ago
Hardly , many nations beg for approval even to buy these wons and sy ems . Certainly does not need to do any sales pitch
许多国家甚至求着购买美国武器和系统,不需任何推销
Krishnaswamy • Delhi
Has started the salesman job for which he actually came for...India will buy from wherever its strategic interests are best met !
特朗普开始推销了,而他实际上也是为了卖武器……印度将从最能满足其战略利益的国家购买!
HappyTimes User
Do not forget our old friend Russia. Russia is always with I ..
不要忘记我们的老朋友俄罗斯。俄罗斯永远站在我们这边的。
Simon Roger • earth • 1 day ago
US must shift its defence equipment manufacturing base to India and employ indians for it - that could be a good start
美国应该将武器生产放在印度,雇佣印度工人——这或许是一个好的开端
Bhishma • 1 day ago
Trump go back we don't want wons and war.
特朗普回去吧,我们不想打仗,不要武器。
Murthy • 1 day ago
Big NO unless US gives products of cutting edge technologies and willing to transfer current technology for Make in India.
除非美国提供尖端产品,并愿意将现有技术转让给印度,并在印度生产,否则印度不会同意的。
Saugat • New Delhi • 1 day ago
the US baniya fools the Gujju tea seller .The nation rejoices .Such an idiot race
美国人忽悠了那个古吉拉特邦卖茶人,整个国家都欢欣鼓舞,太傻了
Hk • 1 day ago
Our hard earned money being wasted.
我们辛苦赚来的钱被白白浪费了。
Tirandaz Mugaseth • 1 day ago
during the cold war times the usa strongly backed Pakistan. European countries also backed Pakistan. Middle eastern countries strongly backed Pakistan.Not a single country supported India.
在冷战时期,美国和中东国家强烈支持巴基斯坦,欧洲国家也支持巴基斯坦,没有一个国家支持印度。
外文:https://timesofindia.indiatimes.com/india/trump-pitches-for-us-to-become-indias-premier-defence-partner-a-day-before-3-billion-copter-deals/articleshow/74286506.cms