US not treated well by India, but I like PM Modi a lot: Donald Trump
特朗普:虽然印度对美国不太友好,但我很喜欢莫迪总理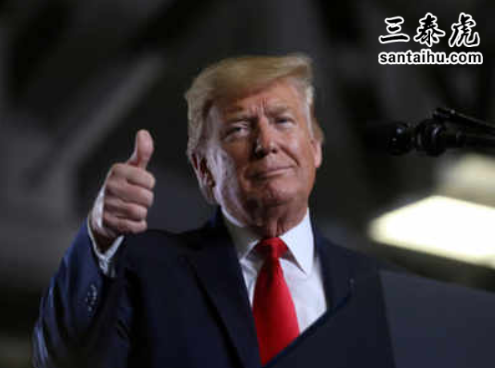 US President Donald Trump on Tuesday downplayed expectation of a trade deal with India during his visit there next week, saying, "we can have a trade deal with India, but I'm really saving the big deal for later on." He, however, said that he liked Prime Minister Modi.
周四,美国总统唐纳德•特朗普称:"我们会与印度达成贸易协议,但大生意我确实会先保留,等以后再说",这降低了其下周访问印度期间与印度达成贸易协议的预期。然而,他表示喜欢莫迪总理。
"We're doing a very big trade deal with India. We'll have it. I don't know if it'll be done before the election, but we'll have a very big deal with India," Trump told reporters at an airbase outside Washington DC as he flew out west for a series of domestic events next three days before he heads out to India on Saturday.
特朗普在华盛顿特区外的一个空军基地对记者表示:"我们正在与印度商讨一项非常大的贸易协定。我们将会达成这一协议。"特朗普飞往西部参加一系列国内活动后将于周六前往印度。
Trump, who has dubbed India "tariff king" among other epithets, complained again that the US is "not treated very well by India" but said "I happen to like Prime Minister (Narendra) Modi a lot". Modi, the US President said, bringing in his expectations of a grand spectacle, had told him there will be 7 million people between the airport and the Motera stadium the two are expected to inaugurate.
特朗普称印度为"关税之王",再次抱怨"印度对美国不太友好",不过他表示"我恰巧很喜欢莫迪总理。他告诉我,将有一场盛大的欢迎仪式,在机场和莫特拉体育场之间,将有700万人迎接我。"
"The stadium, I understand, is sort of semi under construction, but it's going to be the largest stadium in the world. So it's going to be very exciting. But he says between the stadium and the airport, we'll have about 7 million people. So it's going to be very exciting. I hope you all enjoy it," Trump said.
特朗普称:"据我所知,这座体育场处于半完工状态,以后会成为世界上最大的体育场。所以这将是非常令人兴奋的。在体育馆和机场之间,将有大约700万人欢迎我,这将是非常令人兴奋的。"
The President's remarks virtually confirmed that there will at best be a modest outcome of deliverables from the visit, and at the very least, he hopes for a grand spectacle that will impress his constituents back home.
特朗普总统的言论实际上证实了,这次访问最多也只能有限的成果,而且至少,他希望看到一个壮观的场面,给他的选民留下深刻的印象。
The Indian side too has virtually confirmed that an overarching trade deal is not going to happen given the US insistence on India opening up its vulnerable farm and dairy sector and other contentious issues that the two sides have been unable to resolve despite months of negotiations.
印度方面也证实,鉴于美国坚持要求印度开放其脆弱的农业和乳制品行业,以及双方经过数月谈判仍未能解决的其它有争议的问题,双方不可能达成一项全面的贸易协议。
印度时报读者的评论:
译文来源:三泰虎http://www.santaihu.com/49357.html 译者:Jessica.Wu
Shekar Natesh • Bangalore • 9 hours ago
What does Mr Trump mean by saying that India has not treated the US well? Does he expect all imports from India to be made free?
特朗普说印度对美国不好,这是什么意思?他希望所有从印度进口的商品都是免费的吗?
Balachandran Nair V• 4 hours ago
Well, it seems that he wanted India to purchase a lot of US defence equipment
他想让印度购买大量美国武器
Anonymous Delhite • Location • 3 hours ago
Both leaders are peas of the same pod. Both are very divisive and hate mongers , trying to stay in power. For pleasing the US, India is slowly selling away itself.
特朗普和莫迪都一样,都非常喜欢煽动分裂,传播仇恨,试图继续掌权。为了取悦美国,印度正在慢慢地把自己卖掉。
Aam Aadmi • India • 9 hours ago
US and India have a lot in common.
1. World's largest and most vibrant de ocracies.
2. Popular political leaders.
3. Ethnically diverse population.
4. Strong, educated workforce
5. Rich cultural heritage.
That the current leaders of these two nations are aligned in their vision is a plus point for the two regions and the world as a whole.
美国和印度有很多共同点。
1. 世界上最大、最具活力的民*国家。
2. 领导人都受欢迎。
3. 人口种族多元化
4. 劳动力都受过良好教育
5. 文化遗产丰富
这两个国家的现任领导人在愿景上是一致的,这对两个地区乃至全世界来说都是好事。
Balachandran Nair V• 4 hours ago
I think Mr. Modi will not do any business that is against the interest of the country
如果违背国家利益,我相信莫迪宁愿不做生意
Frequent Flyer • Bhubaneshwar • 8 hours ago
This idiot will exaggerate everything 100 times.
这个白痴把每件事都夸大100倍。
Napota Phukan • 12 hours ago
Almost everyone knew Trump wasn't going any big trade deal with India. He just LIED to India.
几乎所有人都知道特朗普不会与印度签署任何重大贸易协议。他只会骗印度。
Baba Vickram Aditya Bedi • 8 hours ago
India has not been treated well by the U.S. There would be no terror problem in the world if India had had not been stopped by the U.S. and Britain in 1971 from finishing Pakistan. Instead the U.S. looked the other way while Pakistan built atomic weapons.
如果不是美国和英国在1971年阻止印度灭了巴基斯坦,世界上就不会有恐怖问题了。巴基斯坦制造核武器时,美国却视而不见。
Vijaya • 4 hours ago
First USA should treat well India.Indians are not beggars like Pakistan
首先,美国应该对印度好点。印度人可不是巴基斯坦那样的乞丐
Dravidian • Toronto • 14 hours ago
on seeing the number of coows on the Indian streets, trump will offer a trade deal for the desi coow meat which feku can't refuse.
看到印度街头有这么多牛,特朗普会提出一项购买牛肉的协议,莫迪是无法拒绝的。
Pakisareganduhomos • Kaloooo Gandu Pakistan • 8 hours ago
India has never attacked Americans.....so what treatment you want?
GivecRespect and get Respect.
is thst so hard to comprehend?
印度从来没有打过美国…还想要印度怎么对你们?
尊重别人才会得到别人的尊重。这很难理解吗?
enky • 5 hours ago
both are idiots and fekus...
两个都是白痴……
R S Vatsan • 3 hours ago
Trump does not understand. We are still lower middle income country, and can not compare with USA in terms of Import tax tariffs. Modi is right in sticking to his tariffs till our Industry reach International levels of competition. Let Trump say whatever he wants Modi stick to country's interest.
特朗普不明白印度仍然是中等收入国家,进口关税无法与美国相比。莫迪坚持其关税政策是正确的,直到我们的产业达到国际竞争水平才能放松。特朗普想说什么就说什么吧,莫迪应坚持捍卫国家利益。
Ashok Kamath• 4 hours ago
USA badly need India's friendship due to India's growing influence across world..Modiji is capable to resolve any issues between India and USA.
由于印度在世界上的影响力越来越大,美国非常需要和印度保持友好关系。莫迪有能力解决印度和美国之间的任何问题。
Only • Mumbai • 4 hours ago
Why waste time and money on trump, he is going to lose in the coming presidential election. Instead of that, we should have waited and invited new president once election is over.
为什么要在特朗普身上浪费时间和金钱,他将在即将到来的总统选举中落选。我们应该等选举结束后邀请美国新总统来印度访问。
HappyTimes User • 4 hours ago
If he is not interested in India but only Modi, then make it as a personal visit to Modi's house. It will be two businessmen meet then. Why should we waste our tax payers money?
如果特朗普不喜欢印度,只喜欢莫迪,那就去莫迪家做客吧。届时将会是两位商人的会面。为什么要浪费我们纳税人的钱?
Ambalia Rushabh • 4 hours ago
In past THE INDIA was not treated well by usa..
And now for us to treat you well have to make better relationship.. that usa wont betray or play political games..
过去,美国对印度也不好。现在如果想让我们对你们好点,那我们必须建立更友好的关系。美国不能玩玩政治游戏,背叛印度。
Amatya Kaushik • 5 hours ago
Most unreliable US President. First he will praise and then he will change his stance. Thats the best thing he does.
特朗普是最不靠谱的美国总统。他先是称赞你,然后又改变立场,这是他最擅长的。
Nothing • 7 hours ago
Nothing positive will come out from Trump's visit except a superficial show off to the public. Simply wastage of time and money.
特朗普的访问除了表面上向公众炫耀外,不会产生任何积极的结果。纯粹是浪费时间和金钱。
Ravindra Bhavsar • Surat • 2 hours ago
There are so many people, who like Modi. Modi has true leadership and friendship skills..
有那么多人喜欢莫迪。莫迪是真正的领袖,善于处理关系。
Sameer Dada • lol • 4 hours ago
USA never support India when required... many examples are there.
美国永远不会在印度需要的时候支持印度…这样的例子不胜枚举。
Proud Indian • 4 hours ago
US also don't treat the world well. Everywhere they go with hidden agenda to sell their military hardware be it Middle east or India
美国对全世界都不太好。无论走到哪里,他们都揣着出售武器的目的,不管是去中东还是去印度
Abhishek • Gurugram • 5 hours ago
Modiji is one of the greatest leader the nation witnessed.
莫迪是印度历史上最伟大的领导人之一。
外文:https://timesofindia.indiatimes.com/business/india-business/donald-trump-says-no-big-trade-deal-with-india-now-but-expects-grand-reception/articleshow/74213083.cms