IIT-Hyderabad student commits suicide; third incident in a year
印度理工学院海得拉巴分校一学生自杀,年内第三起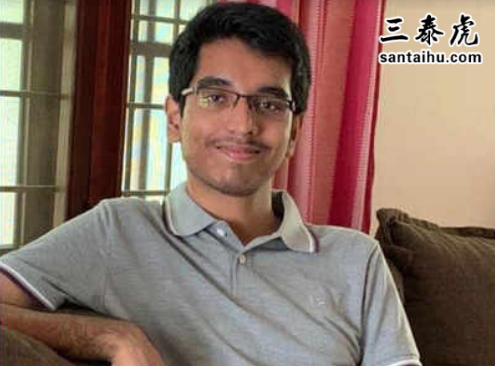 HYDERABAD: An engineering student of Indian Institute of Technology, Hyderabad (IIT-H) committed suicide on Tuesday by jum off from the third flood of a campus building.
海德拉巴:周二,印度理工学院海得拉巴分校一名工程系学生从一座教学楼的三楼跳下自杀。
According to police, the student Pichikala Siddharth, 20, was pursuing BTech third year in computer science and engineering department. "At about 3.26am, he committed suicide by jum off from third floor. He sent a mail with suicide note to his friend," read a press release issued by the Sangareddy police.
据警方表示,20岁的学生Pichikala Siddharth在计算机科学与工程系读大三。大约凌晨3点26分,他从三楼跳下自杀。自杀前,他给朋友发了一封遗书。
In his suicide note, the student attributed the reason for taking the extreme step to depression. "Life rather seems depressing. Never ending strands of misfortune to an extent that I mentally couldn't tolerate it. I have no clue how my future is going to be. I have been feeling this for the past two months," read the suicide note.
在遗书中,这名学生将自杀的原因归咎于抑郁症。"生活似乎很压抑。我精神上无法忍受的不幸永远不会结束。我不知道我的未来会怎样。在过去的两个月里,我一直有这种感觉。"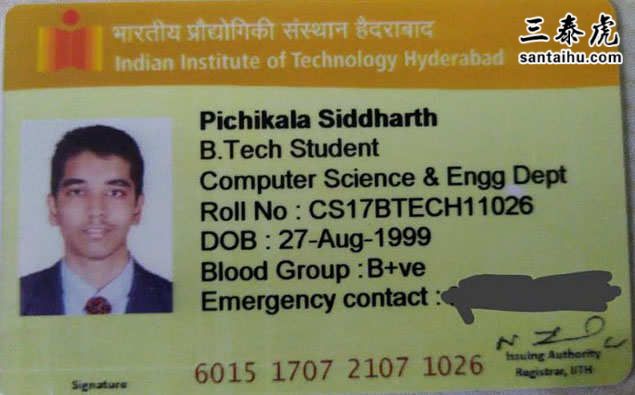 He further mentioned that he couldn't concentrate well in academics. "There is a critic within me questioning my every move to the extent that I feel I shouldn't exst. Yes, I shouldn't exst because I am a self-obsessed guy. I was brought up that way, being compared with my peers all the time," read the suicide note.
他还提到他在学习上不能很好地集中精力。"在我的内心深处有一个批评家在质疑我的一举一动,以至于我觉得我不应该活着。是的,我是个自恋的人,我不应该活着。我总是被拿来和同龄人比较。"
Soon after the incident, the student was shifted to Balaji Hospital for first aid following which he was taken to Continental Hospital in Gachibowli. Police said that he died while undergoing treatment.
事发后不久,这名学生被送到巴拉吉医院急救,随后被送往位于Gachibowli的医院。
In a statement issued by the IIT-Hyderabad, the authorities extended deepest condolences to the family and friends of the deceased. "It is with deep grief and sadness that IIT Hyderabad has to inform the passing away of a third year BTech student today (29th October 2019). IIT Hyderabad faculty, staff and students extend their deepest condolence to the family, friends and other near and dear ones of the deceased student. This is indeed an irreparable loss to the institute and the family. May his soul rest in peace," read the statement.
在印度理工学院海得拉巴分校发表的一份声明中,校方向死者的家人和朋友表示最深切的哀悼。"今天(2019年10月29日),印度理工学院海得拉巴分校的一名大三学生不幸去世,对此印度理工学院深感悲痛。印度理工学院海得拉巴分校的教职员工和学生向遇难学生的家人、朋友和其他亲人表示最深切的哀悼。这对学院和家庭来说确实是一个无法弥补的损失。愿他的灵魂安息。"
It maybe recalled that this is the third suicide in the last one year. First suicide incident was reported in February where a third year student Anirudhya Mummaneni had jumped off from the hostel building. In July, a final year master's student Mark Andrew Charles had hanged himself inside the hostel room.
这是今年发生的第三起自杀事件。据报道,第一起自杀事件发生在2月份,当时一名三年级学生Anirudhya Mummaneni从招待所大楼跳下。今年7月,硕士生马克·安德鲁·查尔斯在宿舍上吊自杀。
印度时报读者的评论:
译文来源:三泰虎 http://www.santaihu.com/e/admin/ 译者:Jessica.Wu
外文:https://timesofindia.indiatimes.com
murali mohan756 • murali mohan • 3 days ago
Parents should talk to their children regularly and understand their well being, both Physical and mental health. Timely intervention by all stakeholders namely parents, faculty members and student counsellors will avoid such tragic incidents. May his soul rest in peace.
家长应定期与子女交谈,了解孩子的身心健康状况。家长、教职员和学生辅导员等应及时介入,避免此类悲剧的发生。愿他的灵魂安息。
Mohammed AbdulMalik• 3 days ago
Good suggestion
好建议
Yogesh • Delhi • 3 days ago
Now a days students are forced to study. This is worst than slavery. It is almost terrorism, taking the lives of the students. If the students are not interested in studies, they should not be forced to study. Right to Education is non-sense. They should learn some skilled work or do agriculture and farming.
现在学生们被迫学习,比奴隶制更可怕,几乎是恐怖主义了,孩子被逼跳楼。如果学生对学习不感兴趣,就不应该强迫他们学习。还不如学一些技术或者回家种地。
Sanjay Jahagirdar• Panaji • 3 days ago
Yogeshji, you are absolutely right. Education doesn''t provide job, but skills do.
你说得对。读书不一定能找到好工作,但学到技能可以。
Arnab Biswas• 3 days ago
In our Indian education system one need to study all even though he will work with one
在我们印度的教育体系中,学生什么科目都要学,尽管只有一门能用上
LIFE ON 2 WHEELS • 3 days ago
MAY HIS SOUL FIND PEACE....I think teachers and parents should talk to kids everyday and see if there is anything unusual in their behavior.
愿他的灵魂安息……我认为老师和家长应该每天和孩子们交谈,看看他们的行为是否有什么异常。
Yash • Mumbai • 3 days ago
That one day you would look back and feel how silly it was even to think about ending life
有一天,当你回首往事,你会发现,想要结束生命的想法是多么的愚蠢
Dr K J BABU • 3 days ago
In his suicide note he mentioned that he is being compared with his peers since his childhood, which is a big mistake by some parents and teachers.
在他的遗书中,他提到他从小就被拿来和同龄人比较,这是一些家长和老师犯下的大错。
Truth Truth • Location • 3 days ago
Memorise and vomit in exam.This is education system in India.No fun, no creativity.
死记硬背,这就是印度的教育。学习没有乐趣,就没有创造力。
Santhosh Reddy • hyderabad • 3 days ago
Parents are also equally responsible, my his soul rest in peace. As he mentioned parents just keep on comparing and pestering till he breaks down psychologically and emotionally.
父母也有责任,愿他的灵魂安息。正如他提到的,父母不停地拿他和别人比较,结果他在心理和情感上崩溃了。
Sunand Shadrach Mabbula • 3 days ago
Commiting suicide is not the solution. You leave parents and siblings in utter grief and mental agony.
自杀不是解决办法,反而会让父母和兄弟姐妹陷入极度的悲痛中。
Thelma Lobo • 3 days ago
Pity the Brain Drain!
可惜啊,失去了一个人才!
praveen k• 2 days ago
The amount of stress that students go through is phenomenal. They have to be helped to overcome self-doubt, depression and self-esteem issues which crop up time to time.
学生所承受的压力是惊人的。务必帮助他们克服不时出现的自我怀疑、抑郁和自尊心问题。
chanakya• 3 days ago
Quota sys is killing young indians..
配额制度正在扼杀印度年轻人…
Rajesh K• 1 hour ago
this has nothing to do with quota, you seem to be misinformed
这与配额无关,你误解了
Raju Sotala• 3 days ago
My deepest condolences to his family and May his soul rest in peace...
向他的家人致以最深切的慰问,愿他的灵魂安息……
sunjay kanotra • 3 days ago
It''s high time India Should change their education system
印度是时候改革教育体制了
Farooque Khan • Al Khobar, Ash Sharqiyah • 3 days ago
There is huge pressure on every young person to be successful and become rich. Money is the object of worship, which root cause of all evils.
每个年轻人都面临着如何成功和致富的压力。拜金主义是一切罪恶的根源。
Al Ansaar • 3 days ago
sad.i think he was not aware of modijis entreprenuership schemes.
悲哀,我想他不了解莫迪的创业计划。
Mohammed Ziauddin Mohammed • Jeddah • 3 days ago
Stupid and Coward ...life is precious he did't understand
愚蠢、懦弱……他不明白生命是宝贵的