Indians applying to US business schools drop to 45% in 2019
2019年印度学生申请美国商学院的比例降至45%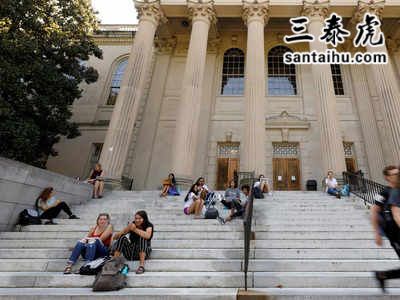 MUMBAI: Reflecting a global trend, just 45% of Indian students who took GMAT sent their scores to US business schools this year, down from 57% for courses that started in 2015, shows data released by the Graduate Management Admission Council.
孟买:美国研究生入学管理委员会公布的数据显示,今年参加GMAT考试的印度学生中,只有45%将成绩寄给美国商学院,低于2015年的57%。这反映出一种全球趋势。
Around 48% of US programmes have reported a fall in international applications this year, with 23% seeing steep declines. Overall, applications from abroad were down 13.7% at US programmes that responded to both the 2018 and 2019 surveys. Half of the international students with GMAT scores who did not apply to the US said the bleak chance of obtaining a job there impacted their decision.
今年,约48%的美国课程的国际申请数量下降,23%的课程出现急剧下降。总体而言,美国在2018年和2019年收到的海外申请下降了13.7%。在达到美国GMAT分数而未申请美国学校的国际学生中,有一半表示,在美国找到工作的机会渺茫,这影响了他们的决定。
Others cited factors like the ability to obtain a student visa (48%), the political environment (47%), safety fears (37%), and discrimination concerns (34%).
还有学生提到了学生签证(48%)、政治环境(47%)、安全担忧(37%)和歧视担忧(34%)等因素。
印度时报读者的评论:
译文来源:三泰虎 http://www.santaihu.com/48620.html 译者:Jessica.Wu
外文:https://timesofindia.indiatimes.com/
ONE LINER Challenge - 13 hours ago -Follow
US''s LOSS IS CANADA-OZ AND NZ GAIN- FOR THE DESERVING INDIAN IF ONE DOOR CLOSES MANY MANY MORE WILL OPEN-
这是美国的损失,是加拿大和新西兰的收获——对印度人来说,如果一扇门关上了,还有更多的会打开
Duck Cheney - Toronto - 13 hours ago -Follow
Trump wants to kick all curry eating brownies with fake degrees.. Modi has one of those fake certificates..
特朗普想把所有拿假文凭的印度人拒之门外。莫迪有一张假文凭。
Duck Cheney - Toronto - 13 hours ago -Follow
Don''t make false statements. Trump is kicked all brownies out of USA...Indians are coming with fake degrees just like Modi has one of them.. He dropped out of school in 8th grade..
特朗普正在把所有印度人赶出美国……印度人拿着假学位去的,莫迪的文凭也是假的,他八年级就辍学了。
Zabar Dust - jaipur - 10 hours ago -Follow
Indians don''t need foreign degrees - they are happy with 8th pass chaiwala using
mushrooms for his complexon.
印度人不需要外国学位
Raj Polapragada - 12 hours ago -Follow
US economy and immigration both are deterents for MBA students. Indian students who go abroad are not the best but rich potential immigrants.
MBA学生看重的是美国的经济环境,还有想移民美国。出国留学的印度学生虽然不是最出色的,却是富有的潜在移民。
Shasti Brata - 9 hours ago -Follow
Fear of Trump is a major factor in this decline!
对特朗普的恐惧是一个主要因素!
Truth Hurts - 11 hours ago -Follow
We proud to be Indians, proud of the culture etc, but still go abroad for education.
我们为自己是印度人而自豪,为印度文化而自豪,不过我还是出国留学了。
Irshad Ahmad - Location - 6 hours ago -Follow
Yeah dont go to US, we have plenty of jobs back in india.
别去美国,印度有很多工作机会。
Ankit Singh - 6 hours ago -Follow
Slowly n steady, we''re growing
印度在稳步发展
Savani - LOS ANGELES - 13 hours ago -Follow
GOOD FOR OUR CHILDREN. PLS STAY IN INDIA.
留在印度吧,对我们的孩子有好处。
india - Ahmedabad - 6 hours ago -Follow
one reason is also the falling value of rupee which makes the university fees out of pockets for many
其中一个原因是卢比贬值,这让很多印度人付不起大学学费
Anthony - goa - 6 hours ago -Follow
Most of them went to US to school so that they can work there but now since trump has closed the lid on jobs nobody will go there
大多数去美国留学的印度人,是希望可以留在美国工作,现在特朗普不给就业机会了,没有人会去美国留学的
Anthony - goa - 6 hours ago -Follow
Our whatsapp university is better then US schools
印度大学比美国大学好
Shri Mahesh - 6 hours ago -Follow
BETTER GO TO FRANCE FOR 4000 EUROS PER YEAR. GO TO OTHER COUNTRIES WORLDWIDE. DO NOT COME TO USA OR UK.
最好去法国留学,每年4000欧元。去其他国家,不要去美国,也不要去英国。
Strategic Speaking - 6 hours ago -Follow
That''s because Indians dont have money anymore.. Economy is in shambles
那是因为印度人没钱了…经济一片混乱
Abhijit singh - 6 hours ago -Follow
Craze for mba depends largely on economic condition. When economy is in bad shape, mba jobs drop and craze falls.
对MBA的狂热很大程度上取决于经济状况。当经济形势不好时,MBA的工作机会就会减少,对MBA的狂热就会降温。
Mighty Warner - 7 hours ago -Follow
Higher Education is improving in India....under Modi Govt.
在莫迪领导下,印度的高等教育正在改善……。
Kush Kumar Dewangan - 6 hours ago -Follow
i think due to economy down
我想是因为经济不景气
shivprakash gupta - 6 hours ago -Follow
As you sow as you reap...Trump is to blame for this...
种瓜得瓜,种豆得豆。特朗普应该为此负责
Jahangeer Khurshid - Mumbai - 6 hours ago -Follow
It''s also because they are shifting their preferred destination. US visa regime has become much more strict and its expensive to study there.
这也是因为学生们正在改变他们的首选目的地。美国的签证申请变得更加严格,学费也越来越高。