India plans to open 100 airports in five years
印度计划在五年内开放100个机场
India is planning to open 100 additional airports by 2024, as part of a plan to revive economic growth in Asia's third-largest economy, according to people with knowledge of the matter.
The proposal, which includes starting 1,000 new routes connecting smaller towns and villages, was discussed at a meeting last week to review infrastructure needed by 2025, the people said, asking not to be identified as the discussion is private. Steps to start a plane-lease financing business in the country was also discussed, they said.
With economic activity at a six-year low and prospects of further slowdown looming, Prime Minister Narendra Modi is keen to double down on infrastructure projects in a bid to revive growth and achieve a target of making India a $5 trillion economy by 2025. Last month, the go nment cut corporate tax rates, putting India on par with some of the lowest in Asia, to help compete with the likes of Vietnam and Indonesia for investments amid global trade tensions.
据知情人士透露,印度计划到2024年再开放100个机场,这是该国重振经济增长计划的一部分。印度是亚洲第三大经济体。
上述知情人士表示,上周的一次会议讨论了这一提议,目的是评估到2025年所需的基础设施。他们要求匿名报道,因为讨论不是公开进行的。他们还讨论了在印度开展飞机租赁融资业务的步骤。
鉴于当前经济处于6年低谷,经济增长进一步放缓的前景日益显现,印度总理纳伦德拉莫迪渴望加大基础设施项目的投入以重振经济增长,实现到2025年将印度经济规模扩大至5万亿美元的目标。上月,政府下调了企业税率,使印度与亚洲一些税率最低的国家平起平坐,以帮助在全球贸易紧张局势下与越南和印尼等国竞争投资。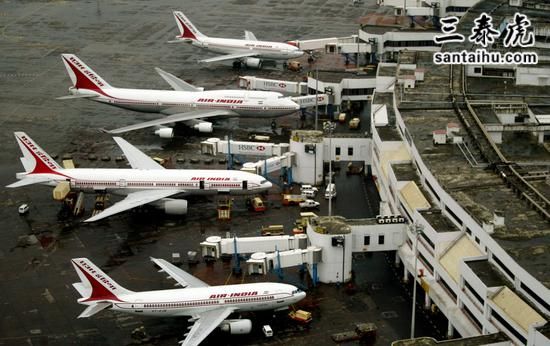 India's plans to expedite airport development still trails that of China's, which has set a goal of having 450 commercial airports by 2035, almost double the number at the end of 2018. A spokesman at India's civil aviation ministry was not immediately available for a comment.
The proposal by India's state think tank also includes boosting the number of locally trained pilots to 600 a year and double the domestic aircraft fleet to 1,200 during the period, the people said.
The Indian go nment has committed investments of 1 trillion rupees to build airports in the next 5 years.
Just three years back, only 75 of India's 450 runways were functional, as airlines avoided flying to smaller, World War-era airstrips in smaller towns. But Modi's subsidy program, which partly funds airline losses while capping fares on remote routes, has helped add as many as 38 airports to the nation's aviation map at the start of this year, while contracts were given to airlines to start flights to a further 63 airports with no or limited connectivity.
印度加快机场发展的计划仍落后于中国,后者设定的目标是到2035年拥有450座商业机场,几乎是2018年底的两倍。记者未能立即联系到印度民航部发言人置评。
知情人士称,印度国家智库的提议还包括,将在当地接受培训的飞行员数量增至每年600人,同时将国内飞机数量增加一倍至1200架。
印度政府承诺在未来5年内投资1万亿卢比建造机场。
三年前,印度的450条跑道中只有75条可以使用,因为航空公司不愿飞往较小城镇的二战时期的小型飞机跑道。但是莫迪制定了补贴计划,弥补了航空公司的部分损失,同时限制远程航线的票价,使得今年年初的航空地图上新增了38机场,还为63个机场提供了航线合同。
While the lure of India -- with an emerging middle class flying for the first time -- has attracted companies such as Singapore Airlines Ltd. and AirAsia Bhd. to set up local units, provincial taxes in the nation make jet fuel one of the most expensive in the world. The go nment is aware of the high taxation burden and higher jet fuel prices, and will rationalize the tax re gie as soon as next year, the people said.
India will also encourage the use of drones -- for which it announced a policy this year allowing unmanned vehicles to fly beyond the line of sight -- and sees the number of legal drones reaching a million by 2024, the people said. The country will prepare drone corridors by 2021, and allow delivery of goods by drones by 2023, they said.
虽然印度正在崛起的中产阶级吸引了新加坡航空和亚航等公司在印度设立公司,但各邦的税收使飞机燃料成为世界上最高之一。知情人士说,政府已经意识到高额的税收负担和更高的航空燃油价格,最早将于明年调整税收制度。
知情人士称,印度还将鼓励无人机的使用,并预计到2024年,合法无人机的数量将达到100万架。印度今年宣布了一项政策,允许无人机飞越视线范围。他们表示,该国将在2021年之前准备好无人机走廊,并在2023年之前允许无人机快递业务。
以下是印度经济时报网站读者的评论:
译文来源:三泰虎 http://www.santaihu.com/48718.html 译者:Joyceliu
外文链接:https://economictimes.indiatimes.com
Mickky
Kindly think about the People who pays full price ticket and still travel by standing or by hanging condition, no complain about the airports but we have to think about other end as well.
请想想那些支付了全价票,还必须站着或挂着的人,我们不是想抱怨机场,但我们也必须考虑其他方面。
Sangam
What the point of building 100 or 10,000 airports unless there''s demand for it and airlines willing to fly to them? Many airlines have cancelled routes even when they were subsidised by UDAAN program, opening additional airports without further strengthening India''s economy makes no sense. India should focus on vitalising Tier 2 cities considering Tier 1 cities are becoming too crowded and unlovable with the infrastructure crumbling under its own weight.
除非有那么多需求,否则建造100个或1万个机场有什么意义,航空公司愿意飞往这些机场?许多航空公司即使得到了UDAAN项目的补贴,也一样取消了航线,在没有进一步加强印度经济的情况下增开机场是没有意义的。印度应该把重点放在振兴二线城市上,因为随着基础设施摇摇欲坠,一线城市正变得过于拥挤、令人爱不起来了。
Concerned Indian
Good. But many citizens are impacted by these airports?
很好。但是会有许多市民受到机场的影响吗?
Amit Kande
this is really great development, but same time go nment has to understand the situation of city roads. even in cities like mumbai also road infra is worst throughout the year and not only in monsoon.
这是一个很大的发展,但同时政府也要了解城市道路的情况。即使在孟买这样的城市,道路基础设施整年到头都很糟糕,不单单雨季期间。
Thinkman
Air travel will be slower than road/rail travel for such small distances. For example when going from Pune to Mumbai in plane. It took 2 hours to reach airport which is outside city. 1 hour for checking in airport and 1 hour flight and 1 hour in Mumbai airport. It took just 2 hours by bus which leaves from most localities and just one and half hours by train which goes from city centre to city to city centre.
对于短距离,航空旅行比公路/铁路旅行慢。比如从浦那坐飞机去孟买。到城外的机场就得花上两小时。在机场办理登机手续1小时,飞行1小时,到了孟买机场又1小时。从大多数地方出发,坐公共汽车只要两个小时,从市中心到市中心坐火车只要一个半小时。
Thinkman
100 airports in five years ? Impossible, this is fake news ?
五年内100个机场?不可能,这是假新闻吧?
Abhijit
Waiting for the Railway infrastructure to improve. Trains must run at average speed of at least 100 kmph. Need massive investment in this sector.
期待铁路基础设施得到改善。火车必须以每小时至少100公里的平均速度行驶。在这个领域需要大量的投资。
Prahlad Natchu
Plzzzz upgrade the exsisted, with better features and facility plz improve.
请先升级现有的设施,改善功能。
Singh
Great plan to build 100 airports. This means buying more planes, more pilots required, more skilled labor. Is there a plan to build and manufacture passenger planes. There is a severe shortage of pilots and skilled labor. Has the Government made any plans for manufacture of planes in India and alleviate the severe shortage of pilots and skilled labor. Otherwise the 100 airports will just add to the import bill and increase the trade deficit.
建造100个机场的伟大计划。这意味着购买更多的飞机,需要更多的飞行员,更多的熟练劳动力。有建造和制造客机的计划吗?飞行员和熟练工人也严重短缺。政府有没有制定在印度制造飞机的计划,缓解飞行员和熟练工人的严重短缺呢?否则,这100个机场只会增加进口账单,增加贸易赤字。
TAPASHANKAR GHOSH
100 AIRPORTS TO DO WHAT? TWO PRIVATE AIRLINES WENT UNDER. OIL COMPANIES REFUSE TO SELL OIL TO AIR INDIA.THE UDAN PROGRAM HAS BEEN AN UTTER FAILURE. WHAT PURPOSE THE 100 AIRPORTS ARE GOING TO SERVE. OR IS IT ONE OF THE CATCHY SLOGANS --- ACHHE DIN COMING?????
100个机场要做什么呢?两家私人航空公司倒闭了。石油公司拒绝向印度航空公司出售石油。UDAN计划完全失败了。这100个机场能起到什么作用?或者这又是一个朗朗上口的口号——ACHHE DIN来了?
Jagdish Kumar Bhargava
Good idea, but some attention should be paid to the rail passengers also who travel in unreserved classes in sub human conditions.Infact , there is a need to improve rail travel than air one .
好主意,但是也要关照一下那些乘坐火车的乘客,他们是在非人性化的条件下乘坐火车车厢的。事实上,铁路旅行比航空旅行更有必要改善。
Abhijit
Agree with your views. very well said
同意你的观点。说的很好。
Palani Swami
The go nment should also focus on the software part. Humans man and run these hardware. They need proper training. From the maintenance people to Immigration and customs. Many do not have the proper skills to how to interact with the public. How to react when there is an accident or crisis etc. - Pay attention to this software aspect.
政府还应该关注软件部分。操作这些硬件的是人类。
他们需要适当的训练。从维修工到移民和海关。许多人没有与公众互动的能力。当发生意外或危机等情况时如何反应—注意软件方面。
Manoj Mehta
There are so many assumed articles coming up with fancy title to attract readers with statement like " from reliable source of information .... " etc without any basis. We people starts commenting about these so called imaginary articles !!!
那么多意淫的文章,用花哨的标题来吸引读者,比如"来自可靠的信息来源……等等,实际上并没有任何根据。我们得开始批判这些虚构的文章!!
Raghunathan Srikumar
India needs solar powered Bus stations and Bus stops more than airports. Many of the Railway Stations could also host vegetable and other agri products shops for direct sale to the consumer. These Mobile shops could be E-Vehicles which are allowed into the station premises. Fresh Agri Graduates could undergo compulsory Internship by serving as Business Advisors to a cluster of ,say, 5 Villages advising them on best management practices on soil conservation, selection of crops based on market intelligence, organising mechanised farming by pooling resources, etc. He would be paid by the 5 villages on a fixed and variable salary,. India also needs to plan and execute a NO DROUGHT - NO FLOOD ANYWHERE IN INDIA PLAN,NO MATTER AT WHAT COST. JaI HIND !
印度需要的是太阳能公交车站,而不是机场。许多火车站还可以开设蔬菜和其他农产品商店,直接销售给消费者。农业学院的应届毕业生可以通过担任5个村庄的商业顾问进行强制性实习,向他们提供关于土壤保护的最佳管理实践、基于市场情报选择作物、通过集中资源组织机械化耕作等方面的建议。他将由5个村庄支付固定和浮动工资。印度还需要制定和执行一个"印度境内无干旱、无洪水"的计划,无论代价如何。印度必胜!
Dilip
Airports are already in majority of tier II cities, 100 more! Tier II cities need to be listed, if they''re 100.
大多数二线城市已经有机场了,再开100多个!如果真要开100个新机场,就列出二线城市的名单吧。
Manoj Mehta
Don''t believe any of such assumed articles from " so called reliable sources " These are written from A/C Cabin without any basis.
不要相信这些来自"所谓可靠来源"的文章,这些文章都是在没有任何根据的情况下在空调房里编出来的。
Anil Kumar
Fools r pessimistic, opec will be out of business in near future as their r running out if oil. With shale oil, we can hv stable oil for next 3000 yrs. Modi is doing great. Finance Ignorants don''t understand the importance of airports
傻瓜悲观,欧佩克在不久的将来就完蛋了,因为他们的石油用完了。有了页岩油,我们可以在接下来的3000年里获得稳定的燃料。莫迪做得很好。对金融一无所知的人不明白机场的重要性。
Showfast
Are you too having a degree in entire political science from delhi university? Or from yeal university?
你也有德里大学的政治学学位吗?或者耶鲁大学?
Prim Albert
When oil prices are so volatile and Deccan Airways, Kingfisher, Jet airways failed or went bankrupt and govt pampering Air India with tax payer money, they better understand airlines is not viable business in India. More airports - more oil imports. First find a solution to these before adding more airports.
当油价波动这么剧烈,德干航空、翠鸟航空、捷达航空倒闭或破产,政府用纳税人的钱纵容印度航空时,他们最好搞清楚,航空公司在印度是不可行的。更多的机场意味着更多的石油进口。在增加更多机场之前,先找到这些问题的解决方案。
Manoj Mehta
Do you really believe such articles from " so called reliable resources " without any basis ??
你真的相信这些来自"所谓可靠资源"的没有任何根据的文章吗?
Nithin Sujathan
First get basic jobs. Think tank.
首先要有基础的工作。智囊团。
Bsrahmd
Hope it does not turn into White Elephants and ghost-towns ! I would like to know what research and studies has the Govt done to come up these numbers. Put those arguements for coming up these numbers. Based on what projections have they come up these ? No doubt this might give a boost in employment in the short term, but what is the usefulness of these airport. There are many areas in the present infrastucture they can improve on but why built the airports. Is Sunil to commute everyday by flight then take the bus or the train ?
希望它不会变成白象(昂贵又无用之物)和鬼城!我想知道政府究竟做了什么研究得出了这些数据。请把这些数字的论据摆出来。基于什么原因他们得出了这些预测?毫无疑问,这可能在短期内促进就业,但这些机场有什么用呢?在现有的基础设施中有很多地方可以改进,为什么要建机场呢?苏尼尔每天乘飞机上下班吗?
Showfast
If you vote for uneducated and bogus academic background scums you get these results. Bogus airports which will serve nothing and nobody.
如果你把票投给没有受过教育和虚假的学术背景的人,你就会得到这些结果。这些机场不可能给任何人提供什么服务的。
Feku Maharaj
These airports will only serve Adani
这些机场只会为阿达尼服务。
Showfast
This is a bogus article. And a false one at least at the headline. modi is just upgrading existing old and small airports in smaller cities that were earlier used for Vayudoot and helicopter services. Not a big deal at all. And this will not help in making 5 trillion $ economy. And at the end of 5 years only 10 out of 100 airports will be operational. We know all the bluffs. Delivering goods by drones is another bluff. We just got to be used to listening to bluff after bluff by this govt.
这是一篇假文章。至少标题是假的。莫迪只是升级小城市现有、老破旧的小机场,这些机场早些时候被用来给直升机提供服务。没什么大不了的。这将无助于创造5万亿美元的经济。5年后,100个机场中只有10个会投入使用。我们知道所有的危险。无人机送货是另一个威胁。我们已经习惯了这个政府一个接一个的恐和。
Sanjay Sawhney
Does the go nment wants to declare that since we do not have a total of 450 airports, we are not able to become a 5 trillion economy? Another stupid reason to justify it''s own failure.
难道政府想要宣布,因为我们没有450个机场,所以我们无法成为5万亿规模的经济体吗?这只是又一个愚蠢的理由来证明自己的失败。
Jai Bharat
Cities that matter already have airport. Why waste money to contractors who will win the contract with ill means and then will be compelled for party fund. Anyways Adani is already now bidding for airport business....
重要城市都已经有了机场。为什么要把钱浪费在承建商身上,他们会用不正当的手段赢得合同,然后被迫为政党提供资金。不管怎样,阿达尼现在已经在竞标机场业务…