Are IIT students smarter than MIT student
印度理工学院的学生比麻省理工学院的学生更聪明吗?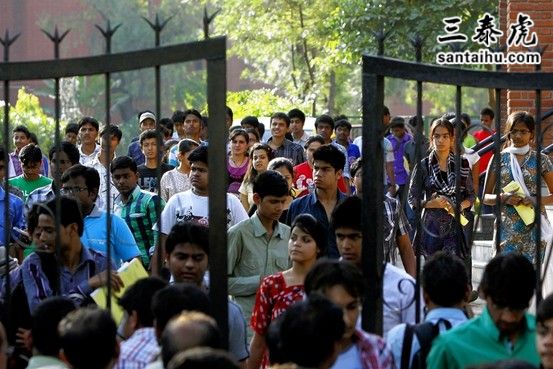 以下是Quora读者的评论:
Srijan Shashwat, 800s on SAT Math 2 and Chem|98.4% in CBSE Class 10|Musician
Oh my God! I read some answers that cmed IITians are actually a smarter lot than MITians, and a few also pointed out that they're at least better than MITians when they get in because they clear the JEE Advanced.
What bullsh*t did I just read?
For all the generous people who said so, I have a lot of patriotic respect. You love the IIT reputation. I respect that.
But stop misleading the people thinking IITians are smarter because they prepare so hard for JEE Advanced.
MITians are smarter, in general. Sorry to break this to you. Most MITians are exceptional achievers. Most International Olympiad winners join MIT. Most students at MIT have done some research or internship already, the most popular one being RSI.
There is no doubt IITians are smart. They arguably have the smartest Indian students. But MIT has few of the smartest and most dedicated students in the world. And if you think Indians are the smartest brains on the globe, you haven't seen the world yet. I'm an Indian, I have huge respect for the IITs. Their students have made us proud, undoubtedly. But, MIT is MIT.
我读过一些答案,说印度理工学院的人比麻省理工的人聪明得多,还有一些人称他们最不济也比麻省理工人聪明,因为他们通过了JEE考试。
这都是些什么狗屁东西?
对于这些人,我只能说我也爱国。你们深爱IIT的声誉。我也尊重这一点。
但是,不要再误导别人,让人以为印度理工学院的学生更聪明了,他们只是为JEE考试全力以赴罢了。
总的来说,麻省理工人更聪明。我很抱歉这么说。大多数的麻省理工人都取得了非凡的成就。大多数国际奥林匹克冠军加入麻省理工学院。麻省理工学院的大多数学生已经做过一些研究或实习。
毫无疑问,印度理工学院的学生很聪明。他们可以说是印度最聪明的学生。但麻省理工学院有着世界上最聪明、最专注的学生。如果你认为印度人是世界上最聪明的大脑,那是你还没见识过这个世界到底有多大。我是印度人,我非常尊重印度工学院。毫无疑问,他们的学生让我们感到骄傲。但是麻省理工就是麻省理工。
Rushikesh Patil, B.S. Physics & Astrophysics, The University of Texas at Arlington (2023)
Again , I'm here writing yet another answer on IITs vs MIT . Yes , you guessed it , this topic est on Quora !!
Firstly , I'm not an alumni of both colleges , so I mightn't have any to say stuff about them , but this is what I feel !
Let's dive into our first category , MITians .
They follow their passions , live their dreams from highschool itself ! Most of them are doing research in a state university with a fellow professor , or in RSI , or taking coding classes in respective universities . They are kinda obsessed about Math , Physics , CS or whichever subject they're passionate about .For instance, if they wanna pursue CS , they'll probably take classes or online programs , they'll work on some projects and participate in several international competitions , and may bag some trophies . Following their Passions !!!!!!!
Let's see our second category , the IITians .
With due respect to all, I'm really inspired by these HARD WORKERS . They work their ass off to learn Organic Chemistry , Rotational Dynamics and hell lot of other things to get into CS branch of IIT ! What an irony ! The only thing they don't do in their entire high schooling is CS !! They don't have PASSION about CS ( most of them , again with due respect ) and are there for high packages . I once asked my friend who's Jee Aspirant of 2019 about why he wants to attend IIT CS , and the answer was , yes you guessed it , PACKAGE !!!
So to conclude things , I would say that MITians are smart because they know what they're doing and IITians are hard workers with talent ( again , no offense ) !!
At the end of the day , It doesn't matter where you go or which branch you take , what matters is how much effort you put into that course and follow it passionately !!
我又一次在Quora撰写关于印度理工vs 麻省理工的回帖。是的,你猜对了,这个话题在Quora上屡见不鲜了!!
首先,我不是这两所大学的校友,所以我可能没有任何权利说三道四,但以下就是我的感觉!
让我们先说说第一类,麻省理工人。
他们追随自己的爱好,实现高中时代的梦想!他们中的大多数人都是在州立大学,或者在RSI和教授一起做研究,或者在各自的大学里学习编程课程。他们有点痴迷于数学、物理、计算机科学或任何他们感兴趣的科目。例如,如果他们想学计算机科学,他们可能会参加课程或在线课程,他们会做一些项目,参加一些国际比赛,可能还会获得一些奖杯。他们只追随自己的爱好!!
让我们看看第二个类别,印度理工人。
恕我直言,我真的被这些努力学习的人所鼓舞。他们努力学习有机化学,动力学等等才有资格进入印度理工学院的计算机学院!真讽刺!他们在整个高中阶段唯一不学习的就是计算机科学!他们对计算机科学没有热情(他们中的大多数人,同样是出于尊重),是为了高薪而做出选择的。我曾经问过我的朋友,他参加了2019年的JEE考试,为什么他想上印度理工学院,答案是,是的,你猜对了,因为收入!!
综上所述,我认为麻省理工人很聪明,因为他们知道自己在做什么,而印度理工学院的人很努力,很有天赋(再次重申,无意冒犯)!!
选择哪所徐晓或者选择哪个专业并不重要,重要的是你在这条路上投入了多少努力,是否满怀激情地追求!
Manas Rath, B.S. from Massachusetts Institute of Technology (2000)
I didn't study at IIT but have many friends and colleagues who did.
This is not an entirely fair question because MIT gets the best technical, economic, entrepreneurial minds from across the world (the US itself represents some of the best from across the world, let alone the international students at MIT)—IIT from just one country.
The education sy em in the good US high schools also promes a kind of creativity, intelligence and passion for learning/inventing/discovering that most Indians just don't have.
Academically, IIT students are perhaps comparable with MIT students. They work hard and do well on tests and homework.
When it comes to being innovative, creative, MIT wins hands down. There is just no comparison. Partly because MIT students have access to much better infrastructure, professors, industry research and resources, etc. But the smartest folks at MIT are just in a different league from what you find in India. Our society, culture and schools just don't train us the same way. This is why Silicon Valley cannot happen in India for a few more decades.
MIT students are also far more talented when it comes to music, art, sports etc. IIT students are largely single-dimensional. Music and Economics were some of the most popular second majors or minors for engineering students at MIT. IITians usually dont have such opportunities to develop broad and rounded interests, and I suspect most don't care too.
In India, education is not about enriching life and the mind—its a means to an end—a better job, a better life. That's why Indian students are less passionate and more transactional about their education—and are also more willing to cheat and be dishonest in exams. Sorry, but its a fact.
I found huge number of MIT students who love working with their hands. Some of them were raised in small towns where they repaired machines, worked on farms, did odd jobs making or fing stuff, etc. from a young age. That kind of self-reliance is rare in India where we usually look to others to do our work. There are social differences that make Americans better engineers and inventors.
I was totally overwhelmed by the kind of talent and brains I found when I went to MIT in 1995. No one I knew in India compared with many of the folks there. Not even close to the same league. Yes, my friends from India and I could get 99 percentile in SAT and ace exams but on the above factors, were far far behind. A lot has changed since then, India has come a long way. But at the top end of talent, India, and IIT, are still a way off from US, and MIT/Stanford, etc.
我不是印度理工学院校友,但有很多朋友和同事在那里学习过。
这并不是一个完全公平的问题,因为麻省理工学院拥有世界上最优秀的技术、经济和创业人才(美国本身就代表了世界上最优秀的人才,更不用说麻省理工学院的国际学生了)——印度理工学院只有来自一个国家的学生。
美国优质高中的教育体系也促进了一种创造力、智力和对学习/发明/发现的热情,而这是大多数印度人所不具备的。
在学术上,印度理工学院的学生可能与麻省理工学院的学生不相上下。他们努力学习,考试和家庭作业都完成得很好。
谈到创新和创造力,麻省理工学院毫无疑问是赢家。根本没有可比性。部分原因是麻省理工学院的学生可以接触到更好的基础设施、教授、行业研究和资源等。但麻省理工学院最聪明的人与你在印度看到的人是不同的。我们的社会、文化和学校不会以同样的方式来训练我们。这就是为什么硅谷在未来几十年都不可能在印度出现的原因。
麻省理工学院的学生在音乐、艺术、体育等方面也更有天赋。印度理工学院的学生大多只会埋头学习。音乐和经济学是麻省理工学院工科学生最受欢迎的第二专业。印度理工学院的学生通常没有这样的机会来培养广泛而全面的兴趣,我想大多数人也不在乎。
在印度,教育不是为了丰富生活和思想—它是一种达到目的的手段—谋得一份更好的工作,过上更好的生活。这就是为什么印度学生对他们的教育比较没有热情—也更愿意在考试中作弊。对不起,但这是事实。
我发现很多麻省理工学生都喜欢手作。他们中的一些人在小城镇长大,小时候修理过机器,在农场工作过,打零工或修理东西等。这在印度非常罕见,我们总是指望别人来做这些工作。社会差异使美国人成长为了更好的工程师和发明家。
我完全被我在1995年去麻省理工学院时所发现的天赋和智慧所折服。我在印度认识的人跟那儿的许多人都没法比。是的,我和我的印度朋友在SAT和ACE考试中可以拿到99%的分数,但在上述因素方面,我们远远落后了。自那以后,印度发生了很大的变化,取得了很大的进步。但是在人才的顶端,印度和印度理工学院,离美国,还有麻省理工学院/斯坦福大学等等还有一段差距。
Piyush Kant, studied at Inderprastha Engineering College
MIT produced 29 Nobel Prize laureate .
IIT produced 0 Nobel Prize laureate.
IITs have an annual enrollment of 10,000-15,000, focused only on the best of the b, not a single great worldwide patent has emerged, nor have they produced a single Nobel Laureate," the study says.
"We still do not have a single equivalent of a Google, Facebook, Microsoft or Walmart or a Nike. Even a small country like Italy or Finland does better!" said DS Rawat of Assocham.
麻省理工学院培养了29名诺贝尔奖得主。
印度理工学院没有培养出一名诺贝尔奖得主。
印度理工学院每年招收1万至1.5万人,只招收最聪明的学生,却从未问世过一项伟大的全球专利,也没有培养出一名诺贝尔奖得主。
"我们仍然没有培育出能跟谷歌、Facebook、微软(Microsoft)、沃尔玛(Walmart)或耐克(Nike)媲美的品牌。就连意大利或芬兰这样的小国也比我们更出色!"
Ayush Pandey, studies at The High School Experience (2021)
IIT students aren't smarter than MIT students in general.
When IIT students and MIT students enter their respective colleges to begin their year, both groups are equally smart in general, with MIT students having a little edge over them. And mind you, I'm talking about General Intelligence or Fluid Intelligence here — the smarts with which people are born with.
IIT students use their analytical abilities in solving JEE problems, but it isn't all about their fluid intelligence. Coaching Institutes train the High School Students for cracking the examination — instead of nourishing creativity and instilling innovation in the students, the JEE forces them to mug a multitude of formulae, in addition to learning the concepts from a competitive perspective.
总体而言,印度理工学院的学生并不比麻省理工学院的学生聪明。
当印度理工学院的学生和麻省理工学院的学生进入各自的学院开始新学年时,这两组学生一般都一样聪明,麻省理工学院的学生略胜一筹。请注意,我这里说的是一般智商,即人们与生俱来的聪明才智。
印度理工学院的学生运用他们的分析能力来解决JEE难题,但这并不只跟智商有关系。辅导机构训练高中生如何应对考试—JEE不仅没有培养学生的创造力和创新能力,反而迫使他们记住大量的公式,从竞赛的角度学习概念。
Madhav Sbss, Founder @raagabox, Director of Product @Aki. Marathoner.
I didn't attend IIT and so I won't comment on that side of the story. Having studied at MIT for a couple of years, I have had the opportunity to mingle with some of the most brilliant minds.Yes, MITians are non-conformists, many of whom went onto change the world for the greater good.
It's not as much about the student smarts as it is about the eco-sy em that MIT provides for the student to thrive and excel. Unfortunately, the two educational sy ems are on the opposite poles. One is biased toward to producing excellent engineers, the other is biased towards achieving engineering excellence
我不是印度理工学院的学生,所以我不会对此发表评论。在麻省理工学院学习了几年之后,我有机会与一些最聪明的人交流。是的,麻省理工人从不墨守成规,他们中的许多人为了更伟大的目标改变了世界。
与其说是学生的聪明才智,不如说是麻省理工学院为学生提供了一个茁壮成长、出类拔萃的生态系统。不幸的是,这两种教育制度处于相反的两极。一个倾向于培养优秀的工程师,另一个倾向于实现卓越的工程人才。
Arindam Paul, Ph.D., Machine Learning Scientist at American Family Insurance
Assuming "smarter" means "technically smart" and not "street smart" /"successful. Also, I restrict discussion to only undergrad students (as I believe most agree there is no doubt about the vast difference in the quality of MIT and IIT grad students.)
I would say NO. This becomes very obvious when you consider IITs have large scale reservations as compared to universities like MIT. Even US universities (especially public ones) have some kind of a preference for students coming from disadvantaged sections but not as much (~50% in case of IITs). Of the rest 50 % (general category), most of them are not really technology enthusiasts. They are a bunch of people whom parents (and society) force to study just for cracking JEE. Importance of learning goes to hell here. So, its expected that once they are into IIT, they would lose the motivation to keep on learning. The sy em (IITs or BITS) does not help much as even now cracking the semester exams is given more importance. The fault also lies in the fact that most of the professors lack a zeal to encourage learning. ( Professors in top-US universities go through a tough screening program. So, anyone not really motivated by joy of learning is screened -grueling PhD, postdoc, waiting for tenure, etc.
假设"聪明"意味着"技术上聪明"而不是"街头智慧"/"成功"。同时,我把讨论局限在本科生阶段(我相信大多数人都同意,毫无疑问,麻省理工学院和印度理工学院的研究生在质量上存在巨大差异)。
我会说不。当你考虑到印度理工学院与麻省理工学院这样的大学相比有大量预留席位时,这一点就变得非常明显了。即使是美国大学(尤其是公立大学)也对来自弱势群体的学生有一定程度的偏好,但这种偏好没有那么强烈,他们中的大多数并不是真正的技术爱好者。他们是一群被父母(和社会)强迫去学习的人。学习的重要性在这里消失了。所以,一旦他们进入印度理工学院,他们就会失去继续学习的动力。问题还在于大多数教授缺乏鼓励学习的热情。(美国顶尖大学的教授要通过严格的筛选程序。因此,任何不是真正被学习的乐趣所激励的人都会被筛选掉—博士、博士后、终身教职等等。
译文来源:三泰虎 http://www.santaihu.com/48659.html 译者:Joyceliu
So, I believe these are the top 2 reasons:
1) Lack of "really" interested people coming to the programs in the first place
2) Lack of fanning the spark in the students. (Even students who were not initially enthusiastic about learning can become enthusiastic if given environment)
I believe the society should encourage people in sense. "If you go to IIT/BITS, it opens doors for you to become a good engineer or a good researcher or in any case, a good professional".
所以,我认为这是最重要的两个原因:
1)缺乏真正感兴趣的学生
2)缺乏对学生的激励。(即使是最初对学习不感兴趣的学生,在适当的环境下也会变得有学习热情的)
我认为社会应该鼓励人们正确认识:"如果你去印度理工学院,它会为你打开一扇门,让你成为一名优秀的工程师、研究员,或者成为一名优秀的专业人士。"
Saksham Bhatla, DataPhile
I actually think this question is pretty odd. I can't recall the number of times I've heard random IITians say (or imply) how smart they are.
What's the definition of smartness? The sort of people who get into MIT are entirely different from those who get into IIT..
A typical MIT grad would be someone who has a good interest and aptitude in engineering, and a comparatively more well rounded personality.
我觉得这个问题很奇怪。我已经记不清有多少次我听到印度理工人说(或暗示)他们是多么聪明。
聪明的定义是什么?进入麻省理工学院的人与进入印度理工学院的人完全不同。一个典型的麻省理工毕业生应该是一个在工程学方面有很好的兴趣和天赋的人,一个相对来说更全面的性格。
However, smarter doesn't necessarily mean more successful. In the non-academic world, a lot more than smartness (which I'm assuming refers to IQ here) matters. Studies have shown the most successful CEO's are those who have a decent IQ, but a very high EQ (emotional quotient). Soft skills like communication matter a lot.
So the bottom-line is, If you believe the world is yours, just because you're smarter, you're woefully mistaken.
然而,更聪明并不一定意味着更成功。在非学术领域,很多因素远比聪明(这里我指的是智商)重要得多。研究表明,最成功的CEO是那些智商、情商都很高的人。诸如沟通这样的软技能很重要。
所以底线是,如果你相信世界是你的,仅仅因为你更聪明,你就大错特错了。
Sachin Nauhwar, studied at School of Engineering and Technology, Sharda University (2016)
MIT was founded more than 100 years ago in a country with much more resources than IITs that were founded 60 years ago just after independence in less resourceful environment.
Meanwhile MIT has been ranked #1 across the world, IITs and IITians are no less than any college in the world in terms of research and innovative approach. In fact, belonging to a country that is still in its stages of develo nation, even after struggling through financial crises, IITs have been equiped with all possible world class technologies to let IITians hit and break all grounds and they have been proving their talents from fields of technology & innovation to 21st century era of startups & philanthrophy. Now, IITians are leading many world class companies and research foundations, teaching at best Universities across the globe and alongside many have made their ways to the MIT and top notch Universities which shows their pentials are no less than any institution of the world.
With all this data in hands, IITians are no less than MIT.
麻省理工学院成立于100多年前,所处的国家比印度理工学院资源丰富得多,而印度理工学院60年前才刚刚独立,所处的环境资源相对较少。
与此同时,麻省理工学院在全球排名第一,印度理工学院和印度理工学院在研究和创新方法方面不亚于世界上任何一所大学。事实上,虽然一个发展家的大学,受到金融危机的桎梏,印度理工学院内还是尽可能配备了世界一流的技术,让印度理工人能够打破壁垒,他们也已经证明了自己在21世纪科技和创新领域的实力。现在,印度理工人领导着许多世界一流的公司和研究基金会,在全球最好的大学任教,与此同时,许多人进入了麻省理工学院和顶尖大学,显示出他们的潜力不亚于世界上任何院校。
因为这些数据,说明了印度理工学院不亚于麻省理工学院。