Isro may have lost lander, rover: Offi al
官方消息:ISRO或已和"月船2号"着陆器失联
BENGALURU: Isro may have lost Chandrayaan-2's Vikram lander and rover Pragyan housed inside it, a senior offi al of the space agency associated with the unmanned moon mission said here Saturday.
班加罗尔:星期六,一名与无人登月任务相关的航天局高级表示,Isro或已和"月船2号"的"维克拉姆"号着陆器和"Pragyan"号月球车失联。
Earlier in the day, contact from the lander to the ground stations was lost during its powered descent to the Lunar surface minutes before the planned touch-down.
当天早些时候,着陆前几分钟,着陆器向月球表面下降,与地面站失去联系。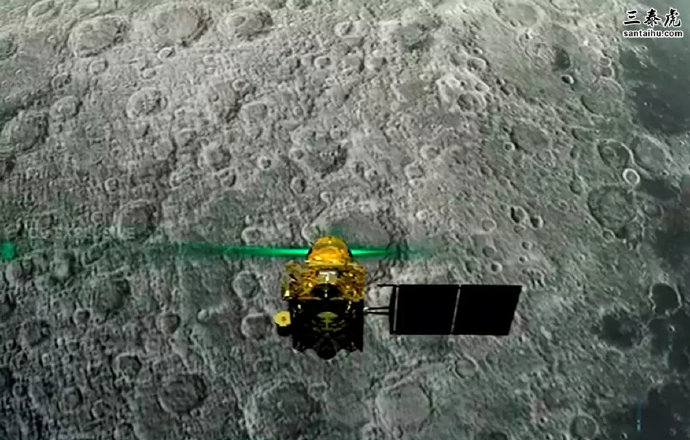 印度时报读者的评论:
译文来源:三泰虎 http://www.santaihu.com/48382.html 译者:Jessica.Wu
外文:https://timesofindia.indiatimes.com
TOP COMMENT
ISRO team have done a marvellous job. We hope that ISRO find the root cause of the communication failure. Wishing best of success in their next attempt.
ISRO团队已经做得很好了。希望ISRO能够找到失联的根本原因。祝他们下一次成功。
Nissan Bs•2 hours ago •Follow
There are few anti nationals and com-ists and anti Modi brigades taking this opportunity and rejoicing this sad moment to degrade the nation and get po itical mileage..But it will be succeeded.
一些人抓住这个机会,在这个悲伤的时刻欢呼雀跃,贬低国家。不管怎么样,ISRO终将成功登月的。
Rockstar Player•2 hours ago
best of luck for chandrayan 2..
祝"月船2号"好运
rical consultant•2 hours ago
Who knows, suddenly the base station might start receiving the signals.....may be some kind of loose contacts! Never lose hope! Nevertheless, fantabulous job by ISRO! Its an achievement, may not be expected one, definitely a bulls-eye shot for the following mission. Defeat is not applicable to Invention; but the the for the efforts put in, the so called defeat, means DELAY and NOT failure! Jai Hind!
谁知道呢,地面基站可能会突然又收到信号呢……可能是因为接触不良!
永远不要失去希望!
ISRO太棒了!
也许不是人们所期望的那样,接下来的任务可以借鉴这次失败的经验。付出努力后失败了,意味着成功迟到了,并不是真正的失败!
印度必胜
Dinesh singh•Dubai•2 hours ago
ISRO upto now has marvelled space rocketery. Landing on moon which is 1/6 of earth gravity was a criticle challenge to simulate. This was first ISRO soft landing a probe. Success of Every outer space project depends on ground based simulation. it was declared as last 15 minute terrifying moment which depends on Moon atmospheric condition. frist time ISRO used an autonomous sy em with AI. Glich in technology gives scope for more exploration. ISRO will be back with Bang.
到目前为止,ISRO已经掌握了先进的太空火箭技术。在月球上着陆是一个挑战,月球引力只有地球引力的六分之一呢。这是ISRO首次尝试让探测器软着陆。每一个外层空间项目的成功都依赖于地面模拟。最后15分钟是最关键的时刻,这取决于月球大气状况。ISRO首次使用了自主研发的人工智能系统。科学技术为更多的探索提供了空间。ISRO会重振旗鼓的。
soothsayer•3 hours ago
Hope like an hollywood movie the communication with the Vikram lander very soon
希望像好莱坞电影一样,ISRO能很快和维克拉姆号着陆器建立联系
Sampath•3 hours ago
Baby who crawls, try on their own to get up n stand, then walk one or two steps. Suddenly, after seeing mom's face, it tries to run towards mom n tend to fall because of Imbnce n speed. After number of walks, baby get full confidence n run, run, run.. Jaihind.
这就像宝宝学走路一样,宝宝先会爬,然后自己试着站起来,走一两步。突然看到妈妈后,便想跑向妈妈,由于速度不平衡,往往会摔倒。尝试几次后,宝宝充满了信心,便会走了…印度必胜!
Prince•3 hours ago
I salute to our nation Pride ISRO team;.. Don't Give up..
向我们国家引以为傲的ISRO致敬,不要放弃…
Azar mohamed•Chennai•3 hours ago
Success is not final, failure is not fatal: it is the courage to continue that counts....Winston Churchill. Hope Scientist Sivan and his team will tide over this and strive for perfection.
成功不是终点,失败也不是致命的: 重要的是继续走下去的勇气……。希望ISRO主席Sivan及其团队能克服这个困难,继续努力。
Azeezur Rahman•Dubai
Hope & Prays Contact to re estabilish let,s not lose hope so fast
祈祷能重新建立联系,不要这么快放弃
Biswajit
I''m sure, ISRO will get it in 2nd chance ... We only need to give them another 900cr, .... If Gt hesitates to allocate fund, then it should allow crowd funding...We common Indians can contribute.... Even 10rupees per head will gather 1300 Crore !!!!!! We want our flag on moon at any cost
ISRO肯定会获得第二次机会的…我们只需要再给他们拨90亿卢比…如果政府在分配资金上犹豫不决,那么就发动大家众筹……我们印度人可以出一份力……即使每人出10卢比,也能筹到130亿卢比!!
我们要不惜一切代价把印度国旗插在月球上
Shantanu•3 hours ago
can ISRO request NASA to find out the fate of Vikram?
ISRO能请美国宇航局帮忙查明维克拉姆的下落吗?
Muk• Shantanu Mitra•3 hours ago
why? is the white man your father
为什么?白人是你爸爸吗
Vikram•3 hours ago
It''s marvelous job done by ISRO and hard work will never go waste. Every Indian will support them
ISRO做得很好了,努力永远不会白费的。每个印度人都会支持ISRO的
Balinder•3 hours ago
Aliens do not know sanskrit so they did not let Pargyan to work
外星人不懂梵语,不让印度月球车在上面工作
Alpha Centauri•3 hours ago
The senior Isro offi al may be absolutely correct in his inference with regard to both the lander and rover. Once crashed, all the instruments may have broken into tiny fragments.
Isro高级对着陆器和月球车的推断可能是对的。一旦坠毁,所有的仪器都可能摔成碎片。
Varinder•3 hours ago
Requesting all indian ladies to bycott moon on Karva Chauth, as it didn't welcome our lander on it's surface. Just joking, Kudos to the ISRO TEAM! We all are confident, that it will be acheived soon. Don't consider it as a failure. I'll rather call it as a FIRST ATTEMPT.,JAI HIND & BEST WISHES TO ISRO TEAM!
向ISRO团队致敬!
我们有信心,很快会实现成功登月的。不要认为这是一次失败。我宁愿称之为首次尝试。印度必胜, 向ISRO团队致以最美好的祝福!
Joseph Chettupuzha•3 hours ago
Little green space aliens living on the cold south pole of moon sip crystaline pH2O probably intercepted the data and placed the lander and rover for their science ebition. Deep caverns below the surface where a their colony lives and procreates.
居住在月球寒冷南极的外星人可能截获了数据,并将着陆器和月球车放在那里进行科学展览。地表以下的洞穴是它们的栖息地和繁殖地。
asian highway•heliopause solarwinds•4 hours ago
hopefully some friendly alien there might enable the device to establish contact.
希望上面有一些友好的外星人能让印度着陆器与地面重新建立联系。
Harish Iyer•4 hours ago
It is known tough last stage holds key to success. Lot of simulations plus inputs from prior experiences plus data of friendly nations is required. I m sure ISRO shall b successful in soft landing in next attempt.
众所星期知,最后阶段是成功的关键。需要大量的模拟,加上以往的经验,再加上友好国家提供的数据。我相信ISRO的下一次着陆尝试会成功的。
An Indian Commoner•UNR Thane•4 hours ago
Each and every Billion Indians are sure our brave ISRO Scientists won''t lose their hearts and hopes on the last mile "Soft Landing" lunar failure of VIKRAM Lander (with Pragyan). Some thing very big you are going to achieve in your future Missions. We are PROUD of you.
印度人都确信,我们勇敢的ISRO科学家不会因为维克拉姆号着陆器最后的"软着陆"失败而失去信心和希望的。
以后登月,你们会大获成功的。我们为你感到骄傲。
Rajendra Kawde•2 hours ago
WE ARE PROUD OF YOU
我们为ISRO感到骄傲