Whole world will be watching Chandrayaan -2 soft landing on moon, former NASA astronaut says
前NASA宇航员:全世界都将观看"月船2号"在月球上的软着陆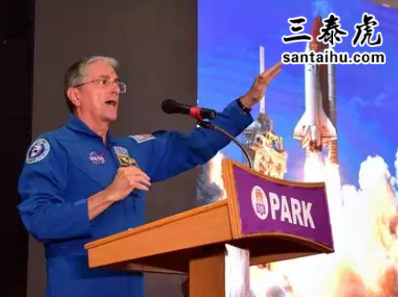 COIMBATORE: The whole world would be watching the soft landing of Isro's Chandrayaan – 2 near the south pole of the moon as it is the first time that landing would be made on the south pole where the presence of ice is expected, said former NASA astronaut Donald A Thomas here on Friday. The landing is scheduled for September 7.
哥印拜陀:星期五,前NASA宇航员唐纳德·托马斯表示,全世界将看到Isro的"月船2号"在月球南极附近的软着陆,这将是首次在南极着陆,预计月球南极会有冰。按计划,"月船2号"将于9月7日着陆。
Thomas was speaking to reporters after attending an event at Park College of Engineering and Technology near Coimbatore in Tamil Nadu.
托马斯是在泰米尔纳德邦科哥印拜陀市附近的帕克工程技术学院参加活动后对记者说这番话的。
Thomas said, "The learning from the mission is of great interest to NASA because it is where NASA plans to land astronauts five years down the lane. They would be interested in knowing what the surface of the moon would be like, presence of minerals and chemicals and availability of ice."
托马斯称:"此次任务的收获对NASA来说非常重要,月球南极是NASA计划未来5年内让宇航员着陆的地方。他们想了解此处的月球表面会是什么样子,是否存在矿物质和化学物质,以及是否有冰。"
Not just NASA, but the whole world would be interested in knowing about moon and the universe by following Chandrayaan -2, he added.
他补充说,不仅是NASA,全世界都对了解月球和宇宙感兴趣。
印度时报读者的评论:
译文来源:三泰虎 http://www.santaihu.com/48353.html 译者:Jessica.Wu
外文:https://timesofindia.indiatimes.com
mahi kumawat2 days ago
Waiting for the beautiful movement and Proud on your scientist... Proud to be an Indian.....
期待这一美好时刻,为科学家们感到骄傲……为自己是印度人而自豪……
Niranjan Chennai2 days ago
Well done ISRO. Hopefully the landing is successful.
干得好,ISRO。希望着陆成功。
shrey shubham2 days ago
You dumb bro or find it difficult to read english? This is the first time anyone is attempting a mission to the south pole of the moon or the dark side. All precious landings be it human or droids have been on the near side only.
这是首次前往月球南极或月球背面执行任务。之前的所有着陆,无论是人类还是机器人,都只是在月球正面。
Strategic Speaking•4 hours ago
Now, BJP will cm this victory as ISRO was formed when BJP came to power and suddenly they started sending rockets in 5 years
现在,印度人民党将功劳据为己有,搞得好像ISRO是在印度人民党执政时成立的
Mike Whyuman•19 hours ago
India has come a long way! It is still 50 years behind but it is catching up rather quickly — more than a few years every year — in its own indigeneous and economic style. All countries are watching the development with awe and admiration!
印度进步很大啊!
印度仍然落后50年,不过正在努力追赶——每年缩短几年的差距。所有国家都怀着敬畏和钦佩的心情关注着"月船2号"的进展!
Rajan Panicker•Gods City•1 day ago
i''m giving 1st importance to our venture # chandrayan 2 in my pray
祈祷"月船2号"这次着陆大获成功!
Ravindra H Patel•1 day ago
Excellent achievement of ISRO, thousands salutes to our Scientists. Indians are the most intelligent, only go nment sy em made us back, we can get tones of medalsa in olympics too, if go nment provided infrastructure to public.
ISRO的这个成就了不起啊,向我们的科学家致敬。印度人是最聪明的,如果印度政府为公众修建体育设施,我们也能在奥运会上获得大量奖牌。
Easwaran Santhakumar•2 days ago
South Indians are brilliant unlike the north Indians who are mired re gious superstition. Congrats ISRO
与深陷迷信泥潭的北印度人不同,南印度人很聪明。恭喜ISRO
paramjeet singh• Easwaran Santhakumar•1 day ago
Yess they are brilliant but unfortunately their intelligence couldn''t stop u from being stupid and dumb
是的,南印度人很聪明,不幸的是,他们再聪明,你也还是那样愚蠢
nagesh bn
BIG HATS OFF TO - ISRO- PARTICULARLY FOR TEAMS WORKED FOR SUCCESS IN- CHANDRAYANA- 2- WHOOLE WORLD IS AFRAID ABOUT ACHIEVEMENTS
向ISRO致敬,特别是对那些参与"月船2号"任务的团队
Robert Mathew•Saudi ARabia
It is heartening to watch India''s thrust in space technology. We do hope the whole nation can watch.the history in the making. I also hope India''s enemies too watch it so that they wonder and profoundly ponder as to the Indian progress.
看到印度太空技术进步如此迅速,真是令人振奋,希望全国人民都能目睹印度创造历史。我也希望印度的敌人也能看到,这样他们就会敬畏印度。
papa ji• Seyed Backer
Hindu women flying chandrayaan and mangal yaan..30% ISRO scientist are women.... Hindu women run top world conglomerates... Shall we mention Hindu men??,What about you??? You pack them in that black tent...,Hindus worship goddess who are women and that''s why they are successful today.
ISRO里面30%的科学家是女性…印度女性掌管着世界顶级企业……印度教徒崇拜女神,这也是他们今天成功的原因。
Stawan Mujumdar
Proud moment and a good news between all this economic slump .
值得骄傲的时刻,在当下经济衰退期间,这是一个振奋人心的好消息。
Tajender Arora
Great technological feat...
这个技术成就很了不起…
Kapil Kale
Congratulations to ISRO and to the people of India. This is a great and historical moment for our country.
祝贺ISRO和印度人民。对我们国家来说,这是一个伟大的历史时刻。
Shivam Mehta• Dilip Kumar Bordoloi
First we have to pray lord sun.
我们要先向太阳神祈祷。
jaggi swamey
Good morning isro.wish happy land on Moon.God bless.is it any benefit to comment man.
祝ISRO在月球上顺利着陆。此次任务能给普通人带来什么好处吗?
Jagdish Chandra•Debai UP
It is proud time for India when Astronaut of NASA is applauding the Chandrayaan mission of ISRO.
对于印度来说,这是一个值得骄傲的时刻,NASA宇航员正在为ISRO喝彩。
truth hurts• Jagdish Chandra•USA
Courteous flattery are NOT applauds. Don''t be serious
这是礼貌性的奉承,不是真的喝彩,别当真。
BIG Indian•world•2 days ago
Whole world watching? Come on, stop those self-glorification nonsense. Others have done it tens if not hundreds times decades before.
全世界都在关注吗?拜托,别再自吹自擂了。早在几十年前就有人登陆月球几十次了。
Sachin Sharma• BIG Indian•2 days ago
Whole world will be watching because this is the first time someone is reaching the dark side of moon i.e. south pole where no one has ever reached
全世界都在关注,这次是人类首次抵达月球背面,在从来没有人到达过的南极着陆。
idiot Indian• Sachin Sharma•USA•2 days ago
Dark side of the Moon? learn some knowledge before boasting. First, South Pole of Moon is NOT entirely on the dark side. India has chosen the lighted side. Second, was already on the dark side and still there.
月球背面?先学点知识再吹牛吧。首先,月球南极并不完全在背面。印度选择了在正面部位着陆。其次,的探测器已经在月球背面着陆了,而且还在上面。
Vivek Nair• idiot Indian•Bangalore•2 days ago
How many probes did successful sent to Mars? None.,India has a different objectives compared to rest of the world.
成功向火星发射了多少个探测器?一个也没有。与其他国家相比,印度的目标标新立异。