4 days to D-Day: World waits with bated breath for Chandrayaan-2 Moon landing
距离着陆仅4天:全世界屏息以待"月船2号"登月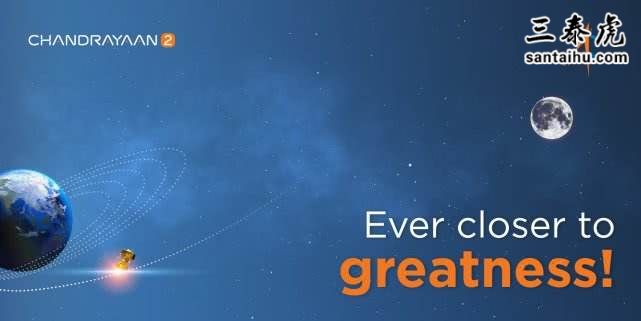 NEW DELHI: With less than four days to go for Chandrayaan-2 moon landing, it's not only scientists of Indian Space Research Organisation who are kee their fingers crossed. Space enthusiasts from across the world are eagerly waiting to watch the historic event. If the Moon landing is successful, India will become the first country in the world to land in lunar south pole, the region that is supposed to be rich in minerals and water ice.
新德里:距离"月船2号"登陆月球仅剩不到四天的时间,不仅ISRO的科学家们在祈祷,来自世界各地的太空爱好者们也正热切地等待着观看这一历史性事件。若登月成功,印度将成为全球首个登陆月球南极的国家。月球南极地区富含矿物质和水冰。
Soon after Vikram lander got separated from the orbiter at 1.15pm in the circular orbit of Moon on Monday, Isro chairman K Sivan told TOI, "After the successful separation operation, people in Isro are very much excited and enjoying. They are eagerly waiting for the big day." He said both lander and rover are "moving at a relative velocity of 0.8m per second in the same 119 km x 127 km orbit and the distance between the two is going to increase".
星期一下午1点15分,"维克拉姆"号着陆器在绕月轨道上与轨道器分离,随后Isro主席K Sivan告诉印度时报:"成功进行分离操作后,Isro成员非常兴奋、非常高兴。他们热切地等待着那个重要的日子。着陆器和月球车在同一轨道上以每秒0.8米的相对速度运行,轨道高度119*127公里,二者之间的距离将会扩大"。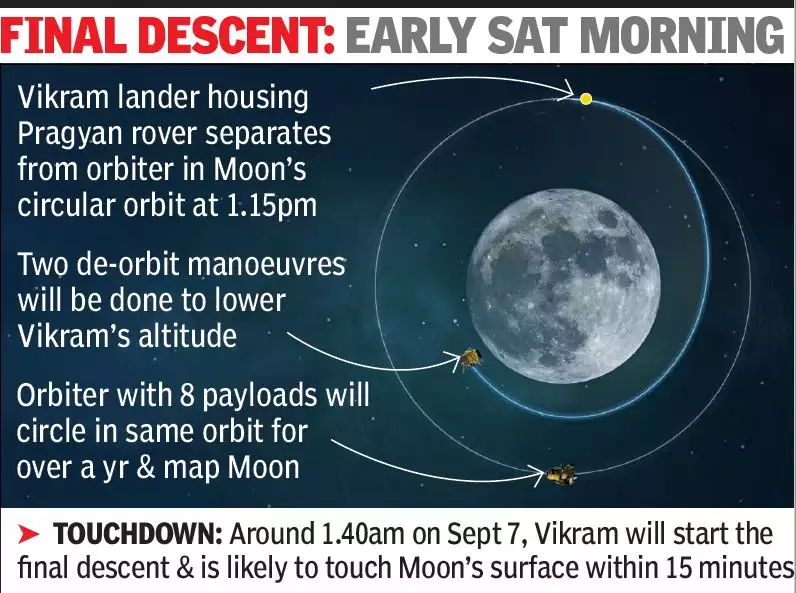 印度时报读者的评论:
译文来源:三泰虎 http://www.santaihu.com/48358.html 译者:Jessica.Wu
外文:https://timesofindia.indiatimes.com
TOP COMMENT
INDIA seems to be in FOCUS for the WORLD of NATION to be in Limelight and such Events of Moon Landing with ISRO technology is watched keenly and even NASA has NEVER ventured into these AREAS undertaken by ISRO and that is the very area which need keen study..Congratulations to each ISRO engineer and staff who made such dream a reality and every Indian be proud of such achievement. Jai hind. Jai Jawan
印度似乎成了世界各国关注的焦点,ISRO凭借自身技术登月的壮举受到密切关注,就连NASA也从未冒险在这一区域着陆,而这一区域正是值得研究的。祝贺ISRO的每一位工程师,是他们让这一梦想成为了实现,每一位印度人都为这一成就感到自豪。印度必胜!
Konfucius Ken
D- Day? ( Doomsday)
D -Day?(世界末日?)
Ashok
If there are rich Minirals on moon then the private companies could be given blocks on moon. What will be the GST on minirals?
如果月球上有丰富的矿物质,那么私营企业就可以在月球上开采。这种月球矿物质的商品和服务税收多少?
Ritik Chand•3 hours ago
Great moment for india
对印度而言,这是伟大的时刻
PSR•3 hours ago
Entire World is awaiting for the Moon landing by ISRO. TIming is ticked to hours now.
全世界都在等待ISRO登月。现在开始倒计时。
Kunuseri Subrnyam•4 hours ago
At this historical event, unfortunately, we don''t have an articulate spokesperson in Mr. Sivan, the chief of ISRO. His English is rather poor, saying this, that, what, and so on, and it will be good if someone else takes over the briefing job from him or he speaks in his native tongue, Tamil, and have a translator for English and Hindi.
在这一历史性时刻,ISRO主席Sivan先生不是一位能言善辩的发言人。他的英语相当差,如果有人代替他发言,或者他能用母语泰米尔语发言,并配一名英语和印地语翻译,那就太好了。
Anushka•Surat•4 hours ago
No one kept step on Moon so far. We learnt during the school Neil Aarmstrong was the first person from the earth who land on moon is total fake. If it was successful, then most USA people visited there.
到目前为止还没有人登上月球。我们在学校里了解到尼尔·阿姆斯特朗是全球第一个登陆月球的人,这是假的。如果是真的,那么大多数美国人应该去过月球。
James Ryan•4 hours ago
ISRO scientists worked day and night for this great mission and there hard work will never go in vein. Vikram will land as expected I pray for that. Proud have such people in our nation. Jai Hind, Jai Maa Bharati
为了登月,ISRO的科学家们夜以继日、孜孜不倦地工作。"维克拉姆"号会如愿着陆的。我们自豪,印度有这些科学家,印度必胜!
Straight Talk•Unknown•4 hours ago
India''s Chandrayaan 2 is about to achieve history by landing near Moon''s south pole and all Indians are excited over the event and pray Gods for its success
印度的"月船2号"将在月球南极附近着陆,创造历史。印度人很激动,都在祈祷登月成功。
Karan Parwani•Unknown•4 hours ago
another big step. another big win
印度又迈出了一大步,又是大获全胜
Krishan Kumar Totlani•Jaipur•4 hours ago
While its Chandrayan-2 success is beyond any doubt but its not just NASA, but the whole world would be interested in knowing about the moon & the universe by following Chandrayaan-2".I understand that NASA hopes to land an astronaut in about 5 years from now on south pole of moon
毫无疑问,"月球2号"必然会成功的。不仅是NASA,全世界都希望跟随"月船2号"的脚步了解月球和宇宙。据我所知,NASA希望在5年内将一名宇航员送上月球南极。
Rna•4 hours ago
As everything has been going on well till now, it's very likely that the lander and rover get successfully separated and the rover execites the priceless job meticulously! The following ts need special focus: first country to land on the lunar south pole. priceless data on the availability of minerals, ice and hence water would be our coveted assets and acievements, the entire mission is carried out at Rs.1000 cr.sing students by" space quiz" to view the landing needs special appreciation !
到目前为止一切进展顺利,着陆器和月球车会成功分离的,月球车将一丝不苟地执行这项任务!
以下几点特别值得注意:印度将是首个登陆月球南极的国家;有关矿物、冰和水的无价数据将是我们梦寐以求的资产;整个任务耗资100亿卢比;
Premanath B M•4 hours ago
Congrats to ISRO scientists and Our beloved PM for the success so far. I''m hopeful on the successful landing on Moon .
向ISRO的科学家和我们敬爱的总理表示祝贺,祝贺他们取得的成功。我们能实现成功登月的。
Satya•4 hours ago
the global attention that ISRO got itself a befitting reply to our hecklers who undermine our great scientists and view with scepticism.
ISRO获得全球的关注,这是对那些质疑我们伟大科学家和持怀疑态度的人的最好回应。
Vishal•4 hours ago
Im desperate now
我现在都迫不及待了
Truth Truth•4 hours ago
MOOTI SOLD OUT PART OF MOON TO AMBANI & ADANI AND REST TO RBI 1.76 LAC CRORE. JAI BHARAT. JAI BHEEM
莫迪将月球的一部分卖给了安巴尼和阿达尼,其余部分以17600亿卢比的价格卖给了印度央行。
Mike Whyuman•4 hours ago
Vikram l for India! And, this is only the begng, fasten your seatbelts!
印度的进步很大啊!
这只是开始,请系好安全带!
Schnell•5 hours ago
LoL.. Slumdogs can build Slums without Toilets on Moon. World Does not Care, only Slumdogs care.
哈哈,贫民可以在月球上建造没有厕所的贫民窟。
Lohit•5 hours ago
All the best for MOON landing
祝登月成功
Pradeep•Unknown•5 hours ago
All Indians are excited and also are naturally anous. Waiting with wishes and prayers for the total triumph on the moon by our ISRO. Jai Hind.
印度人既兴奋,又紧张。祈祷成功登月。印度必胜。
Booby•Right Here•5 hours ago
Excellent work. Moon is now owned by India and is finished.
太棒了。月球现在归印度所有了,完了。