Father got me admitted in a college near home so I could spend more time in field: Isro chief Sivan
ISRO主席Sivan:父亲让我进了离家不远的一所大学,这样我能有更多时间下地干活
The humble son of a farmer from Sarakkalvilai village in Tamil Nadu's Kanyakumari district, Kailasavadivoo Sivan as Indian Space Research Organisation (Isro) chairman is currently leading the Chandrayaan-2 mission to Moon.
印度空间研究组织(Isro)主席Kailasavadivoo Sivan是泰米尔纳德邦Kanyakumari区Sarakkalvilai村一位农民的儿子,目前正负责"月船2号"任务。
Sivan studied at a Tamil medium government school. After graduating from ST Hindu College in Nagercoil, Sivan completed aeronautical engineering from Madras Institute of Technology (MIT) in 1980 and completed a Master's in engineering from IISc in 1982. In 2006, he received a PhD in aerospace engineering from IIT Bombay.
Sivan曾就读于泰米尔中等公立学校。从纳格斯普勒的ST印度教学院毕业后,Sivan于1980年在马德拉斯理工学院(MIT)修完了航空工程专业,并于1982年在印度理工学院(IISc)完成了工程硕士学位。2006年,他在印度理工学院孟买分校获得航空工程博士学位。
Sivan is the first graduate in his family. His brother and two sisters were unable to complete higher education due to their poverty. "When I was in college, I used to help my father in the field. That was the reason he got me admitted in a college near our house," Sivan told TOI. "Only when I had completed my BSc (Mathematics) with 100% marks, his mind changed." Sivan said he had spent his childhood days without a shoe or sandal. "I continued wearing vesti (dhoti) till college. I wore pants for the first time when I entered MIT."
Sivan是家里的第一个大学生。由于家境贫困,他的兄弟和两个姐妹无法完成高等教育。"我上大学的时候,常常在地里帮父亲干活。这就是他让我去附近一所大学上学的原因。后来我以满分成绩完成了数学学士学位,他才改变了主意。"Sivan称,在他童年时,没有鞋穿。直到上大学之前,我一直穿的是腰布。当我进入印度理工学院的时候,我第一次穿上裤子。"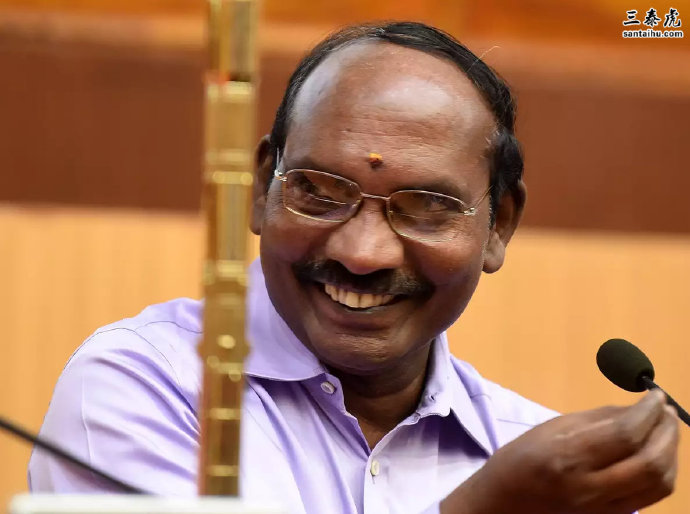 He joined Isro in 1982 and worked on almost all rocket programmes. Before taking charge as Isro chairman in January 2018, he was the director of Vikram Sarabhai Space Centre (VSSC), which develops rockets. He is known as Isro's 'Rocket Man' for his contribution to the development of cryogenic engine, PSLV, GSLV and reusable launch vehicle (RLV) programmes. He had also played a key role in the launch of 104 satellites in one go on February 15, 2017, a world record by Isro. Though a rocket expert, Sivan loves listening to Tamil classical songs and doing gardening in his past time. His favourite movie is Rajesh Khanna-starrer 'Aradhana' of 1969. "When I was VSSC director, I grew a huge variety of roses in my house garden in Thiruvananthapuram. Now in Bengaluru, I hardly get time," he said.
1982年,Sivan进入Isro,参与了几乎所有的火箭项目。在2018年1月担任Isro主席之前,他在维克拉姆·萨拉巴伊太空中心(VSSC)担任主任,该中心研发火箭。他被称为Isro的"火箭人",对低温发动机、PSLV、GSLV和可重复使用运载火箭(RLV)项目的发展做出了贡献。2017年2月15日,他在一次发射104颗卫星中发挥了关键作用,创下了Isro的世界纪录。身为火箭专家,Sivan过去喜欢听泰米尔古典歌曲,也喜欢园艺。他最喜欢的电影是1969年拉杰什·康纳(Rajesh khanna)主演的《Aradhana》。Sivan称:"当我担任VSSC主任时,我在特里凡得琅的自家花园里种了各种各样的玫瑰。现在我住在班加罗尔,几乎没有闲暇时间做这些。"
On July 15, when a glitch in GSLV-MkIII stalled the launch of the Chandrayaan-2 lunar mission, Sivan quickly set up a high-level team to find the snag and got it fixed within 24 hours. On July 22, he & his team successfully launched the mission from Sriharikota. A few days ago, PM Narendra Modi, in his 'Mann ki Baat' radio programme, praised Isro scientists for fixng the rocket glitch in record time and launching the lunar mission within seven days of the first scheduled liftoff date.
7月15日,当GSLV-MkIII火箭的一个小故障导致"月船2号"探月任务陷入停滞时,Sivan迅速组建了一个高级团队,查明这个小故障,并在24小时内修复。7月22日,他和他的团队成功地从斯里赫里戈达岛发射了"月船2号"。几天前,印度总理纳伦德拉·莫迪在其"Mann ki Baat"电台节目中赞扬印度空间研究组织的科学家修复了火箭故障,并在原定发射日期之后的7天内完成发射。
印度时报读者的评论:
译文来源:三泰虎 http://www.santaihu.com/48142.html 译者:Jessica.Wu
外文:https://timesofindia.indiatimes.com
TRUTH BE TOLD•You can't handle the Truth!!!•5 hours ago
Inspirational man. I know him personally. The brainiacs are really humble, whereas the idiots are the ones with the biggest ego. Look at pappu.
我认识他,是个非常励志的人物。聪明人往往很谦虚,而愚蠢的人最自负。看看拉胡尔就知道了。
surya•Mumbai•5 hours ago
Guys we are indians. We are rich in our culture. There is an essence of intelligence mixed in blood whichever caste we belong to.we excel in all fields.We should be roud to born in a country as INDIAN.
伙计们,我们是印度人,我们的文化丰富多彩。无论来自哪个阶层,我们的血液中都蕴含智慧的精华。我们在各个领域都很优秀。我们应该为出生在印度这样的国家而自豪。
Tara•12 hours ago
Another Kalam among indian scientists. India is full of such brain if given chance can do any thing.
印度科学家中又出了一位卡拉姆(印度导弹科学家,也是第一位当选印度总统的职业科学家)。如果有机会施展才华,印度遍地会是人才。
Thirupathi•15 hours ago
Sivan sir is a pride of Tamilnadu.,Jai Hind
Sivan先生是泰米尔纳德邦的骄傲。印度必胜!
krishnamurthy•18 hours ago
Very great .All great leaders and famous / popular great men are educated in their own mother tongue .It is why they are successful in their achievements.
太棒了,所有伟大的领袖、著名或受欢迎的伟人都是用母语接受教育的,这就是他们成功的原因。
Sanjoy•20 hours ago
You r a true inspiration to thousands of Indiagg
对印度人来说,您真的非常励志。
Mithilesh Kumar•21 hours ago
very inspiring real story of life, youngsters of today must devote time for study.
非常真实,非常励志,如今的年轻人务必多花时间学习。
S Palraj Palraj•21 hours ago
Sad to see just a handful of comments. If the article were about Indian cricket, the Comments section would be overflowing.
就这么点评论,真悲哀。如果这篇文章是关于印度板球的,评论区就会爆满。
andi•21 hours ago
Luck favors the brave
幸运眷顾勇于拼搏的人
Shambhu•22 hours ago
Indian Space Research Organisation ( ISRO), Chairman, Dr.Kailasavadivoo Sivan is India's Bharat Ratna and deserve Bharat Ratna.,- Shambhu Nath Singh
ISRO主席kailasavadivoo Sivan博士是印度的国宝,理应获得"印度国宝勋章"。
chanakya•Mumbai•22 hours ago
From the farm in a remote village to the greatest institute of the country. This shows only hardworking people can do the unimaginable
从偏远乡村的农田到全国最顶级的学府,这表明有志者事竟成。
Bharanidharan Vasudevan•New•23 hours ago
Wonderful article. God bless you
好文章,愿神保佑你。
Bala subramanian•Unknown•23 hours ago
Making your parents and the country proud. Salute and respect to you Sir, and the entire Team at ISRO.
先生,您让您的父母乃至整个国家都感到骄傲,向您和ISRO全体人员致敬。
Naveen•23 hours ago
pls keep this type of story for main page.true motivational story
这种文章应该上首页,真的很励志。
J D V S Ramachandra Rao•Secunderabad•23 hours ago
Hats off the Great Isro Chairman Shri Sivan. You are one of the loved son of Bharatmata.
向伟大的Isro主席Shri Sivan致敬。你是印度的爱子之一。
Gatothkach•India•23 hours ago
These are our true heros. They should get all the bharat ratnas and other awards along with our soldiers.
你是真正的英雄,和我们的士兵一样,理应获得"国宝勋章"。
Adil• Gatothkach•16 hours ago
very true .. these are the real gem of our country not those fake heroes who dance & romance on silver screen & get famous unnecessarily
这是我们国家真正的瑰宝,那些在银幕上跳舞的是假英雄
Radhakrishnan Vilayanur•1 day ago
Yes all success stories all like - good you will advise govt about opportunity to everyone without reservation
所有成功故事的都是类似的——请向政府建议平等对待每个人,不要预留名额。
Visalakshi G•1 day ago
They are now sending their children to study abroad in a hostel.
他们现在正把孩子送到国外去留学。
Vasanth Kumar•1 day ago
I hope someone makes a biopic on him and makes it available in all the schools of India. He is an inspiration to the youth of India. Hats off to you Sir!
我希望有人能拍一部关于他的传记电影,在印度所有学校播放。他能激励印度的年轻人。向您致敬,先生!
Guru Sharma•1 day ago
We are proud of doctor Shivan and isro and,so nice to listen from you congratulation on your grand success
我们为Sivan博士和Isro感到骄傲,祝贺你们取得伟大成就
Sudhansu Sekhar Das•Unknown•1 day ago
This thing all sons do.
孩子都要帮家里干活的
Bhanu•1 day ago •Follow
son of the soil!
土地的儿子!