Harassed by rapists of his daughter, man kills self in UP's Meerut
北方邦密鲁特男子的女儿遭轮奸,强奸犯又来骚扰其父亲,这位父亲被逼上吊自杀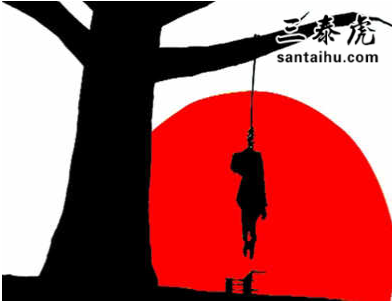 MEERUT: A 40-year-old farmer hanged himself from a tree under whose shadow he used to catch a breath on his way back home, after leaving his daughter school. His daughter, 17, was allegedly gang-raped by six men in April this year.
密鲁特: 一名40岁的农民在送女儿上学后,在一棵树上吊自尽。这颗树位于其回家的路上,往日他常在树荫下歇脚。今年4月,他17岁的女儿遭六名男子轮奸。
Although distraught, the man had fought tooth-and-nail to ensure that the accused of his village are booked, and are behind the bars. But they got bail soon, and started harassing the man to withdraw the case.
悲痛之下,这名男子竭尽全力起诉(来自同村的)被告,把他们送进监狱。但凶手很快就获得保释,并骚扰男子,要求他撤诉。
Later, they also uploaded a video clip of the alleged rape on social media sites. The man gave up on Friday evening, and walked to the tree on the outskirts of the village. His body was later found hanging from it by some passersby, who alerted police.
随后,他们还在社交网站上上传了一段强奸视频。周五晚上,这名男子绝望了,走到村头那棵树下。后来,一些路人发现他的尸体吊在上面,于是报警。
A cousin of the man, who was in his 50s, also died of cardiac arrest soon after the body was taken down from the tree and brought home. The shattered family members claimed that he may have died of shock.
尸体从树上取下并送回家中后,男子50多岁的堂兄也死于心脏骤停。悲痛欲绝的家属称他可能死于休克。
Later, a case of abetment to suicide was registered against four persons at Behsuma police station of Meerut.
后来,密鲁特Behsuma警察局以教唆自杀罪对四人立案登记。
When contacted, superintendent of police (rural) Avinash Pandey said, "We are yet to verify claims of inappropriate videos made viral. Relevant sections will be added during the course of investigation if claims are found to be true. As of now, we have registered a case of abetment to suicide against four accused."
警司Avinash Pandey称:"我们还没有核实关于不当视频被疯传的说法。在调查过程中,如发现指控属实,将增加罪行。目前,我们以教唆自杀罪对四名被告进行了立案登记。"
In April this year, the girl raped by the main accused, Raj Kashyap, who promised her a job. She was later gang-raped by him and five others, which also included his father and two brothers.
今年4月,这名女孩遭主犯拉杰·卡什亚普强奸,拉杰曾答应给女孩找一份工作。后来她又遭到拉杰和其他五人轮奸,其中还包括拉杰的父亲和两个兄弟。
印度时报读者的评论:
译文来源:三泰虎 http://www.santaihu.com/47994.html 译者:Jessica.Wu
外文:https://timesofindia.indiatimes.com
Ramesh Kumar • 2 days ago
How do rapist get bail? Why is it so easy for them to procure bail? Is the judge stupid or sells bail? Our judiciary system is a laughing stock.
强奸犯怎么能获得保释?
为什么那么容易就获得保释了?
法官是傻呢,还是收钱了?
我们的司法系统就是个笑柄。
Human Being• This world • 5 hours ago
It is UP !
不愧是北方邦!
Daddy Kool• 4 hours ago
When a mass murderer can become a PM, anything can happen in India.. #India is Lyyyynching #India is rappp
大屠杀凶手都能当上总理,在印度什么事情都有可能发生
satya deo • Bihar • 1 day ago
Why bail for rapists ?
为什么强奸犯能获得保释?
Rakesh chandra Sharma • 1 day ago
judiciary needs to be scrutinised for corruption
是否存在司法系统腐败,需要好好查查
Rajiv Kapoor • 1 day ago
The legal system is clearly responsible.
法律系统显然有责任。
Prabhat Tevatia • 1 day ago
It seems law is made first to protect rapists/ criminals and then if time permits to console the victim.
似乎法律首先是为了保护强奸犯,然后才是受害者。
Anubhav Agrawal • 1 day ago
No words :(
无语了
Saurabh Patel • 5 hours ago
Mob Lynching should happen for Criminals who do such acts!
就应该对这些强奸犯动私刑
VIJAY PRASAD • 1 day ago
It shows the incompetence of ruling party.
这显示了执政党的无能。
Zahra Shaikh • mumbai
I m sure its not suicide.
我敢肯定这不是自杀。
Mohit Goyal
In India every thing is possible & can be bought. This is the reason why the crime rate is so high in India.
在印度,一切皆有可能,没有什么是买不通的。这就是印度犯罪率如此之高的原因。
Natarajan D
Bail is a curse in Indian judiciary. Law ministry should initiate the reforms
保释是印度司法系统的污点,法律部们应着手改革了。
HIMANSHU SHEKHAR
Rapist will get bail again.
强奸犯很快就能获得保释。
Diksha Educare • 2 hours ago
Ye "Andha Kanun " nehi hai ... Now a days it has become "Rapist Kanun" ... Trial on the filthy book which gives bail to rapists should be done first !
应该先审给强奸犯批保释的无耻之徒!
Gaurav • Location • 2 hours ago
very unfortunate.. these criminals should be arrested immediately.
太不幸了. .立即逮捕这些罪犯。
Sundarv • Chennai • 3 hours ago
So the crime situation has not changed under the present Govt .
所以说在目前政府执政下,犯罪现象没有减少,治安并没有改善。
Logical Indian • 4 hours ago
This is the tragedy of this country where genuinely Law should be used to nail the accused it is not done so and nobody protests as much.
国家的悲剧,法律应该用来惩罚凶手,却没有发挥应有的作用,而且没有人抗议。
Daddy Kool • 4 hours ago
Rapists done a good job.. they should keep on rap... and police "We are doing investigation"
强奸犯干得不错,继续强奸吧……警方:"我们正在调查"
Daddy Kool • 4 hours ago
This is the state of the Country run by criminals and rapistis... India got what it deserved.. just wait to see rapes happening in every house hold.. and the police will come and say... "We are doing the investigation"..
这个国家是由罪犯和强奸犯统治的。等着看家家户户都有人被强奸吧,警察来了就说:"我们正在进行调查"。
Human Being • This world • 5 hours ago
UP !
北方邦啊
Manmohan Bhamra Los Angeles • Los Angeles • 5 hours ago
Instead of hanging the father could have easily killed his daughter rapist and then defend the charges of murder.
与其上吊,还不如杀了强奸犯,然后再为自己辩护
Ullatt Subhas • Kochi • 6 hours ago
For a gang rapist if he has been identified as the culprit no bail should be given and the case should be heard in a court as quickly as possible without any delay as the victim is silently suffering and is very unfair.
强奸犯,如果已经定罪,就不能保释,应尽快在法庭上审理,不应拖延,因为受害者正在忍受痛苦,拖延了,对受害者是非常不公平的。
Lucky B • 10 hours ago
How these six accused of the rape of minor got bail when Aasram was denied one.
这六名强奸未成年人的被告是如何获得保释的?
Rj G • 12 hours ago
officials who assisted these rapists a bail must also be arrested and jailed along with the rapists.
批准保释的官员也必须逮捕,把他们和强奸犯一起关进监狱。
Sanjay Sehgal • Noida • 16 hours ago
If there is no proof he committed suicide . He could have been murdered.
如果没有证据表明他是自杀的,那可能是被谋杀的。
joseph thomas • 17 hours ago
Can''t imagine the agony which the man would have gone through before he died. Just imagine how pathetic the situation of his daughter would be now. Not sure why our judiciary system is like this
无法想象这个人临死前所经历的痛苦。想象一下,他女儿现在的处境是多么悲惨。为什么我们的司法系统会这样
Cool Sidd • 1 day ago
Time to leave earth
是时候离开地球了
Amit Nirwal • 1 day ago
"Rapists need to be hanged till death"
绞死强奸犯