5 students rape collegemate in Karnataka, held as video goes viral
卡纳塔克邦5名学生强奸大学同学,视频走红后被捕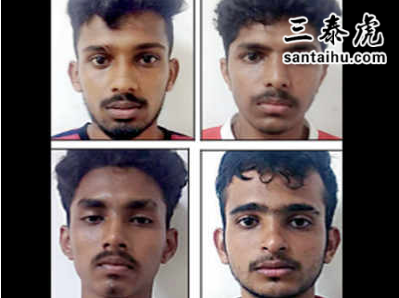 MANGALURU: Five students of a prestigious college in Puttur were arrested on Wednesday for allegedly abducting and ra a Dalit collegemate and threatening her with videos of the act. The accused, all aged 19 and students of BBA and BCom, were apprehended about four months after the crime as the videos went viral and came to the notice of police.
芒格洛尔:周三,普图尔一所著名大学的五名学生因涉嫌绑架和强奸一名达利特同学并以视频威胁对方而被捕。被告年龄均为19岁,为印度工商管理学院和商学院的学生。他们在案发四个月后被捕,因为视频在网上走红,并引起了警方的注意。
The Dakshina Kannada district police registered a suo motu case following circulation of the videos. The case was registered at the Puttur Women Police Station and two teams were formed to nab the accused.
达克什纳坎纳达区警方在视频流传之后立案。该案件在普特尔妇女警察局登记,并成立了两个小组逮捕被告。
BM Laxmi Prasad, superintendent of police, said those arrested are Prakyath Shetty, a resi nt of Barimar, Bantwal; Sunil Gowda of Aryapu village in Puttur; Kishan of Perne village in Bantwal; Prajwal Naik of Perne village; and Gurunandan of Bajathoor village in Puttur. They have been booked under sections of IPC, SC/ST (Prevention of Atrocities) Act and IT Act.
警司BM Laxmi Prasad称,被捕者为来自巴里马尔的Prakyath Shetty, 来自普图尔的Sunil Gowda,来自班特瓦尔的Kishan、Prajwal Naik和Gurunandan,已根据刑法及相关法律对其登记立案。
The in dent took place between February and March. The survivor said she knew the five youths as they studied in the same college.
该事件发生在2月至3月之间。原告称,她认识这五名年轻人,他们在同一所大学学习。
Rapists had threatened to make girl's videos public
强奸犯曾威胁要公开强奸女孩的视频。
On the day of the crime, Sunil called the survivor and asked her to meet him. He and the four others picked her up in a blue hatchback and drove to a forested place. When the survivor asked why they were driving to a reme place, the youths remained silent. In a few minutes, theystopped the car and took turns to rape her and film the act. In her compnt, the survivor told police that she was unaware that the youths were filming the assault.
案发当天,Sunil Gowda给女孩打电话,约她见面。他和另四人开着一辆蓝色的两厢车把她带到森林里。当女孩问他们为什么要开车去这么偏远的地方时,这几个年轻人没回答。几分钟后,他们停下车,轮奸她,并拍下了这一幕。在她的诉状中,女孩告诉警方,她不知道这些年轻人拍摄了视频。
They drove back with her from the spot and days after, threatened her that they would make the videos public and humiliate her online. Fearing shame, the survivor did not report the assault.
几天后,他们开车带着她从案发现场回来,威胁她要公布视频,并在网上羞辱她。由于害怕丢人,女孩没有报案。
College authorities said the five accused had been suspended following the police compnt ag inst them. "The in dent took place during college holidays," a college source said.
校方表示,在警方对五名被告提出指控后,他们已被停学。一位校方消息人士表示:"事件发生在放假期间。"
印度时报读者的评论:
译文来源:三泰虎 http://www.santaihu.com/47977.html 译者:Jessica.Wu
外文:https://timesofindia.indiatimes.com
Raghavendra • 3 days ago
so college mates rape a fellow. Why bring dalit into it? you make it sound as if they deliberately planned this BECAUSE she was a dalit, and had she been any other cast, they wouldn't have done it
大学生强奸了一个同学。为什么要把达利特扯进来?说得好像因为她是达利特,才被强奸的。如果她是其他种姓,就不会被强奸吗?
Robin S• India • 3 days ago
She was a dalit that is why uppercaste animals were emboldened to rape her.
她是达利特,所以这些高种姓的畜生敢强奸她。
Manny • 3 days ago
We need a Military rule in India atleast for 3 decades to educate our ppl and organizations.
印度至少需要用30年的军事统治,才能教化人民。
Critical Thinking• 1 day ago
If your mother gets raped as well, will you be fighting the rapist or educating the people first?
如果你妈被强奸了,你会先惩罚强奸犯还是先谈教育?
m adhikary • 3 days ago
Make the life hell for this 5 people.. Just put behind bar for 30 years.. Let their life over behind bar.
监禁30年,让这5个人生不如死
Rajen Rao• Nimr • 2 days ago
Castrate them
阉了他们
Manish P • 3 days ago
If this happened in bjp ruled state then think all blame are on modi and bjp
如果这案子发生在人民党执政的邦,那所有责任都会推到莫迪和人民党身上
Raj • Bengaluru • 3 days ago
these guys should be hanged, sive outrage in Media if this would have happened in BJP rule state then media would have asked for resignation of Modi.
绞死这些人,如果发生在人民党执政的邦,媒体就会要求莫迪辞职。
Chandran• 2 days ago
Actually they belong to Congress as per latest report.
根据最新的报告,这些人来自国大党
sumit yadav• 3 days ago
Hang them and set example for the society..
绞死他们,杀鸡儆猴。
Sankara • 3 days ago
Castration is required immediately.
马上阉了他们。
Madhukumar • mysore • 3 days ago
these people should be hanged
应该绞死这些人
J • 3 days ago
PM NARENDRA MODI is the responsible for all this .
莫迪总理应对这一切负责。
Jayashree Udaykumar• 2 days ago
Wth?? How is a pm responsible for his citizens sins?
为什么? ?总理为什么要为公民犯的罪负责?
FAYAZ UDDIN• 3 days ago
It is a shame for being students and done this type of crime. they should be debared from education and severe punishment should be given.
Finally the oldest profession ( prostitution) should be legalised, so that the society will be clean and safe.
mentioning of caste should be avoided by media.
作为学生,犯下这种罪行是可耻的。他们应该离开学校,受到严厉的惩罚。
最后,最古老的职业(卖淫)应该合法化,这样犯罪才会减少,社会更安全。
媒体应避免提及种姓。
Dude • Bangalore • 3 days ago
Harsh punishment should be given to set an example... sending kids to school has become so dangerous now.
应该给予严厉的惩罚,杀鸡儆猴。现在送孩子上学,都变得很危险了。
Shobha Udupikar • 1 day ago
On the first place why the girl should go alone with them it should be interrogated
为什么这个女孩会只身和他们出去,这点应该审问下
Vishwanath Holla • 2 days ago
Hang them.
绞死他们
Evans Sumitra • New York, USA. • 2 days ago
These idiot rapist should be hanged to death. They have ruined the career of a collegemate.
绞死这些强奸犯,他们毁了一个大学同学的一生。
Kannan • 2 days ago
While i agree that the video should not be circulated, that is what brought this crime to light. Else very likely that the culprits would have remained scotfree and probably repeating their acts. The culprits should be brought to justice under a fast track since the evidence is already there.
我认为这种视频就不该被传播,但这正是这起犯罪被曝光的原因。否则,罪犯很可能仍然逍遥法外,并可能再犯。既然已经有证据了,应该迅速将罪犯绳之以法。
Kallurti• Bengaluru • 12 hours ago
God already saved this country from going to the jackals and wolves and sent a messiah namely Narendra Modi.
神已经把这个国家从豺狼的魔爪下拯救出来,还派来一个救世主纳伦德拉·莫迪。
Vidyaranya vijaypura • Mysore • 19 hours ago
This is no way related to caste, it is related to criminals in college campus.Why bring caste.
这与种姓无关,而与大学校园罪犯有关。为什么要扯上种姓。
Truth m • 1 day ago
Must be the handiwork of leftist goons.
一定是左派徒的杰作。
Dubram Thang• 1 day ago
Nope they are from far
不,是极右派