India to set up its own space station within 7 yrs: Isro chief
ISRO主席:印度将在7年内建立自己的空间站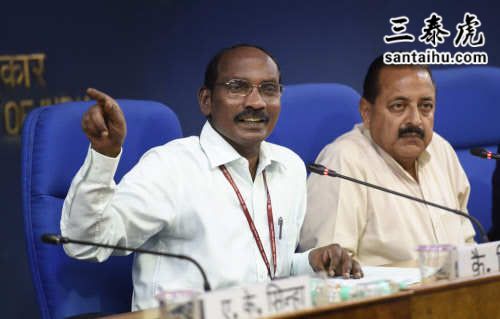 After populating space with satellites and sending probes to Moon and Mars, India will have an address in the skies. Isro chief K Sivan has said India will set up its own space station, within seven years.
继向太空发射卫星并向月球和火星发射探测器之后,印度将在太空建立自己的空间站。ISRO主席Sivan称,印度将在7年内建立空间站。
Addressing reporters along with minister of state for department of space Jitendra Singh in New Delhi, he said the project would be an extension of Gaganyaan, India's first manned mission slated for early 2022. "We don't want to be part of the International Space Station (ISS), therefore we want to set up our own. Our station won't be very big. It will have a mass of 20 tonnes and be used for studies including microgravity tests. It will have provision for people to live for 15-20 days," Sivan said.
在德里,Sivan与印度航天部长吉滕德拉·辛格答记者问,Sivan表示该项目将是"Gaganyaan"计划的延伸。"Gaganyaan"计划将于2022年初完成,是印度首个载人航天项目。Sivan称:"我们不想成为国际空间站(ISS)的一部分,想建立自己的空间站。我们的空间站不会很大,重量20吨,可供宇航员在上面生活15至20天,可展开包括微重力测试在内的研究。"
印度时报读者的评论:
译文来源:三泰虎 http://www.santaihu.com/47836.html 译者:Jessica.Wu
外文:https://timesofindia.indiatimes.com
Sanjoy Pandey • Kolkata • 10 hours ago
To have own space station will be a big achievement for India.
印度要是有自己的空间站了,那可是一大成就。
Rajesh Krishnan Kutty• 8 hours ago
Sir, there is no basic amenity called water and good air...
先生,印度人连干净的水都喝不上。
Ashok Kth • Udupi • 8 hours ago
Pleasant news to read...India is slowly staking cm of Super Power..
好消息,印度正逐步成为超级大国。
Arun G• 4 hours ago
Looks like you dreaming, wake up and look around
你在做梦吧,醒醒吧,看看周围再说
Mudi Ji • Gujriot • 6 hours ago
Nowhere near superpower. Standard of living is still very poor.
印度离超级大国还远着呢,生活水平太低了。
Ne lle Jerome• 7 hours ago
Would have been a super power many decades back if Congress was not there to loot.
要不是被国大党蹂躏了几十年,印度早就是超级大国了
Satish Nair• 9 hours ago
ISS is good but first develop some good satellite which helps in good reme sensing. It took more than 8 days to find a missing IAF aircraft.
建立空间站是好事,不过首先要研发先进的卫星,遥感能力强的那种。花了8天才找到失踪的飞机,这也太慢了。
Barbarian Indic• 6 hours ago
with resources from around the world nobody could find the MH flight. just shut up
闭嘴吧你,全世界一起找,都没能找到马航呢
Swetabh Kulchand • 8 hours ago
@Satish Nair Hey could you tell me how many days Whole World took in searching Mysian Aircraft
@Satish Nair 嘿,你能告诉我,全世界花了多少天搜索马航失踪航班吗?
Manoharan Thangavelu• Tiruchchirappalli - India • 8 hours ago
All because of Modi the chief scientist
这都是莫迪和印度首席科学家的功劳。
Rajesh Krishnan Kutty• 8 hours ago
can you do something for water....
先解决缺水问题吧
Barbarian Indic• 6 hours ago
yes population control
先控制人口吧
Krishan Kumar Totlani• Jaipur • 6 hours ago
Glad to know India to have its own space station in the future & conduct separate missions to study the Sun & Venus,it said on Thursday, as the nation moves to bolster its status as a leader in space technologies & inspire the young minds to take an interest in scientific fields.
很高兴得知印度将建立自己的空间站,很高兴印度降探索太阳和金星。印度正在努力提升自己太空技术的领先地位,并激励年轻人对科学领域的兴趣。
Lee wasim• 6 hours ago
it's is the great effort of India to showing his capabilities ag inst world most developed countries and cmed towards worlds powerful country
印度是在向发达国家展示自己的实力,印度将跻身世界强国之列。
William India• MANGALORE • 6 hours ago
SPLENDID...
太棒了
Shilpy• onthescene • 8 hours ago
how zing that isro can set up a space station in 7 years. but wouldn''t it be cher to rent the american one?
ISRO能在7年内建立一个空间站?太不可思议了。
租美国的空间站,不是更便宜吗?
Deepak• Karnataka • 8 hours ago
Would you like to live forever in a rented house which is available easily or will build your own house which may take a few years!?
你是想永远租房子住呢,还是想自己有一套房子,即使要几年的时间才能有房子?
Dona • Location • 4 hours ago
Their People are fighting for basic need of life like water,and they talk of Jumla Mooon Walking.
人民正在为基本生活需求而挣扎,比如喝不上水,他们却在大谈特谈月球漫步。
Harsh • 8 hours ago
then at least provide jobs for unemployed people
至少先为失业者提供工作吧
pasricha• 8 hours ago
Thats really a great news, Now India is getting more and more independent and not looking at other big guys to act on such things, Cheers!!
太好了,现在印度越来越独立了,不再指望其他大国!
FairHuman• 9 hours ago
Pakistan will be split into many smaller countries Immediately Absolutely
巴基斯坦会立即分裂成许多小国家。
Pradeep • 5 hours ago
If the Chief of ISRO says so we have no reason to disbelieve him. ISRO''s progress has been spectacular.
ISRO主席都这么说了,我们没理由不相信他。ISRO进展神速。