Isro may attempt Chandrayaan-2 launch on July 21-22
Isro或在7月21日至22日尝试发射"月船2号"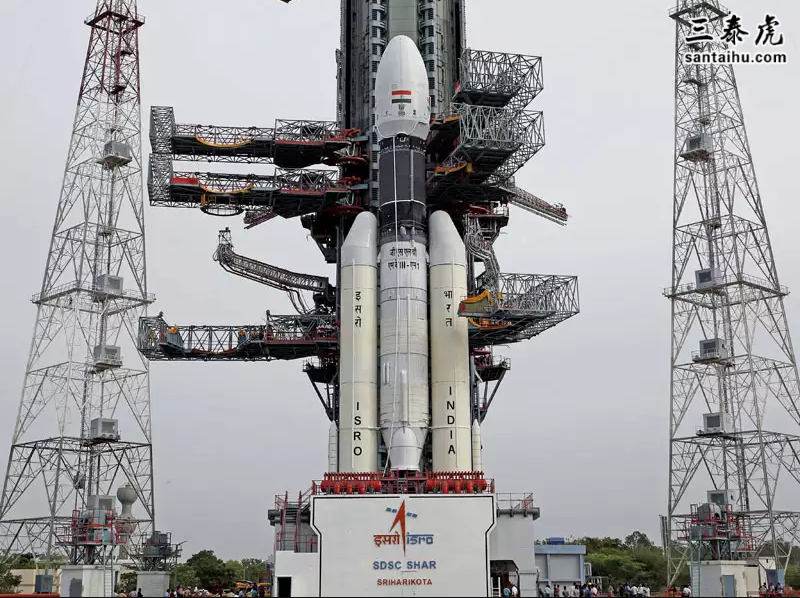 BENGALURU: After calling off the launch of Chandrayaan-2 on Monday due to a technical snag, the Indian Space Research Organisation (Isro) is now actively looking at a window as early as July 21 or 22 for another attempt, multiple sources told TOI on Wednesday.
班加罗尔:由于出现技术故障,印度太空研究组织(Isro)于周一取消了"月船2号"的发射。周三,多名消息人士对印度《印度时报》表示,ISRO现在正积极观察发射窗口,最早或于7月21日或22日再次尝试发射。
Isro's confidence can be attributed to the assurance given by the technical teams working at the Sriharikota launch pad, who said on Wednesday they are "confident of rectifying the snag" in the next 48 hours.
Isro的信心来自在斯里赫里戈达岛发射台工作的技术团队的保证,周三他们表示,"有信心在未来48小时内解决问题"。
The space agency is keen on the July 21-22 window because these are the earliest dates on which it will get a chance to navigate the lunar craft to the Moon's orbit. After this, the next possible window will open up only in September.
Isro看好7月21日至22日的发射窗口,因为这是其有机会让探测器进入月球轨道的最早日期。在此之后,下一个窗口将在9月份。
Sources privy to the ongoing rectification/repair process — engineers are working on plugging a faulty "nipple joint" — told TOI the space agency is "positively" looking at availing a window by Monday (July 22). "In all likelihood, that will be the new launch date," a source revealed.
知情人士告诉印度《印度时报》,目前正在进行的修复过程中,工程师们正在努力修复一个有缺陷的"接头",Isro正考虑7月22日(下周一)这个窗口。一位消息人士透露:"很有可能,这将是新的发射日期,"
While Isro is yet to officially make an announcement, Vivek Singh, director (media and public relations), Isro, said: "Keep checking our website."
虽然Isro尚未正式发布声明,但Isro媒体和公关主任维维克•辛格表示:" 请继续关注我们的网站。"
印度时报读者的评论:
译文来源:三泰虎 http://www.santaihu.com/48054.html 译者:Jessica.Wu
外文:https://timesofindia.indiatimes.com/india/isro-looking-at-july-21-22-for-chandrayaan-2-re-launch/articleshow/70258753.cms
Da Da
ISRO must always keep in mind that the people of India are always with them in suceess or failure.We are proud of You.
ISRO必须时刻牢记,无论成败,印度人民都与你们同在。我们为你们感到骄傲。
Gopalarathnam Krishna Prasad
Best of Luck ISRO team! But do not publisise the event too much like a Cricket Match... keep it low profile,,, announce only the Success. Do not gath...
祝ISRO团队好运!
但不要像板球比赛那样大肆宣传……要低调,成功了再宣布。
Gagan
why not send Pappu on this mission so that he never returns back
为什么不派拉胡尔去执行这个任务,去了就再也不用回来了
Frequent Flyer•Bhubaneshwar•2 hours ago
Keep publicity hogging politicians away. Mission will be successful.
不要大肆宣传。任务会成功的。
Abhijit•Hyderabad•3 hours ago
Best wishes for successful mission
预祝任务圆满成功
Bhupendra Singh•3 hours ago
We always know, ISRO will finally come up with solution.,GREAT
我们都知道,ISRO最终会想出解决办法的,太棒了。
Indian•3 hours ago
only cow may predict when to be launch, not necessary to discuss with ISRO scientists.
只有奶牛能预测何时发射,没有必要和ISRO的科学家讨论。
Saroj•4 hours ago
Space X launches 23 ton payload established 3yrs back....,iSRO launches 7 ton ....not a big feat,concentrate on work not showing off...
3年前,Space X就能发射23吨有效载荷了…,ISRO只能送7吨上去,没什么了不起的,专注工作,别炫耀,别炫耀…
Jagadeep Kumar•Karnataka•4 hours ago
Good luck isro. May the god be with u
祝Isro好运。愿神与你同在
Pradeep•Unknown•5 hours ago
Just at a time when people thought it would require many months to come out of the recent setback, here, ISRO is ready, once again! Bravo.
正当人们以为要好几个月才能从最近的挫折中走出来时,ISRO再次做好了发射准备!
太棒了。
Krishan Kumar Totlani•Jaipur•5 hours ago
It looks issues has been resolved & now ISRO is ready for launch what a dedication of work.Wishing ISRO & its team of scientists a perfect launching.
看来问题已经解决了,现在ISRO已经准备好再次发射了。祝ISRO及其科学家团队圆满成功。
Ganesh Dore•Unknown•5 hours ago
Hey ISRO / 3 month delay is perfectly OK.. give it your best shot with your best minds and give them all necessary resources . Do the root cause analysis properly ( no cover ups ) and move on .
ISRO,推迟3个月也没问题。尽你们最大的努力,分析问题,找到问题所在,然后继续前进。
Rock Moddy•Unknown•6 hours ago
Has ISRO announced this date or some journalist dreamt about it? only report what comes out of ISRO announcements.
ISRO宣布了这个日期吗,还是某个记者做梦梦到的?
把ISRO公告的内容拿来看看
Keysman K•Unknown•6 hours ago
Good luck
祝好运
Barathi Ramamoorthy•Haryana•6 hours ago
Jai Hind.
印度必胜
Subu•6 hours ago
Best wishes to ISRO.
向ISRO致以最美好的祝愿。
Abhishek Kaushik•Patna•7 hours ago
ISRO has one of the best track record amongst indian agencies....,There is no need to hurry , be patient and correct the flaw then begin the launch...,Best wishes....
ISRO是印度所有机构中表现最好的。没必要赶时间,要耐心纠正问题,然后再发射…祝好....
Sanjoy Pandey•Kolkata•9 hours ago
Better late than never. Even if is delayed some more days all technical snags should be rectified.
迟做总比不做好。即使再推迟几天也没事,所有技术障碍都应纠正。
K Mohan•Hyderabad•9 hours ago
And this time let the launch be with no VIP at the visitor''s gallery and the launch be held silently.
下次发射不要邀请贵宾参观,发射要低调进行。
Kvs• K Mohan•5 hours ago
yes. the all women team must have got jittery with all the attention.
是的,有人参观的时候,这个项目的女性团队一定感到紧张不安。
K Mohan•Hyderabad•9 hours ago
There is no urgency for ISRO to decide date very shortly and go for the relaunch. We are with ISRO for their every endeavour for safe launch,
ISRO没必要匆忙决定发射日期。我们支持ISRO为安全发射所做的一切努力,
Bala Srinivasan•saginaw USA•12 hours ago
So far ISRO has been flawlessly impeccable with this great mission.
到目前为止,ISRO在这项伟大的任务中的表现完美无缺。
Bear•Bear•14 hours ago
India ISRO used, studied, then copied Russia rocket engines and call it an Indian invention/innovation. As of now, Russian rockets can lift 23 tonnes to LEO, Indian pirated version can lift only 4 tonnes. ISRO and Modi get all the publicity and credits, with an unhappy Russian bear looking on
印度ISRO抄袭了俄罗斯的火箭发动机,并称之为印度的发明和创新。到目前为止,俄罗斯火箭载重达23吨(发射到近地轨道),印度的盗版火箭只能运载4吨。ISRO和莫迪得到了所有赞誉,而不开心的俄罗斯在一旁看着。
Sandilya• Bear•6 hours ago
indian scientists studied the rocket science from Russia if you think copying is wrong then humanity would has never evolved to copy
印度科学家向俄罗斯学习火箭科学,这有什么问题,如果你觉得模仿有问题的话,那人类永远不会进化的
Ganesh Dore• Bear•Unknown•6 hours ago
Lets be clear ... India political leadership ignored Space until 2010 . Now nation is playing catch up and paying the price . Yes 40 years brhind USA and Russia , 3 years behind China
印度落后美国和俄罗斯40年,落后中国3年。印度领导层直到2010年才开始重视太空。现在正奋力追赶,并为此付出代价。