92 trips, 57 countries: What PM Modi achieved on his foreign visits
92次出访,57个国家: 莫迪总理出访取得了哪些成就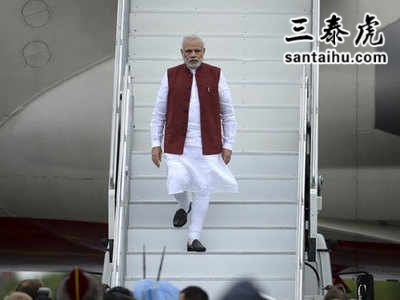 NEW DELHI: As Prime Minister Narendra Modi bids for re-ion, his has said his skillful diplomacy on the world stage has increased India's global stature and brought in a flood of investment.
新德里: 在印度总理纳伦德拉·莫迪寻求连任之际,印度人民党表示,莫迪在世界舞台上娴熟的外交提高了印度的全球地位,吸引了大量投资。
But what exactly have PM Modi's foreign travels achieved? With 92 trips to 57 countries since coming to power in May 2014, Modi has flown abroad nearly twice as much as his predecessor Manmohan Singh in five years.
莫迪总理的海外之行究竟取得了什么成果?自2014年5月上台以来,莫迪已出访92次,涉足57个国家,是其前任曼莫汉•辛格五年出访次数的近两倍。
While Modi's visits have won praise from supporters for boosting India's global profile, the costs associated with them — and the optics of traveling abroad so often in a country where many farmers are struggling — have triggered some criticism. Congress presi nt Rahul Gandhi has accused Modi of ignoring problems at home.
尽管莫迪的出访提升了印度的全球形象,赢得了支持者的赞扬,但也因频繁出访带来的成本而招致一些批评,尤其是很多农民在苦苦挣扎之际。国大党主席拉胡尔·甘地指责莫迪忽视国内问题。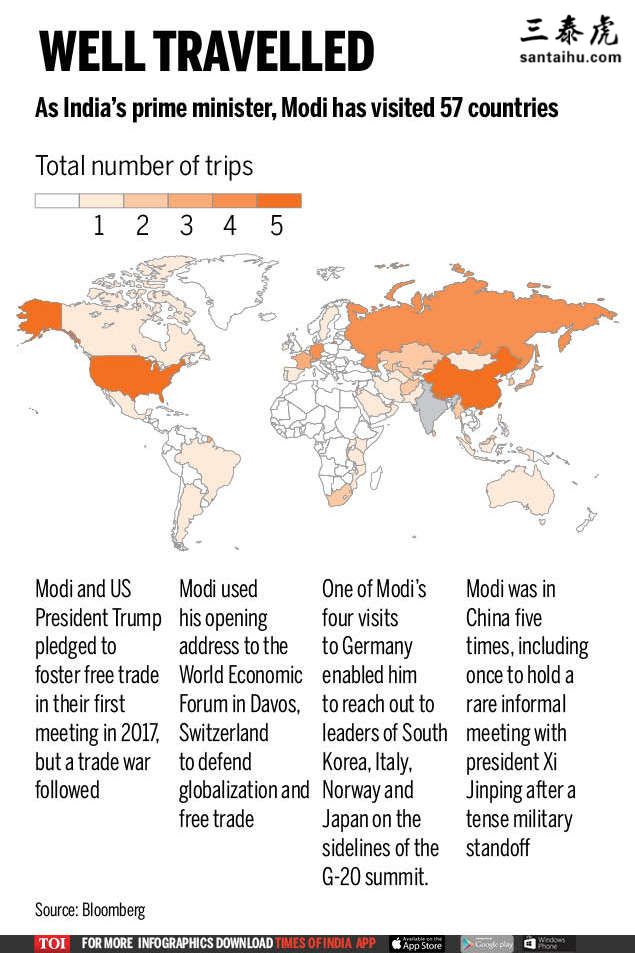 A closer look at Modi's trips show that while some have yielded vague agreements that may not develop into anything substantial, doubters may still be exaggerating the negatives. Summit meetings accounted for roughly a third of Modi's visits. And his arrival in each foreign capital made a symbolic statement about New Delhi's world outlook.
尽管莫迪出访时与一些国家达成了初步协议,然而这些协议可能不会是任何实质性的协议,持怀疑态度的人可能仍在夸大负面影响。约有三分之一的出访时间,莫迪是去参加峰会。他每抵达一个国家的首都,都对新德里的世界观发表了具有象征意义的声明。
Modi also made a point of repeatedly meeting leaders such as Japan's Shinzo Abe and Russia's Vladimir Putin, whose countries provide much-needed industrial investment and defense technology.
莫迪还强调多次与日本首相安倍晋三和俄罗斯总统弗拉基米尔•普京等领导人举行会晤,这两个国家提供了亟需的工业投资和国防技术。
Here's more:
Record FDI
Foreign direct investment into India in Modi's first term amounted to $193 billion, 50 percent more than the preceding five years.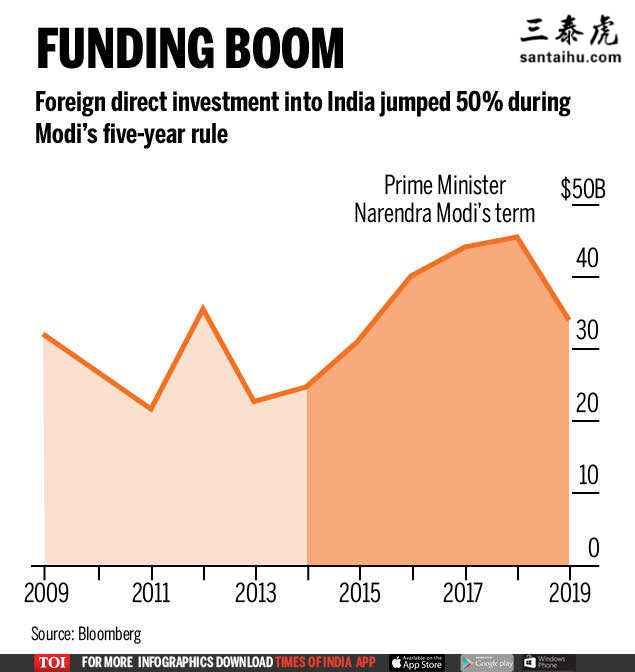 创纪录的外国直接投资(FDI)
在莫迪的第一个任期内,外国对印度的直接投资达到1930亿美元,比前五年增加了50%。
Energy security
Under Modi, India started purchasing crude and liquefied natural gas cargoes from the US for the first time. In the last five years, he struck deals from Russia to the Middle East securing oil assets for India. He got the world's biggest oil exporter Saudi Aramco to agree to invest in India's largest oil refinery, and the UAE to fill up strategic oil reserves, reducing the strain on state finances.
能源安全
莫迪执政期间,印度首次开始从美国购买原油和液化天然气。在过去5年里,莫迪与从俄罗斯到中东的许多国家达成石油协议。莫迪让全球最大的石油出口商沙特阿美同意投资印度最大的炼油厂,并让阿联酋充实战略石油储备,减轻了国家财政的压力。

Big projects
Modi has tried to tap a number of countries for strategic projects, which has occasionally brought him po itical grief.
After making the first-ever visit to Israel by an Indian premier, Modi has continued to seek advanced defense and water technology from Tel Aviv. With Japan, India is building a bullet train in Modi's native state Gujarat — although the slow pace of land acquisition has led to criticism.
In 2016, Modi signed an $8.7 billion deal for 36 Rafale fighter planes from France. The move has come under intense scrutiny since then for alleged rule violations, which his go nment has denied. Opponents have continued to use the deal to question the go nment's anti-co ption credentials.
大项目
莫迪与多个国家达成战略项目,但这偶尔会给他带来上的悲哀。
在印度总理首次访问以色列之后,莫迪继续从特拉维夫引进先进技术。携手日本,印度正在莫迪的家乡古吉拉特邦建造高铁——尽管缓慢的征地进度招致了批评。
2016年,莫迪签署了一项价值87亿美元的协议,从法国购买36架阵风战斗机。
Soft power
Modi has tried to use his trips to bolster India's global image as an investment destination and a rising global power. He's addressed the World Economic Forum in Davos and the Shangri-La security dialogue in Singapore.
软实力
莫迪出访国外,旨在提升印度作为投资目的地和崛起中的全球大国的形象。他在达沃斯世界经济论坛和新加坡香格里拉安全对话上发表了讲话。
以下是印度时报读者评论:
译文来源:三泰虎 http://www.santaihu.com/47549.html 译者:Jessica.Wu
外文:https://timesofindia.indiatimes.com
Suman Bhat • Blore • 1 day ago
Rs1,484 crore was spent on Narendra Modi''s travels abroad. The amount of FDI that came in from 2014-2018 is 15,32,157 crore; that is 1032 times the amount spent.The foreign tourist arrivals in India has gone up from 70 lakh in 2013 to 1 crore in 2017. This is an increase of almost 45%: How much Ma-Beta spend on foreign tour & what they get back to the country
莫迪出访花费了148.4亿卢比。2014年至2018年,印度吸引的外国直接投资为15.32157万亿卢比,效益高达1032倍啊。到印度旅游的外国游客从2013年的700万增加到2017年的1000万,几乎增加了45%。
Suman Bhat • 13 hours ago
FDI india was assured as it is a growing economy.
作为一个不断增长的经济体,印度必然能获得外国直接投资。
Ravindran Nambiar Menaputhiyaveettle • Hyderabad • 1 day ago
Unfortunately opposition who critizize Modi day in and day out do not see positive aspects but only see imaginative negative aspects. Problem of Congress is loss of huge commissions in last five years, further loss of commissions will strike at the root of their estence.
不幸的是,日复一日批评莫迪的反对派看不到积极的一面,只看到了想象中的消极面。国大党的问题是,在过去的五年中,他们失去了大量回扣,再这么下去会动摇他们的根基。
Nemam Natarajan Pasupathy • Hyderabad • 1 day ago
What has India gained? Wait for 23 may and count the number of world leaders personally congratulating Modi! You will then understand!
印度获得了什么?等到5月23日,看看有多少世界领导人亲自祝贺莫迪! 你就会明白的!
Nemam Natarajan Pasupathy • New Delhi • 18 hours ago
Certainly they will. He had bought Helicopters from US, Rafale from France, Speedy Rails from Japan, Outdated wons from Israel, Gas fields at High prices from Russia, Bullet Train from Japan..... Very fruitful travels...
莫迪从美国买了直升机,从法国买了阵风战机,从日本买了高铁,从以色列买了过时的武器,从俄罗斯高价买了天然气田……他的出访富有成果啊…
dhanjay • 1 day ago
also compare the money spend by modi for these trips and mounmahan''s 42 trips. modi''s 57 trips cost almost same as manmohan''s 42 trips.
比较一下莫迪和曼莫汉辛格的出访成本,曼莫汉42次出访花费和莫迪57次出访的花费几乎相同。
Samir Rajput • 13 hours ago
ask us..we NRIS feel proud as modi is our PM. World recognise india''s power now.
有莫迪这样的总理,我们感到自豪,现在全世界都承认印度的实力。
ku Singh • 1 day ago
No mommy / daddy / grandparents mollycoddling like the Gandhi family. I like & respect self-made people NarendraModi
拉胡尔·甘地娇生惯养,靠妈妈、爸爸和奶奶。我喜欢并尊重莫迪这种白手起家的人。
Makdxb • INDIA • 1 day ago
Don''t ever expect a positive word from opposition as most of them in the opposition are power hungry people. Even if they see good they can''t agree with it.
不要指望反对党会给出积极的评价,他们中的大多数人盯着权力。即使看到了好的一面,他们也不会承认。
Narem Ss • 13 hours ago
Go abroad, you will know what PM Modi has done. He is the face of an -Indian
去国外走走,你就会知道莫迪总理做了什么,他是能代表印度的面孔。
Deshbhakt • Mumbai • 13 hours ago
Sir. Modi is real patriot and real national !!!
莫迪是真正的爱国者,真正的民族主义者!
Manu M • 1 day ago
It is far better than the previous go nment elites to loot the treasury of the nation and stash the money in foreign countries and get the relatives become richer at the countries expense.
比前任政府好多了。前任政府掠夺国家的财富,把钱藏在国外,肥了亲戚,让国家饱受损失。
Anand Deshpande • Singapore • 13 hours ago
Other countries giving him awards . Corrupt Scamgress is Jealous
其他国家赞赏莫迪,国大党嫉妒了
Dilip • 12 hours ago
International India is become more powerful, strong, admired , Indians in foreign countries get respect recognition, status better than before . The most corrupt nation ranking has improved, there are endless other benefits which we have gained by choosing a powerful PM Modi. Last but not the least Pakistan has been tamed well by this 56 inch Sher -Tiger and will not dare to repeat such attacks, knowing well they will be dest yed without any warning
印度变得更加强大,更受尊敬,印度人在国外得到尊重和认可,地位比以前更高了。我们选择了一个强大的莫迪总理,获得了无尽的好处。巴基斯坦已经被莫迪驯服了,不敢再发动袭击
Ashok Kth • Udupi • 13 hours ago
Modiji made India stronger and Richer ...He made and Pakistan poorer and poorer..
莫迪让印度变得更强大、更富有,和巴基斯坦显得越来越穷。
Anil • 11 hours ago
Dumb Rahul Gandhi and his corrupt won't be able to understand this.... Shameless Rahul Gandhi only knows how to spread lies.... People in India will slap on his face soon
愚蠢的拉胡尔·甘地和他的政党理解不来这一点……无耻的拉胡尔·甘地只懂得说谎……印度人很快就会打他的脸的
Lla • New Delhi • 12 hours ago
The most sincere PM India has seen in decades.
莫迪是印度几十年来最真诚的总理
Lla • Bengaluru • 10 hours ago
The biggest liar this nation has produced!!!
莫迪是这个国家最能撒谎的!!
Prakash • 12 hours ago
Modi changedthe status of India to a new high
莫迪将印度的地位提升到了一个新的高度
Chandrasekaran Krishnamurthy • 6 hours ago
What is not achieved in 65 years has been achieved by Modi in five years beyond doubt.
过去65年来没有取得的成就,莫迪在5年内都取得了
Lakshminarasimha • Bangalore • 12 hours ago
This is his first term as PM and he has achieved this much. What did Congress achieve in 10 years? You have unreasonable expectations. Be practical and unbiased
这是莫迪的第一任期,他已经取得了这么大的成就。国大党10年内取得了什么成就? 大家要实事求是,不偏不倚。
Lakshminarasimha Sharma • 8 hours ago
what has achieve by Modi?? He hasn''t done anything what he had promise to the nation instead indian suffered because of him.open your eyes and you will see whats infront of you.
莫迪取得了什么成就?他对国家的承诺一个都没兑现,印度人反而受苦了。睁开眼睛,好好看看。
Vijay Kumar • 12 hours ago
Outcomes of Modi external visits are far greater than any pm in Indian history. He is the best pm one can get for any country. Only anti national and anti socials oppose him.
莫迪出访的成果远远超过印度历史上任何一位总理。他是世界上最优秀的总理。
Ajitkumar Vijaya • BANGALORE • 12 hours ago
Indias one and only truly globalised prime minister who brought dignity and honour back to our country
莫迪是印度唯一一位真正走上国际舞台的总理,他把尊严和荣誉带回了我们的国家。
Sandeep • 12 hours ago
i cannot expect pappu to do even 5% of these.
拉胡尔连莫迪的零头都做不到
Rohit Mohan • 11 hours ago
Taxpayers money really well spent.
纳税人的钱花得真值。
Jai Gupta • 12 hours ago
Prime Minister is actually did nothing except foreign visits... He is actually foreign Minister of india not sushma swaraj....v
除了出访外,莫迪实际上什么也没做,他更适合外交部长这个职位。
Pritam Dhal • Toronto, Ontario • 12 hours ago
This will happen if we make a chaiw to PM
我们选了一个卖茶人当总理,这不足为奇。
Zenith India • 13 hours ago
Achieved NOTHING .... World Tour Package
巡游世界,一无所获。