Cyclone Fani crosses Odisha coast, weather across Asian subcontinent affected: Key points
热带气旋"法尼"穿过奥里萨邦海岸,影响整个亚洲次大陆的天气
* Cyclone Fani crossed the Odisha coast near Puri by Friday evening and by midnight to Saturday early morning the storm is likely to enter West Bengal with a wind speed of 90-100 kmph gusting to 115 kmph. The storm would further weaken by afternoon or evening on Sunday and move to Bangladesh with a wind speed of 60-70 kmph. The cyclone is also affecting weather conditions of neighboring countries.
热带气旋"法尼"于周五晚间越过普里附近的奥里萨邦海岸,到周六午夜至凌晨,"法尼"或以每小时90至100公里的风速进入西孟加拉邦,并最终达到每小时115公里。到周日下午或晚上,风暴将进一步减弱,并以每小时60至70公里的风速向孟加拉国移动。该气旋也影响了邻国的天气状况。
* While Fani is expected to enter West Bengal with a wind speed of 90-100 kmph gusting to 115 kmph by Friday midnight or early Saturday, the intense rainfall and winds have partly destroyed nearly 50 houses in East Midnapore, West Bengal.
尽管预计"法尼"将以90-100公里/小时的风速进入西孟加拉邦,到周五午夜或周六凌晨,风速将达到115公里/小时,强降雨和大风已经摧毁了西孟加拉邦东米德纳普尔附近50座房屋。
* The Assam go nment has sounded an alert in all districts of the state following a warning that Cyclone Fani will lash Assam and other parts of the northeastern region for two days starting Saturday early hours.
阿萨姆邦政府已向该邦发出警报。此前已发出警告,从周六凌晨开始,"法尼"将袭击阿萨姆邦和东北部其他地区,持续两天。
* One man died of a heart attack in one of several thousand shelters set up in Odisha, while another was killed by a falling tree on Friday, authorities said. Media reports put the death toll at up to six, but officials could not confirm this.
当局表示,在奥里萨邦建立的数千个避难所中,有一名男子死于心脏病发作,另一名男子于周五被一棵倒下的树压死。媒体报道称死亡人数已达6人,但官方尚未证实。
* The cyclone caused extensive damage to AIIMS Bhubaneswar with storm uprooting several overhead water tanks, part of the roof and several electricity poles in the campus. However, all patients, staff and students were reported safe.
这场热带气旋对布巴内斯瓦尔造成了重大损害,掀翻了学校上空的几个水箱、部分屋顶和数根电线杆。然而,据报道,所有患者、工作人员和学生都是安全的。
* A baby was born in an Odisha railway hospital as the extremely severe storm wreaked its havoc. The newborn has been named after the storm- Fani by the 32-year old mother. Both were reported to be in good health.
在奥里萨邦铁路医院,有一名婴儿出生。这位32岁的母亲以这场风暴的名称"法尼"为孩子取名。据报道,母子身体状况良好。
* Prime Minister Narendra Modi assured all possible help to the state go nments affected by the cyclone. He announced that more than Rs 1,000 crore was released to concerned go nments yesterday in advance. The PM while addressing an election rally in Rajashtan's Karauli further assured the affected people that nation and Centre was with them.
莫迪总理保证向受灾的邦政府提供一切可能的帮助。他宣布,昨天已提前向有关政府发放了逾100亿卢比款项。莫迪总理在拉贾什坦Karauli举行的选举集会上发表讲话时进一步向受影响的人民保证,国家和中央政府与他们同在。
* Telecom operator Vodafone Idea said it has initiated contingency measures, including activating emergency helpline number and free SMS, for its customers in Odisha.
电信运营商沃达丰Idea表示,已启动应急措施,包括激活奥里萨邦的紧急求助电话号码和免费短信服务。
* The cyclonic system, whose eye is around 28 km wide, is moving at around 30 kmph. But within the system, the winds are reaching speeds of up to 175 kilometers per hour that may go up to 200 kmph.
该气旋风速达到了175公里每小时,或将上升至200公里每小时。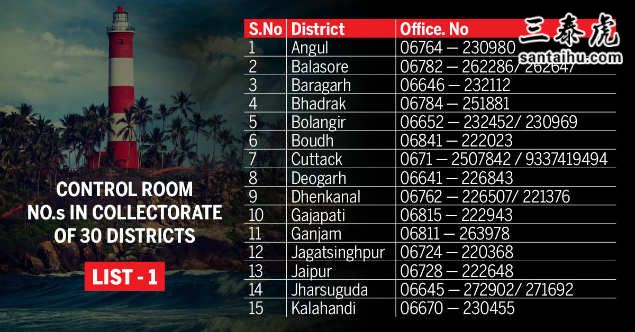 * On Friday evening civil aviation minister Suresh Prabhu said that the aviation regulator DGCA will issue revised advisories to airlines "as and when necessary", as flight operations at the Biju Patnaik International Airport remain suspended since Thursday midnight.
周五晚间,印度民航部长苏雷什•普拉布表示,航空监管机构印度民航总局(DGCA)将"在必要时"向航空公司发布公告,布巴内斯瓦尔机场的航班运营自周四午夜以来仍处于暂停状态。
* More than 200 trains have been cancelled and operations at Paradip, Gopalpur and Dhamra ports stood closed since Thursday.
自周四以来,已有200多列火车被取消,帕拉迪普、戈帕尔普尔和达姆拉的港口均已关闭。
* All educational institutions, commercial establishments, shops and offices were closed on Friday morning along with restricted movement of vehicles.
周五上午,所有教育机构、商业机构、商店和办公室均已关闭,车辆出行也受到了限制。
* The go nment has set up 4,852 cyclone and flood shelters, where evacuees have been provided with cooked food.
政府已经建立了4852个避难所,向撤离者提供熟食。
* As many as 604 women, who are at advanced stages of pregnancy were shifted to maternal care centres. The health department formed 302 rapid response teams.
多达604名处于怀孕后期的妇女被转移到产妇保健中心。卫生部组建了302个快速反应小组。
印度时报读者的评论:
译文来源:三泰虎 http://www.santaihu.com/47548.html 译者:Jessica.Wu
外文:https://timesofindia.indiatimes.com
AG CARES• 2 hours ago
The cyclone has caused too much harm to the economy of Odisha.
此次气旋对奥里萨邦的经济造成了严重损失
PRASAD GUNDEKAR• 2 hours ago
Bad news such situation distroy the lack of people life
这让人们的生活雪上加霜
Rahil Dholakia• 2 hours ago
May god bless them !!
愿神保佑他们!!
Abhinav• 2 hours ago
I wish may everyone be safe
祝大家平安
Debasish • 11 hours ago
this is the sign of a developed country, india under modi is performing superb.
这是一个国家发达的标志,莫迪领导下的印度表现出色。
DEBASISH NAYAK • 4 hours ago
LET ME KNOW WHO ESTABLISHED NDRF,
是谁成立了印度国家灾害快速反应部队
kuldeep kumar • 3 hours ago
Congress did in 2005, but after 50 years of ruling India! That was fast. But initially even that NDRF setup itself was a disaster.
2005年,国大党成立的,在执政50年后才成立。就是这么速度

Pralay • 10 hours ago
For Sometimes Please stop talking about Politics...
This is very serious issue.. U can't even imagine how dangerous 200 kmh wind is...
atleast keep calm for sometimes and pray for the people, animals , trees out there... their lives is in horrible situation... we only can pray for Marcy to our Mather nature....
问题很严重。你无法想象时速200公里的风有多可怕……
保持冷静,为受灾的人和动物祈祷……他们的生活处于可怕的境地…我们只能乞求大自然的怜悯……
pralay mandal • 3 hours ago
Some cannot get off the election mode.
有些人摆脱不了选举模式。
pralay mandal • Chennai • 3 hours ago
Still many suspects Modi behind this!
仍有很多人怀疑莫迪是幕后黑手!
Ganesh Vishvas • Bangalore • 12 hours ago
Pray God bring down and halt the might of the cyclone.
祈求神降低旋风的威力,并让它停下来。
Alert • 11 hours ago
on thing I likes is Govt preparedness and their willingness to work proactive. the target of Zero casualty is also commendable. just shows Govt values life.
政府时刻做好准备,随时准备出动,这点我喜欢。零伤亡的目标也值得称赞,这显示了政府重视生命。
Suryanarayana Krishnamurthy • 11 hours ago
Full appreciation to NDRF for making all efforts to save human lives. Surprising why pappu is yet to blame Modi for having started Fani.
非常感谢国家灾害快速反应部队为救人所作的一切努力。令人惊讶的是,为什么拉胡尔还在指责莫迪发动了"气旋"。
Suryanarayana Krishnamurthy • New Delhi • 7 hours ago
Expect some comments from Surjewala by evening accusing Modi for suffering of people in Orissa.
预计到晚上会有一些评论指责莫迪让奥里萨邦人民受苦。
Chayan • 10 hours ago
dear Indian the whole world is with u
亲爱的印度人,全世界都与你们同在
Venkat Apr • 2 hours ago
This is not state go nment. It''s all the preparedness of Modi go nment who deployed ships and helicopters along with helping people to shift to safer places. You Seems like a Modi hater but most of the people in India love Modi. And he is coming back.
莫迪政府派出了直升机,把人们转移到更安全的地方。有些人讨厌莫迪,大多数印度人还是喜欢莫迪的。他会连任的。
Deepak • New Delhi • 11 hours ago
Government looks all prepared to deal with the situation. Great to see such proactive measures.
看来政府做好了应对这种情况的措施,开心
Suchitra Pradhan • 11 hours ago
Even though odisha being poor state but the disaster preparedness is high class.
虽然奥里萨邦很穷,但防灾准备是一流的。
Akhil Barman • 8 hours ago
Again, we should donate for the victims.
我们应该为受灾人民捐款。
Prem Narayan • 11 hours ago
Everyone must cooperate in this natural disasters relief operation. Please no politics.
在这场救灾行动中,大家要互相配合。请不要谈论政治。
Excuse • 7 hours ago
Now SLAVES will say Modi did this to divert Election pressure....
现在努力们会说这是莫迪造成的,他这样做是为了转移选举压力…
Archana Dash • 8 hours ago
pray to god for less casualty
祈求神减少伤亡
Bande mataram • 2 hours ago
This is the well preparedness of Modi go nment. I was in Florida when a few cyclones hits there but Modi go nment preparedness was far much better than US. We are becoming a developed nation.
莫迪政府做好了充分准备。我在佛罗里达遇到几次飓风,莫迪政府的准备比美国政府充分得多。印度正在成为一个发达国家。
Mahendra Vir Saxena • New Delhi • 7 hours ago
My heartfelt sympathies with the affected person in Orissa.
对奥里萨邦受灾群众深表同情。
RJ Khurana • 9 hours ago
I am glad that the state of Odisha has made adequate preparation.
很高兴奥里萨邦已经做好了充分的准备。
Some One • 11 hours ago
Nature fury...!
大自然怒了…!
rahul ahuja • 11 hours ago
Hope Fani cyclone will take away Narrenderr Modi with it
希望"法尼"把莫迪带走
rahul ahuja • 11 hours ago
It should first take away hypocrites like you and idiots like RaGa
应该先带走你这样的伪君子