I have several friends in opposition, Mamata still gifts me kurtas every year: PM Narendra Modi
莫迪总理:我有一些反对党朋友,玛玛塔每年都送我"库尔塔衫"(印度无领长衬衫)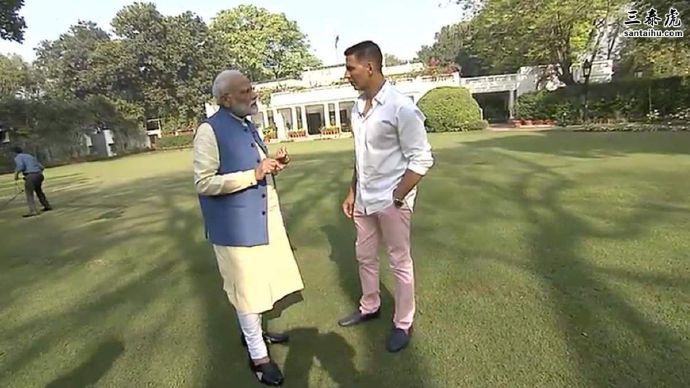 NEW DELHI: Prime Minister Narendra Modi on Wednesday revealed that he shares a warm relationship with many opposition leaders, including West Bengal chief minister Mamata Banerjee.
新德里:周三,印度总理纳伦德拉·莫迪透露,他与包括西孟加拉邦首席部长玛玛塔·班纳吉在内的许多反对派领导人关系友好。
In an interview to ANI with Bollywood actor Akshay Kumar, the Prime Minister said that the Trinamool Congress chief still sends him kurtas and Bengali sweets "once or twice" in a year.
在接受宝莱坞演员阿克沙伊•库马尔采访时,莫迪表示,这位国大党部长每年仍给他送"库尔塔衫"和孟加拉糖果。
"I have several friends in opposition parties. You will be surprised to know that Mamata didi even now will personally select one or two kurtas for me every year," he said.
莫迪称:"我有几个反对党朋友。即使到现在,玛玛塔每年仍会亲自为我挑选1-2件'库尔塔衫',这可能会让你感到惊讶。"
The Prime Minister also revealed that the Bangladeshi Prime Minister Sheikh Hasina started the trend of exchanging Bengali sweets. "When Mamata didi came to know about it, she too started sending me Bengali sweets," he added.
莫迪总理还透露,孟加拉总理谢赫·哈西娜开启了送孟加拉糖果的潮流,借此来加强沟通交流。"玛玛塔知道此事后,她也开始给我寄孟加拉糖果。"莫迪补充道。
When Prime Minister was asked if he longs to live with his family, the PM said that he had detached himself from his family at a very young age.
当被问及总理是否渴望与家人一起生活时,莫迪总理称他很小的时候就与家人分开了。
"If I had become Prime Minister and then left the home then naturally I would have wanted to stay with them. However, I left my family at a very young age," he said.
"如果我是在当上了总理后才离开了家,我自然会想和家人生活在一起。然而,我很小的时候就离开家了。"莫迪补充道。
"Since I left them at such an early stage in my life, I have lived a detached life. It is difficult to leave the house after a certain stage in life. It might have hurt when I left but now I have got accustomed to living this life," the PM added.
"我在很早的时候就离开了他们,我一直独自生活。如果经历了某段时期再离家,那是很难做到的。我离开的时候可能会很难过,但现在我已经习惯了这样的生活"
印度时报读者评论:
译文来源:三泰虎 http://www.santaihu.com/47487.html 译者:Jessica.Wu
外文:https://timesofindia.indiatimes.com
Kumar krishnan • 2 days ago
Love you dear Modiji & wish you long life & all the best wishes
亲爱的莫迪,爱你,祝你长寿,万事如意。
Kumar krishnan • BLR • 2 days ago
Modi was extremely mature for his age to realize that his "marriage" was really child marriage and it was unlawful to start with. Besides, he realized that it would interfere with the path he sought - One of service to humanity and that''''s why he went Ramakrishna Ashram and sought to become a monk there like Swami Vivekananda, his idol. Monks at Ramakrishan Ashram advised him to follow the path of politics to serve the humanity and he pursued that goal by serving people through RSS. Just as Budha left his wife to pursue purity, realization to serve humanity, Modi left his wife to serve humanity and the country...Strangely enough Gautam Budha''s wife's name is Yashodhara and Modi''''s "wife''''s" is Yashoda (spelled Jasodha) too...Country is blessed to have Modi as the leader indeed...
那个时候的莫迪已经非常成熟,意识到他的"婚姻"实际上是童婚,从一开始就是非法的。此外,他意识到这将妨碍他追求梦想——也就是为人类服务,这也是他去罗摩克里希纳道场修行的原因,他希望像他的偶像斯瓦米·维韦卡南达一样,成为一名僧侣。罗摩克里希纳道场的僧侣们建议他从政,为人类服务,他加入RSS,为人们服务以实现这个目标。就像佛陀离开他的妻子去追求圣洁、为人类服务一样,莫迪离开他的妻子是去为人类和国家服务……巧的是,佛陀妻子的名字是Yashodhara,而Modi的妻子的名字也是Yashoda。这个国家何其有幸,居然能有莫迪这样的领导人。
Hariharan K.Krishnan • 2 days ago
A GREAT Preson will remain GREAT iirespective of what a handful of opposition propogates about him. We can be proud of our Prime Minister. I really feel for him hearing the false propoganda against him by the Opposition.... In the last 5 years have we ever heard of him speaking anything communal?? He Always speaks of 130 Crores Indians....
这位伟大的人将会继续伟大下去,而不像少数反对派所宣传的那样。我们为印度总理感到骄傲。听到反对派对他的虚假宣传,我真的很同情他……在过去的5年里,他每次都提到13亿印度人…
Hariharan K.Krishnan • 1 day ago
Each one of us should make at least 10 people to realize the importance of Modi coming to power again.
我们每个人都应该让周边至少10个人认识到让莫迪连任的重要性。
Hemant • Mumbai • 2 days ago
The humblest politician in India interviewed by the Humblest actor of Bollywood..
印度最谦逊的政治家接受宝莱坞最谦逊演员的采访
Sandeep Bhandarkar • 2 days ago
when Modiji gets elected as PM again,he needs to deliver more than the last 5 years.All the best Modiji. Wishing you all the success.
如果莫迪再次当选总理,他需要做出比过去5年更多的贡献。祝莫迪一切顺利,祝你成功。
Sandeep Bhandarkar • 2 days ago
We have lot of expectations from his second term .Let us see how will he do
我们对莫迪的第二任期有很多期待,看看他会怎么做
Love your heritage • 2 days ago
Modiji, keep a safe distance from this lady who essentially has destroyed the true spirit and culture of Bengal!!!
莫迪,和玛玛塔保持安全距离,她已经把孟加拉的精神文化破坏殆尽!!
Love your heritage • Pakistan • 2 days ago
Modi has kept his own house safe by even kicking out his own wife from his culture and spirit.
莫迪甚至将自己的妻子赶出了自己的文化和精神世界。
Arhaan Dey • 2 days ago
As a proud Bengali, I would like to warn PM Modi NOT to accept any gifts from Mumtaz Begum. Mumtaz has made life hell for Hindus in West Bengal.
作为一个孟加拉人,我想警告莫迪总理不要接受玛玛塔的礼物。在西孟加拉邦,玛玛塔让印度教徒的生活变成了炼狱。
Pradeep • 2 days ago
Whether you love Narendra Modiji or hate him, it is your choice. He is unique - only one - person in the country, all Indians are discussing about, on a daily basis.
不管你喜不喜欢莫迪,他都是你的选择。他是这个国家的唯一选择,所有印度人每天都在谈论他。
H E L L O • 2 days ago
Modiji left home for serving country.
Raul Vinci ditched own country for Swiss account.
莫迪离开家,是为了这个国家。
而拉胡尔抛弃了自己的国家,是为了增加瑞士银行账户的存款。
Ankit Sehrawat • New Delhi • 2 days ago
Definitely among the best PM India ever had
莫迪绝对是印度有史以来最优秀的总理之一
Truth • 2 days ago
Modi is a very nice person! Hard working!
莫迪是一个好人! 工作非常努力!
Deadsoul • 2 days ago
He need new enemies, the old one are becoming his fan!!!
他需要新的对手,老对手正在成为他的粉丝!!
mahendra thakar • 2 days ago
very honest and straight forward in replies, no hypocrisy, 100% dedicated to the nation, no personal ambitions, no family or personal friends God bless you and may give you long healthy life
非常诚实直率的回答,一点不虚伪。莫迪百分之百把自己奉献给了国家,没有个人野心,没有家人,也没有私交,愿神保佑你,愿你健康长寿
Sunny • Noida • 2 days ago
Modi ji will be re elected and lead the country to another India.. a better
莫迪将再次当选,带领国家走向新高度。
Love your heritage • 2 days ago
This lady is a snake which can bite anyone.She has created an ecosystem of co ption, illegal activities with police, mafias using state machinery through hate and fear. She can do anything to win!!!
玛玛塔是一条蛇,谁都敢咬。她创造了一个附败的生态系统。为了获胜,她什么都做得出来。
prateek Modi • Jaipur, Rajasthan • 2 days ago
good luck Modi ji
莫迪,祝你好运
Indian • Mumbai • 2 days ago
In today's politics hardly there is such a multi talented and with great humour individual exists.
After long suffering India is truly blessed with Great Leader to pull the Nation out of Pit.
在当今政坛中,几乎没有像莫迪这样多才多艺、幽默风趣的长者
在经历了长期的苦难之后,印度终于迎来了一位伟大的领袖,带领国家走出困境。
Madan Mohan Siddhanthi • Mumbai • 2 days ago
but I know modi ji has been trying to resurrect this country which was led to rot under co ption and low value systems
莫迪一直在努力复兴这个腐朽的国家
Spidey • 2 days ago
He has time to give interviews but no press conference .
他有时间接受采访,却没时间开新闻发布会。
Ajay Gupta • 2 days ago
East or West Modi is the best.
不管在东方或西方,莫迪都是最棒的。
ranjan vohra • 2 days ago
love you modi ji . India needs you as a prime minister for another 20 years . i will pray to God for your good health
爱你,莫迪。印度需要你再当20年的总理。为了你的健康,我将向神祈祷
Arun Choudhary • 2 days ago
Modi ji is very true ,,,honest ,,hard working leader of India who helps to lmprove India ,,,not their own family & relatives
莫迪是非常真实的,诚实的,努力工作的印度领导人,帮助印度实现发展,而不是帮助自己的家人和亲戚
Philipose Sunny Philipose • 2 days ago
Jay modygy you are the last hope for India
莫迪是印度最后的希望
2 days ago
VOTE for MoDi
投票给莫迪
Bhanoo dwivedi • 2 days ago
We are with you sir
我们都支持你
Sanjoy Pandey • Kolkata • 2 days ago
We need Modiji as our PM for a very long time for the development of a strong nation.
为了建设一个强大的国家,我们需要莫迪长期担任印度总理。
Bharath Reddy • 2 days ago
Modi spent Rs 4343 crores on publicity and advertizing. RTI
This is part of it
莫迪花了434.3亿卢比用于宣传,这还只是冰山一角。