On 1st visit as President, Joe Biden backs India for permanent UNSC seat
乔·拜登首次正式访印,支持印度成为联合国安理会常任理事国
NEW DELHI: Picking up from where they left during PM Narendra Modi's first state visit to the US earlier this year, which saw landmark achievements in defence and technology partnerships, President Joe Biden and PM Modi sought to step up the momentum in bilateral ties, with Biden reiterating support for India's bid for a permanent seat at the UN Security Council and lauding India's presidency of the G20.
新德里:今年早些时候,莫迪总理对美国进行了首次国事访问,在国防和技术伙伴关系方面取得了里程碑式的成就。之后,拜登总统和莫迪总理积极促进双边关系的势头,拜登重申支持印度申请联合国安理会常任理事国席位,并赞扬印度担任20国集团主席国。
"Continuing to share the view that global governance must be more inclusive and representative, President Biden reaffirmed his support for a reformed UN Security Council with India as a permanent member," the two sides said in a joint statement, which also mentioned the US's backing for India's return to the UNSC as a non-permanent member in 2028-29.
双方在一份联合声明中表示:"拜登总统重申全球治理必须加强包容性和代表性的观点,重申了他支持印度在改革后的联合国安理会担任常任理事国。"该声明提及美国支持印度在2028-29年作为非常任理事国重返安理会。
PM Modi reciprocated in full measure and thanked Biden for the "consistent support received from the US in ensuring success of India's G20 presidency". He also thanked the US president's 'vision and commitment to bilateral relations'.
莫迪总理做出了充分的回应,并感谢美国始终如一地支持印度担任G20轮值主席国。他还感谢美国总统"对双边关系的愿景和承诺"。
The two leaders also sought to build on the cooperation under the Initiative on Critical and Emerging Technology (iCET) to build open, accessible, secure and resilient technology ecosystems and value chains.
They also announced a midterm review of the initiative later this month, as India and the US look to simplify the regulatory framework and remove barriers in defence and hi-tech trade.
两位领导人表示希望在关键和新兴技术战略下加强合作,以建立开放、安全的技术生态系统和价值链。
他们还在本月晚些时候宣布了对该提案的中期审查,印度和美国希望简化监管框架,并消除国防和高科技贸易的壁垒。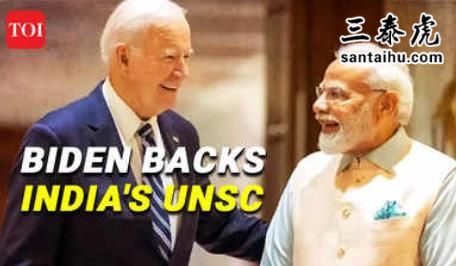 以下是印度时报读者的评价:
eknath • mumbai • 3 hours ago
DONT WASTE TIME ON WATCHING USELESS FAKE MOVIE JAWAN . PLEASE WATCH OUR BELOVED PM MODI AT HIS BEST IN HOISTING BHARAT WITH WORLD LEADERS AT THE G-20 SUMMIT -- JAIHIND !!!
别浪费时间看没用的虚构电影《印度大兵》了。看看我们敬爱的莫迪总理在20国集团峰会上与世界领导人一起高举印度国旗的精彩表现就够了。印度必胜!!!
• 4 hours ago
Pappu's obligatory acts abroad like always and now towards China and George Soros for his cheap politics can impact India's bid for permanent seat in UNSC
拉胡尔过去在国外的行为以及现在对中国和乔治·索罗斯的廉价政治行为,可能会影响印度申请联合国安理会常任理事国席位。
eknath • mumbai • 4 hours ago
'WAKE-UP, WAKE-UP, WAKE-UP , "BHARAT "PAPPU IS GONE ABROAD , TO INSULT AND DEGRADE BHARAT (HE IS ILLITERATE, UNEDUCATED, CHEAP, IGNORANT MORON ) LET US GET TOGETHER AND DEFEAT THIS ANTI-INDIAN AND THE OPPOSITION AND CORRUPT CONGRESS )'
"醒醒,醒醒,醒醒,拉胡尔去国外羞辱和贬低印度人了(他是个文盲,是个没受过教育、卑鄙无知的白痴),我们要团结起来打败反印度、腐败的反动国大党)。"
• 4 hours ago
BJP should buy all UN Security Council members & make them choose Modijee as Chairman of UNSC.
人民党应该收买所有联合国安理会成员,让他们选莫迪为安理会主席。
• R Venkatesh Govind • 3 hours ago
Are you an anti-Modi or anti-Indian..??
你究竟是反莫迪还是反印度?
Mmmm • 4 hours ago
What a contrast! All the world leaders want to give right place and support when they visit us, while the FAKEindian IBD-ITCHfamily always doing laundry in the foreign waters. Shame on IBD-ITCHfamily.
多么鲜明的对比啊!所有的世界领导人访问印度时,都愿意对印度表达善意和支持,而假印度人总是在外国抹黑印度,真为他感到羞耻。
• 4 hours ago
UNSC is outdated ominous reckless hi hi power center irrelevant obnoxous today. need of the hour is total reform of UN System to pilot new meaningful world order to preempt any war n global cohesive sync. US support comes at a hefty billions of dollars worth military drones order by bjp regime
联合国安理会已经过时了,是不祥、鲁莽、不值一提、令人生厌的权力机构了。当务之急是全面改革联合国系统,开创世界新秩序,杜绝战争,提高全球凝聚力。美国的支持来自人民党政权价值数十亿美元的军用无人机订单。
• 4 hours ago
The Veto right by exsting permanent members is fundamental reason why India cant get that. One way or other China would veto that.
现有常任理事国的否决权才是印度无法获得常理会席位的根本原因。中国是一定会投出否决票的。
Bhola Thakur • Bhopal • 4 hours ago
If the POTUS recommends India for a permanent UNSC seat, why is BHARAT so happy about it?
美国总统推荐印度成为联合国安理会常任理事国,印度为什么会如此高兴?
universal • USA • 5 hours ago
Feku modi did it again creating fake image about india by hiding slum areas with green net making everything extra shiny and even banning autos from the streets does modi think everyone is fool like him to believe his fake tactics . World knows how indian streets and city looks .
莫迪又一次用绿网遮挡贫民窟,让印度格外光鲜,他甚至不让汽车驶上街道,制造虚假形象。莫迪是觉得大家都像他一样蠢吗?全世界早都知道印度的街道和城市长什么样子了。
• universal • 4 hours ago
one can't imagine level of frustration withing you guys , even on global stage you guys not able to leave national politics
人们无法想象对你们的失望程度,即使在全球舞台上,你们也不忘操纵国家政治
eknath • mumbai • 5 hours ago
''NOW IT IS CONFIRMED THAT OSWASI ANCESTORS WERE HINDUS. HE MUST CONVERT TO HINDUISM AND ABANDON THE SO CALLED FANATIC PEACEFUL RELIGION'''''
"现在已经证实,奥斯瓦西的祖先是印度教徒。他必须皈依印度教,放弃所谓的狂热和平宗教"
eknath • mumbai • 5 hours ago
''''''''OPPOSITION MEET IS NOTHING BUT A TEA-PARTY. THEY WILL BE GATHERING TO ONLY FIND WAYS AND MEANS TO STRENGHTEN THEIR OWN FAMILIES. ONLU PM MODI CAN GIVE STABLE CLEAN GOVERNANCE.
"反对派集会不过是一个茶话会。他们聚集在一起只是为了寻找巩固自己家族地位的方法。只有莫迪总理才能给印度带来稳定、廉洁的治理。"
eknath • mumbai • 5 hours ago
''''WHATEVERVER MEETINGS THE CORRUPT I.N.D.I.A. POLITICIANS , THE OUTCOME IS CLEAR. PEOPLE HAVE REALISED THAT THEY HAVE COME TOGETHER ONLY TO DEFEAT HONEST PM MODI . UNDER THE PM SHIP OF MODI , ALL THEIR UNETHICAL SOURCES OF INCOME THROUGH BRIBES, KICKBACKS, COMMISIONS, CORRUPTION HAS STOPPED.
"和腐败的印度国防部政客们会面的结果是显而易见的。人们已经意识到,他们抱团只是为了打败诚实的莫迪总理。在莫迪总理的领导下,他们通过贿赂、回扣、佣金和腐败等不道德的手段获取收入的来源都被掐断了。
eknath • mumbai • 5 hours ago
COME ON PEOPLE OF INDIA IN 2024 ELECTION LET US ENSURE THAT MODI GETS 85% VOTES IN LOKSABA ELECTION , SO ALL THE PENDING PROGRESS BILLS ARE PASSED
印度人民,加油,在2024年大选中,我们要确保莫迪获得85%的选票,这样所有悬而未决的进步法案就能顺利通过。
eknath • mumbai • 5 hours ago
''''UT IS A SUPER - DUPER FRUSTRATED MAN , HE IS BECOME ECCENTRIC , AND NEEDS TO SEE A JPSCYCHOLOGIST OR HE SHOULD BE ADMITTED IN O A MENTAL ASYLUM --- UBT SENA --- RIP''''
UT是一个大骗子,他现在越来越古怪,必须去看看心理医生,不然就得被送进精神病院了。
eknath • mumbai • 5 hours ago
'JAWAN MOVIE IS LEAKED & NOW AVAILABLE FREE ON TAMILROCKERS, TELEGRAM, MOVIERULEZ (BOYCOTT THE FILM ON OTT, AND IN THEATRES ) JAIHIND !!!!!!!'
《印度大兵》内容造泄露,现在已经可以在tamilrockers、telegram、movierulez上免费观看了,印度必胜!!!
eknath • mumbai • 5 hours ago
'BOYCOTT ALL FILMS OF SRK , HE IS ANTI INDIAN , HE AND THE KHANS ONLY PROMOTE THEIR SO CALLED PEACEFULL RELIGION AND INSULT 80% OF INDIA ( WHO ARE HINDUS ) BOYCOTT THEM ALLL AND SHOW THEM PEOPLE POWER'
"抵制SRK的所有电影,他是反印度分子,他和可汗只是想宣传所谓的和平宗教,侮辱了80%的印度人(印度教徒)。大家一起抵制他们,让他们看看人民的力量。"
Kiran Baliyan • Ahmedabad • 6 hours ago
Enough of backing/supporting, time now to execute it, materialize it. Mouth service is not enough.
这种支持我们听够了,现在就赶紧兑现,开始执行吧,光嘴上说说不行啊。
• 6 hours ago
For India to get into UNSC , China has to be booted out.
印度要想进入联合国安理会,就得把中国踢出去。
Jitesh • Dubai • 6 hours ago
Its china which is the road block in acheiving that UNSC permanent seat or else rest P5 members are all ready for it and infact most of countries across the globe will agree to it...... this offer is available till NaMo is at helm, once he leaves we will back to square one, same old karna hai
中国是印度获得安理会常任理事国席位的障碍,其他五常成员都准备好了,事实上,世界上大多数国家都会同意......这个提议在莫迪掌权之前是可行的,如果他下台,我们就没戏了。
Mohit Goyal • Delhi • 6 hours ago
India-US partnership is very important at the moment. Both the countries are trying to contain China & only these two countries have the ability to counter the dragon
目前,印美伙伴关系非常重要。这两个国家都试图遏制中国,也只有这两个国家有能力对抗中国
• No BS • 6 hours ago
as expected.... I have come only to enjoy these Burnol moments
这不是什么新鲜事……我只是来享受这些欢乐的时刻的
• No BS • 5 hours ago
I disagree with your third point. Your oral orifice can make up for the lack of Toilets if food poisoning happens.
我不同意你说的第三点。发生食物中毒的时候,你的嘴巴可以补上厕所不够用的困扰。
Emilia Saldanha • 6 hours ago
Most of these so called leaders are as good as what gets flushed down.
这些所谓的领导者大多令人作呕。
User Factual - 12 hours ago
As the world comes to India that is Bharat, and celebrates it, Rahul goes to Europe to abuse India and praise China's belt road scheme.Just imagine that.
全世界都来印度为之庆贺,拉胡尔却在欧洲大肆辱骂印度,大赞中国的一带一路。
Sanjoy Pandey - 10 hours ago
During the Modi regime the image of India in theworld is glittering
在莫迪执政期间,印度在世界舞台的形象熠熠生辉。
Gino Smith 12 hours ago
Not a permanent member because of Nehru.
就因为尼赫鲁,印度没能成为常任理事国。
Gentleman- 11hours ago
USA, UK, Russia, France all support for UNSC expansion. But one country opposes for everything. That is CHINA and i. China is blocking for India and Japan.
美国、英国、俄罗斯、法国都支持扩大安理会。但有一个国家反对,就是中国。中国就是想绝了印度和日本的路。
49043- 7 hours ago
Even the critics can not deny that the Global standing of India has reached to tremendous heights never seen in the past under the visionary statesmanship of Modi
就连批评者也无法否认,在莫迪富有原件卓识的领导下,印度的全球地位达到了前所未有的高度。