Enraged monkeys kill 250 DOGS by dragging them to the top of buildings and drop them off 'out of revenge' after pups killed one of their infants in Indian village
印度一村庄,猴子幼崽被杀,愤怒的猴子展开复仇,连杀250只狗,拖到楼顶摔死
Enraged monkeys have killed 250 dogs in an Indian district by dragging them to the top of buildings and trees and drop them.
在印度一个区,愤怒的猴子把250只狗拖到楼顶和树上,然后扔下去摔死。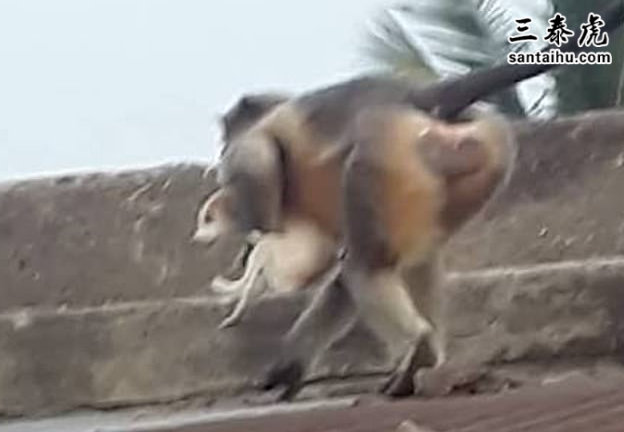 Panic-stricken residents have also come under attack and say the acts of animal violence have been carried out 'in revenge' after a pack of dogs killed one of the monkeys' infants.
惊慌失措的居民也受到了攻击,他们说,这些猴子是为了"报复",因为之前一群狗杀死了猴子的一只幼崽。
The horrific incidents have been reported in the villages of Majalgaon, where 250 dogs are said to have been killed by rampaging primates, and nearby Lavul in Maharashtra's Beed district.
据报道,在马哈拉施特拉邦比德区附近的村庄,有250只狗被狂暴的灵长类动物杀害。
According to India's News18 website, 'not a single pup' is left in Lavul where even school children are being chased and attacked.
据印度News18网站报道,在拉维勒,"一只小狗都没幸免",就连学生也被追赶和攻击。
Villagers have reported that monkeys set upon dogs as soon as they see them before taking them up to a high place - the top of a building or a tree - and drop them to their death.
村民们报告说,猴子一看到狗就攻击它们,然后把它们拖到高处——楼顶部或树顶——把它们扔下去摔死。
The reports say that in the last month alone, 250 dogs have been killed in this way.
报道称,仅上个月就有250只狗被猴子以这种方式摔死。
Pictures in Indian media appeared to confirm the attacks. In one, a monkey can be seen on a roof carrying a puppy to the edge of a building.
印度媒体的照片似乎证实了这件事。其中一张照片,可以看到猴子抱着一只小狗走到楼顶的边缘。
Separate footage, possibly of the incident that sparked the revenge attacks, showed dogs chasing monkeys through the village as local women and children ran for safety. The dogs appeared to be protecting a child.
另一段录像显示,狗在村子里追逐猴子,当地妇女和儿童跑向安全地带,这段录像记录的可能是引发报复性袭击的事件。这些狗似乎在保护一个孩子。
Residents of the village contacted officials at the forest department, asking that they round up the killer monkeys. However, when officers were sent to the village they were unable to catch even one of the primates, News18 said.
村民联系了林业部门的官员,要求他们围捕这些杀人的猴子。然而,当警察被派往村庄时,他们连一只猴子都抓不到,News18说。
According to the villagers, the monkeys are taking revenge.
据村民说,猴子是在报复。
They say that the violence erupted when some of the dogs killed a baby monkey.
他们说,一群狗杀死了一只小猴子,引发了暴力事件。
After the officials failed to deal with the problem, villagers reportedly took it upon themselves to try and save the dogs.
官员们未能处理好这一问题,据报道,村民们承担起了拯救狗的责任。
Clearly not content with the extermination of the dogs, monkeys are now said to be going after young children.
显然,猴子不满足于消灭狗,据说猴子已经开始追逐儿童。
以下是英国每日邮报读者的评论: 译者:Jessica.Wu
JubileeBaby, Warrington, United Kingdom
Theyre lucky there are no Rottweilers or pit bull over there, otherwise it would have been a different story.
猴子很幸运,那里没有罗威纳犬或斗牛犬,否则情况就不一样了。
Von Sparsky, Prescott, United States
Oh, private gun ownership is heavily restricted in India and they have no 2nd Admendment. How's that relying on the govt. to help your village working out for you all?
印度严格限制私人持枪,而且没有第二修正案。怎么能依靠政府来帮助村民解决问题呢?
Sootythecat, Barnsley, United Kingdom
Would make for a great film
可以拍一部电影了
TulsaChic, Tulsa, United States
Given a choice, I'll be on the side of the dogs, EVERY DAY!!!
如果有选择,我站狗的那边
Mark McKnight, London, United Kingdom
So, dogs and monkeys are now acting out of revenge? Absolute nonsense!
狗和猴子的行为是出于报复?绝对胡说八道!
Jezzle, Leeds, United Kingdom
250 dogs. Don't believe it for a second
250只狗,我压根不信
Camuel, Durham, United Kingdom
Start shooting the monkeys.
射杀猴子
Colb, Glasgow, United Kingdom
Kill the monkeys and put an end to the risk of it happening to children.
杀了猴子,悲剧就不会再发生在孩子身上。
Donkey Hote, Manilva, Spain
Why not just shoot the monkeys?
为什么不直接射杀猴子?
MichaNH, Exeter, United States
Wow! Now they're going after children!? Sorry, but it's time to put them down.
哇,现在他们盯上孩子了!抱歉,是时候把它们放倒了。
LILO Lilian, Swansea, United Kingdom
What a horrific story.
真可怕
Linda Jane b, Beaconsfield, United Kingdom
This is shocking , I have never seen such behaviour , but surly something has to be done , if they are trying to take children also. The worlds gone mad
这太令人震惊了,我从未见过这样的,如果想抓走孩子,肯定得做点什么。这个世界疯了!
u_guessed_it, NYC, United States
Omg this is horrific. Those poor dogs
天哪,这太可怕了。那些狗真可怜
RUBYSUNSHINE, Seattle, United States
They need to shoot some of these monkeys to send them back a message. Im not for killing animals but in this case the humans need to show dominance.
他们需要射杀一些猴子,给它们传递一个信息。我不赞成杀死动物,但在这种情况下,人类需要表现出强势地位。
Pyeface, Lancaster
I love all animals except monkeys. Think it is because we are so similar and equally as nasty and cruel.
除了猴子,我喜欢所有动物。因为我们是如此相似,同样的肮脏和残忍。
gbp_zebedee, Northants-on-the-Edge, United Kingdom
They are evolving into humans killing off surrounding species to preserve their own.
它们正进化成人类,杀死周围的物种,保护自己。
TruthfulTim, UK, United Kingdom
Shoot the monkeys. Problem solved.
射杀猴子,问题解决。
SL, Southern England, United Kingdom
They are so human.
它们太像人类了。
rickon, anywhere, United States
I don't believe this story, highly exaggerated.
我不相信,太夸张了。
jkis, London, United Kingdom
If they can do this to dogs, then humans should take precautions.
如果它们对狗这样,那么人类应该采取预防措施。
Deed64, Surrey , United Kingdom
If they are attacking children they will have to be culled now.
如果它们攻击儿童,现在就必须捕杀它们。
Jim Lame, digibuti
Make a banana trap.
做一个香蕉陷阱。
Haust18, San Diego, United States
250? And no one tried to stop them?
250只狗?没人阻止它们吗?
USA-1A, Cleveland, United States
Planet of the Apes: "revenge of the monkeys" it has begun!!
人猿星球:"猴子的复仇"开始了!