British diplomat is hailed as a hero in China after jumping into a river to save a woman from drowning... while others just stand and film him
英国外交官跳进河里救溺水女子,在中国被誉为英雄,而其他人则站在旁边拍照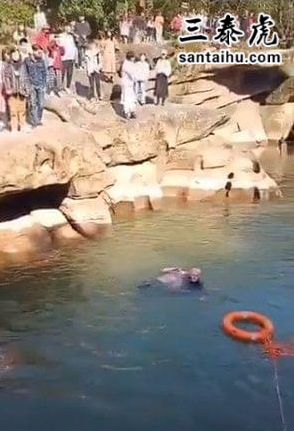 A British diplomat has been hailed as a hero in China after jumping into a river to save a woman from drowning while other bystanders gathered to film him.
一名英国外交官跳入河中救一名落水女子,而其他旁观者却聚在旁边拍照,该外交官在中国被誉为英雄。
Stephen Ellison, the newly appointed British Consul General in Chongqing, was visiting an ancient town on Saturday when another tourist accidentally fell into the water.
周六,英国新任驻重庆总领事斯蒂芬•埃里森(史云森)在一座古镇游玩时,一名游客意外掉入水中。
Mr Ellison, a 61-year-old champion triathlete, leapt into the river without a second thought to rescue the woman, who was already unconscious, according to the British Consulate-General in Chongqing.
据英国驻重庆总领事馆称,现年61岁的铁人三项冠军史云森毫不犹豫地跳入河中救已经失去知觉的女子。
Foreign Secretary Dominic Raab said today that he was 'very proud of' Mr Ellison for saving the stranger.
外交大臣多米尼克·拉布今天表示,他对埃里森先生拯救陌生人的善举感到"非常自豪"。
Social media footage shows a woman accidentally falling into a fast-flowing river while standing on the slippery shore.
社交媒体上的视频显示,一名女子站在岸边,不小心掉进了湍急的河里。
Onlookers can be heard screaming upon witnessing the accident, but no one takes action to save her.
旁观者在目睹事故后尖叫,但没人下去救她。
In the beginning, the woman struggles desperately while being pushed around by the strong currents. But shortly after, she starts to float in the river, seemingly motionless.
一开始,该女子在急流的推动下拼命挣扎。但没过多久,她开始漂浮在河中,似乎一动不动。
The clip then shows a man jumping into the river from the bank and swims towards the woman.
这时,一名男子跳入河中,游向女子。
He grabs her before dragging her towards safety with the help of a life buoy thrown down by onlookers.
他抓住了她,然后用旁观者扔下的救生圈把她拖到安全的地方。
The video of the event has attracted hundreds of comments on China's social media platforms, with most people lauding Mr Ellison for his courage.
视频在中国社交媒体平台上引发了数百条评论,大多数人都称赞埃里森的勇气。
State-run media outlets, such as Xinhua and the Global Times, also flocked to report about Mr Ellison's brave action.
新华社和《环球时报》等媒体也纷纷报道埃里森先生的英勇行为。
eagle-eyed viewer pointed out a detail: '[He] didn't even have time to take off his watch before jumping down. Kudos.'
眼尖的观众指出了一个细节:"(他)还没来得及取下手表就跳了下去。"
Some web users criticised the passersby who stood there and watched on.
一些网友批评了那些站在旁边围观的路人。
According to the British Consulate-General in Chongqing, Mr Ellison has lived and worked in China for nine years.
据英国驻重庆总领事馆称,埃里森在中国生活和工作已有9年。
英国每日邮报读者的评论:译者:Jessica.Wu
Roasted hazelnut, Uk, United Kingdom
Congratulations and well done. I am sure some will say he shouldnt have jumped in, but he did and saved that lady.
做得好。我相信有些人会说他不该跳下去,但是他跳了,救了那位女士。
Aviayor417, Peterborough, United Kingdom
Best of British.
最棒的英国人
Salty seadog, Weymouth, United Kingdom
Anglo/Sino relations quite a bit warmer in this part of China.
在中国的这个地区,中美关系比较好。
Peanut, Bromley
I think its human nature to try and help someone in trouble - well, I certainly would.
我认为帮助有困难的人是人的本性——我肯定也会这么做。
timhk55, hong kong, Hong Kong
He's done more for British-China relations that most can imagine.
他为英中关系做出了重大贡献。
Mr Certain, Bromley, United Kingdom
Definitely a hero.
绝对是个英雄。
Lovely 1, London, United Kingdom
HERO
英雄
KrisS, Atlantis, Åland Islands
Not all British men are gentlemen, but all gentlemen are British.
并非所有的英国人都是绅士,但所有的绅士都是英国人。
Phantom124, Sydney
It's very common in China for people to stand by watching and offer no assistance. Whether you've been run over, Drowning or having a heart attack. Very sad that the society is so selfish and uncaring.
在中国,人们通常袖手旁观,不出手相助,这是很常见的。不管你是被车碾、溺水还是心脏病发作,都没人施以援手,这个社会如此自私冷漠,可悲啊。
David Jodrey, Maryland - DC Metro area, United States
he did well and deserves the praise he is receiving which will no doubt also help britain's image in china
他做得很好,理应得到这样的赞扬,这无疑也有助于提升英国在中国的形象
Gta2010, Glasgow, United Kingdom
Extremely well played sir. The people (if you can call them that) standing about trying to get phones out to put on social media no doubt are just lowlife cowards.
干得非常棒,先生。那些站在旁边拍照并上传到社交媒体上的人无疑是底层的懦夫。
mabelcruet, Whereami, United Kingdom
Passers-by who assist strangers after accidents have been forced to pay for hospital treatment of the person, or accused and charged with injuring them as some form of blackmail. This has made Chinese citizens very wary of helping a stranger.
你要是帮助陌生人,可能被迫支付医院治疗费用,或被指控是肇事者,遭到勒索。这使得中国公民在帮助陌生人时显得谨慎。
Jibberpompeyjabbery, Portsmouth, United Kingdom
This is the world today. Young generation on their phones, filming, and the older generation doing what needs to be done.
这就是今天的世界。年轻一代在用手机拍摄,而老一辈在救人。
Realityislostonhere, Leeds , United Kingdom
He'll probably be expelled as a spy next week.
下星期他可能会被当作间谍开除。
Dwills, N Wales, United Kingdom
Brits doing what they are best at.
英国人在做他们最擅长的事。
Angelface69, Versdale, United States
Excellent work, sir!
做得好,先生!