Another booster shot coming to revive Indian economy, PM Modi may himself unveil some steps
振兴印度经济的另一剂强心剂来了,莫迪总理或亲自公布一些措施
NEW DELHI: The gt is likely to soon announce fresh measures, including big-ticket infrastructure projects and policy changes, to make local industry more competitive, as part of efforts to rebuild the economy in the wake of the coronavir s pandemic, said people with knowledge of the matter.
新德里:知情人士称,作为在新冠疫情后重建经济的努力的一部分,印度政府可能很快会宣布一些新措施,包括大型基础设施项目和政策调整,以提高当地产业的竞争力。
PM Narendra Modi may himself unveil some of these steps, which could also include an initiative to reorient the tax administration, said go nment sources. The measures could be announced as early as August 13, they said.
政府消息人士称,莫迪总理可能会亲自宣布其中一些措施,其中可能还包括重新调整税收管理的倡议。这些措施最早可能在8月13日宣布。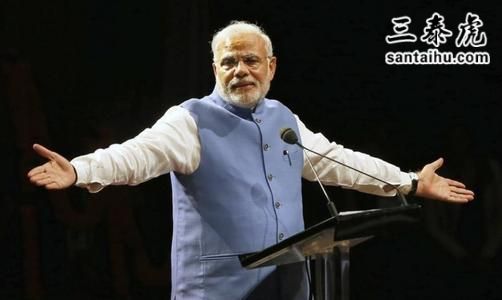 The move to make industry more competitive will be part of the Atmanirbhar Bharat Abhiyan, or self reliance campaign, they said. This latest package will follow the Pradhan Mantri Garib Kalyan Yojana and Atmanirbhar Bharat revival programmes that were announced earlier.
提高工业竞争力的举措将是"印度自力更生"倡议的一部分。最新的一揽子计划将延续早先宣布的"Pradhan Mantri Garib Kalyan Yojana"计划(穷人福利救助计划)和"印度自力更生"复兴计划。
"The first two sets of measures were to provide cushion to industry ag inst the Covid shock," said one of the offi als. "This set of measures would focus on rebuilding."
其中一名表示:"前两套措施旨在为行业抵御疫情冲击提供缓冲。目前这一系列措施的重点将是"灾后"重建。"
Proposals being firmed up include a more digitally focussed tax administration, the enshrining of taxpayers' s, frontloading of defence purchases and expediting spending on key infrastructure projects that will have to be completed within a deadline, said the people cited earlier. The thrust of the proposals on manufacturing side is to enhance domestic industry's competitiveness while making it easier and more attractive for foreign manufacturers to set up operations in the country.
上述人士表示,正在敲定的提案包括更加数字化的税务管理、赋予纳税利、提前增加国防采购,以及对于必须在最后期限内完成的关键基础设施项目,加快支出。在制造业方面,这些建议的主旨是提高国内工业的竞争力,同时吸引外国制造商在印度设厂。
Tax administration reforms will add to the draw.
税收管理改革将锦上添花。
Data released on Tuesday showed industrial production contracted 36% in the June quarter.
星期二公布的数据显示,第二季度印度工业产值下降了36%。
The package is based on inputs from global manufacturers on what would incentivise them to set up factories in the country. A broad framework to make the country self-reliant and boost local manufacturing is in the works, another go nment offi al said, confirming that deliberations have taken place to this end. "These are likely to be a mix of supply-side as well as some to spur demand," he said.
这一计划是基于全球制造商的投入,以激励它们在印度建厂。另一名政府表示,一个促进印度实现自力更生并促进当地制造业发展的广泛框架正在制定中。他证实,已经就此进行了讨论。他说:"这些措施可能是供应方面的综合措施,也有一些是为了刺激需求。"
The go nment has raised tariffs on many products and stipulated import licensing for others, which will make overseas goods expensive in the hope that this will encourage domestic production. The Pradhan Mantri Garib Kalyan Yojana was announced soon after the nationwide lockdown was implemented at the end of March and provided free foodgrain and cash payments to women, poor senior citizens and farmers.
政府提高了许多产品的关税,并规定了其他产品须获得进口许可,这将使海外商品变得昂贵,政府希望以此鼓励国内生产。在3月底实施全国封锁后不久,政府宣布了Pradhan Mantri Garib Kalyan Yojana计划,并向妇女、贫穷的老年人和农民免费提供粮食和现金。
The Rs 20-lakh-crore Atmanirbhar package in May unveiled a credit guarantee scheme for MSMEs as well as key reforms for the farm sector, among other steps. Rural demand has remained strong on the back of support from the first two packages. The next set of the measures are likely to focus on securing jobs in urban centres by providing backing for businesses.
今年5月宣布的20万亿卢比一揽子计划公布了一项针对中小微企业的信贷担保计划,以及针对农业部门的关键改革等措施。在前两项计划的支持下,农村需求依然强劲。接下来的一系列措施可能会集中于通过为企业提供支持来确保城市的就业机会。
印度经济时报读者的评论:
译文来源:三泰虎 http://www.santaihu.com/p/50554.html 译者:Jessica.Wu
Praker
Whatever happens, ultimately genuine tax payer suffers.. rich become richer and poor become poorer.. Inflation remains high and Indian currency getting devalued.. It is happening since 1947.. So saving money for future is not making any sense.. Intelligent people and Ultra rich move out of India..
无论做什么,最终遭殃的是真正的纳税人。富人越富,穷人越穷。通货膨胀居高不下,印度卢比贬值,这些从1947年就开始了。所以为未来存钱没有任何意义。聪明人和超级富豪都离开印度了…
Yashodhan Muzumdar
Another week another episode another jumla.
画了一张又一张饼
Pradeep Kumar
When ever this guys are comming with package or budget markets will crash....
每当这些家伙提出一揽子计划或预算时,市场就会……
varadharajan bsubrnian
We need to look at result oriented solutions rather than clinging to our age old tradition of not allowing private players to compete with Go nment controlled agencies. Why co ption is growing in India? Even a municipal Councillor takes bribe to give a certificate to a person.
我们要着眼于以结果为导向的解决方案,不要固守不允许私营企业与国企竞争的古老传统。为什么印度的现象越来越严重?即使是市议员也会在收受后给某人颁发证书。
ZEN DAHODI
Whether the data shows or not India was in recession since the Modiji took over the India's economy, and now it is slip to depression the worst we have not seen after 1947.
无论数据是否显示,自莫迪执掌印度以来,印度经济一直处于衰退之中,而现在,印度正滑向1947年以来最严重的萧条。
Raj Tillan
how many booster dose/shot a sick person can bear . steroids overdose kills the patient...
一个病人能承受多少针强心剂?过量了会害死病人的…
Gec Chennai
Donot keep on barking at previous gt,tell me what you did after seven long years!
别再指责上一届印度政 府了,骂了7年了,你们又做了什么!
Raj Bhandari
Go nment has to act on all fronts to establish India as a 21st century hub for future technologies in manufacturing.
印度政府必须全面行动起来,把印度打造成21世纪制造业和未来技术的中心。
Raj Bhandari
Moves to strengthen economy are timely and should be introduced without further delay. Twin factors namely Coronovir s pendemic and deteriorating relations between USA and with losing its position as free trade outpost have given golden opportunity to attract foreign direct investment f.WTO agreements do provide use of NTBs, Anti-dum , imposition of duties and other restrictive measures and India should take full advantages as permissible.
应该立即出台振兴经济的措施。新冠疫情和中美关系恶化为印度提供了绝佳机遇,吸引外国直接投资。
世贸组织规定了可以使用非关税壁垒、反倾销、征收关税和其他限制性措施,印度应在允许的情况下充分利用这些措施。
Gec Chennai
All said and done ,he is a bad luck man.All problems came when he became PM.
不管怎么说,莫迪是个倒霉的人。他一当上总理,所有问题都来了。
Soumya Ranjan Panda
Middle income group people are major looser in this 7 month lock down.
中等收入人群是这7个月封锁期间的主要输家。
Jayarn Theeyarath
No doubt India is steadily recovering from the lock down shock from end March to June. Notwithstanding the fact that the pandemic is moving at an accelerated pace ag inst all efforts to contain it, country is now trying to bnce between life and livelihood. Sate Go nments have the flebility to tweak their own measures to contain spread of the vir s. Equally accelerated recovery rate and and continuously reducing death rate reflects that the herculean effort put by every state is bearing fruits. Now the focus is ly on reviving the battered economy with out any let up on fighting the killer.
毫无疑问,经历了3月底到6月的封锁冲击后,印度正在稳步复苏。尽管采取了措施后疫情还在蔓延,但国家目前正努力在生命和生计之间维持平衡。
印度政府可以灵活调整自己的措施来控制病毒的传播。同样提高的治愈率和不断降低的死亡率,反映了各邦付出的巨大努力正在取得成果。现在的焦点是重振遭受重创的经济,绝不放松抗击"疫情"的努力。
Gopal Sriniwasan
All the required inputs to reform the economy,improve the quality of the life of its citizens is there available with several commission report piled up in the bureaucrats cupboard gathering in dust.
All that the PM has to do is to remove the dust and making a bold announcement which the nation has been so so patiently waiting in the last six years.
改革经济、提高公民生活质量所需的所有投入都具备了,还有几份委员会报告堆在的柜子里,已经尘封。总理所要做的就是掸去灰尘,公布一个大胆的声明,而在过去的六年里,这个国家一直在耐心等待。
Randhir Sharma
Do what you want to do. Economy will recover only and only when you decide to STOP CHINESE vir s. Till then every step will BACKFIRE with Equal force.
做你想做的事。只有控制住新冠疫情后,经济才会复苏。在此之前,做什么都会适得其反。
Gautam Jain
More empty promise
又是空头支票
Mudit Jain
All publicity and no action. The earlier so called measures are no measures at all.
只会宣传,没有行动。早先公布的措施根本没实施