India's Coronavir s Death Toll Is Surging. Prime Minister Modi Is Easing Lockdown Anyway
印度新冠死亡病例激增,莫迪总理仍继续解封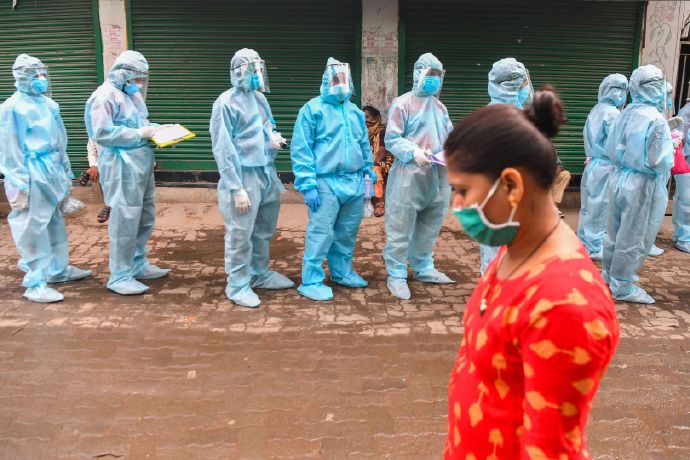 India reported its highest daily increase in recorded COVID-19 deaths so far on Wednesday, taking the country's death toll up by more than 2,000 to 11,903.
星期三,印度报告了2000多例新增死亡病例,这是迄今为止单日最高增幅,总死亡病例上升至11903例。
The majority of the 2,003 new deaths recorded Wednesday were largely down to counting technicalities, with deaths from previous days, mostly in June, being recorded for the first time. The average daily death toll for the seven preceding days was much lower and more constant, at 348 per day. Still, experts fear the country will face larger increases in confirmed cases in the coming weeks, with confirmed cases in India rising at one of the fastest rates in the world. They reached a total of 354,065 on Wednesday, making the country the fourth worst-affected globally after the U.S., Brazil and Russia. Confirmed cases in India are doubling every 18 days, more quickly than each of those countries, even as the Indian go nment continues to ease tough lockdown measures it imposed in March.
由于统计失误,星期三记录的2003名新死亡人数中,大部分是前几天的死亡病例。前7天的平均单日死亡病例要低得多,也比较稳定,每天348例。不过,专家担心,未来几星期,印度的确诊病例将大幅增加,印度是全球确诊病例增长最快的国家之一。星期三,印度累计确诊354065例,使其确诊人数上升至全球第四,仅次于美国美国、巴西和俄罗斯。尽管印度政府继续放松自3月份开始实施的严格封锁措施,但印度的确诊病例每18天就翻一倍,速度比上述国家都要快。
On Monday, the chief minister of Tamil Nadu, one of the worst-hit states in the country, said a stringent lockdown would be reimposed in the south Indian city of Chennai and its surrounding districts, begng on Friday. Confirmed cases in the city have now passed 48,000. And earlier in June, the deputy chief minister of Delhi warned the number of cases in the capital could rise as high as 550,000 by the end of July, requiring 80,000 hospital beds—more than eight times the city's current capacity. On Sunday, India's central go nment announced Delhi would receive 500 more train carriages converted into hospital wards, adding an extra 8,000 beds.
泰米尔纳德邦是印度疫情最严重的邦之一。泰米尔纳德邦首席部长星期一表示,从星期五开始,印度南部城市金奈及其星期边地区将重新实施严格封锁。该市确诊病例现已超过48000例。6月初,德里副首席部长警告称,到7月底,新德里的确诊病例可能会升至55万,届时将需要8万张病床,是目前德里医院床位的8倍多。星期日,印度中央政府宣布,将为德里再配置500多节车厢改造成的临时病房,增加8,000张床位。
Even so, India's central go nment is going ahead with easing lockdown. On June 8, the go nment allowed temples, mo es and churches across the country to reopen, along with restaurants and hels. Prime Minister Narendra Modi told state leaders on Wednesday that they should get ready for the next phase of his "unlock" program. "The spread has been kept under control," he said. "Through timely tracing, treatment and reporting, the number of those recovering is rising."
即便如此,印度中央政府仍在放松封锁。6月8日,政府允许全国各地的寺庙、教堂以及餐馆、酒店重新开放。印度总理纳伦德拉·莫迪星期三告诉各邦领导人,他们应该为"解封"后的下一阶段做好准备。他说:"疫情的蔓延已经得到控制。通过及时的追踪、治疗和报告,康复人数正在上升。"
While it's true the number of people recovering is rising, so is the death toll. The majority of Wednesday's surge came from Mumbai, already India's worst-affected city by death toll, which recorded 862 new deaths. That brought the city to a total of 3,165, rectifying a counting error from previous days. While a substantial increase, only 55 of those deaths were logged in the last 24 hours, according to city leadership, meaning the increased numbers do not reflect an emergency on the ground. There was also an uptick in the death toll in Delhi, which added 437 deaths on Wednesday, with 93 recorded in the last 24 hours. Offi als said the reason for the large increase was a reexamination of death records from the past four days that had been missed in the offi al numbers.
虽然康复人数确实在上升,但死亡人数也在上升。星期三激增死亡病例大部分来自孟买。按死亡人数计算,孟买是印度疫情最严重的城市,新增死亡病例为862例,总死亡病例3165例,这是对前几天的统计错误进行了修正。虽然死亡人数大幅增加,但根据市领导的说法,在过去24小时内,只记录了55例,这意味着统计的新增数据并没有反映出实际上的紧急情况。德里的死亡人数也有所上升,星期三新增437例,过去24小时内新增93例。们表示,死亡病例大幅上升的是由于对过去四天的死亡记录进行了重新审查,官方数据有所遗漏。
Yet India's case fatality rate (the percentage of infected people who have died from the disease) stands at 3.4%, even with the added deaths from Wednesday. That number is lower than the 5.4% global average, as well as the rates in both the U.S. and Brazil. Scientists say it is unclear why India's case fatality rate appears lower than much of the rest of the world.
尽管从星期三开始死亡病例有所增加,但印度的病死率仍保持在3.4%。这一数字低于5.4%的全球平均水平,也低于美国和巴西。科学家称,目前上不清楚为什么印度的病死率比其他国家要低。
Despite the surge in cases not being as bad as it appears at first glance, experts warn the situation in India could get a lot worse. "India may be below America now [in overall cases and deaths], but I'm worried that in a month or six weeks, things are going to look much worse," says Dr. Ashish Jha, director of Harvard University's Global Health Institute.
尽管病例激增并不是那么严重,但专家警告说,印度的情况可能会变得更糟。哈佛大学全球健康研究所主任阿希什·杰哈博士说:"印度目前(总确诊病例和死亡病例)低于美国,但我担心,再过一到六星期,印度的情况会变得更糟。"
India's demography could also contribute to the situation worsening. The country of 1.3 billion has huge con trations of people densely packed into cities, where social distancing is near-impossible. And there is just one hospital bed for every 2,000 Indian citizens, 100 times less than the World Health Organization's recommendation of one per 20.
印度的人口结构也可能导致情况恶化。在这个拥有13亿人口的国家,大量人口密集在城市里,几乎是不可能保持社交距离。而且,每2000名印度公民只有一张病床,比世界卫生组织建议的每20人一张病床少100倍。
Another complicating factor is that the epicenter of the disease is likely to spread away from Delhi and Mumbai, financial centers that are comparatively well-served by healthcare infrastructure, and toward poorer, densely-populated states like Uttar Pradesh and Bihar that don't have the capacity to handle large viral outbreaks, Jha says.
杰哈称,疫情的中心可能会从医疗基础设施相对完善的德里和孟买这两个金融中心向没有能力应对大规模病毒爆发的北方邦和比哈尔邦等较为贫穷、人口稠密的邦扩散。
Modi has sought to dispel fears that a second lockdown is on the horizon. He may have no choice, Jha suggests. "India was one of the few countries to lock down before they had a large number of cases," he says. "But locking down doesn't eliminate the vir s, it just delays. I'm worried that the prolonged lockdown was not used effectively enough, and now we're starting to see big increases in cases. Another lockdown is going to be very, very hard."
莫迪试图消除人们对二次封锁即将到来的担忧。杰哈表示,他可能别无选择。"印度是少数几个个在出现大量病例之前就封城的国家之一。但封城并不能消除病毒,只能延缓疫情。我担心印度并没有充分有效利用一再延长的封城期,现在我们开始看到病例大幅增加。再次实施封城将会非常非常难。"
以下是美国雅虎读者的评论:译者:Jessica.Wu
veeran
you just have to let the human body develop resistance to this pathogen. Artificially trying to prect it from the pathogen will only prevent the body to develop resistance and keep this around for a long time - is exactly what is being done in panic.
只需要让人体产生对这种病毒的抵抗力就行了。人为试图保护人体不受病毒伤害只会阻止身体产生抵抗力,并使其在很长一段时间内保持这种状态——而这正是人们在恐慌时所做的。
Kiran
Every country including USA where vir s threat is surging is easing lock down not India only.
包括美国在内,每一个病例激增的国家都在放宽封锁,不仅仅是印度。
TeaRose
But what to do. It's a poor country with over 50% of the population are laborers. So that means they do low grade work. Most are not white collar workers. India has a culture that supports themselves on these people. Most don't own cars and have to either take a bus, train, etc to get to work. Social distancing is just not possible.So what to do?
不然印度该怎么做?印度是一个贫穷的国家,50%以上人口是劳工,大多数不是白领,他们从事的工作比较低级。大多数人没有车,不得不乘公共汽车、火车等去上班。保持社交距离是不可能的。印度该怎么办呢?
Mark
USA death toll stand at 117,163 comparing to india 1.3 billion people corona death toll stand at 11,903 !! USA one of the most advanced countries in medical care !
美国是医疗最先进的国家之一,其死亡病例为117163例,印度人口13亿,死亡病例仅11903例!
ABRAHAM
Sadly, disaster of a monstrous scale unfolding before our eyes. Exposes the inadequacies of the medical sy em in the second most populous land on Earth. Time to swallow the pride and face reality.
可悲的是,一场规模巨大的灾难就要在我们面前上演了。印度是人口第二大国,但是医疗设备不足,是时候放下架子,面对现实了。
pkpandit
"The blind and deaf are leading the blind and deaf; consequences are bound to be disastrous." A quotation of Dr. Singh
引用辛格博士的话:"一个又聋又瞎的人领导一群又聋又瞎的人,结果必然是灾难性的。"
Greg Demartino
You can slow it down only.
只能减缓疫情的蔓延
David Nikki
Another good news after -India encounter. Yaaay
继中印边境冲突后,又传来一个好消息
ROMAVICTA
Better for the species, . .the strong survive.
对人类来说是好事,强者生存。
Iqbal
Modi doesn't care death of Indians, he just want to follow Trump. Modi is mentally sl ve of white skins.
莫迪不在乎印度人的死亡,他只想追随特朗普,莫迪是白人的。
The Divine Immortal
Modi has no clue how to fix the hell he has helped create in India.
莫迪把印度变成了炼狱,现在却不知道如何收拾残局
shn
Thats good if more people get infected there will be heard immunity
这是好事,如果有更多的人感染,他们将获得群体免疫
Anam
Boycott goods
抵制货
Anonymous
What would one expect from a country in which no one showers everyday? A country got poor infrastructure, poor personal hygiene, poor education and pn POOR!
对一个基础设施差,个人卫生差(不是每天都洗澡),教育水平低的贫穷国家,你能指望他们做得多好?
Tear you apart
Do Indians find this guy ineffective to lead yet?? He is really not a well-equipped po itician. They need much younger blood, who has had stints outside India for a while.
印度人觉得这家伙不称职了吗?他真不是一个出色的家。印度需要更年轻得多的领导人,最好在国外待过的。
Zoey
Why should we worry about India? If they're not coming into America, then SHUT UP ABOUT IT! We need to focus on ourselves for a #$%$ change!
我们干嘛要担心印度?我们要关注的是自己!
amy
Boy will the Ganges river stink now
现在恒河发臭了吗?
Maki
Indian population needs to be cut down.
印度需要减少人口。
D
1.38 billion people. Roughly 12k deaths.
印度人口13.8亿,死亡病例才1.2万左右。