India has ensured there's been no starvation: Piyush Goyal
皮尤什·戈亚尔:确保印度没有发生饥荒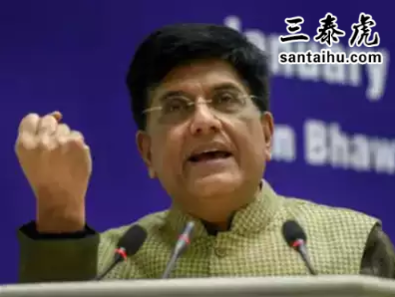 NEW DELHI: The go nment has focused on the health of citizens and ensured that no one was left wanting for food during the Covid-19 pandemic, commerce and industry minister Piyush Goyal said on Thursday.
新德里:星期四,印度工商部长皮尤什·戈亚尔表示,政府目前努力保障公民的健康,在抗击疫情期间,确保没有发生饥荒,没有一个人挨饿。
"We have gone through the entire three months without a single person starving. That's not just the effort of the Centre or state go nments. It is the effort of 130 crore Indians," he said in his keyne address at the global online conference on 'Covid 19: Jaan Bhi, Jahan Bhi' organised by The School of Management of Bennett University, a part of the Times Group.
皮尤什在全球在线会议《新冠病毒: Jaan Bhi, Jahan Bhi》上发表了主题演讲,该会议由时代集团旗下的班尼特大学管理学院主办,他表示:"整整三个月,没有一个印度人挨饿,这不仅仅是中央政府及邦政府努力的结果,也是13亿印度人共同努力的结果。"
"If one was to research on how different nations responded to the Spanish Flu, 100 years ago, those that focused on lives and health of people... be it with limited resources at that point, progressed much faster and became prosperous. Those that only focused on their economies suffered," he said.
他说:"如果有人研究了100年前不同国家应对西班牙流感的方式,会发现在资源有限的情况下,那些关注人民的生命和健康的国家进步得更快,变得更加繁荣。那些只关注经济的国家反而遭受了损失。"
We took care of our needs and of others' too: Goyal
戈亚尔:我们关心自己的需求,也关心别人的需求
Union commerce and industry minister Piyush Goyal on Thursday said India has helped other countries during the novel coronavir s pandemic. "Vasudhaiva Kutumbakam (the world is one family) is ingrained in the Indian ethos," he said. "While you are on a flight, if there is turbulence, what are you advised? Tie your seat belt first before you help others. We ensured that India's requirements are taken care of, but we also ensured that the seat belt is tied for over 3-4 billion people across the globe with the supply of medicines to over 120 countries," he said while speaking at a global online conference on "Covid 19: Jaan Bhi, Jahan Bhi' organised by The School of Management of the Bennett University.
印度工商部长皮尤什·戈亚尔星期四表示,在新型冠状病毒大流行期间,印度帮助了其他国家。他说:"世界是一个大家庭,这在印度民族精神中根深蒂固。当你在飞机上时,如果遇到湍流,你会怎么做?在帮助别人之前,先系好安全带。我们确保印度的需求得到满足,但我们也向120多个国家提供药品,确保全球30多亿人系上了安全带。"
Speaking at the same conference, former chief economist at the World Bank and chief economic advisor to the Indian go nment, Kaushik Basu said measures needed to be taken to prect the vulnerable.
世界银行前首席经济学家、印度政府首席经济顾问考希克·巴苏在该会议上表示,我们应该采取措施保护弱势群体。
"The immediate concern should be the hundreds of thousands who are walking hundreds of miles only to go home, those who are walking in large groups but are Sall alone," Basu expned.
巴苏说:"最紧迫的问题应该是成千上万步行数百英里回家的民工。"
According to Basu, the financial package announced by the finance minister is necessary but not sufficient given the dark clouds of recession and unemployment. Basu said that while go nment spending would create inflationary pressures in six months, there was a need to move ahead now to prect the vulnerable sections and take corrective measures later.
巴苏表示,财政部长宣布的20万亿卢比一揽子经济刺激计划是必要的,但考虑到经济衰退和失业问题,这还不够。巴苏表示,尽管这笔政府支出将在六个月后带来通胀压力,但现在有必要采取行动,保护薄弱部门,并在后期采取纠正措施。
"If this Rs 20 lakh crore were an additional amount this should be enough. People who are scra through the details are saying that it is not additional and it includes what RBI has done. If the additional amount is half (of what is announced) it is not enough," added Basu.
"如果这20万亿卢比是追加的金额,那应该足够了。不过那些正在研究计划细节的人说,这不是追加的金额,它包括了印度储备银行已经宣布的援助资金。如果追加的资金只有宣布的一半,那还是不够。"
印度时报读者的评论:
译文来源:三泰虎 http://www.santaihu.com/49886.html 译者:Jessica.Wu
Ashok Kth
Migrants wants to go back home without following lock down policies...Anti nationals are spreading rumors and making more hardship yo migrants..
民工想要回家,不遵守封城政策。一些破坏分子在散播谣言,给民工制造更多困难。
Patriot
Although it is very hard task but present go nment ensuring no starvation of any kind.This hard work will be counted in BJP history .God bless our country
its people .Jai Hind.
让没有一个人挨饿,这是一项非常艰巨的任务,印度政府确保没有发生饥荒,这将载入人民党的光辉历史。愿神保佑我们印度人,印度必胜。
Bharat Chhabra
after so many years of ruling by the Congress , Indians reposed fa th in Modi.
and if Modi fails now , this country will go to dogs as there is none with notable credentials to reign .
经历了国大党这么多年的失败统治后,印度人把希望寄托在莫迪身上。如果莫迪失败了,这个国家就完蛋了,到时候就没有其他人有资格执掌这个国家。
Bharat Chhabra
if Modi fails , then there is no one who can handle this country.
only hope
如果莫迪失败了,那就没有人能够治理这个国家。
莫迪是我们唯一的希望啊
Sunil Kumar
Congress is wetting its pants after counting 0s in 20 lakh crores.
国大党数完20万亿后面有几个0后, 裤子都湿了
Arun Kumar
It was responsibility of state Gt to take care of Migrant workers but some Gt failed to do so.
照顾民工是各邦政府的责任,但有些邦政府没做到。
nawper
Modi cms all the credit. When things go wrong, not my problem. Typical coward
莫迪只会邀功,出了事就推卸责任,典型的懦夫!
Fero
What a minister
People are suffering from hunger, especially Migrant workers.
Please stop showing this news, other country men will laugh at us for ing him.
这是什么部长,人们饱受饥饿之苦啊,尤其是民工。
不要报道这条新闻啊,其他国家的人会嘲笑我们选了这种人当部长。
Jagdip Vaishnav
People of India are well aware, this Gt has given relief, benefits to poor which no Gt has extended till date
印度人民很清楚,这届政府给穷人提供了救济和福利,之前没有哪届政府这么做过啊。
Mudi Ji
Yes yes before Modi came we were living in caves. Stupid bhakt.
是哦,在莫迪上台之前,我们都住在山洞里,白痴。
aaaa bbbb
What an idiot! So much of arrogance, never expected from someone of his stature to say this.
白痴!从没想过像他这种身居要职的人会说出这种话,太无知了
Raaz Raj
idiot, doesn't know the ground reality. This is all just for media headlines
白痴,根本不了解现实情况,只是为了上媒体的头条新闻
Abhishek Kumar
I don't think any worst go nment has come before than this one. What a joke, no starvation. I wonder why people ve for them.
没有比这届印度政府更糟糕的了。没有发生饥荒,真是个笑话。我想知道人们为什么投票给他们。
Shivkumar Mohite
He should watch the video of the great fight for biscuits.
他应该去看看人们哄抢饼干的视频。
Vignesh India
Minister's should be responsible in making statements.
部长发布声明是要负责任的。
Vishal Ganjoor
BJP liars, just saw a video of people fighting for a samosa on railyway station.
人民党骗子,刚刚看了一段视频,一群人在火车站抢饼干。
Mudi Ji
I don't know how this idiot can shamelessly cm that not a single case of starvation is there. Takes next level of shamelesness to say that in public.
这个白痴怎么能大言不惭说没有一个人挨饿啊,太厚颜无耻了。在公共场合说这种话,你脸皮也太厚了。
Nirav Modi
Modi is busy eating Japanese mushroom which costs 1 lakh rupees per plate.... And Piyush goel children are studying in USA... What do they care
莫迪吃的是日本蘑菇,每盘10万卢比…皮尤什的孩子在美国上学,他们关心谁
Arun Sharma
People are dying on road.
人们都死在路上了
Atul Bhatia
White Lies.....so sad......Deliberately closing eyes to plight of migrants.
善意的谎言.....太悲哀了,故意对印度民工的困境视而不见。
K Mohan
Many organizations even today are giving rice and essentials to the poor and needy
很多组织在向穷人和有需要的人提供大米和生活必需品
Sanjoy Pandey
It should also be ensured that the benefit reaches the real needy people and not digested by any po itical leaders.
还应确保补助发到真正需要的人手上,不要被印度政客*了。
Sameer S
During the 1943 Bengal Famine, Winston Churchill rejected food aid because he said that "Indians breed like rabbits so relief efforts will accomplish nothing". This was when India's population was 330 million. Today India's population is 1.4 Billion.
1943年孟加拉饥荒期间,温斯顿·丘吉尔拒绝提供粮食援助,他说:"印度人像兔子一样繁殖,救济毫无意义。"
那时印度的人口是3.3亿,目前印度的人口是14亿。
gaurav singh
Shame on the gt.
这届印度政府实在可耻
Amit
If i was the reporter i would have not even published this article.
如果我是记者,我是不会发表这篇文章的。
外文:https://timesofindia.indiatimes.com/india/india-has-ensured-theres-been-no-starvation-piyush-goyal/articleshow/75748157.cms