Why India's cities may not remain the same after the virus goes away
疫情过后,印度城市或无法恢复原样
By Archana Chaudhary and Anurag Kotoky
Migrant workers fled India's cities en masse last month after Prime Minister Narendra Modi's lockdown left them suddenly unemployed. Now the employers that let them go may need to offer big incentives to lure them back.
上个月,印度总理纳伦德拉·莫迪(Narendra Modi)下令封城后,大批农民工突然失业,纷纷逃离城市。现在,解雇他们的雇主可能需要提供丰厚的激励才能吸引他们回来。
Sontosh Das, 24, lost his job driving for a family of doctors in New Delhi and fled to his village in West Bengal some 1,400 kilometers away, just before the lockdown took effect on March 24. Now home, he said he'd rather try his luck with the government's rural job-guarantee program than risk being left with nothing once again.
24岁的松托什·达斯原本在新德里为一名医生开车,失业后返回了位于西孟加拉邦他的村庄,距离德里1400公里。回到家后,他说他宁愿靠政府的农村工作保障计划碰碰运气看看能不能找到一份工作,也不愿冒再次一无所有的风险。
"After Modi ji's lockdown, we're scared of returning," Das said over a crackling phone line. "During tough times, only family comes to help."
达斯说:"莫迪下令封城后,我们害怕再回去。在困难时期,只有家人会帮你一把。"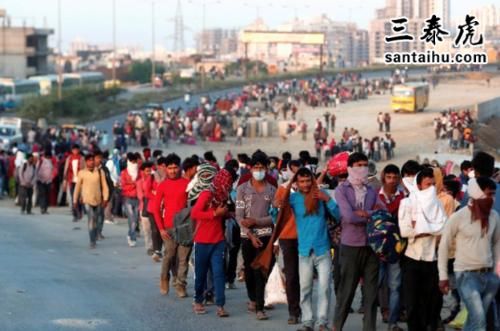 Tens of thousands of workers who returned to villages are now similarly weighing whether to return at the end of the lockdown, which Modi this week extended to May 3. Companies are already reporting labour shortages at ports and factories, potentially exacerbating an economic slowdown. Goldman Sachs Group Inc. this month slashed its annual growth forecast for India to the slowest pace since 1992, around when a balance of payments crisis brought down the sitting government.
莫迪将封城延长至5月3日,数以万计回家的农民工现在也同样在考虑是否在封城结束后返回城市工作。企业已经在报告港口和工厂出现劳动力短缺现象,这可能会加剧经济放缓。高盛集团本月将印度经济的年度增长率预测下调至1992年以来的最低水平。
Automobile makers, which include the local units of Nissan Motor Co., Ford Motor Co. and Suzuki Motor Corp., are discussing potential labour shortages after India lifts its lockdown, according to people familiar with discussions. Jewellers, India's second-largest export sector, see production suffering for at least two months, said N. Anantha Padmanaban, chairman of the All India Gem and Jewellery Domestic Council.
据知情人士透露,很多汽车制造商,包括日产汽车、福特汽车和铃木汽车等在印度的子公司,正在讨论封城结束后可能出现的劳动力短缺问题。全印珠宝行业委员会主席帕德马纳班称,珠宝行业的生产至少将受到两个月的影响,珠宝行业是印度第二大出口行业。
Real estate developers, an industry that includes investors Blackstone Group Inc. and Brookfield Asset Management Inc., predicted more incomplete apartments and office buildings that could ripple through the financial sector in the coming year as a surge in defaults. Companies such as indal Steel Ltd. are facing a shortage of crane operators at ports.
黑石集团和布鲁克菲尔德资产管理公司预计,由于违约激增,房地产开发商明年可能会出现更多烂尾的公寓和写字楼,金融业将受到冲击。金达尔钢铁有限公司等公司正面临港口起重机操作员短缺的问题。
'Unprecedented Hardship'
"前所未有的困难"
The labour shortages could persist for as long as six months before broader unemployment becomes a bigger concern, said Sujan Hajra, Mumbai-based chief economist at Anand Rathi Financial Services Ltd. About 20% of India's workforce comprises migrants journeying from another state, while a larger share is made up of people who travel from different parts of the state where their workplace is located, he added.
Anand Rathi金融服务公司驻孟买首席经济学家Sujan Hajra称,在更大规模的失业出现之前,劳动力短缺可能会持续长达6个月。他补充说,印度约20%的劳动力来自其他邦的外来务工人员。
"The unprecedented hardship faced by migrant workers since the outbreak of Covid-19 might result in fear psychosis," Hajra said, predicting a worsening of India's "already precarious employment situation."
Hajra说:"自从疫情爆发以来,外来务工人员面临了前所未有的困难,这可能会引起人们的恐惧心理。"
他还预测印度"本已不稳定的就业形势"会进一步恶化。
The government is aware the country will need to address labour shortages to restart the economy, Nitin Gadkari, minister of roads and small and medium scale enterprises, said in an interview.
印度公路和中小企业部长尼廷•加德卡里在接受采访时表示,政府意识到,为了重启经济,印度将需要解决劳动力短缺问题。
"We need to see if there's a way to start work to ensure employment for at least a section of daily wage workers," Gadkari said. "If businesses and contractors can provide sanitizers, masks and ensure social distancing, we could see if at least some activity can be restarted."
加德卡里说:"我们需要看看是否有办法确保让至少一部分日薪工人就业。如果企业和承包商能够提供消毒剂、口罩,并确保社交距离,我们可以看到,至少有一些经济活动可以重启。"
'Prolonged Recession'
"长期衰退"
Any meaningful stimulus would need a minimum Rs 6 lakh crore ($79 billion) compared with the Rs 60,000 crore cash Modi's government pledges to transfer to the poor, estimates P Chidambaram, India's former finance minister who presided over the country's response to the global financial crisis of 2008/09. A "deep and prolonged recession" awaits sectors such as agriculture that are dependent on migration, Chidambaram said by email.
印度前财政部长奇丹巴拉姆估计,任何有意义的刺激计划都至少需要6万亿卢比(790亿美元),而莫迪政府承诺向穷人提供的现金援助只有6000亿卢比。奇丹巴拉姆曾主持印度应对2008-2009年全球金融危机。奇丹巴拉姆表示,农业等行业将面临"严重而长期的衰退"。
印度经济时报读者的评论:
译文来源:三泰虎 http://www.santaihu.com/49774.html 译者:Jessica.Wu
sanujit roy
Many states were only left with population after independence
独立后,除了人口一直在增加之外,很多邦一无所有
Dhiraj Wala
Small, medium or big industrial units must think to spend / arrange / provide residential accommodation facilities in future to sustained labours to avoid any shortage of labours for their continuous operations.
今后,为了避免工人短缺,中小型或大型企业必须考虑为工人安排住宿,这样工人才能维持生计,工厂才能维持运作。
Prince Gw
Post lock down, it doesn't take more than 3 months to become normal with or with out virus around. That is the reality.No one cares for virus or else there would not have been so many accidental deaths in our country.
封城后,不出3个月印度就能恢复正常,不管周围有没有病毒。这就是现实,没有人在乎病毒,否则我们国家就不会有这么多意外死亡了。
Avnindra Baranwal
Time to adopt ONLINE VOTINGS for all citizens, in all elections.
以后选举应该实行网上投票。
Avnindra Baranwal
Ensure small/medium industries moved to other places, where electricity, cheap labour and transportation is available.Business/Jobs must not suffer.
让中小企业搬迁到其他电力充足、有廉价劳动力、交通便利的地方,不能让生产受到影响。
minooengineer Enginee
An inducement to return is giving the workers a suitable accommodation, a costly proposition as is now visible. Needs to be considered & examined by the CEOs.
给工人们提供合适的住处是一大激励,虽然成本高,但各位CEO们应该考虑一下。
VK Singh
No meaning of apologies of PM Modi,who suffers suddenly lockdown.By this step,credit go down.Its solution to diversify the project in rural areas.
突然下令封城,莫迪出来道歉也没什么意义,如此一来,莫迪的信誉下降了。
All This NonViolence
Announcing demonetisation or lockdown with immediate effect has kileld people - even when they are alive.HE MUST HAVE GIVEN A 2 DAY WINDOW FOR STARNDED PEOPLE TO RETURN HOME - probably ask them to self isolate . BUT ANNOUNCING WITH NO TIME TO PREPARE IS VIOLENCE OF THE WORST ORDER.
突然下令封城会把很多人逼上绝路的。莫迪应该宽限2天,让外来务工人员返乡的,让他们自行隔离。没有给大家时间准备的情况下就贸然宣布封城,这比暴力行为还恶劣。
Vivek. B
I think people would be very cautious for next 6-9 months or till Medicine/ vaccine is made available, to move out to far places .
我认为在接下来的6-9个月里,或者在疫苗问世之前,人们会非常谨慎,回到偏远的老家生活。
Ramamohanarao Kodali
The migrant labor stranded at various places are the most neglected sufferers in this Covid episode. Lack of food, lack of shelter with no transport They are the worst sufferes.
滞留在各个地方的农民工是最容易被忽视的受害者。没有食物,没有住所,搭不到交通工具,他们的处境是最困难的。
Sanujit Roy
4 states were already under developed for past 20 years
在过去20年里,有4个邦已经处于欠发达状态
Theresamma Paul
Is lockdown a permanent solution to curb the ongoing situation? Still now no vaccine has been found. What happened to all our medical researchers? How long will it take to find out the medicine?
封城是控制疫情的解决办法吗?
目前还没有研制出疫苗,医学研究人员干嘛去了?
研制疫苗要多长时间?
Vinod Menon
There are many viral diseases that have no vaccine, and mark my words COVID-19, will join the list, already it is far more contagious than the others which have no vaccine. So what's the way out? There is only one way, try to protect the vulnerable, and hope for the best and develop sufficient numbers of immune population, in other word herd immunity. Social distancing is a luxury only for the rich, in a jam packed country like India the poor will just have to depend on the roll of the dice
很多病毒性疾病都没有疫苗,记住我的话,新冠病毒也会是其中之一。新冠病毒更具有传染性。解决办法呢?只有一种,也就是"群体免疫",保护好易感染群体,并让群体免疫达到足够数量。对富人来说,保持社交疏离完全没问题,在印度这样一个拥挤的国家,穷人只能靠运气了
Ramamohanarao Kodali
How to develop sufficient number of immune population?
如何让免疫人群达到足够数量?
Madan Lal Sharma
Just check whether Our scientists have discovered anything so far. In this case the research will be done in foreign countries. It is not easy to find out a cure for such a dreaded disease.
到目前为止,印度科学家有没有什么进展?要找到治疗这种可怕疾病的方法并不容易。这次只能靠别的国家进行研究了。
Narayanan Mahalingam
Rahul Gandhi has already built a vaccine. He is waiting for more deaths under Modi credit before he releases it..
拉胡尔·甘地已经研制出疫苗了。他要等死亡病例更多的时候再公布,好让莫迪名誉扫地。
Shri Mahesh
we have enough workers in India. let's export millions worldwide and resettle in foren countries. let's share
印度工人多得是,可以向全球输出数百万工人,让他们在世界各国定居。
Shri Mahesh
time to offer double and triple wages to India workers. make money, share money. Enjoy
是时候给印度工人张工资了,翻番或翻三倍吧
外文:https://economictimes.indiatimes.com/news/economy/policy/why-indias-cities-may-not-remain-the-same-after-the-virus-goes-away/articleshow/75176229.cms