3.5 lakh trucks carrying Rs 35,000 crore goods stranded on roads
35万辆运载物资的卡车滞留在路上,运载物资价值3500亿卢比
NEW DELHI: An estimated 3.5 lakh inter-state trucks carrying goods worth over Rs 35,000 crore are stranded on roads, outside factories and godowns, according to transporters.
新德里:据运输公司称,估计有多达35万辆跨邦运输物资的卡车滞留在公路上、工厂和仓库外,所运载的物资价值3500亿卢比。
The goods range from cars and SUVs to two-wheelers and white goods such as ACs, refrigerators, washing machines, rical items and industrial raw material such as chemicals, steel and cement.
这些货物包括小车、SUV、两轮车,空调、冰箱、洗衣机、电器等家电以及化学制品、钢铁、水泥等工业原材料。
Truckers and transporters TOI spoke to said the goods are at risk of dge and even pilferage as drivers and helpers have run away in many cases due to the absence of food, money or proper sanitation. Also, in most of the cases, there are no helpers and other support staff to unload the stocks once they have reached their destination, be it factories or dealerships and godowns.
《印度时报》采访的卡车司机和运输公司称,由于没有吃的、也没有钱,没有卫生条件,司机和助手很可能会逃跑,货物有损坏甚至被盗的危险。而且,在大多数情况下,货物到达目的地后,无论是在工厂、经销商店还是仓库,都没有后勤人员负责卸货。
"It is a painful situation for truckers and goods worth thousands of crores are literally lying on roads. Something should be done immediately to help us out," Kultaran Singh Atwal, presi nt of All-India Motor Transport Corporation said.
全印汽车运输公司(AIMTC)总裁阿特瓦尔称:"对卡车司机来说很痛苦,价值数亿卢比的货物就搁在路上,应该马上做点什么来帮助他们。"
Truckers seek bailout package from go nment
卡车司机向政府求助
AIMTC is the biggest trucking association in the country and cms that its members control nearly 1 crore small, big and specialised trucks. Atwal said that while trucks carrying essentials such as food, medicines and sanitation products are being allowed, the go nment should also ensure the movement of other goods to the designated destinations so that the sy em can be unclogged and the commodities transported.
AIMTC是全国最大的卡车运输协会,该协会会员管理着近1000万辆小型、大型及专用卡车。阿特瓦尔说,虽然允许用卡车运送食品、药品和卫生用品等生活必需品,但政府也应该确保其他货物能运送到指定目的地,这样运输系统就可以畅通无阻,商品也能运送到目的地。
"We are still facing curbs. They should help lift the restrictions so that trucks can move. It is a pitiable position with many trucks stranded at state borders or other check points. Many trucks are idling at parkings or other places."
"我们仍面临限制。政府应该解除这些限制,这样卡车才能通行。这是一个可悲的情况,很多卡车滞留在邦与邦的边境或检查站。许多卡车闲置在停车场等地方。"
Many truckers are also compning that drivers and helpers are being left to fend for themselves. "At many places, there is no food, medicines, or even clean toilets. Also, sanitisers and masks are not there, and this has prompted many truckers to leave the vehicles and head back home."
许多卡车司机也抱怨说,司机和助手只能自谋生路。"在许多地方,没有食物、药品,甚至没有厕所上。此外,由于缺乏消毒剂和口罩,许多卡车司机只好弃车回家。"
Vipul Nanda, presi nt of car carriers' association, said nearly 1,500 large customised container trucks — carrying around 10,000 cars and SUVs of various brands — are also stranded on the roads, or outside factories and godowns.
汽车运输协会会长维普尔•南达表示,近1500辆大型集装箱卡车——运载约1万辆不同品牌的汽车和suv——也滞留在路上,或工厂、仓库外。
"Please remember that's this is an asset-heavy industry, and thus there are heavy de ts too that transporters carry. If business remains paralysed, there are high chances of many transporters getting bankrupt," Nanda said
南达说:"请记住,运输是一个支出较大的行业,运输公司也背负着沉重的债务。如果运输仍然处于瘫痪状态,许多运输公司很有可能破产"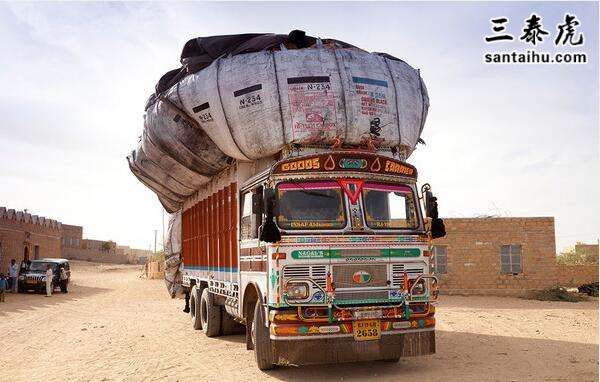 资料图
印度时报读者的评论:
译文来源:三泰虎 http://www.santaihu.com/49670.html 译者:Jessica.Wu
Rai Saheb
More poor Indians will die with Hunger and Poverty than Corona. Gt should have planned controlled lockdown. If Supply Chain is broken, gt wont be able to control.
印度穷人将会饿死、穷死,比死于新冠肺炎的还多。政府应在下令封城之前制定好星期全的计划。如果供应链断裂,政府也无法控制。
Da Da
All State Gts and Modi Gt must look into transport of goods to all states on war footing before it is too late
莫迪政府和所有邦政府都必须关注跨邦货物运输,否则为时晚矣。
vittal rajan
Go nment both state and central should help them out to clear goods.. This is the need of the hour
当务之急是印度中央政府和各邦政府都应该给他们提供帮助,批准放行。
ashok reddy
at the same time public should cooperate with the go nment
公众也应该配合政府的工作
A Singh
At least goods in transit should be allowed to move to the destination.
至少运输中的货物应予以放行,以便及时送达目的地。
Asok Datta
Very poor administrative failure - now the supply chain is affected, goods are dged or stolen and poor people will die of starvation amidst the plenty; it may be at the end we may find more non corona death than death from corona
管理失败-现在供应链也受到了影响,货物或被损坏或被盗。很多穷人会饿死,也许到最后,我们会发现饿死的人比死于新冠肺炎的人还多
Siva Anand
It's Modi's style. Do something without plan...Tuglaq chaiw...
这就是莫迪的风格,做事没计划
selvarajc
Prices already doubled and trebled and hoarding and looting started. Supply chain broken. This is the blunder gt made.
物价已经翻了两三倍了,有些人已经开始囤货,好趁火打劫了。供应链断裂是政府的错。
BS Chauhan
Military should be called for help in supply chain block down.
供应链中断的时候应该向军方寻求帮助。
Manoj Sahoo
Lockdown shouldn't have been immediate..Gt should have given few days time and then lockdown ..
不应该突然下令封城的…政府应该给大家几天时间做准备,然后再下令封城…
Ashish Kaul
Atleast they should make some arrangements for the people who are stranded at places away from their home.
至少应该为那些被困在离家很远的地方的人做一些安排。
Dilbag Rai
3.5 lakh trucks stranded on the roads should be allowed to move in batches to their destinations. First priority should be given to those trucks and cargo aircrafts carrying medicines and medical related equipments.
应该批准滞留在路上的35万辆卡车分批驶往目的地。载运药品和医疗设备的卡车应当优先放行。
Nutz Nutz
we are in for a long haul. not only these trucks but agriculture and farm produce is going to impacted in a big way in coming weeks.
我们还有很长的路要走。未来几星期,不仅是货物运输,农业种植也将受到重大影响。
Dr Vidyadhar Yellutla
Give them food.
给这些司机送吃的吧。
ANWITA KANNAN
The police should immediately issue passes to the transporters with vehicle no so that the goods reach designated areas. In this crisis time each goods is important
警方应立即为这些卡车发放通行证,以便货物及时送达指定区域。在这个危机时刻,每种物资都很重要
Vikram Saw
Movement of goods are essential to maintain supply chain. I hope Gt allows the movement of trucks.
货物运输是维持供应链的关键。希望政府允许这些卡车通行。
Natarajan D
Kindly extend the lockdown for another month. No food, no essentials, all stranded people will vanish.
封城再延长一个月,在没有食物,没有必需品的情况下,所有被困的人都将从这个世上消失。
Subba Iyer Mani
It is all really fening. God alone knows how long this will last before it finally blows over.
真的很可怕,天知道这种情况还要持续多久。
M Kumar
Both state and central gt should ce together and help to resolve this issue. This is very important.
中央政府和邦政府应该一起帮助解决问题,这是当务之急。
M Kumar
Modiji must look to ensure state and central go nment are making clear planning for trucks and supplies.
莫迪务必确保中央政府和邦政府对这些卡车和物资做出合理安排。
Madan Mohan Siddhanthi
huge loss in this cmity , How do the driver and cleaners survive there ! They can not leave Vehicles nor they can travel
这场灾难造成了巨大损失,司机如何生存!
他们不能弃车,想走也走不了。
Pradeep
The stranded trucks must get priority clearance
务必批准被困卡车优先通行。
外文:https://timesofindia.indiatimes.com/business/india-business/3-5-lakh-trucks-carrying-rs-35000-crore-goods-stranded-on-roads/articleshow/75056353.cms