Why go nment thinks India has done better than other countries on Covid
为什么印度政府认为在控制新冠疫情方面,印度比其他国家做得更好?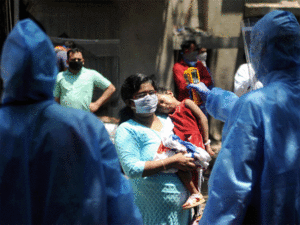 NEW DELHI: India is doing far better than other countries on tackling Covid-19, go nment offi als say citing data that shows the doubling rate of cases between 6000 and 12000 cases has slowed down to six days and both the infected rate and the death rate in India remains far less than compared globally.
新德里:印度政府表示,在控制新冠疫情方面,印度比其他国家做得更好。并引用数据称,印度确诊病例从6000例翻番至12000例历时6天,印度的感染率和死亡率都远低于全球水平。
Prime Minister Narendra Modi is said to have pointed out the same to his Cabinet colleagues at a meeting last evening and said that the lockdown so far had worked on the ground and a close vigil in the coming days could see India overcome the Covid crisis.
据悉,印度总理纳伦德拉·莫迪在昨晚的一次会议上向内阁同僚也提出了相同的看法,他说,从目前来看,封锁已经奏效了,未来几天继续严密封锁,印度将克服新冠危机。
Sharing data that the go nment has analysed in comparison with foreign countries, offi als said that India had tested more people when the figure of infected people reached 10,000 than the US or the UK at the same levels.
在分享政府与外国进行比较分析的数据时,印度表示,当感染人数达到1万人时,印度检测的人数比美国或英国都多。
While India has tested about 2.17 lakh people when India hit 10,000 cases, the US and UK had only conducted 1.39 lakh and 1.13 lakh tests respectively. Italy conducted only 73000-odd tests when it hit the benchmark of 10,000 cases. Canada, however, did more tests at 10,000 infections level with 2.95 lakh tests.
当感染病例达到1万例时,印度已经检测了约21.7万人,而美国和英国分别只检测了13.9万人和11.3万人。当确诊病例达到1万例时,意大利只进行了73000多次测试,不过加拿大做了更多的检测,检测了29.5万人。
Offi als also said that while it took four days in India for cases to double from 750 to 1500 and again four days for cases to double from 1500 to 3000, it has taken six days for the number of cases to double from 6000 cases to 12000 cases. In comparison, in the US and Germany, it took two days for cases to double from 6000 to 12000 cases while it took three days in Italy and four days in the UK, France as well as Spain.
们还表示,印度的确诊病例从750例增加到1500例历时4天,从1500例增加到3000例也历时4天,而确诊病例数从6000例增加到12000例历时6天。相比之下,在美国和德国,确诊病例从6000例增加到12000例仅历时2天,而意大利则历时3天,英国、法国和西班牙均历时4天。
Also, India's rate of infections so far is only nine per million while it stood at 267 per million worldwide and at 1946 in US, 3864 in Spain, 2732 in Italy, 2265 in France and 1451 in UK. Japan, which has performed well ag inst COVID, reported 68 cases per million population, offi als said as per the analysis by experts.
此外,印度目前的感染率只有0.0009%,而全球感染率为0.0267%,美国的感染率0.1946%,西班牙的感染率为0.3864%,意大利的感染率为0.2732%,法国的感染率为0.2265%,英国的感染率为0.1451%。们称,根据专家的分析,在抗击新冠疫情方面,日本做得很好,每百万人口仅报告了68个病例。
India's death rate per million population also stands so far only at 0.3 while it is far higher worldwide at 17.3 while the figure stands at 86 in USA, 402 in Spain, 358 in Italy, 263 in France and 190 in the UK. Countries like Australia, Japan and South Korea have reported a low fatality rate of only 2, 1 and 4 respectively per million population.
到目前为止,印度的死亡率仅为每百万人口0.3人,而全球平均水平要高得多,为17.3人,而美国为86人,西班牙为402人,意大利为358人,法国为263人,英国为190。澳大利亚、日本和韩国等国家报告的死亡率比较低,分别为每百万人口死亡2人,1人和4人。
印度经济时报读者的评论:
译文来源:三泰虎 http://www.santaihu.com/49756.html 译者:Jessica.Wu
Mrzeng
Of course not to check
印度肯定更好啦,都不检测的
Jagdip Vaishnav
Because vir s spread is limited, number of affected persons are not more in comparison to Population
病毒的传播是有限的,鉴于印度人口庞大,感染人数并不多。
Sanjeev Yadav
still we are in better position compare to the other country .
与其他国家相比,我们印度的情况还是不错的。
Mickky
Lacking of infrastructure,limited resources and de ratic nation with such a large population,India has done absolutely astonishing job, all the credit goes to go nment, first res ponders, medical fraternity, police and of course beloved Indian people by hel each other and having courage.
印度缺乏基础设施,资源有限,人口众多,但在控制疫情方面表现出色,所有功劳归于政府,医务人员,警察,当然还有可爱的印度人民,他们互相帮助,勇气可嘉。
Vikram
No wonder why a person like Modi is ruling India today.
难怪像莫迪这样的人都能执掌印度
SUNDARARAMAN SRINIVASAN
One day the vir s will vanish.. but the polarization & its hatred-fumes.. are more difficult to detox....?
总有一天病毒会消失的,但是两极分化及其引起的仇恨更难消除。
SUNDARARAMAN SRINIVASAN
Our huge population is a big issue. About one-third of people living here in jam-packed dense tiny cages - wherein testing is next to impossible despite high risks/vulnerability of such groups - already no. of cases in such pockets that have come to light.low compared to most advanced rich nations.. that has just delayed our vir s charts.. not a time to be complacent - more testings
印度人口庞大,这是个大问题。大约三分之一的印度人生活在拥挤密集的贫民窟里——尽管这些人的感染风险很高,但几乎不可能对他们展开检测——尽管这些地方已经出现病例了。在感染人数方面,与发达国家相比毫无意义,现在不是自满的时候,应该进行更多的检测。
Jagdip Vaishnav
Number of affected persons are not significant in comparison to Population
鉴于印度人口庞大,目前这点感染人数微不足道啊。
Domini
If the low rate is on account of lockdown, we are afraid the lockdown cannot get lifted for months. If it is due to any other reason, including low level of testing, then it is fine.
如果是因为封城,感染率才比较低,那我们恐怕再过几个月都无法解封。如果是由于其他原因,比如低检测率,那还好。
Milind Sonawane
Immunity power in Indian people comparison to other countries is much more to fight corovir s, so the death proportion is less.
与其他国家的人相比,印度人的免疫力更强,所以死亡率更低。
Mukesh Gupta
Pl discount the comments of any po itician. We can never ever compare us with USA or Europe as corona is concerned. Our PM is nothing but a clown discount his . He is born in ion mode. He has no idea of technicalities of testing etc.
不要相信政客说的话。就控制疫情而言,我们永远做得不如美国和欧洲。我们的总理只是一个小丑,不要相信他讲的话。他生来就是为了,他对检测的技术细节一无所知。
Vikram
Modi total incompetency is exposed in this crisis. His so called experience is limited to making es and putting a public display with no knowledge of any administrative tasks. He has put the livelihood of millions at risk by his mismanagement of this crisis. Perhaps next for the country, one should look at a better to govern instead of trying to make one person.
莫迪的无能在这次危机中暴露无遗。他所谓的经验仅限于发表演讲,他对任何行政工作都一无所知。他对这场危机处理不当,使数百万人的生计面临困难。也许下一步印度应该考虑选择一个更好的政党来执政,而不是选某个人。
Dominator Force
hahahaha. FEkuchand won't get lucky with COVID 19. India ranks poorly on testing and Anti Body rapid tests can give fake negative tests. The real tests are PCR tests that detect vir s into the blood stream. With 135 crore population just ovr 2 lakh tests are deplorable. Also, COVID 19 invaded India through Indians only who went on foreign shores unlike western nations which are infested with foreign tourist with lots of along with business visits. India should have done a lot better. Also, till the count of 9000 USA had 130 deaths compared to more than 200 deaths in India even when majority of India lives in villages with hardly any tourism out there..hahah.. MITRONNNNN..... ANDH BHAKTS r va...
哈哈,碰到这次疫情,莫迪没那么走运了。在检测方面,印度的排名很靠后,抗体快速检测的检测结果不准,真正靠谱的是PCR检测,可以直接检测到血液中的病毒。印度人口有13.5亿,才进行20多此次检测,少得惊人。
Lps Kumar
It seems we are following the same path and with lockdown cases should have fallen by now drastically. What would happen once we remove lockdown. It's important lock down should be very strict. Though go nment is doing good, it's not enough. Same with people. It's not enough... We need to step up and improve as a single force.
我们选择封城是对的。封城后,病例数量本该大幅下降了,却没有。重要的是,要严格执行封锁措施。
政府做得不错,但还不够。此外,解封后怎么办呢?我们应该团结起来,共渡难关。
Pankaj Singh
Compare Indian figure with Pakistan where medical facilities are poor, poor country no lockdown but have similar geography body and food are similar
印度应该和巴基斯坦比,两国的医疗设施都很差,地理位置相近,饮食也相似
Shivam Mittal
Gt is cming to have conducted far more test than UK , USA when the patient count reached 10,000 but if we understand the actual scenario it is just that the patient count in U.K. , USA per test is more than India. You have clearly deviated from the fact that in India the number of test are far less than other countries.
印度声称,当确诊病例达到1万时,印度做的检测比英国和美国更多,实际情况是英国和美国检测的人数比印度多。印度的检测人数远远低于其他国家。
Mohit Malhotra
Even if India test 1 lac people per day (which is next to impossible), it would take 37 years to test a population of 138 crore. Now do your maths.
即使印度每天检测10万人(这几乎是不可能的),也要花37年才能检测完13.8亿人,不信你们算算看。
Rswami Narayan
well if the nizamuddin assembling was not there things would have been far more better.
如果没有德里的塔布里·扎马特集会,印度现在的情况会好得多。
Raj Polapragada
unfortunately nothing to be proud of nor celebration. But definitely others have fared very bad. We certainly avoided disaster. It is a team work and automatically leader gets credit. who denies are jealous .
没什么值得骄傲和庆祝的。其他国家的情况肯定很糟糕,印度的确避免了灾难。这是团队合作的结果,功劳自然是领导的,否认的人是出于嫉妒。
Ajay Luthra
God bless India...
天佑印度
外文: https://economictimes.indiatimes.com/news/po itics-and-nation/why-go nment-thinks-india-has-done-better-than-other-countries-on-covid/articleshow/75177814.cms